The History of Hard Sport Climbing in Boulder's Flatirons: Personal Essay—Bob Horan
Heading out the door? Read this article on the new Outside+ app available now on iOS devices for members! Download the app.
This story is a supplement to the feature Frozen in Time: A look at the new-school sport climbs of the Flatirons, Colorado on newsstands now in the July 2018 issue of Climbing Magazine. Subscribe here: print, digital.
Bob Horan is one of Boulder's most prolific first ascentionists, going all the way back to the 1980s. You'll find his routes in Eldorado, where he made the first free ascent of Colorado's first 5.13, Rainbow Wall (5.13b), in 1984; Boulder Canyon and adjacent Dream Canyon, where his climbs are too numerous to list but include many big-effort, big-labor multi-pitch bolted routes like the classic four-pitch Earth Voyage (5.12a), as well as the second pitch of China Doll (5.13+); and on the boulders of Boulder Canyon and the Flatirons, where he continues to ferret out new gems to this day hidden on the hillsides. In the Flatirons, his two best-known routes are The Guardian (5.12d) and Beware the Future (5.13+), both in Skunk Canyon.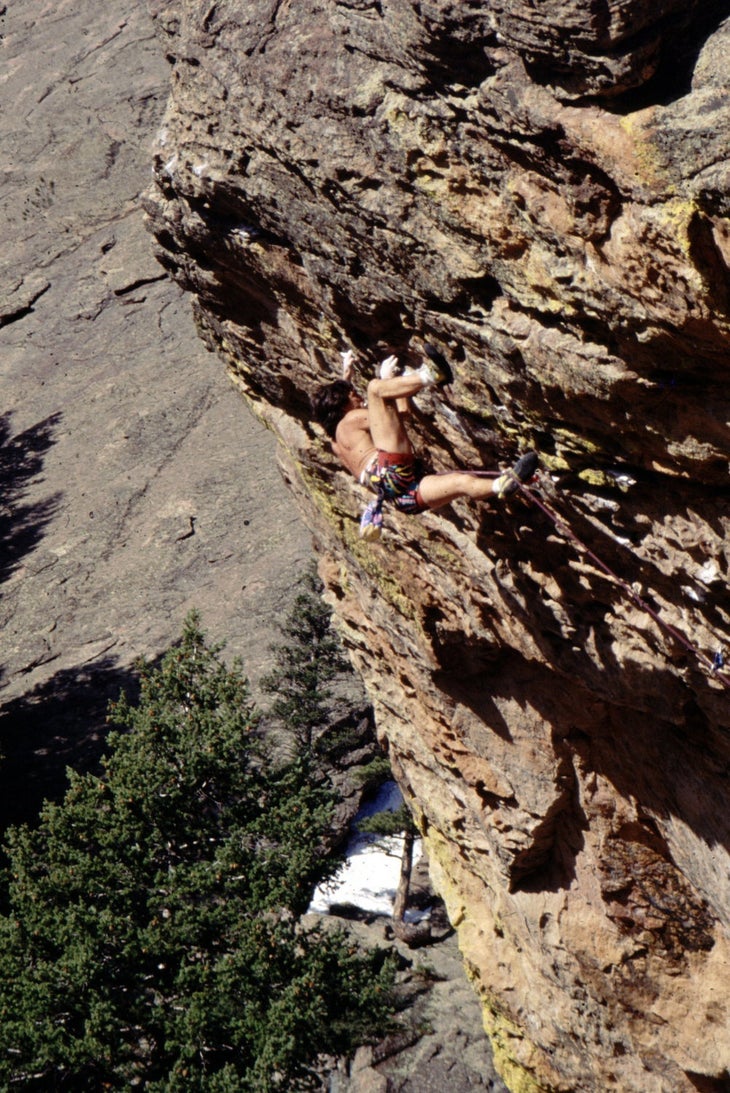 Here, in an essay written in 2010, Horan takes a look back.
Bob Horan Looks Back on his Flatirons Contributions
I was born in Chicago, Illinois, in 1958, and I started climbing when I was 15 years old back in the Midwest, mostly Devil's Lake, Wisconsin. A lot of good climbers like Pete Cleveland, Dave Slinger, Scott Stewart, and John Gill were my early influences. My first climbing trip west was to the Tetons at age 16. My next trip was to Yosemite and Eldorado Canyon at age 17 where I met more good climbers, most notably in Yosemite were I climbed my first big wall, Half Dome, with Charles Cole. That summer, which I spent in Yosemite, I met climbers like Randy Leavitt, Tony Yaniro, John Bachar, Ron Kauk, Jim Bridwell, as well as Colorado climbers John Warren and Pat Adams. On my return to the Midwest, I visited Boulder, Colorado, and climbed in Eldorado Canyon for the first time. I decided I'd move to Boulder when I turned 18. The Boulder area, unlike several other climbing areas at the time, had an economy, a place where you had a better chance of making a living. My first job in Boulder was as a welder of computer frames.
I have two sons, born in Boulder, and who are in high school now. I am presently, owner/operator of Horangutan Window Cleaning, and author of several bouldering guidebooks, such as Colorado Front Range Bouldering, Best of Boulder Bouldering, and Bouldering Colorado. I went to the University of Colorado, Boulder, from 1990 to 1994 and received an honors degree, Bachelor of Science, Psychology. My honors thesis was in Behavioral Neuroscience, and was awarded Magna Cum Laude.
As far as the Flatirons being Boulder's first sport area, I would guess it is because of its more secluded nature as compared to Eldorado Canyon. It was a place to go and get away from the mainstream, perhaps out of sight of the growing, anti-bolting-ethic committee. Personally, I had climbed most of the classic established traditional routes and had reached a point in my personal growth within the sport and wanted to push myself further. Save for routes like Space Time Inversion, aka Five Year Plan, and a few other potential trad routes at the upper end of the scale, most crack systems appeared to have been sent, at least we believed so. I think that those of us, now pushing 5.13, after routes such as Rainbow Wall etc., we naturally wanted to progress, so we started to scan blank-looking faces and arêtes. No real master plan at the time, and since bolting was becoming more en vogue in other areas, like Smith Rock, and a few bolted routes were being put up in Eldorado, the Flatirons' potential was suddenly looking really promising.
In the Flatirons—as well as Eldorado Canyon, Olde Stage Wall, and Button Rock—I hand-drilled all the routes I established. I would choose a few select features, looking to push my limits, toprope them, and then hand drill them. I was very selective, or at least at that time, could be, for there were not that many climbers at that level. I did not get a power drill until the 1990s, when I saw in Boulder Canyon and Dream Canyon the potential for multi-pitch sport routes, something I saw as new to the area. That was my initial drive with the power-drill thing.
Anyway, bolting with a hand drill was a pain, and the good bolts to be found locally were scarce at the time, so we would search for what was available—there was no scientific approach to it at first, at least not for me. Bolts were placed only where you felt you needed them, and since we were climbing difficult, marginally protected trad then, bolts were sometimes runout by today's sport standards. Ambiguous relativity.
I think that the Flatirons got more action than Eldorado, as far as bolting goes, because Eldorado had a deep core for traditional climbing and its ethics. The Flatirons were more obscure and remote, and not so scrutinized, with regards to route setting. Climbers could go there, and it felt like wilderness. It offered lots of blank-looking, overhanging-to-sheer rock faces, away from the mainstream.
Most of the routes that I put up in the Flatirons were of the traditional nature, some marginal, or protectionless. I have only put up a few sport routes in the Flatirons, but the ones I chose were to push my limits. While I was developing trad lines in Skunk Canyon, I would also look at other rock faces. These other climbs would need bolts, and at that time toproping was the only option, or protectionless leads. That would change in years to come, as sport climbing made its way into the minds of the mainstream. I welcomed the change, and wrote an article in the American Alpine Journal in 1989 about it.
The first sport route I put up in the Flatirons was in Skunk Canyon; I named it The Guardian. This was the obvious overhang at the threshold of the canyon, featured with a series of huecos, angling fins, and pockets. Over the years, I would pass under this overhanging block, and stare with amazement at its potential as a sport climb. So, one day, I scrambled around the slab with a hand drill and put in two bolts for a toprope. I toproped it over couple days, dragging out my live-in partner, Melanie Dieckman, a JRat employee at the time, to belay me. I then returned with a set of large Friends and hooks, and aid climbed up the overhang and placed bolts, on lead. I guess I just wanted the extra challenge and practice up on my aid skills. I then recruited a younger, strong climber, Dan McQuade, to work the redpoint with me. We worked the lead without success that first day, and then returned the following day, when I led to the lip and fell off the last moves. Dan went up next try and redpointed it. I did it my next go—what a great route! We had our first sport route.
The Guardian is named for the way the rock looks when the sun beats down on it, and the shadowed areas make a face. The face is the guardian, as we saw it.
When I returned to the Flatirons later, it was for a line I had scoped out back in the day when we would play on classic free climbs such as Doric Dihedral [also in Skunk Canyon]. For years, I had eyed a striking overhang just left of the Doric. One day after sending Doric Dihedral, up and out of the dihedral, I scrambled over to the slab above the overhang, hauled up the bolt kit, and placed some toprope anchors. I worked the route on toprope for a couple of weeks before linking the moves. While toproping the route, I notice the jug, lip hold flexing.
For Beware the Future, I also placed the lead bolts ground up, not for any ethical reason but for an added challenge. I then redpointed it first go, 5.13, and felt that the lip hold was going to blow. I decided to name it Beware the Future, because after toproping all these sport routes, unlike the traditional ground-up style, you knew and would wire all the moves, hence you were aware of the moves before the lead, hence being aware of the future. A week later, I returned for more action photos and when I sent the crux to the lip, the hold blew and I went for the sky ride. I thought, This is really going to be hard now.
I did not return for a few months. That summer, Patrick Edlinger and his crew came out to Boulder, and I was one of the climbers who showed them around. They were doing a book called Rock Games for a French publication. I took them up to Skunk Canyon and we sent Doric Dihedral and then worked the now-minus-a-key-hold Beware the Future. We did the moves in two sections, but at that time did not connect them. The route had now turned into a boulder problem on lead, and somewhat of a one-move wonder. Patrick thought it might have been 5.14 to connect.
I returned for the redpoint, and climbed the route as it stands today. I suggested it to be 5.13+/5.14—the hardest move, on lead, I had done at the time. Word had traveled that this was something that Edlinger thought to be maybe be 5.14, and so the Boulder climbers all wanted to see what this was all about—"A 5.14, no way!" I then heard that Dale Goddard and crew were hard at the repeat and so it got its repeat. Dale thought it to be 5.13c. I heard later that Scott Franklin and a few Euro climbers had repeated it as well.
The reason I did most of my Flatiron first ascents in Skunk Canyon was for its isolation—no one went there back then, and you had this authentic wilderness experience away from it all. I think once other user groups started to witness people bolting along the trails, like Bear and Fern Canyon, the voice against bolt-route sprawl began to grow in their conscience as well. The Flatirons, before the restrictions, may have had to deal with the possibly of the climbing resource becoming grid bolted, not so much by those pushing the limits of free-climbing difficulty but by those who just wanted to do a sport route. You see this happening in Boulder Canyon and other places. Putting in sport routes is no doubt a fun and adventurous activity—it has this some what euphoric element that can become rather addictive, so one must reflect on their actions, learn from the past, and try to make a better future.
P.S. As far as the Lycra tights go, we cyclists used to ride in Lycra, and it dawned on a few of us who climbed that this material would work well for climbing. The Lycra allowed an over garment that had no resistance while moving. As gaudy as it could look, especially looking back at some of those photos, Lycra was comfortable. I always said if you're wearing Lycra, you better be climbing good, for climbing always speaks for itself, no matter who you are or how you look doing it.
Read more about the History of of Hard Sport Climbing in Boulder's Flatirons: