Here's Why You Shouldn't Be (Too) Afraid to Visit Yosemite
No need to wait until you can lead 5.12 or poop on a portaledge. If you can lead 5.6 trad, you can climb here, especially if you follow these 10 tips. (From 2013)
---
Join Climbing
Create a personalized feed and bookmark your favorites.
Join Climbing
Create a personalized feed and bookmark your favorites.
Join for free
Heading out the door? Read this article on the new Outside+ app available now on iOS devices for members! Download the app.
Must concentrate on belaying. Okay, good—Robin figured out that stemming in the corner makes the last pitch a snap. Must not be distracted by the butterscotch-scented breeze wafting off the ponderosa pines. I start to hear the jangling of the gear she's cleaned so far; she must be close. Must ignore the four routes to my left that I'm itching to climb and the sea of granite spread out before me. "Nice job, Robin! You're almost to the top! Wait till you get a load of this view…"
Focusing on the task at hand can be a challenge in Yosemite, especially at the top of a classic like Munginella (5.6), which overlooks the Valley floor and is the quintessential "first" multi-pitch to do in the area. Oh, and it's a real bitch when the sky is blue, the sun is shining, a gentle wind cools you off, and there's not a line of climbers trailing behind you, creating a subconscious urge to move faster. But these are minor distractions compared to the realization that hits me as Robin, my fellow Coloradan and perfectly matched partner, nears the summit. I've just climbed—no, I've just led—my first route in Yosemite, the Mecca of American climbing! Me! Little old Julie from Alabama: a bolt-clipper with a bad back, no crack technique, and a boulderer's fear of heights. Satisfaction follows elation, and then comes a question. Why had I been so scared of this place? Take away the signature view of Half Dome in the distance, and it's just another beautiful day on a sweet cliff.
Oh, right; it's because no other climbing area in the U.S. has more historical significance or more world-famous routes. Because Yvon climbed here, and Royal and Lynn and Ron and Beth and other household names who have been setting the standard for rock climbing since the 1960s. Because the park's intimidating 3,000-foot walls are home to seemingly unapproachable locals who crush from dawn to dusk every single day. And, well, because no other place on the planet is quite like Yosemite.
But I'm here to tell you that my anxiety was misplaced. And yours is, too. If you can lead 5.8 trad, or even 5.7, you can climb here. Now. No need to wait until you can lead 5.12 or poop on a portaledge. I was a scaredy-cat for years, and then I finally started to pay attention to that annoying self-help wisdom about life beginning at the end of your comfort zone. What I discovered is that Yosemite climbing is perfectly attainable for any and all mere mortals, like me, who have a desire to scale some rock.
Here are 10 lessons I learned for a sweet Yosemite vacation: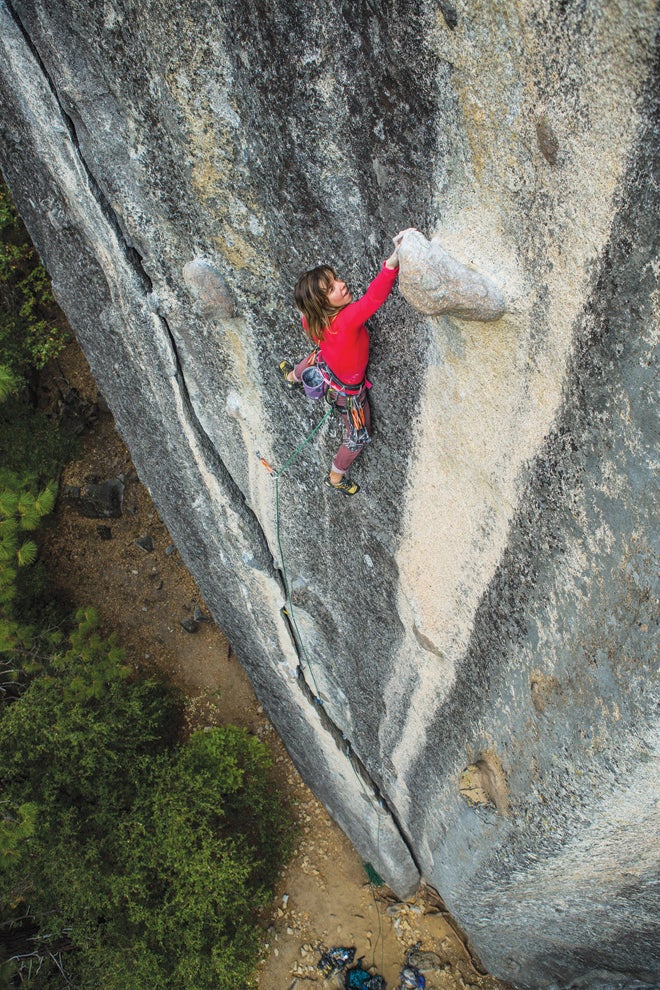 1. Start early (alpine start!) to avoid crowds.
Yosemite is the climbing destination for people from all over the world, and those people are the ones you'll be climbing behind or awkwardly trying to pass on the long routes. Big-wall climber and pro crusher Tommy Caldwell recommends climbing in the off-seasons like spring or fall (avoid summer when the non-climbing tourists are out in full force), which also have the best temperatures. His prime windows: late September through mid-November and April through May.
If you must come during the summer, get ready to be social. Caldwell says, "These climbs are some of the best in the world, so obviously many people want to climb them." Start late in the day and get comfortable climbing at night with a headlamp, or start an hour before daylight. If you get stuck on a crowded route, don't be afraid to pass or let someone pass you. "It will make your experience more enjoyable to not have someone right behind you," Caldwell says.
Our week in early October was damn near perfect: ideally crisp temps, few tourists and even fewer climbers, and the Valley at the height of its golden autumn beauty. For a full week of climbing, we only got turned away from a small handful of routes, and we easily found alternatives. Come with a ticklist twice as long as what you could actually complete; that way, you'll have options prepared if one route is crawling with climbers.
2. Plan your camping in advance.
That early start applies to campgrounds, too. Camping in the Valley is limited; there are only 13 public campgrounds. You can reserve spots up to six months in advance (recreation.gov).
Camp 4 rose to fame for being the hangout for many wild childs of the 1960s and '70s, like John Long, John Bachar, and Jim Bridwell, who were pushing the limits of climbing in their own unique fashion. Their rowdy spirit is still alive at Camp 4 with late-night partying and general debauchery. Pro and host climber Rob Pizem, who has been climbing in the Valley since 2001, says, "If you want that experience, then it's the place to be. But if you want to sleep well in a mellow environment, then pay for a real campsite." Upper and Lower Pines campgrounds are excellent quieter alternatives, and they allow up to six people per site as well, so even if all the spots are taken, chances are you could share with a generous vacationer or fellow climber.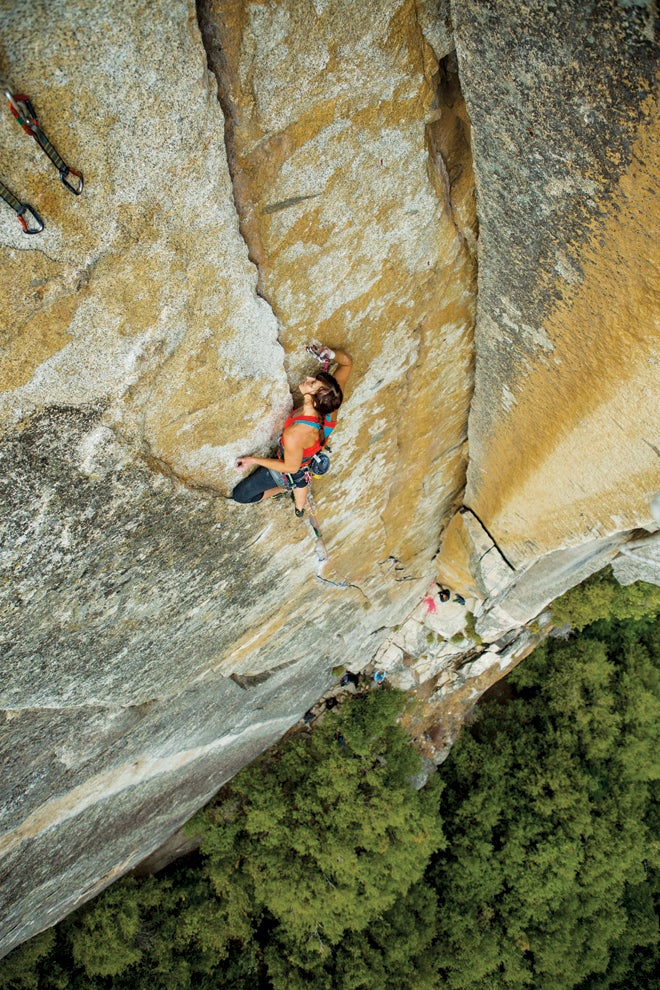 3. Don't believe the grades.
Yosemite is the birthplace of our current grading system, the eponymous Yosemite Decimal System, which ironically is part of the reason it has some of the most inconsistent grades in America. Some routes were established when 5.9 or 5.10 was the hardest climb in the country—meaning an old-school 5.7 in the Valley might be considered 5.8 or even 5.9 by today's standards. My friend and local Dean Fleming summed it up perfectly when he said, "5.8 is 5.10; 5.9 is 5.10; 5.10 is 5.10." I thrashed my way up Black is Brown, a bulgy and angling 5.8 at Church Bowl, falling multiple times. A few days later, I cruised Peruvian Crack (5.10a) at Royal Arches without coming off once. Trust me, my crack technique hadn't magically improved in such a short time.
Start well below your leading level, and get used to the rock and the climbing before you venture onto harder stuff. Caldwell says many people have a humbling first trip to the Valley: "Don't expect to be able to climb anywhere near the level you can climb in your gym or at your home crag." He points out that "Yosemite is a true trad climber's area; it's physical and takes a unique head space to be successful there." You want a strong lead head for difficult climbing (think runout slabs and offwidths) on what might be considered an "easy" route. Alex Honnold, who has free soloed El Cap numerous times, recommends choosing objectives based on a realistic assessment of your ability and skill level. "You want it to be hard enough to push you, but not so hard that you get completely shut down and waste a day epicing," he says. "There's almost unlimited routes to choose from, so be flexible and be smart." Of the endless lines in this place, there are hundreds of routes that fall in that ideal range of difficult but doable—no matter your skill level.
Yosemite first ascensionist and writer James Lucas offers a similar suggestion: Aim low for your first few routes. "Start with smaller walls before hopping on El Cap," he says, "and be prepared—the walls in Yosemite are huge; it's easy to get in over your head." Some good starter walls are Church Bowl, Pat and Jack Pinnacle, Five Open Books, and Glacier Point Apron, which offer dozens of routes in the 5.7 to 5.9 range.
3. Don't believe the star ratings, either.
Fewer stars mean fewer people, but that doesn't necessarily mean a bad route. Face it: In a place like the Valley, even a no-star line is likely better than the threestar climb at your local crag. On my last day in the Valley, after waiting in line every other day of the trip, Fleming took me on his One-Star Classic Tour, where we climbed five stellar single- and multi-pitch routes.
4. Don't be afraid to drive.
Another secret from Fleming: There are always uncrowded routes—you just might need to drive around to find them. We tried it for a day, and despite a little over an hour spent driving, parking, and approaching, I still climbed more pitches than any other day—and never stood in line. If a route is occupied, go find another one. Since the approaches are mostly less than 10 or 15 minutes, there's little penalty. Reed's Pinnacle area is an excellent choice because there are a few dozen high-quality routes and rarely any climbers in the off-season. Totally ignored by many climbers and very close to the road, Lower Brother provides excellent climbing with no crowds at any time of the year.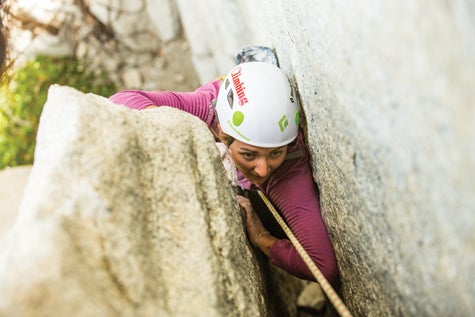 5. Practice on cracks and granite beforehand.
Despite several weekends of prepping at places like Lumpy Ridge and South Platte near my home in Boulder, Colorado, I still felt like a rhino doing ballet on Yosemite hand cracks. Get out as much as you can in the time leading up to your visit, but know that you probably won't be good at it right off the bat. The granite here was polished by glaciers millions of years ago, which created a slick surface that evades even the stickiest of rubber, so be confident with your feet and know how to smear. Although one friend likened crack climbing to "wrestling a bear" your first few times out, understanding the concept of filling a crack versus pulling down on a protrusion is a great starting point. I found hand jamming the most difficult, mostly because my small mitts mean that "perfect hands" for a lot of people is "off hands" for me—it's just a little too big to be ideal. Practice cupping your hands, going thumbs up (more efficient), going thumbs down (more power), and foot jamming (painful but crucial). A helpful hint: Your feet propel you upward, and your hands just keep you on the wall.
If you want to lead, be proficient with placing gear—but you might not need special practice for this. As Honnold points out, the rock in Yosemite tends to be solid, and you can usually trust good placements like you can trust a bolt. "Plenty of A3 pitches are actually a lot like sport climbing: There's bomber gear every five or six moves, but not much in between," he says. "Sometimes you just have to climb a bit and trust that your gear is good and that you're safe, even though it might be scary." Honnold has seen first-time visitors stress about placing enough gear, but he suggests that one should focus more on putting in reliable placements where it counts.
A standard rack (full set of cams from smaller than fingers to 4", and a full set of nuts) should suffice. Doubles in fingers and hands is a good idea, too. Bring plenty of long runners for moderate routes that tend to wander more. Many first ascents in the area were done only with nuts, so it's possible to do plenty of routes with only passive pro (hexes were popular here as well). To make it easy on yourself for your first visit, pack those cams, including offsets.
6. Bring the longest rope you can find.
Many of the older classic routes were developed when a 50-meter rope was the norm, so the pitches (and rappels!) are short; combining two Yosemite pitches might be closer to one pitch in modern climbing. Having a longer rope can save time on the way up by linking pitches and having fewer belays, but note that it can also be confusing and treacherous while rappelling. Pioneers of the Valley would only have 50 meters (164 feet) to work with when setting rap stations, so if you're heading down a double-rope rappel with a 60- or 70-meter rope, you won't even come close to the ends. Many a Valley stranger has gotten benighted on "easy" climbs like Royal Arches (5.7 A0) by rappelling past anchors and ending up in no man's land. ICM organizer Carol Kotchek says, "Make sure you know how you're going to descend off the route before you go up. The descents can be very complex, and it can be incredibly dangerous to go the wrong way." Long ropes help on the ascent, but they can make descents tricky.
Bringing a longer rope is helpful for single-pitch cragging, too. Many of the lines at Church Bowl and Reed's Pinnacle were established when first ascensionists were finding "natural ends" to certain routes, so they let the pitches go as long as they thought was appropriate. That led to 150-foot-long single-pitch climbs. I climbed with a 60-meter rope, but found myself wishing I had 70 meters, or even 80. This is particularly important if you're going to be toproping; we found ourselves Texas Toproping, where two ropes are tied together with an overhand knot, much like you would join two ropes for rappelling. One "single-pitch" route called Y Crack (5.10a) in the Royal Arches area required two rappels with a 60-meter rope to get back to the ground, despite my veteran-Yosemite-climber friend promising me we could get back down in one easy rappel. Luckily, there was a sinewy tree sticking out of a crack about 30 feet off the ground, just large enough to hold both of us.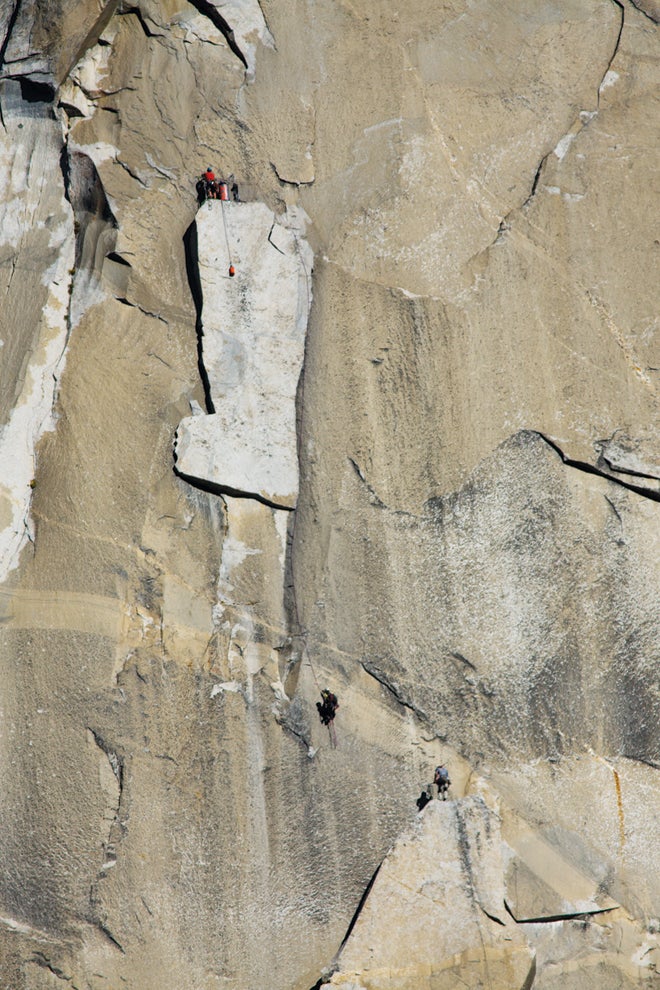 7. Pack a map.
One of the Valley's perks is the painless access to a few thousand feet of climbing (like the 10-minute walk to get to the 2,900-foot Nose on El Cap), but the numerous walking trails and roads form a confounding web, and some of the approach descriptions in guidebooks are poorly written. My partner and I found ourselves walking up and down the same paved trail four times looking for the offshoot path that led to the Five Open Books. If you don't have a local at your disposal, plan ahead and use a guidebook and maps to figure out exactly where the route is the night before so you don't spend valuable climbing time trying to figure out the approach.
Same goes for the road labyrinth on the Valley floor. The streets are one-way and the signage is perplexing; you'll drive in endless circles if you don't know where you're going. Jonathan Siegrist made his first trip to Yosemite in 2012 with Caldwell to attempt free climbing the Dawn Wall, and he suggests grabbing a park map on the way in and being patient with yourself because the "interwoven maze of one-way roads, bridges, and seemingly identical signs advising different routes are super confusing." He claims it took him at least 10 days to figure out the complex network of pavement. Unfortunately, there's not one ideal guidebook or map, so obtain a few to cross-reference.
8. Get out of the Valley.
Climbing on the Valley floor is primo: The approaches are short, and the climbs are long. But a quick drive up and out can lead you to more world-class climbing—with no lines, cooler temps, and unrivaled views. Reed's Pinnacle is a short jaunt up the road and off the floor, with plenty of moderate routes and almost no people. My partner and I each climbed the two-pitch Ejesta (5.8) and single-pitch Stone Groove (5.10b) in just over an hour with no waiting and a refreshing wind.
Pizem suggests Tuolumne Meadows, which is in the park, sits at 8,600 feet, and hosts plenty of slabby and long beginner routes. Stately Pleasure Dome has several 5.6 to 5.8 multi-pitches, and Fairview Dome offers a bit more of a challenge with routes in the 5.8 to 5.10 range. The famed Jailhouse Rock is about a two-hour drive west of Yosemite Village, and Siegrist recommends the challenging sport climbing there for a welcome break from the "burly, slippery granite" in Yosemite. Check out this area if you're a 5.12 or 5.13 sport climber and want to tick some overhanging and beta-intensive lines like Soap on a Rope (5.12d) and Fugitive (5.13a).
9. Bolt-clippers and boulderers will have plenty to do.
While the Valley is truly a trad climber's paradise and the long routes are the gems of the area, there are plenty of smaller sport climbing and bouldering objectives. But don't expect the straightforward climbing of your nearby crag; the routes range from "sporty" (exciting with widely spaced bolts) to more standard pulling on chickenheads or diorite knobs and dikes. Check out the Parkline Slab for low-angled and moderate routes from 5.8 to 5.10. The guidebook Yosemite Sport Climbs and Topropes ($20, supertopo.com) by Chris McNamara and Chris Van Leuven is an excellent starting point. Bouldering here is in a class all its own: Expect little to no holds on clean faces with awkward mantels, physical compression moves, and slippery slopers.
10. Valley Nuggets: Quick-hit tips from the experts
Don't try to warm up on easy stuff; chances are that an "easy" climb is a sandbag, and you'll waste time waiting in line.
Rack gear on your harness; a lot of the climbing is so slabby that a shoulder sling will just drag down in front and trip you up.
Valley life is more of an urban experience than a wilderness outing. Embrace it.
Borrow whatever weird gear you can get your hands on (Tricams, hexes, offset cams, and all nuts). The piton scars on most routes take lots of different gear.
Always pack a headlamp.
Manzanita plants can snag anything from your body: cams, slings, draws, rope. Use a pack on approaches and descents to keep gear secure.
Carry water-purifying tablets in case you run dry; even though you'll most likely be looking at the road all day, it might take longer than planned to get back.
Need beta or have a question about anything in the park? Check out the Climber Coffee meeting at 9 a.m. in Camp 4 every Sunday during spring and fall, and in Tuolumne during high summer.
Be extremely bear aware; don't leave food or anything with a scent accessible for a minute—even in a car. Use the bear boxes throughout the park.
The "John Muir Hotel" isn't quite as plush as the Ahwahnee Hotel: It serves as Yosemite's jail. Obey the rules (especially bear regulations, overnight camping outside of a campground, parking, and speeding), so you don't get nabbed.
Buy everything you can outside the park. While you can stock up on anything you might need (or even get your oil changed) in Yosemite, it's expensive. Any of the towns along Highway 99 are a good last stop.
Don't underestimate the weather; it's easy to get fooled by a sunny California day. It can change quickly and be completely different from crag to crag. Bring layers and extra food/water in a summit pack, and start early when you can.
Take a dip in the Merced River near North Pines Campground after climbing on hot days.
Adopt the chicken-wing, arm-bar, and other offwidth techniques because there is a wide section on most routes. Just stay calm and inch your way up it.
Be courteous and friendly to others you might encounter while climbing; it's a small community.
Fern Spring is the best place to get water: It's close to the car and has cooler, cleaner H2O than the RV stations.
Stop by the Mountain Room Lounge at Yosemite Lodge for a friendly climbers' atmosphere and a cold one.
Thanks to our Yosemite expert panel: Tommy Caldwell, John Connor, Cory Fleagle, Dean Fleming, Alex Honnold, Carol Kotchek, James Lucas, Rob Pizem, Alton Richardson, Kate Rutherford, and Jonathan Siegrist