What Do Inflatable Flamingos and Baffin Island Have In Common?
New routing on Canada's remote Baffin Island still takes grit and determination, but that doesn't mean you have to take it quite so seriously.
Heading out the door? Read this article on the new Outside+ app available now on iOS devices for members! Download the app.
Bronwyn and I stood on the summit of the South tower of Mount Asgard at exactly midnight. It was perfectly calm and totally silent. We watched the sun dip below the horizon for a total of 10 minutes before it popped up again and started to rise.
We couldn't believe our luck to be standing there only one week after landing on Baffin Island, having made the first ascent of Never Laugh at Live Dragons (600m 5.10+) featuring some of the best alpine stone we had ever touched. The route took us 20 hours of continuously moving from a base camp on the Parade Glacier.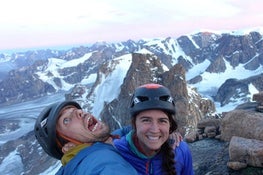 The name is a quote from Bilbo in The Hobbit and it sums up my feeling of interacting with these huge scale mountains in such an otherworldly and in-hospitable landscape. We had snuck up on the dragon and slipped away with the treasure unscathed.
A week earlier, Bronwyn Hodgins, Thor Stewart, Zack Goldberg Poch and I had put into the Arctic Ocean and paddled our way up the Pangnirtung fjord, riding the tide towards the mountains. From the mouth of the Weasel River we started dragging upstream, taking turns wading through knee deep water with our packrafts tied to ropes around our waists. Finally, once the Weasel became too fast flowing to wade up, we deflated our boats and hiked with heavy loads for 3 days through a raging storm towards our cache at Summit Lake. Here we were grateful to find our climbing gear, food and fuel, which had been stashed by Peter Kilabuk, our local outfitter, via snowmobile four months earlier.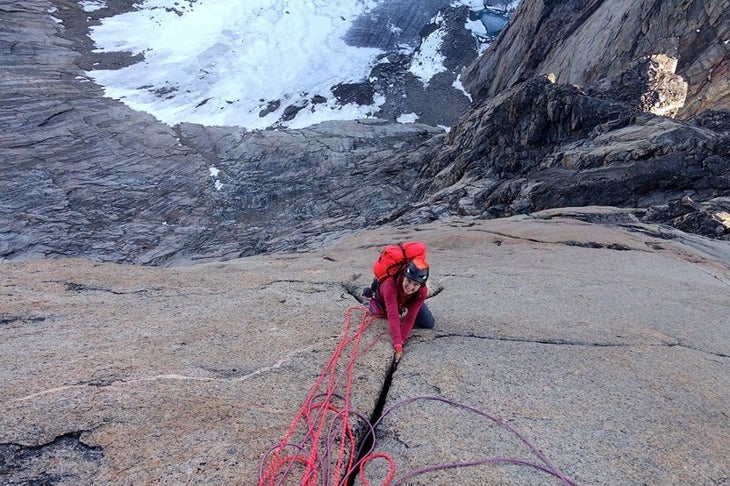 A few days after our new route on Asgard we set off across the ice for a second time. This time our aim was to repeat the famous nine hundred meter 1972 Scott-Henneck route on the north tower of Asgard. As we rappelled down the rock band from the Parade onto the Turner Glacier I felt acutely aware of how committed we were. We now either had to climb the route or hike for 30 kilometers back around to our base camp.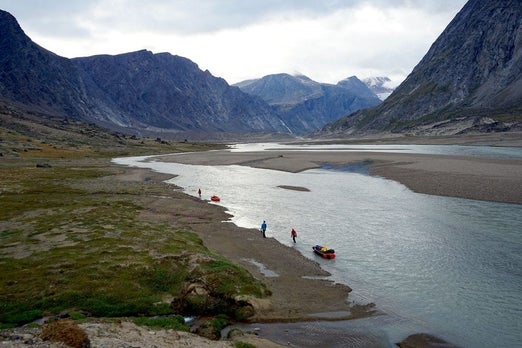 The first half of the climb flew by in a blur of calf pump and simul-climbing. Up high we found ourselves under the infamous chimney that was supposed to lead us to the summit, only it was soaking wet and running with water. I filled my water bottle from the base of the chimney while we considered our options. We traversed right to find a perfect dry finger-crack and followed it with glee for three pitches to the summit.
Meanwhile the other two members of our trip, Bronwyn's childhood friends Thor and Zack, were having their own adventures. After making a rare repeat of Polar Thievery (5.11-) on the north tower of Asgard they set off in search of "Mount Zacky," still unsure if it was more of a state of mind or an actual physical mountain. Sure enough they found it, making the first ascent of a beautiful dome-like sub-summit of Mount Midgard in a very long 27-hour continuous push. Their route, Beach Vacation (600m 5.10+), is an amazing achievement given Zack only started climbing three years ago and Thor not long before!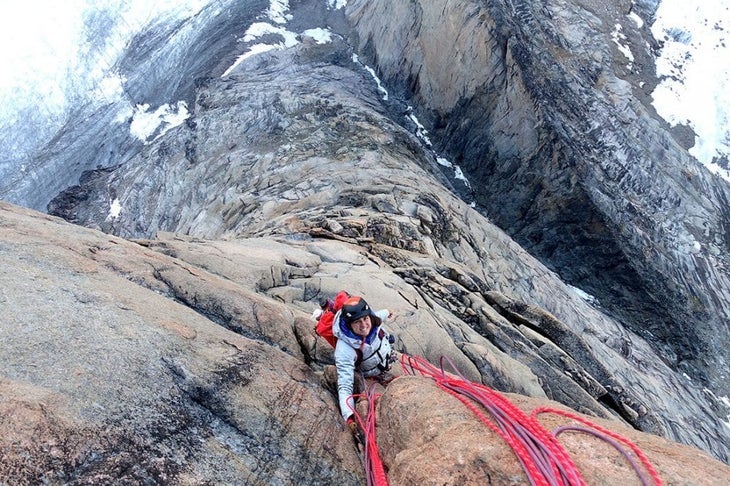 As we were planning this trip, one objective was so glaringly obvious we couldn't ignore it. "Climb Mount Thor with Thor!" Myself, Bronwyn and Zack were all keen to  accompany Thor on his namesake mountain! We team simul-scrambled the South Ridge at about 5.8, with one of the tallest vertical drops in the world a meter or so to our left. Despite being technically the easiest climb of the trip, it still took us 21 hours valley to valley; we discovered once again that everything on Baffin Island is huge, and takes a long time! Thor was psyched, and can now get on with the rest of his life…After some welcome rest days at Summit Lake we set off down the raging Weasel river in our packrafts, and a variety of other inflatables…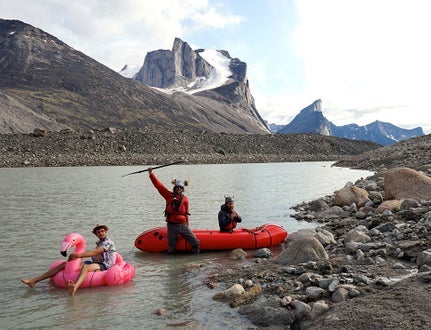 Bronwyn and I stood under the North Face of Mount Ulu, contemplating our last climb of the trip. But our eyes were drawn by a 400 meter unnamed tower of golden granite to our left that was glowing in the afternoon sun. The upper half of the pillar was cut by a beautiful splitter, which was calling our names.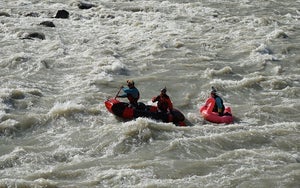 We spent the first day climbing six long pitches of wandery, runout and sometimes terrifying face climbing to navigate our way to the base of the crack. Here we spent the night at a beautifully exposed free-hanging bivy on Grade 7 pods (those new-fangled inflatable portaledge things!).
The next morning we set off up the splitter, only to find it was much thinner than expected. What we thought was going to be a hand crack turned out to be just wide enough for tips and protected by micro-cams and beaks. The climbing was incredible, my two summers trying and failing at the Tom Egan Memorial Route in the Bugaboos turned out to be training for this moment on this crack! After two intense pitches of 5.12 the crack steepened and it looked like we were going to get closed out. I lead off, took a couple of falls, then lowered. I managed to send the pitch, just barely scraping though on pinky locks and gastons in one of those magic moments of climbing flow.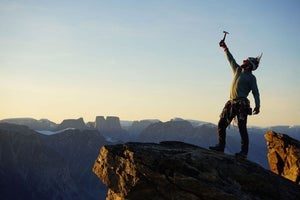 We were so lucky to find this route and thrilled to put up The Niv Mizzet Line (400m 5.13-) in a two day push. Named after my favourite dragon from my favourite nerdy card game Magic the Gathering. We rapped the route, the second day was a long 20 hour push back to camp.
After a rest day lounging by the beach at the mouth of the Fjord, we got into our packrafts for the final time, paddling towards Pangnirtung and then home. I find that interacting with an area through human powered travel gives me a much more satisfying experience and a sense of place in a wider landscape. Our small team of four friends tip-toed into the mountains together to be humbled by a place much bigger and older than us tiny humans.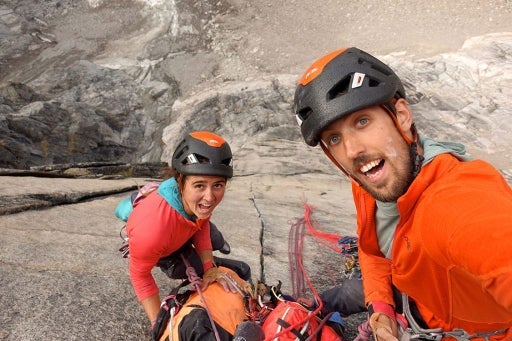 During our final days in the community we wanted to do something to interact with the locals in a more meaningful way than just flying in and out. We put up posters around town and the next day about 20 kids showed up to go rock climbing. They loved it. We left bolted top rope anchors on a boulder above town, so hopefully future climbers to the area can get the kids out again.