"We're Going Dark": A Women's Outdoor Leadership School in Afghanistan Needs Our Help
The team at Ascend, a 501(c)3 not-for-profit, is working to ensure the safety of its staff and students.
Heading out the door? Read this article on the new Outside+ app available now on iOS devices for members! Download the app.
Editor's note:
As Afghanistan falls to the Taliban, Ascend Athletics, which works to empower young Afghan women through mountaineering and leadership training, is working to evacuate its staff and ensure the safety of its graduates—and urgently needs your help.
Since 2014, the team at Ascend, a 501(c)3 not-for-profit, has worked in Afghanistan to provide intensive mountaineering-based leadership training to young women. In a society in which only 19% of women over the age of 15 are literate and one in three are married before their 18th birthday, Ascend has worked to train and empower young women, helping them build the skills and experiences they need to become community leaders. But recent events in Afghanistan, including the Taliban's seizure of Kabul, have put a number of Afghan women activists in a danger.
Ascend's General Counsel, Paul Stern, who wrote about his work with Ascend in Rock and Ice several years ago, says that he hopes the Federal Government will "expand its extraction efforts to include women who may be targeted for violence by the Taliban for their activism. Ascend epitomizes these activism efforts. The young women of Ascend have bravely strived to develop a generation of female leaders in Afghanistan. Because of their efforts, they are now targets for Taliban retribution. They deserve our support in their greatest time of need."
If you'd like to help, there are two things you can do.
First, says Stern, you can contact your representatives in Washington. "Spreading awareness about what is happening and lobbying our representatives is probably the best way to get some of the girls out. We need the US to evacuate women who are at risk but don't yet have their visas. We need public outcry and political will."
Please consider asking your congress-person to ensure that the evacuation in Afghanistan includes civilians who may be targets of the Taliban due to their activism. "We ask that the arduous visa process not stand in the way of their evacuation," Stern says, "and that the DoD remain in Kabul until these at-risk women are safely out of the country."
Second, you can donate to Ascend on its website. The organization is using donations to help Ascend-affiliated girls leave the country. This involves paying for visas, plane tickets, and travel expenses, plus providing cash for wherever they land. 
The reality, Stern notes, is that many of the women will be forced to remain in Taliban-occupied Afghanistan, and Ascend will be forced to "go dark for the foreseeable future." This means that the young women who have made ends meet with their Ascend salaries will suddenly find themselves without income. (When the Taliban last held power, women lacked the right to work.)  The organization is trying to advance salaries to these women, giving them a buffer. This, too, is a challenge, as Afghanistan's central bank recently closed to avoid riots, but Stern is hopes that the banks will open again in the near future.
Climbing hopes to have more updates on this story. In the meantime, please consider sharing Stern's message, contacting your representatives, or donating to Ascend through their website.
—Steven Potter
The following article is a personal narrative written by Paul Stern, a former volunteer with Ascend and now its General Counsel. Though it mostly pertains to Stern's personal growth in Afghanistan, it is also a moving and personalizing portrayal of the girls who are at this moment experiencing a hardline regime change in their country. The article was originally published in Rock & Ice in April 2018 under the title "Tu Mitani, Afghanistan."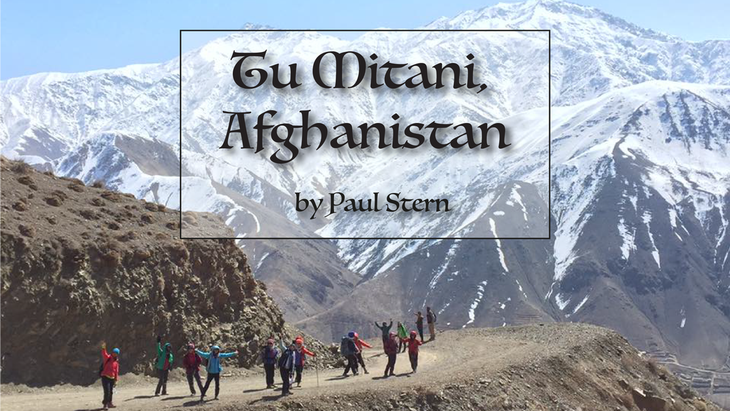 Choruses of "tu mitani" echoed across the mountaintop. With hijabs peering out from beneath their donated helmets, the girls gazed at the crumbly limestone as though it were pristine Valley granite. Some cringed at the blind faith they were asked to place in the anchor system and in each other. Others relished the physicality of contorting their bodies against the backdrop of Hunting Lake of Zahir Shah. All laughed and cheered. It was the joy that fuels futures. Then, a shot emanated from over the ridgeline.
"What was that?" Freshta asked nervously. "They're shooting at us." She fervently took cover behind a large boulder. Looking at me, her eyes pleaded for sanctuary.
Though it may have been a gunshot or a firecracker, its distance suggested safety. Freshta's response startled me more than the sound. I wasn't sure what hiding behind a rock would accomplish in the event of a Taliban attack. Still, the frenzy in Freshta's eyes demanded action. I had only studied terrorism; she lived it. As we crouched behind the boulders, our adrenaline dissipating the longer we waited for an improbable ambush, I wondered how I had come to chaperone fifteen Afghan girls as they rock climbed along the outskirts of Kabul, Afghanistan.
Only three months earlier I was working for the National Security Division of the United States Department of Justice. The standard icebreaker joke during my travels was that the recent American presidential election was the reason for my sabbatical. In truth, a different event that year had transformed me into an unwitting wanderlust.
I fell in love with a professional rock climber. While it took me nearly four days to summit the Nose on El Capitan in Yosemite National Park, she scaled the granite monolith in just over four hours. When she wasn't speed climbing big walls, she traveled to developing countries as a pediatric nurse. I saw in her the future I wanted for myself, but couldn't envision on my own. We decided that I should take time off to travel and then find a city on the West Coast that suited both our lifestyles. I was apprehensive of shedding the comforts of my desk job, and middle-aged existence, but I put in my notice and bought a one-way ticket to Oceania. Then, that November, two weeks after the election, my girlfriend returned to the West Coast, alone. Within one month, my personal and professional life was upended. I felt cast adrift into an uncertain future, exhausted from fights that left all sides bruised and despondent.
On Inauguration Day, I was living as close to a dirtbag lifestyle as a 40-year-old bureaucrat can, which is to say I was sleeping at a Kiwi campsite that closely resembled a scene from Lord of the Flies. It was between pitches and sips of Speight when I heard from an old climbing friend. She was on the Board of Directors for Ascend. The nonprofit, based in Kabul, uses rock climbing to teach female empowerment and leadership skills to young Afghan women. Since I clearly was not doing anything of importance with my days, she suggested I volunteer with the organization.
I was not convinced. Besides the obvious safety concerns, I didn't relish the optic of being an American male entering a Middle Eastern country to teach its women how to climb—an imperialistic/misogynistic double whammy. FUBU, Afghan women's edition, I figured should be the model. But after emailing with the nonprofit's Executive Director, Marina LeGree, I learned Ascend was actively seeking male volunteers, though I would be the first Western man to be one. LeGree reasoned that the girls needed to understand that there are men who support their mission. (While most of the girls' fathers begrudgingly allowed their daughters to participate, it could hardly be described as a source of pride within the household.) Two weeks later, I found myself in Dubai applying for an Afghanistan tourism visa.
The instruction would be led by Danika Gilbert, a seasoned American mountaineer in her mid-40s who had acquired years of experience in Nepal before settling down in a quiet corner of southwest Colorado. It would be Danika's fifth trip to Afghanistan. When we arrived in Kabul, I listened to Danika speak to Ascend's driver in broken but intelligible Dari. She directed him to the local market so we could pick up food for the week before we bunkered in the nonprofit's office.
The office was in an apartment complex protected by two black-clad security guards who took turns peeking through an eye slot before opening the steel gate that led to a narrow driveway. The main office space was a largely barren room with a red toshak in one corner and a dilapidated treadmill in the other. Artwork from the girls adorned the wall, sprinkled with rainbows and butterflies, reminding them in both English and Dari that they are "a group of empowered and united leaders who are moving towards positive changes and success peaks." An elderly woman, described as someone who garnered more respect than a housekeeper, was in the adjoining kitchen preparing lunch for the team. As she spoke no English, Danika took the opportunity to explain that the housemother used to be skeptical of their activities, but one day she caught her pretending to clean the counter for a third time so she could eavesdrop on a conversation about female reproductive rights.
Danika walked me into a side room and introduced me to Freshta, the team's project manager. Freshta looked up from her computer and smiled before walking around the desk to greet me. An Afghan women in her early twenties, Freshta had an unblemished face framed by a magenta headscarf that matched her pelleted fleece donated by a Colorado ski school."Nice to meet you," she said, placing her hand over her chest. "We've heard so many wonderful things about you. Thank you for coming to Afghanistan.""Thank you for the invitation. I must confess, I'm surprised your English is so good."Freshta blushed while thanking me and explained that her English improved while she spent two weeks in America on a leadership retreat. She went to conferences in Washington and New York before spending a week at Kansas University. Moving her hand away from her chest, she glided it away from her body as though it were skimming water. She softly whooped, "Rooooock." She moved the other hand in the opposite direction. "Chaaalk." Then, as though a cheerleader during March Madness, she concluded her recital with an enthusiastic uppercut as she roared, "Jayhawk!""Sorry, but I'm from New Jersey," I teased. "I have no idea what you're doing."
She smiled and offered fruit. In an almost Pavlovian response, I asked if she had any dates. Freshta's smile receded as she looked at me blankly. "Oh, I heard they are the welcoming fruit of Afghanistan," I said, sheepishly. Tilting her head skeptically, she asked where I heard that bit of information. When I confessed that I did not remember and may have read it online, her head remained cocked, clearly dubious of my research sources.
Within an hour of our arrival, the returning Ascend team members filed into the office for their lesson on anchor building. Danika greeted them with bear hugs and three kisses on the cheek. As we sat cross-legged in a circle, Danika broke the bad news to the girls. They would not be attempting Mt. Noshaq in 2017. She didn't think enough team members were ready for the physical demands of Afghanistan's highest peak. Additionally, the nonprofit simply couldn't financially support the trip. (Ascend had recently restructured to an all-volunteer staff, with the exceptions of Freshta and the driver.) Danika outlined a more modest agenda for the year. She did not mince words with the girls—she assessed their abilities and finances with unadulterated practicality.
The team brainstormed ideas for gaining experience and donors. Danika hoped to link team members with donors who wanted to climb with the girls but were afraid to travel to Afghanistan. They could meet in Nepal or India and further develop their skills through foreign expeditions.
But just as they were dreaming of taking their talents abroad, Afghanistan reminded them of the realities of their homeland. At that moment, the cement walls quaked with the bellowing thunder of a neighboring explosion. The bombing of the local police station sent reverberations through the apartment complex. Sporadic gunfire soon followed. We looked out the window. Plumes of smoke rose from the far side of a nearby rooftop.
I stood on the balcony, staring at the smoke with puerile intrigue. I had mentally armed myself for the possibility, and while I would never desire such an event, I figured the specter of danger was part of the complete Afghan experience. I went back inside, indifferent to the close call. But as I returned, I saw Freshta trembling in Danika's arms. Danika was rocking her gently with one arm cradling her head and another rubbing her back. Tears were in both their eyes. Danika whispered that Freshta had been at the American University of Afghanistan when it was attacked the previous year. Freshta's best friend was killed while trying to escape. What to me had been a false alarm was a retraumatization for Freshta. The rest of the team members were either calling family members or clutching each other in comforting togetherness. I stood alone. I did not know if I was allowed to make physical contact with the girls.
***
"Okay, girls," Danika announced the next day when we reached the village at the base of the mountain range. "When we get out of the bus, we move quickly and quietly until we are on the mountain." Freshta translated, and we were soon traversing the dirt road in a single-file line with Danika leading the way. Earthen homes of weathered clay stood camouflaged in the hazel foothills. A fenced cemetery littered with Islamic headstones and crumbling mausoleums lined the pathway. Elderly villagers stared unfamiliarly—not solely at the Westerners, but at girls wearing baseball caps and carrying North Face backpacks.
Where the roadway ended, a small path revealed our route to the mountaintop. Along the trail, craters of loose soil dotted the landscape. The trail elevated swiftly, and several of the girls began lagging. Many of the new team members had never engaged in real physical activity, much less hiked with a backpack stuffed with climbing gear. I offered encouragement for them to keep moving.
"Freshta, how do you say 'come on' or 'you can do it' in Dari?"
"Tu mitani," she replied.
"Tu mitani," I shouted at the trailing girls. They laughed at my pronunciation, which provided brief comic relief as they took belabored steps on the insecure footing. But eventually the novelty wore off, and three of the girls rested on a boulder, debating whether they could continue.
As we rested, one of the girls looked at me and mimicked taking a picture, "Paul, Paul. Selfie?" It was tragic sad to think it was the only English word she knew. Still, as they were not allowed to bring their phones on the trip, I was their only resource for making their friends jealous on social media. I used my power as a bargaining chip. "Okay, one selfie and then we move quickly for ten minutes. Deal?"
"You bribe the girls?" Freshta asked incredulously before translating my offer.
"I call it 'persuasive motivation.'"
"In Afghanistan, we call it a bribe," she responded with a disapproving waiving of her finger and a smile. The girls happily agreed to my terms. After three group photos, they upheld their end of the bargain and eventually reconnected with the rest of the team near the summit. We crested the ridgeline to find a transcendent panoramic view of the distant Zira mountain range. We were isolated at the apex, out of eyesight or shouting range of bustling Kabul.
Danika and I taught the older girls how to build anchors. When the ropes were hung, Danika monitored the larger headwall while I supervised the girls around the corner. I watched as they cheered each other on. "Tu Mitani!" they screamed at one girl struggling midway up the pitch. That's when the shot rang out. We took cover behind the boulders and waited…
As we hid, our driver happened upon the climbing area. He and I walked over to the ridgeline. Luckily, as we peeked over the ridge, we confirmed that we were alone. To feel safe, we joined the rest of the team on the primary wall. As we hiked, I told Freshta that the girl who was climbing had the greatest excuse to not have completed the route. Most climbers whine about their hands hurting or poor weather conditions; she had the justification of gunfire. Freshta giggled before sharing the joke with the vindicated climber.
***
After the group's third climbing outing, Danika said her goodbyes. She needed to return to Colorado. As I had no schedule, the Executive Director asked me to stay a few more days and lead the girls on a hike through Panjshir Valley.After three consecutive days of climbing, the team got a well-deserved day off. The rest day corresponded with International Women's Day, and several of the girls attended events to commemorate the occasion. Freshta was asked to give a motivational speech to a group of young girls at Skateistan. Started in 2008 as a safe haven for at-risk and migrant youth, Skateistan is a nonprofit dedicated to teaching skateboarding as a means of fostering self-confidence, teamwork, and creativity. Knowing I'd be stuck at the office, unable to travel alone, Freshta invited me to attend her speech.Passing an iron gate, we walked through a short courtyard before being ushered into a vast, warehouse-like structure with an arched roof that suggested an abandoned airplane hangar. But instead of hipsters occupying the loft space, these counter-culturists were young Afghan women expressing themselves through ollies and aciddrops. Half pipes and launch ramps filled the cavernous space like wooden canvases for the kids to compose their artistry.After the entertainment, Freshta was invited to the stage. Applause roared through the hangar; it was clear the female audience knew of the project manager of Ascend. Though unable to understand her speech, I watched Freshta's mannerisms. She leaned towards the audience as though she were offering secret advice between sisters. At one point, she lowered her gaze and touched her hand. She spoke in a soft but stern tone. The audience erupted in unified chants. Freshta raised her arm as her voice erupted triumphantly. She thanked the audience and took her seat with an effervescent glow."Freshta," I whispered when she rejoined me. "What did you say at the end, when you touched your hand and the girls screamed?"
"I told the girls that I had scars on my hands from rock climbing. I thought about covering them up before giving my speech. But then I thought, 'No, the scars remind me that I am getting strong and more determined.' The girls screamed back, 'maqbol hastan.'"
"What does that mean?"
"It means, 'They look beautiful.'" Freshta and I locked eyes. My admiration needed no translation.
After we left Skateistan – no small accomplishment given the numerous girls who wanted to talk and take selfies with Freshta – she suggested we go for lunch at Hotel Serena, an elegant hotel where she used to work as a waitress. When I told her that I didn't need to go anywhere fancy, she told me that I should see something beautiful while in Kabul.
After wading through three levels of security, we entered the posh hotel, complete with lavish tapestries and Western-educated concierges. Throughout lunch, several of Freshta's former colleagues came to our table and welcomed her return with gushing embraces. Whether reappearing at her former place of employment as a patron, accompanied by an American man, was a premeditated event or merely a fortuitous byproduct didn't concern me. It was my pleasure to be arm candy for such modest affirmation.
"Freshta," I said while we had a moment of privacy. "What do you want in life? Where do you see yourself in five years?"
"I want to go to Denver University to study international development. That way, I can study and live abroad, then come back and help my country."
"Why Denver University?"
"I learned about the school and spoke to many people who go there. Danika helped me apply many months ago. I will hear if I am accepted this week."
"I'm sure it's a great school, but you know there are a lot of schools in Washington, D.C. that have great international development programs. And Washington is the capital so it is where a lot of international jobs are located."
"Yes, but Washington does not have enough mountains."
"Funny," I replied. "I've been thinking the same thing lately."
She took a few more bites of her food. "How was your meal?" she asked me.
"It was good. But you know what would have made it great? Dates."
"You and your dates," she scoffed.
***
Tucked away in the Hindu Kush mountain range, Panjshir Valley was a preeminent tourist attraction prior to the Soviet invasion in the 1980s. The picturesque landscape is also the resting place of Ahmad Shah Massoud, the legendary Afghan warrior who led the resistance first against the Russians and eventually against the Taliban. His death's impact on the psyche of the nation cannot be overstated, as its people continue to wonder what would have become of their country if the "Lion of Panjshir" was not assassinated two days before September 11, 2001. We heard rumors of the valley being too dangerous, but received assurances from the local Governor's office that it was safe for trekking. To ensure there would be no complications, we submitted a list of attendees in advance.As we arrived, the rocky expanse gave way to cemented security. Posters immortalizing Massoud littered red-and-white barricades lining the pavement. A barrier gate thwarted our passage. The demarcating arch above the entranceway hovered between celestial and militant.Three guards approached our vehicle. The flanking officers sported overgrown beards and AR-15s. The middle guard was freshly shaven, which likely was a machismo maneuver to accentuate his pugilistic jawline. He commanded the driver to open the rear door and entered the bus. Surveying the alien spectacle, he turned to me and began speaking in a terse, commanding tone. I wouldn't have understood his demand except that the word "passport" is the same in Dari. Our driver exited the vehicle to interject. The guard ignored him. Remaining fixated on me, his insistence elevated to a contemptuous growl. His automatic weapon slung across his shoulder. Freshta explained that I did not have my passport but that my name was on the attendee list.When the guard heard Freshta speak, he pivoted towards her. He lowered his voice. No longer barking orders, he lectured Freshta in a curt baritone that left the bus deafeningly silent. Freshta did not respond. Instead, she stood up, walked across the aisle, and took the seat on the other side of the bus.
He then returned his attention toward me. He ordered me out of the bus and escorted me into the guard post. I stood at attention in the barren enclosure while the guard used the phone to verify our preclearance. He glared at me as he received his orders. After hanging up the phone, he directed me to sign a log-in sheet before I could enter the valley. We went through two more checkpoints before arriving at the trailhead.
As the team exited the bus, I noticed yet another security vehicle driving towards us. I rushed the girls off the bus to avoid another confrontation. We were no more than twenty feet onto the trail when the guards ordered us to stop walking. Freshta and I stood at the base of the trailhead while our driver tried to negotiate the latest obstacle.
"I am so sorry you have to see this," Freshta said as a tear trickled onto her cheek.
"You have nothing to be sorry about. I'm sorry you have to deal with this."
"I know if we were boys, there would not be such problems. We could go no problem. Now they are trying to tell our driver that the trail is not safe. They would not say that to boys." The tears found release as her gaze remained steady on the frozen mountaintops. "They are so conservative. I don't understand why I am being a bad Muslim because I am sitting next to an American man."
"Is that what the guard said to you?"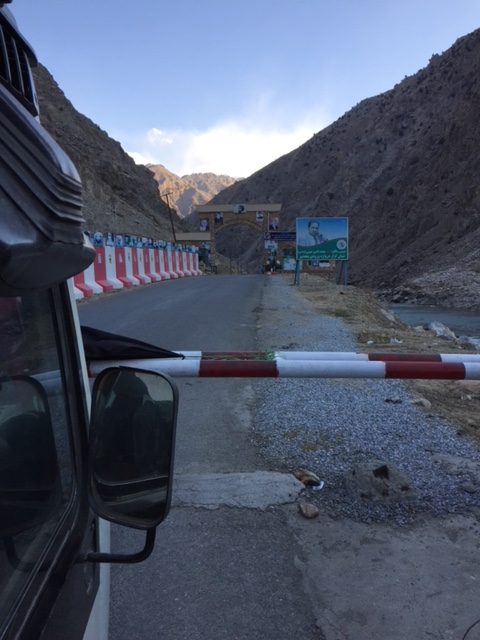 "Yes, he told me I should know better. That I was a bad Muslim woman for sitting next to you. I am sorry. Sorry for my country. And embarrassed." Her frustration choked her enunciation. "I don't think Afghanistan is a good place for me to live. I hope I am accepted to Denver University. That way, I can hike wherever and whenever I want.""Freshta," I interjected. "You are making change and that often scares people who do not understand. The guard was trying to intimidate you so you wouldn't hike today. But you are going to defy him and climb this mountain. That is bigger than any seat on a bus."An officer from the Governor's office eventually showed up and remedied the situation. We were finally free to hike. I turned to Freshta. "Come on, let's hike it off, hike it off," I said while shaking my hands as though I were in the Taylor Swift music video."Paul, your jokes. They are very bad," she replied, wiping away the lingering tears.But we did hike it off. As nervous energy gave way to released endorphins, the girls found their teenage voices once again. They begged for selfies and laughed about the latest episode of Afghan Star. We walked past windmills powering the future and hollowed-out Russian tanks fossilizing the past. The end of the hike was marked by the mausoleum that houses Massoud's tomb. We stood solemnly at the glass-encased burial site, giving space to the silent worshippers who came to pay homage to their fallen leader. We ate lunch while peering at the vertical peaks the girls dreamed of eventually summiting. By dusk we returned to the office weary and elated.
***
On my final day in Afghanistan, Freshta came to the office to see me off. She arrived two hours before the driver was scheduled take us to the airport. She seemed uncharacteristically agitated. I asked if anything was wrong. She ignored my question and asked if I wanted to have a yoga session before my flight. The girls had been starting most of their days with yoga classes, but to give them privacy, I spent the hour tucked away in the side office. Freshta wanted to lead a two-person class.
I agreed to participate but asked again if anything was wrong. That's when she broke the bad news. She had been rejected from Denver University. I tried consoling her with a pep talk on perseverance. I told her how bright and talented she was, and that she was bound to get into another school. My platitudes fell on deaf ears. She stared into the distance, coping with the realization that she would not be able to hike wherever and whenever she wanted to.
She staggered into the side office and changed into yoga attire. She came out in spandex and a running top. Her jet-black hair was in a bun. As we practiced in the fortified office space, we found connectivity between body and mind. We breathed collective alleviations of lingering disappointment. Asana postures grounded our fear of the unknown future. We welcomed the strain in our muscles; we silenced our minds of continual doubt. Our outspread fingers pressed against the mat as we stretched our mutual fortitude. In the end, we laid motionless in a defiant shavasana that could heal nations.
We drove to the airport mostly in silence. As a last act in Afghanistan, I asked the driver to pull over so Freshta and I could eat bolani that was being sold from a cart parked along the shoulder of the dusty highway. Delaying our goodbye, we ordered a third potato and onion crepe, splitting it in half before dipping it into the communal hot sauce.
When we arrived at the airport, Freshta escorted me to the first security checkpoint. The staging area was teaming with people waiting for arrivals. Several men stared with intrigue at our unlikely pairing. Freshta and I stood at arm's length. Neither of us dared reach out for fear of getting the other in trouble.
"It's not fair. I wish I could hug you goodbye," she confessed.
All I could do was nod. "I know. I wish I could hug you goodbye as well." I placed my hand over my heart. "Tu mitani, Freshta."
She followed suit. "Tu mitani, Paul."
I entered the terminal to continue my sabbatical, leaving Freshta to return to her birthright.
To donate to Ascend, please visit the Ascend Athletics Website.