Big Adventure and First Ascents in Wyoming's Cloud Peak Wilderness
One climber searches worldwide for major adventures; the other scours the mountains near home for first ascents. They find both in Wyoming's Cloud Peak Wilderness.
Heading out the door? Read this article on the new Outside+ app available now on iOS devices for members! Download the app.
This story originally appeared in the May 2015 issue of our print edition.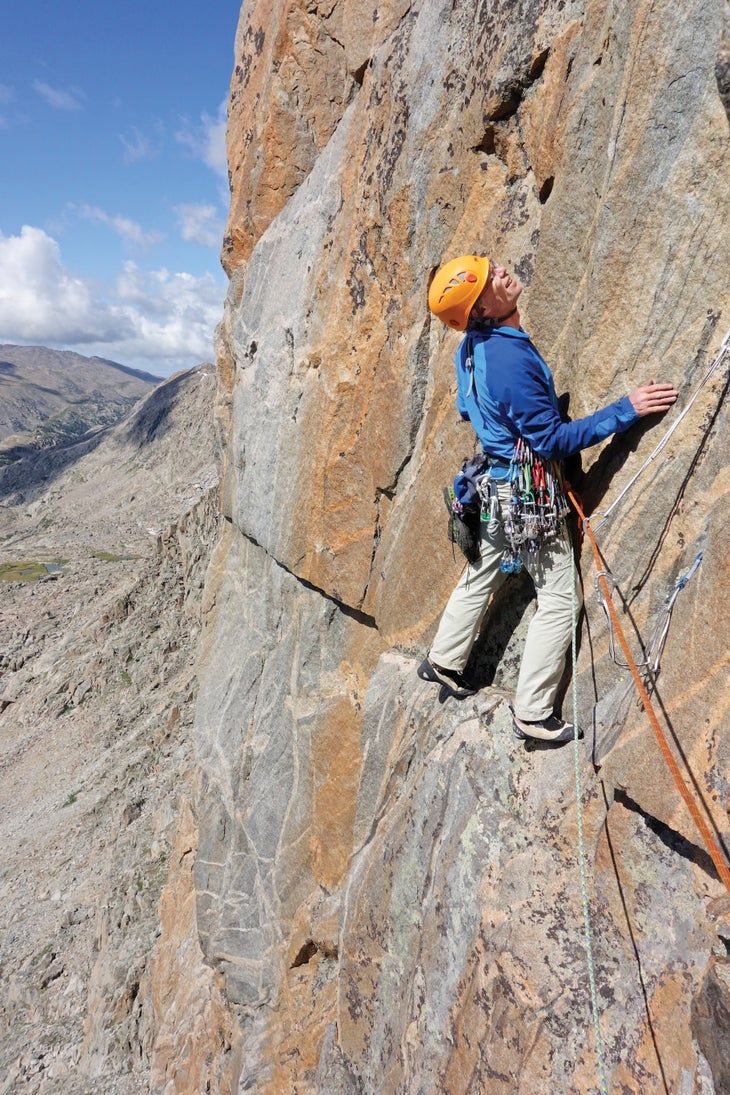 It's my lead. I look glumly at our largest cam—it's obviously not big enough to protect the offwidth above us. We're four pitches up a new route on the east face of Bomber Mountain, a 12,841-foot peak in the secluded Bighorn Mountains of northern Wyoming. It's our fourth big route in five days—the most successful alpine rock climbing trip I've had in years—but the accumulated uncertainties of wilderness climbing are catching up with me. On my last lead I concocted an excuse to belay after less than 60 feet. In places the rock on this face is so loose it's like unexploded ordinance, waiting to detonate at the slightest touch. We are hours from our high camp, more than 10 miles from the nearest road. It's late afternoon, and I'm nearly out of water. I climb a few feet up the offwidth and then slither back down and hand the rack to my partner.
Mark Jenkins, a local boy raised in Wyoming, is a National Geographic staff writer, author of four books of near-death adventures, erstwhile resident of detention cells in China, Algeria, Russia, and the Congo, and a first ascensionist in Canada, Tibet, and Uganda. He grew up in wind-chapped Laramie, worked as a ranch hand and—after lying about his age—on a railroad gang, then lit out for Europe and Africa at age 18. In a sense he never really returned—he has done more than 50 expeditions over the past three and a half decades. Nearly every summer he heads into the mountains of Wyoming as a sort of vacation from his more difficult and dangerous adventures. "A place like the Bighorns is perfect," he says. "It's hard and a little serious, but it's just a week, and you can plan it practically overnight. No air travel, no hassles. Just pack your stuff and go."
For me, a week in the Bighorns is a major expedition. I haven't climbed for a full week in remote backcountry since attempting Denali in the 1990s. Between work and other obligations, I snatch long weekends in the hills closer to home. On longer trips, my wife and I sleep in a van, huts, or hotels. I had to ask Mark what food to buy for a week of wilderness camping. But even though we'd never done a long trip together, Mark knew I loved attempting new routes in the Rocky Mountains, near my Colorado home. And the Bighorns are stacked with potential.
Although the range holds two summits over 13,000 feet—including Cloud Peak, the 15th most prominent peak in the Lower 48—and walls of solid granite up to 1,250 feet high, the Bighorns are way off most climbers' radar. People line up for popular routes in the Wind Rivers and Tetons, but the best Bighorn climbs go years without a single ascent. Approach hikes starting at about 10 miles limit the appeal, as does lack of information. The last climbing guidebook was published in 1977.
Mark had done the long approach to Cloud Peak a couple of times already, and now he had a better idea for two guys in their mid-50s with battered knees but also bank accounts: We've arranged for horses to carry our heavy loads high into the Cloud Peak Wilderness. This lets us tuck a few extras into the packs, including a plastic bottle of single malt and two separate tents so a pair of middle-aged men can spend their restless nights apart. We meet the horse trailer at the West Tensleep trailhead in the middle of August. The wranglers wear checked shirts, wide-brimmed hats, and chaps; one of them carries a six-shooter to scare off bears. They roll our packs in canvas tarps and lash the 50-pound burritos on either flank of a mule. Mark and I pick up daypacks and stroll into the woods after the team as a steady rain begins to fall.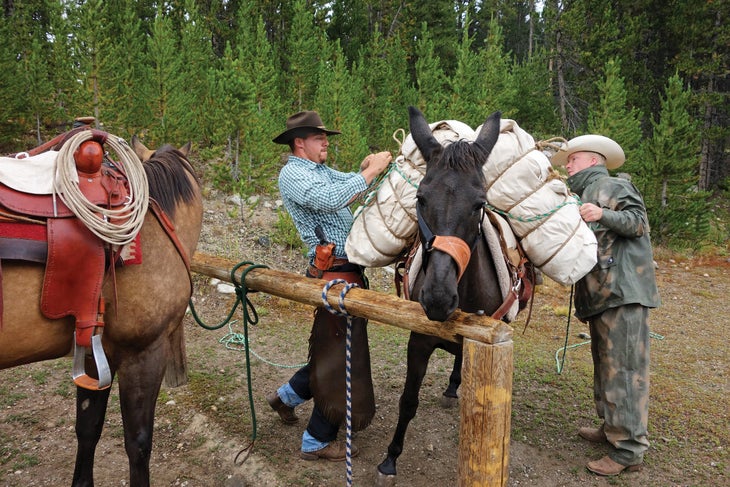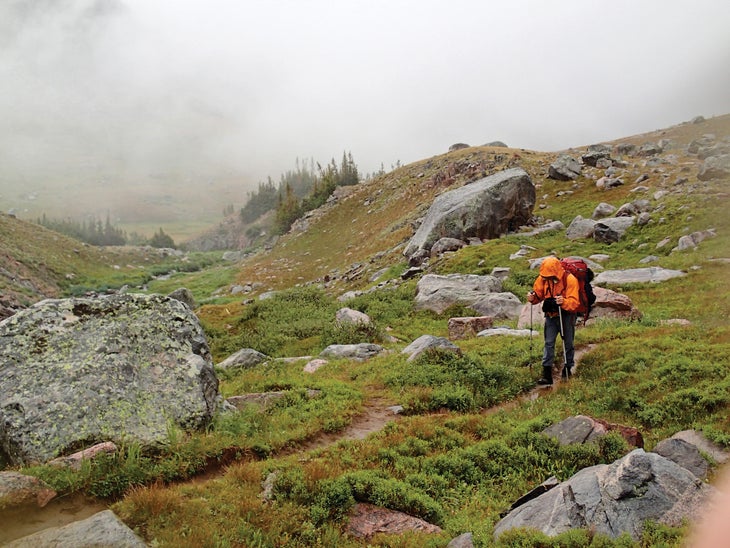 The trees thin and then vanish above Mistymoon Lake, and the wranglers are shivering in their jeans in an icy rain when we catch the horses 6.5 miles in. Mark and I strap the daypacks to our groaning, overladen packs, hike down to Paint Rock Creek—Mark, the Wyoming native, calls it a "crick"—and bushwhack another three miles to a campsite at the head of the drainage at 11,000 feet.
In the morning clouds still threaten, but two hours later the sun is burning them off, and we decide to check out a big rock buttress we'd passed on the way in. Soon we're laybacking and jamming up steep corners of golden granite. Reflections of white, puffy clouds slide across the unnamed lake below, a dead ringer for a drifting jellyfish. Despite the sun, an icy wind knifes through our clothes. Leading the fourth pitch, Mark stalls out and belays to one side of the main corner. He says he didn't like the feel of a thin, hollow flake below the obvious crux, and then adds, "You should take a look." I traverse back to the corner, reach high to place a couple of tiny nuts, and shakily pull past the flake and through the bulge above. I belay at a stance a few moves higher, breathing hard.
"Brass Balls MacDonald!" Mark crows as he slaps the jug above the crux bulge.
"Don't expect that to happen very often," I tell Mark as he racks for the next pitch. "That's probably the last time you'll see me take over a lead."
Mark laughs, but I'm not joking. The testy lead has added a big deposit to my Fear Reservoir. My oldest climbing partner, Dave Goldstein, came up with the Fear Reservoir as a metaphor for the ebb and flow of personal psych. Dave's idea was that every climber has a mental holding tank for the anxieties of climbing, a form of psychological flood control. Each time you push through a sketchy crux or pull off a loose block or dodge a storm, more fear flows into the holding tank. Eventually the reservoir fills, and then you have to back down to easier, safer climbs until the accumulated anxiety drains away. If the tank overflows, you may not be capable of climbing at all. You could keep the reservoir empty by never pushing your limits, but such a drought would parch the souls of most climbers. Somewhere in each climber's Fear Reservoir is a level where dread and relief slosh around in perfect balance.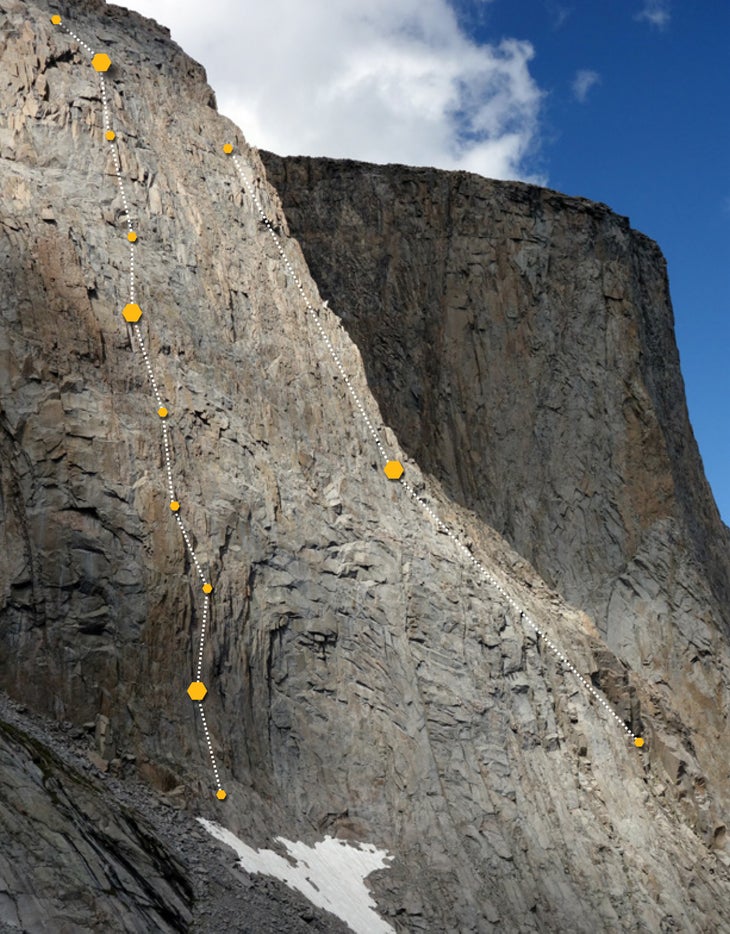 We hike in the dark early next morning to the 11,750-foot saddle above our camp, dividing the south side of Cloud Peak from Bomber Mountain. Near the top we find a twisted shard of aluminum, a relic of the B-17 Flying Fortress warplane that crashed into these mountains in June 1943, killing all 10 men aboard. To the east is the Merlon, a 1,250-foot battlement of solid granite. In 2008, Mark and Ken Duncan climbed a 12-pitch, mostly new 5.11 up the nose of the wall, running out of daylight on top and sitting out the night with only light shells for protection. "Coldest night of my life," Mark said. But he hadn't been too cold to notice other good lines nearby.
We slide down a snowfield to a shallow tarn, fill our water bottles, and then head for the long arête to the left of the Merlon. Mark starts soloing at the extreme toe of the formation, aiming to maximize the route, while I hike up talus alongside. We regroup on a ledge a few hundred feet higher and rope up. After a false start up a steep corner, the route flows up the narrowing arête until we are high over unclimbed walls on either side. It's never harder than about 5.8 and nearly always enjoyable—we top out by noon and hike to the summit of Cloud Peak, where hikers are posing for photos in the sun.
The Fear Reservoir is a metaphor for the ebb and flow of personal psych, where dread and relief slosh around in perfect balance.
The hiking route up Cloud Peak follows the ridge directly above our basecamp and is popular, despite a 12-mile trek. Yet few people leave the main route—we see no one during our six nights in the Paint Rock valley but spot plenty of signs of wildlife. Bobcat tracks cross the snow at over 12,000 feet, and pine martens appear twice in the talus. Below Cloud Peak to the east is a half-mile-wide glacier—the largest in the range—and 1,000-foot walls with only one known rock climb.
On the way down we stop to scope the south face of Cloud, the wall left of our ascent route. A rust-colored pillar suggests a line, so we cache our gear at the saddle and plan to return early the next morning. There's a lot of "fake it till you make it" in alpine climbing—just getting started is often the hardest part. With our gear at the top of the pass, we'll have to go at least that far. Returning to camp, we hop easily across Paint Rock Creek, which has dropped dramatically in the two days since the rain stopped. Now the weather is fine and we've already climbed two good routes. Like the creek and the waters of Jellyfish Lake, my Fear Reservoir is drawing down.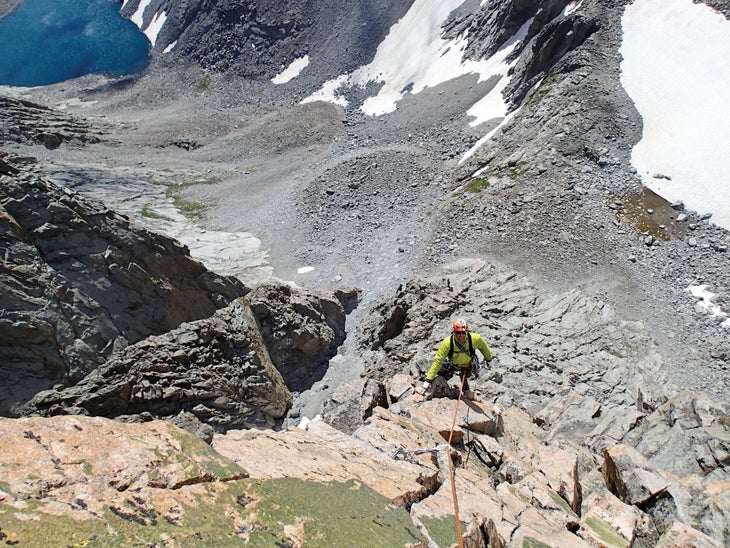 That night in the tent, however, I lie awake thinking of loose flakes peeling off above me, yanked by the rope or toppled by an errant toe. I imagine a sliding slab of talus crushing my leg. I think, I'm wearing long underwear and both of my shells on these climbs, and I'm still cold. What happens if we have to bivy? Raindrops spatter the tent. By morning the rain clouds have vanished and my fears have ebbed again. There is more room in the tank. "Let's do it!" Mark shouts as we leave the tents at dawn, his voice echoing from the canyon walls.
The bottom of the rusty pillar is wet, but after one short fall I manage to stem and layback up the steep, dank corner of the second pitch. As he follows, Mark trundles a rock pillar the size of a fire hydrant that I've carefully avoided—the block confirms we're on untrodden ground, because no climber passing here would have left it standing. The crux on the next pitch is dry, and Mark bridges wide on tiny holds as he pulls past a roof. Above is pitch after pitch of solid, white granite. After one runout stretch of face climbing, I cut my lead short, claiming I've run out of gear, but really I just want the comfort of a rope overhead. Mark charges through.
"Don't you ever lose sleep the night before a climb?" I'd asked him at breakfast.
"Not here, not in these mountains—I'm just psyched to try," he said. "I've worried before big Himalayan climbs. I lay awake the night before soloing Mt. Cook in New Zealand, knowing I'd have to jump crevasses on the glacier. But not here."
Moving fast, Mark tugs the rope for more slack. I think: Maybe the thing he fears is missing out. Mark goes away on long writing assignments—often on remote expeditions—three to four times a year. Meanwhile, his two daughters have grown into their 20s with their father away from home up to half the year. Whether at home or halfway around the world, he's missing something important. "I've been telling my wife this is my last expedition for 20 years," he says. Yet less than two months after we leave the Bighorns, he will fly to Myanmar to attempt Hkakabo Razi, a nearly 20,000-foot mountain on the border with Tibet, approached by 150 miles of arduous jungle trekking. The expedition will last seven weeks, Mark will lose 22 pounds, and the team will fail to climb the mountain.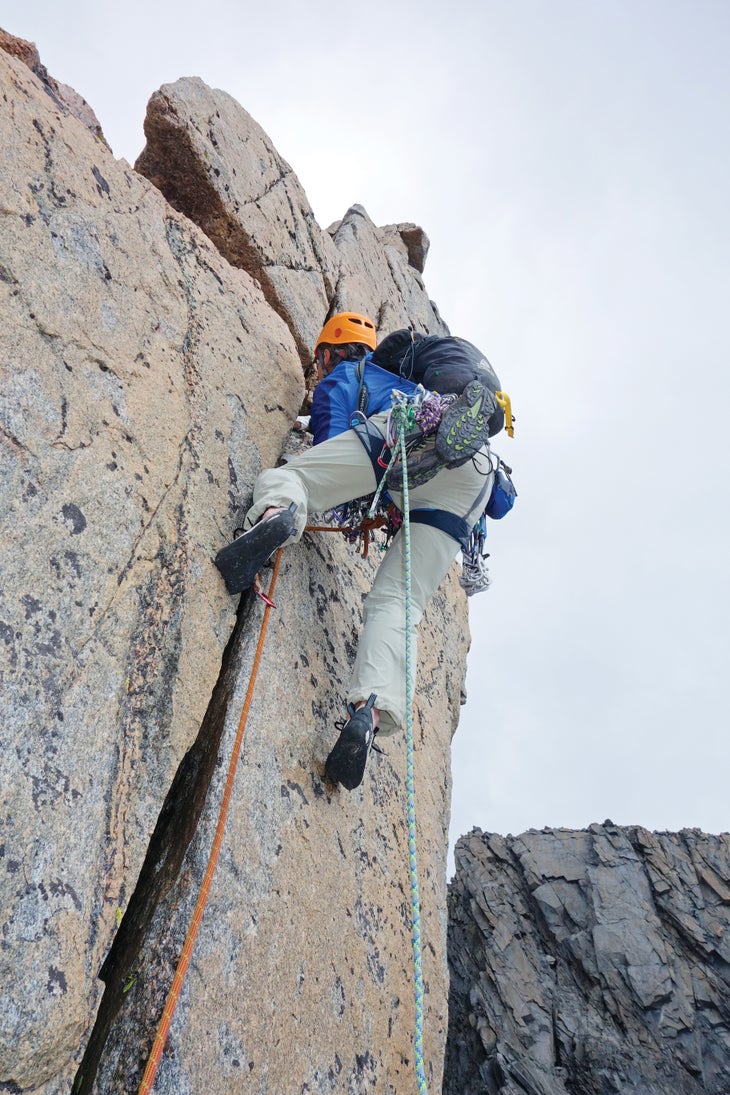 Near the top of Cloud Peak's south face, we sprawl on grassy ledges to eat lunch, and then Mark leads one more steep pitch and we ramble to the top. It's one of the best new routes I've ever done. Thinking of the red pillar we've just climbed, and of both of us attempting to hang tough against advancing years, and of the insidious power of FOMO, I suggest a name: Rust Never Sleeps.
Mark pulls far ahead on the descent, and as he crosses the saddle below, I see him stop and dig in the talus. Has he found more airplane parts? He points to a blue and red pack he has pulled from under the rocks. Inside is a climbing rope, a figure eight belay device, a No. 6.5 Chouinard Stopper and a few oval carabiners, a tattered copy of Orrin and Lorraine Bonney's 1977 guidebook to the Bighorns, a tube of Savory & Moore glacier cream ("By appointment to H.M. The Queen"), a smashed Canon camera, and some socks and threadbare clothing. And this: a bottle of heavy-duty painkillers, prescribed in Pittsburgh in 1977. Sneza Kelly, whose name is on the bottle, died in a climbing accident at Seneca Rocks about five years later, I discover after the trip. She was 33, a postwar immigrant from the former Yugoslavia, and a clinical pharmacist. Was this her pack? Or had she given the painkillers to a friend who was headed into the Wyoming mountains? What storm or illness or accident caused an unknown climber to abandon this cache of valuable gear on a remote, windswept saddle?
Shadows rise to fill Paint Rock valley. The wrecked bomber, the forsaken cache—the saddle suddenly feels funereal. At camp I can't get warm despite wearing all my layers.
I declare a rest day, and after breakfast the next morning I wander far down the valley, photographing flowers and the flat, brightly colored stones that give Paint Rock Creek its name. Mark naps and makes notes in his tent. I find a neat disk of grass about four inches across—pikas assemble these miniature haystacks to store food for the long winter. The receding waters of Jellyfish Lake reveal coyote and fox tracks in the mud. By evening I feel better. We still have time for one more route.
Cooking dinner, Mark asks, "What's your favorite kind of climbing?" Before I can answer he says, "For me, this is it. I just love being out here. I want to spent the next 10 years doing what you've been doing—going rock climbing in all these amazing places, closer to home, with good friends." He sounds like he's planning a relaxing retirement, I think. I just want to do a few more good routes before I get too old. Mark swats a mosquito from his cheek and says, "Seriously, this is one of the best trips I've ever had. We are a really good team." And it's true: We had only climbed together twice before this trip, but in the wild Bighorns, with their seemingly endless potential for first ascents, we've found common ground.
I've convinced Mark to head for the hidden east face of Bomber Mountain. A photo I'd discovered online seemed to reveal a golden, leaning slab of granite like something out of the Sierra. After studying the map we've decided the easiest way to get there is to climb back to the high, haunted saddle and over Bomber's nearly 13,000-foot summit, find our way down into the east-facing cirque, climb a route back to the summit, and then descend to camp. It will be a long day.
The sun rises as we scramble to Bomber's top, nearly 2,000 feet above camp. We hike south down a plateau to a break in the cirque wall and then downclimb loose, treacherous gullies and slabs for nearly an hour, leaving a nut to anchor a short rappel when we cliff out. A broad snowfield guards the east face, and the snow is too hard to kick good steps in our approach shoes. I pull out my nut tool as an ice dagger, then use it to self-arrest when my feet slip on hidden ice. I'm rattled when we reach the foot of the wall, more than four hours after leaving camp, and then I spill most of my water as I try to top off a hydration bladder in a spigot of melting snow.
The Sierra-like pillar was an illusion. About 800 feet of broken rock leads to a headwall with no obvious route. We decide to scramble as far as we can and hope a decent line reveals itself. We carefully zigzag up the lower wall, mounting several fifth-class steps, and then rope up beside a huge fin of snow, at the foot of a broken chimney in a shield of gray rock.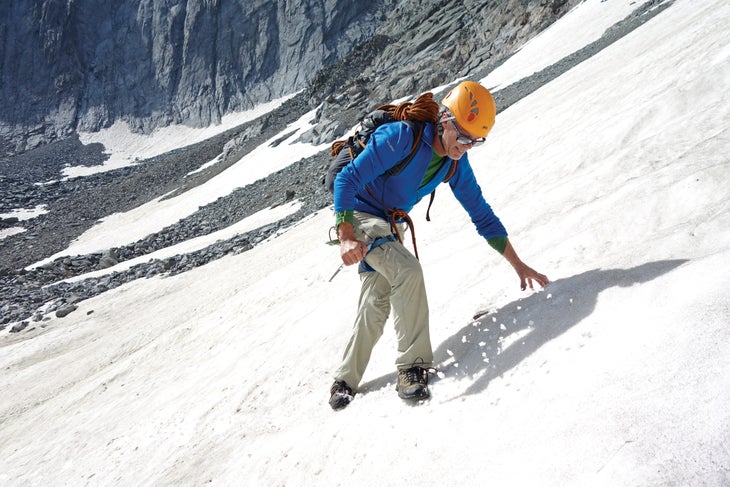 It's 11:30 a.m.—much too late to be starting an unclimbed and indistinct line on the "wrong" side of the mountain. It will be a long and hazardous retreat if the line doesn't go. Worse if a big afternoon thunderstorm moves in. Perhaps deadly if one of us gets hurt. Mark offers to lead the first pitch and stems up the chimney. Loose blocks choke the crack and litter the ledges. After two poor pitches, a long and tricky traverse on better rock leads to a small stance. I lead toward the offwidth above Mark's belay, shove our largest piece into the bottom of the crack, and shimmy up to a bulge that pushes my butt into space.
"I can't do this!" I don't have to yell—Mark is only 30 feet away.
"What makes you think I can do it?"
"You've climbed at Vedauwoo all your life."
He is reluctant—for the first time I understand he may be as tired and stressed as I am—but we switch ends and Mark makes quick work of the offwidth and the strenuous hand traverse above. "Nice job!" I shout as he hauls our packs.
The next pitch follows a chimney stuffed with hanging blocks and jagged wedges. It feels like a game of Jenga with nightmarish consequences for an errant move. Mark is anchored into the drop zone 50 feet below. After delicately maneuvering around the most appalling stack, I set up a hanging belay to one side, where I can keep the rope from knocking the pile onto my partner. Gray clouds scud overhead. The Fear Reservoir is bubbling at the rim. "Thank you for not killing me," Mark says soberly as he passes the loosest blocks and reaches my belay.
He disappears into a slanting groove above and continues toward the summit, but after 15 minutes the rope suddenly stops and Mark yells something unintelligible. A moss step has collapsed under his foot, launching him into a 20-foot fall. Soon, though, he's moving again, and then I hear another muffled shout that sounds like "off belay."
On top of Bomber Mountain I kneel by a puddle atop a flat rock and suck water into my parched throat. Relief floods my core. The spillway opens. To the north and south, granite walls undulate in ribbons of light and darkness. There's so much more to climb.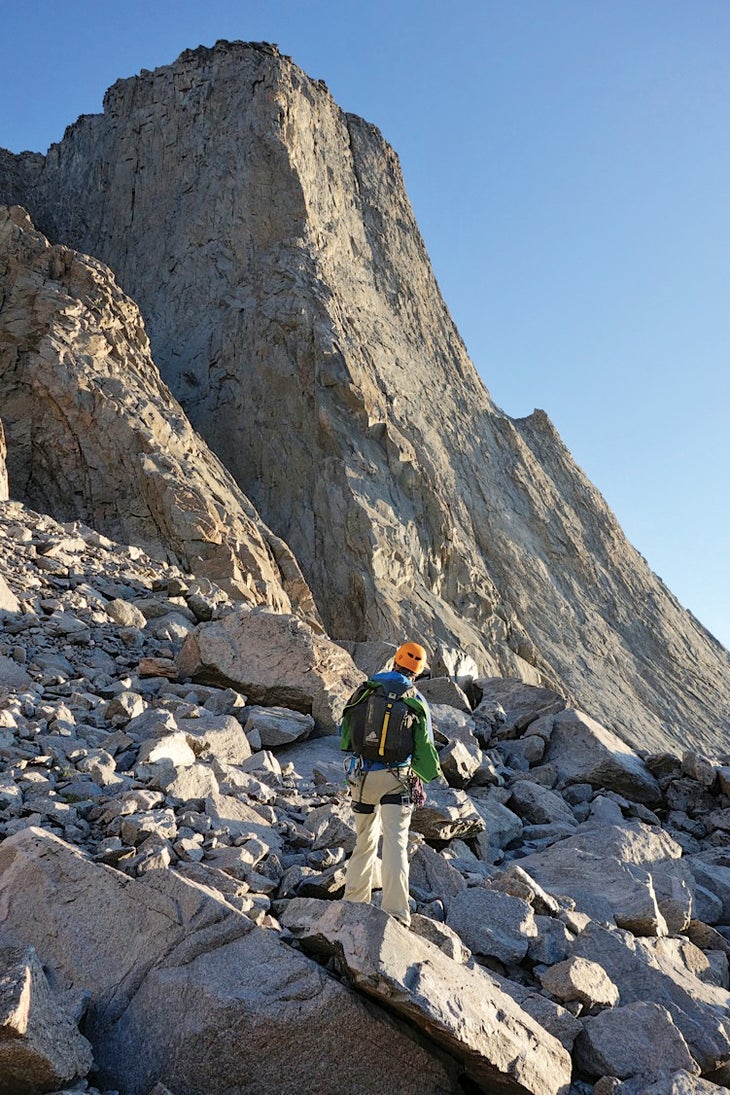 Cloud Peak Wilderness Beta
Information on Bighorns climbing is scant. Mountain Project describes a few routes, and an article in the 2015 American Alpine Journal covered the history and some climbing possibilities on Cloud Peak.
It's about a 10-mile hike to the head of Paint Rock Creek, the easiest way to access the east and south faces of Cloud Peak and the Merlon. Horse packers will carry your gear to Mistymoon Lake; we paid $600 for the round trip, including tip.
Recommended Routes
East Buttress of the Merlon (5.7)
Easy climbing up broken slabs to a steep, solid buttress, first climbed in 1961. Probably best approached from the east, past Emerald and Sapphire Lakes.
Southeast Arête of Cloud Peak (5.8, 1,200 feet)
Start on the left side of the ridge just left of the Merlon, and follow the crest as it steepens and narrows.
Rust Never Sleeps (5.11a, 850 feet)
South face of Cloud Peak
Ten pitches of steep, solid crack and face climbing.
Super Fortress (5.11+, 1,250 feet)
South face of the Merlon 
Only route in the area with extensive bolt protection. The upper half features sustained face climbing on excellent rock.
Did You Know Sneza Kelly?
Sneza Kelly or one of her friends mysteriously abandoned a cache of gear south of Cloud Peak in the late 1970s. She died in a climbing accident in West Virginia in 1982. The author retrieved a few items from the cache that he would like to return to Kelly's relatives or climbing partners. If you can help, please contact us at letters@climbing.com.