Heading out the door? Read this article on the new Outside+ app available now on iOS devices for members! Download the app.
We are all duly impressed when talented climbers make quick free ascents of long 5.12 and 5.13 routes, but just because you don't climb at that standard doesn't mean you can't do those same climbs. A bit of aid climbing is the key to keeping difficulties within your grade and moving quickly up whatever terrain you encounter. Here are some tips to help you make short work of longer, harder climbs.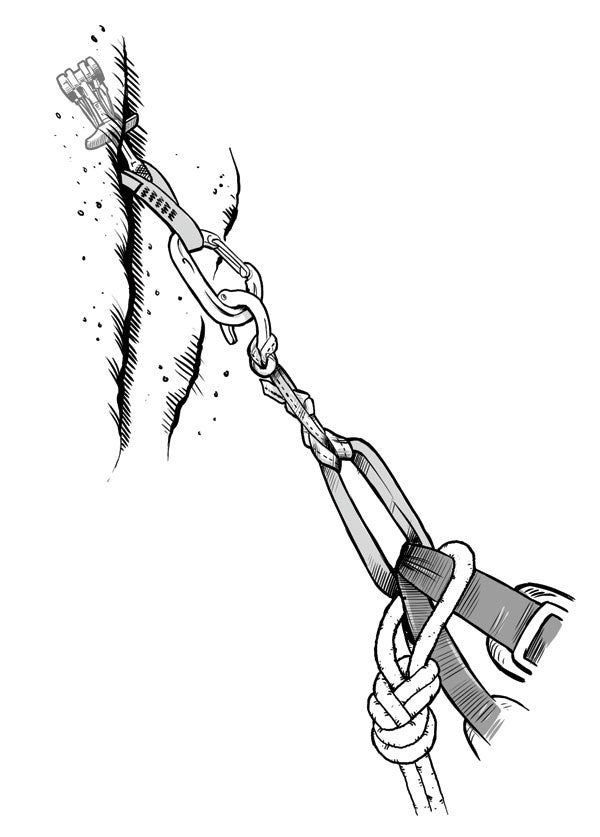 Aiding without aiders
Change your mentality. Don't think of aid as cheating. Study your route's topo and decide which pitches you definitely want to try to free. Then go into the day with an alpine-climbing mentality. Move up the rock either free or with simple aid, avoiding overly strenuous moves that will drain you. You want to keep a good pace all day, but it's not really about speed. It's about efficiency.
Lean back and enjoy. One very helpful form of aid is simply resting. If you find yourself stalling out and getting pumped, yell "take" or hang directly from a piece. Rest your arms and assess the problem. Often you'll find holds you were missing (or you were too pumped to use), and you can get right back to free climbing.
Hook, don't clip. A huge energy drain for the A0 climber is unclipping from gear. Instead, girth-hitch a fifi hook to your belay loop so you can quickly hook in to a piece and then get free again.
"5.10 A0." Many 5.11 or 5.12 pitches feature just one short hard section, with easier climbing above and below. Free these pitches as you would easier ones, but when you reach the crux section, place a piece of gear as high as you can reach, clip a quickdraw to it, and pull on the draw to reach better holds. (You may want to hang on a lower piece first to suss out the situation.) You can get past a longer crux by clipping a full-length sling to the piece and then standing in it. Repeat if necessary. For crux sections longer than two or three moves, break out a lightweight aider.
Smooth moves. When you're "French freeing," do it the French way: elegantly and efficiently. Find and use the available footholds, and concentrate on staying in balance. Look for opportunities to rock onto a high foothold by pulling on a piece. Beware of speed-climbing techniques like smearing your feet on a vertical wall and doing huge lock-offs on quickdraws. Focus on saving energy, not time. Rest your grip muscles and biceps so you can stay fresh to free climb as much as possible.
Carry aiders. Don't try yarding on gear up long, sustained jam cracks; you'll get almost as worked as if you were free climbing. If you plan to do more than a few short sections of aid, bring a pair of lightweight aiders. They only weigh a few ounces, and can be clipped out of the way when not in use. See "Aiding with Aiders," right, for tips on using them efficiently.
Aiding with aiders
Standard aid climbing involves working your way up the rock by standing in nylon slings—aiders— clipped to gear. For full-on aid routes, most climbers prefer a four-aider system. But this is overkill for mostly 5.10 and under routes like Half Dome's Regular Northwest Face. Instead, bring a single pair of lightweight aiders per climber, with a daisy chain for each, plus your fifi hook.
Step smartly. It's time-consuming to work your feet up each step of your aiders. If the rock's less than vertical, it's often possible to place the aider high overhead, grab the top of it, then friction your feet up the wall and step directly into a high step.
Biner full o' tricks. If the crack is inconsistent, you can assemble a mini-rack on each aider. Pick the pieces you most expect to use—for example, a set of TCUs and a cam hook—put them on a locking biner on the aider, and leave them there. Shuffle (or leap-frog) upward using whatever piece fits, pulling pieces off your main rack every so often to leave for protection.
Cams are king. Weighted nuts can be difficult and time-consuming for your second to remove, so when aiding thin cracks, use micro-cams whenever possible. To conserve, take them with you as you move, and leave unweighted nuts for protection.
Busting free. Moving from aiders back to free climbing can be one of the most awkward parts of mixed-style climbing. Instead of stepping out of your aiders directly into free moves, fifi-hook into your highest piece and hang from your harness while you clip your aiders out of the way, organize the rack, tighten your shoes, and psych up. If the good holds are still out of reach, you can still put the aiders away; clip a regular runner to your high piece, and then stand in it instead of an aider, leaving it behind when you go.
Do the shuffle. When aiding a straightforward crack—especially one that's consistent in size— consider shuffling aiders rather than leap-frogging them. Stand low in the aider on the top piece, and high in the aider on the bottom piece, and shuffle the aiders up instead of passing one above the other. You'll make a lot more placements, but will often save time and tangles. This technique really comes into its own on consistent, cam-sized cracks where you can keep reusing the same piece instead of placing a new one for each move.
Follow free or jug? Seconding big routes can be done in two ways: regular multi-pitch style (climbing the rock) or big-wall style (climbing the rope). Rock climbing is more fun, but on steeper, harder terrain—and especially if some aid was involved on the lead—many parties prefer the efficiency of the second using ascenders to jug the fixed lead line. This method also has the advantage of freeing up the leader for organizing, eating, and drinking while the second jumars.
A quick fix. Your second also might want to mix it up, free climbing part of the pitch and jugging the rest. For a seamless transition, the leader can belay in guide mode off the anchor with an auto-blocking device, so the rope automatically locks when the second weights it to start jugging. Back up the locked device with an overhand on a bight on the brake-hand side of the rope. Make sure to communicate well and take up the slack safely if you switch back to regular following mode!