Alex Honnold's Mom on Staying Calm on the Rock (With a Rope!)
How to soak up the calm from your lead climber if your own confidence isn't rock-solid
Heading out the door? Read this article on the new Outside+ app available now on iOS devices for members! Download the app.
I absorb calm. I do have some of my own—but sometimes when I'm in a place where climbers go, it deserts me. Like the top of the Rostrum, in Yosemite. Eight-hundred feet high. Exposed. Not as exposed as hanging on El Capitan, which I did with my son, Alex Honnold—but I'd trained for that for months; the Rostrum happened with one day's notice.
It had captivated me since Alex free soloed it in 2007. I wasn't a climber then—I started in 2010—but I often dreamed of being up there, on top of that impressive tower. It was one of those unimaginable ideas that you know will never actually happen, but you dream about it anyway. I am a climber now, though, and this week, my friends offered me the adventure of the Notch route at the top of the Rostrum.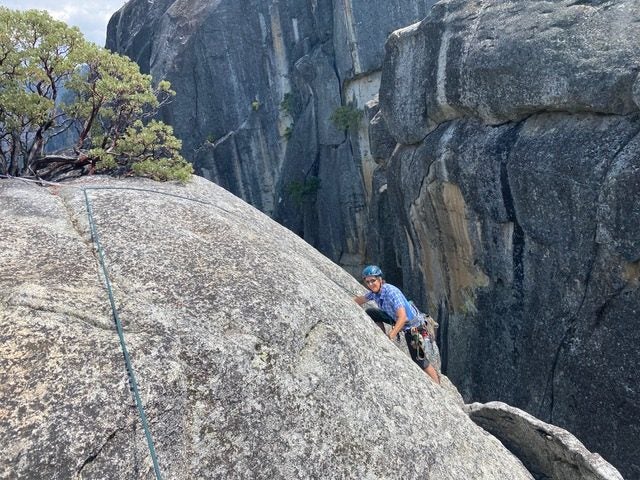 They probably have no idea how terrifying it was for me to step out onto the rocks at the top of the Rostrum and look around at the vast emptiness. To ignore the wide, black gaps between the rocks. Ignore the mind-boggling distance down to the Merced River and the Valley. Ignore my churning stomach.
If you pretend hard enough that fear doesn't exist, it can't grab hold as completely. Just don't let 'em know your guts are clenched so tightly you can't breathe. Like Anna in "The King and I," just whistle that happy tune, pretend you're breathing like normal—and soon you will be. I can't whistle, but I can pretend with the best of them.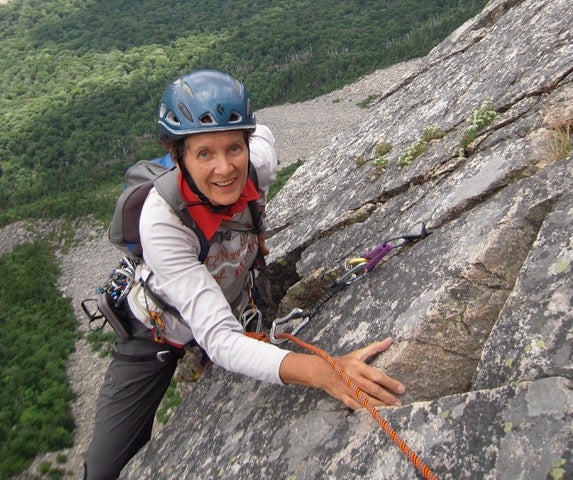 I don't think age has anything to do with it. My team is always younger than me—often several decades younger—but I don't think that's where the difference lies. It's habit, pure and simple. They do this every day, all the time. It's routine. Like breathing. For me, it's extraordinary. Getting less so, each time, but still, far from routine.
So I watch them, intently, carefully. I observe their movements, their grace, I let myself marvel at their fluidity. Their jokes and puns and silliness settle my own headspace, like a cool, soothing ginger ale for an unsettled stomach.
Still struggling for calm as I stepped out onto the first rock, I watched the two young men I was trusting with my life. I noticed the fist-sized hole in the straw hat, heard some very soft music that I remembered vaguely from the 1970s. Those unexpected moments soften the edges around me, up there. They allow my mind some peace, so I can keep doing what I need to do with focus, undistracted by fear. So I can wrench my imagination away from all the other (shockingly dangerous) things that vie for my attention.
We would rappel down into the Notch, then climb up the front, exposed section of the Rostrum, and finish just close enough to where my son had summited. Without rope.
Breathe!
As I put on my harness, I tried to imagine that day—a thought that definitely does not promote calm. But any time I think about it, I try to visualize being that good at something, that calm, that confident. I don't think I'll ever really understand how that feels. Being here, though, in this outrageous place, I absorb some of it. Just enough to keep going.
To keep breathing.
If you start climbing when you're in your 60s, you don't have the time to acquire the nonchalance that comes from habit. A two-year habit is just never going to be as comfortable as a twenty-year habit. So in the absence of sufficient time, absorbing the comfort level from your partners can help make up for what your own mind won't quite allow.
When I stepped out onto the blocks to rappel down into the notch behind The Rostrum, my stomach flashed right back to the day I first learned to rappel, at the top of the slab at Cosumnes River Gorge. Same nausea. Same paralysis. That time, like today, I focused on my partners, on their voices, their ease of movement. Their insouciance. I "borrowed" from their apparent comfort and made it mine. A little. Just enough.
I'm sure they won't miss it.