Why You Should Embrace Your "Anti-Style"
How Heather Weidner learned to embrace routes that challenged her weaknesses to become a stronger, more well-rounded climber.
Heading out the door? Read this article on the new Outside+ app available now on iOS devices for members! Download the app.
From first-timers to elite climbers, we can all always find new ways to push our limits and improve. After climbing for 15 years, veterinarian turned pro climber Heather Weidner, the instructor for Climbing Magazine's Intro to Sport Climbing course, constantly strives to push her boundaries.
When I first started climbing 15 years ago, the term "girl climbs" was still being thrown around in all its gender-stereotyping glory. In case you've never heard it, it basically refers to hyper-technical, vertical routes requiring fancy footwork and strong fingers. I excelled at these types of climbs, and enjoyed dancing up vertical terrain around Northern Colorado when I was a beginner living in Ft. Collins finishing up veterinary school.
I moved back to my hometown of Las Vegas after school to fulfill a scholarship for the state of Nevada working as a vet. Having a four-day workweek, I finally had time to pursue climbing more consistently and seriously. However, much of the sport climbing around Vegas was steep limestone—sometimes even horizontal—with holds chipped by 6-foot-tall route developer.
As a 5'5" girl with a 0" ape-index, these routes were extremely difficult for me. There were no intermediate holds between the drilled pockets, and no fancy footwork here as the routes were so steep that feet-cutting was often mandatory.
These climbs were unlike anything I'd ever tried—they were my "anti-style." I had to spend months projecting grades that in the vertical-tech world I could have done quickly.
But slowly, over time, I got better at the burly routes. I had to leave my ego behind and just focus on how I would do the moves without the 6-foot reach or the biceps. So, I would train on the route—like the 5.12c Animal Attack, at Mt. Charleston outside Las Vegas. Animal Attack has what I called a "basketball player" move. I had to lock off with my right hand on a shallow pocket and with high, smearing feet jump with my left hand to a two-finger pocket across my body, my feet cutting as if I was doing a layup. I would practice this move over and over again, eventually gaining the specific power and coordination. In the local climbing gym, there was a steep ramp that I would do laps on, focusing on using my feet almost like hands when I could with heel and toe hooks. I'd also do "toe stabs" on the ramp, intentionally cutting my feet and placing them in all directions on different footholds to gain core strength.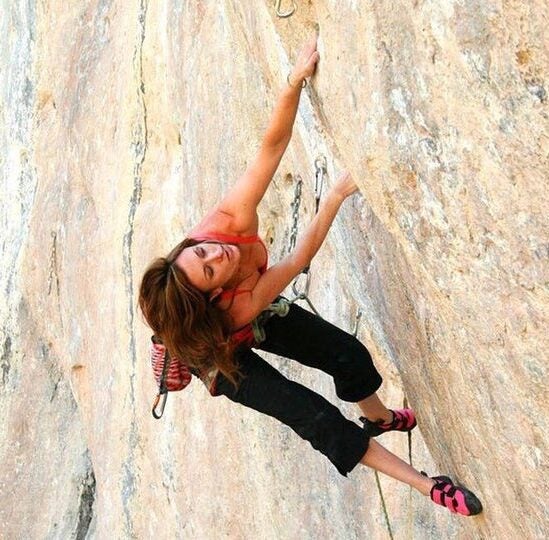 As I got all wonky about training my anti-style, it soon became my style. All of a sudden I was known as the girl who climbs overhanging limestone. I applied myself to this anti-style until it became, even if at first begrudgingly, something I excelled at.
Years later, when I moved to Boulder, Colorado, I was introduced to granite climbing, and again I was a beginner. Where are the holds? How do I smear and trust my feet? I was baffled by the tiny crystals I was supposed to crimp, and the weird mantels and flaring laybacks. And again, I was projecting well below my previous steep limestone grades. It was back to square one.
It's important to explore different styles in climbing and push yourself in the areas you're weakest in, in order to become more well-rounded. The skills you acquire by climbing on slabs, cracks, roofs, and overhangs will become part of your toolbox, ready for you to bust out when you need them most on your project or onsight attempt. Just know it won't come easy, and you'll likely have to drop your projecting grade down a notch. But if you're patient and establish a base at a lower level, before you know it you'll be tackling the tougher grades once again, the foreign terrain becoming familiar, that anti-style even becoming something you seek out and enjoy.
I'm happy to say that times have changed, and there's now no such thing as "girl climbs" anymore. Don't believe me? Well, look at the routes and boulder problems Margo Hayes and Alex Puccio and Angy Eiter and Barbara Zangerl and Ashima Shiraishi are pulling off—the steeper and burlier, the better. Today, I can proudly and unabashedly say I climb like a girl.
Want to test your limits on a rope? Learn to sport climb with pro climber Heather Weidner in Climbing Magazine's Intro to Sport Climbing online course.