Gym to Crag: How to Rock It Outside
Make the most of the strength you've gained climbing inside with these tips for transitioning to real rock.
Heading out the door? Read this article on the new Outside+ app available now on iOS devices for members! Download the app.
From first-timers to elite climbers, we can all always find new ways to push our limits and improve. After climbing for 15 years, veterinarian turned pro climber Heather Weidner, the instructor for Climbing Magazine's Intro to Sport Climbing course, constantly strives to push her boundaries.
The cold wind whipped me off-balance as I tried to move my body upward, scraping against the sharp quartzite crystals of the flaring crack. Blood dripped from bits of exposed skin on the backs of my hands and the sides of my ankles, and with each twist and grunt I moved maybe a millimeter. Exhausted, I hung on toprope and yelled down to my then-boyfriend and belayer, "How do you get up this thing?"
"However you can," he yelled back.
Eye roll. 
It was my first day climbing, and Vedauwoo was eating me alive. Somehow, I liked it. I loved the feeling of trying hard on the sharp, wide cracks
The first time I went to the climbing gym, it felt like a different sport. The walls were dappled with holds that told me where to put my hands and feet—some of them were even pink! It was cold and windy outside, but inside it was always 72 degrees. Now this was actually fun. Climbing up these walls didn't rip open my skin or force me into foreign positions. I could use my body in a more familiar way, memorizing moves and using the flexibility and balance I'd learned taking ballet as a child. I knew how to dance up the plastic.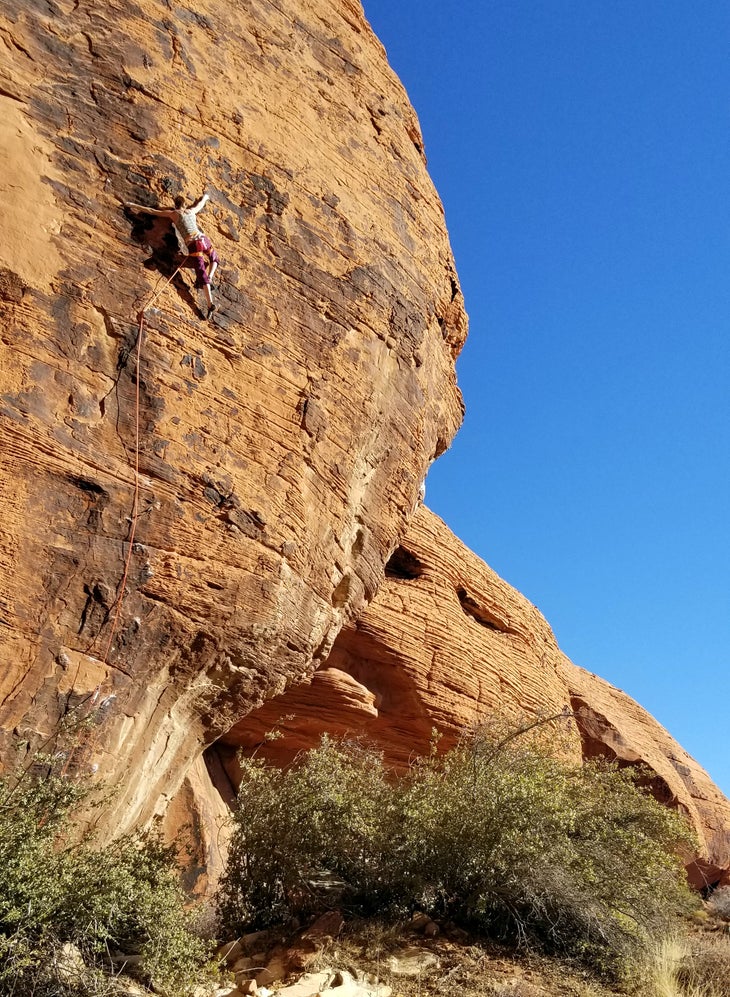 Fast-forward 17 years.
I've climbed 5.14 outside, but I've still never climbed a 5.13 in the gym. (I typically don't try many, but still…) Most climbers have the opposite problem. I see them crushing in the gym, yet they fall on easier grades outside. Why does this happen? The truth is, there's no substitute for experience on real rock. Just like I don't climb as hard indoors because most of my practice has been outside, others lack the technique and rock-reading skills necessary to push grades outside.
OK gym crushers, before I get too jealous of your indoor strength, here are some tips to help you apply your strength outside:
1. Climb outside
That sounds obvious, but it's easy to forget that it takes years of experience climbing on different rock types and angles to become comfortable on them, just like it takes years to climb your first V8 indoors. The best thing you can do to get better at outdoor climbing is to climb outside. Got it?
2. Don't be afraid to drop down a grade or two…
…depending on the climbing style. If you only climb the styles or rock types you're good at, you'll only be good at those type of climbs. Instead, let go of your ego and try climbs in your anti-style that are several grades lower than your hardest sends, but still challenge you. Not only will going back to climbs that suit your strengths feel that much better, but you'll learn new movements that you can use on future climbs.
3. Learn to read the rock
In more popular outdoor areas you may see signs of chalk for your hands and rubber for your feet. In other words, hands on white, feet on black. Other times the standard beta and holds might be less obvious or won't work for you. In the latter case, you might need to literally feel around a bit, searching for holds and small ripples with your fingertips.
4. Embrace the uncomfortable
There's no climate control outside. You're not always going to have prime conditions, and sometimes you just have make the best of it. If it's cold, bring lots of layers, hand warmers and the willingness to hike around to get warmed up properly. If it's hot, bring extra water, sunscreen and shorts. And never, ever forget tape—real rock can be sharp.
5. Don't just pull on anything
You'll occasionally get a spinner in the gym, but it won't fall down on you or your belayer. Outside, the rock isn't always as solid as you'd like it to be. Learn to identify cracks around holds and knock on suspect-looking rock to avoid pulling loose blocks off the wall. Position your belayer so they're not right underneath you and wear a helmet.
Want more tips like these to help you transition to outdoor sport climbing? Then check out our Intro Sport Climbing online education course, taught by pro climber Heather Weidner. This 8-week course takes you through all the fundamentals, from the gear you need, to how to safely belay, to how to lead, to how to fall, and so much more. Whether you've only ever climbed in the gym and are ready to take it outside, have never climbed at all, or want to refresh your skills, this class will teach you how to sport climb efficiently, be safer, and maximize your fun.