Stay Redpoint Fit with Just One Two-Hour Gym Session Per Week
With such a wealth of training information out there, it's hard to know where to start. For some of us, simpler is better, as with this easy gym workout you can do solo, once or twice a week, either to maintain fitness gains or even push to the next level.
Heading out the door? Read this article on the new Outside+ app available now on iOS devices for members! Download the app.
Keep It Simple
I'm easily confused, especially by complex, multi-tiered things like, well, training plans. I don't have a scorecard or logbook, I don't have a climbing or training journal, and the only climbing apps on my phones are the ones that synch up with LED system walls. I like to keep things basic.
This is not to say I don't follow a training plan; I have in the past and will do so again. But I asked an expert to help me develop it. A coach who gets these things and can decipher all the information out there to help me with my goals. That, however, still leaves the "off season," when I'm not actively training. So how does a lazy sport climber stay fit—with a high, or at least passable, level of power and reliable power-endurance—without a coach there to hold your hand? You can, of course, climb your butt off, but if you have a job, kids, family, etc., your time is limited and your sessions need to be focused.
Here's what I've figured out over the past decade, which corresponds—not coincidentally—with becoming a dad and having way less free time.
Two Hours of Power
The following workout is not necessarily designed to make you stronger, though it might; it's instead designed to help you hang on to any gains you made during your training cycles, and it feels most applicable to sport-climbing: redpointing and onsighting. If you're climbing a lot outside and pushing yourself, you may or may not need this "tune up." But I've found that even when I am out at the rock frequently, as in summer, my power starts to trail off, then my power-endurance, even when I'm trying hard projects. For me, it's paid off big time to put in one "Two Hours of Power" session a week at the gym, as one of my three of four total climbing days per week. If you're recovering well afterward, you can even do two sessions a week, or tack on a session after a day of cragging to really drain the batteries.
This is all anecdotal, based solely on my own observations and results with my own climbing. I usually don't do these sessions until I'm a month out from a training cycle (though I may do them as "free days" during a cycle) since they can be punishing. Go easy the first session or two and see how you feel!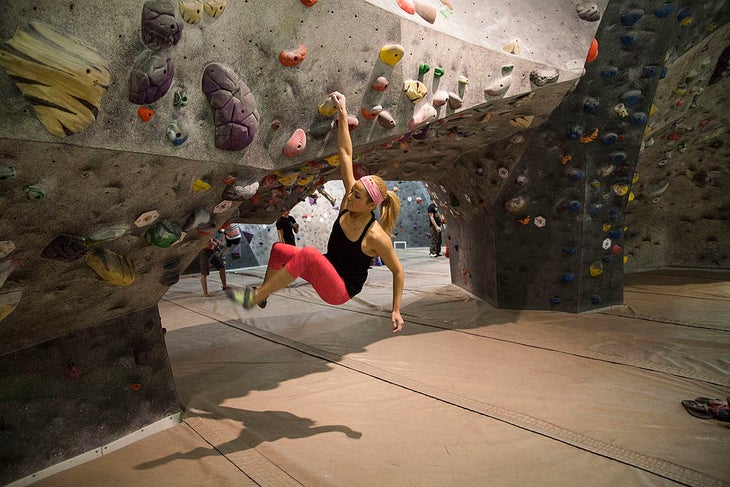 Hour One: Bouldering
It's pretty damn simple: Go to the gym and spend an hour bouldering. Your goal here is constant motion—I do problems in blocks of four or five, rest a minute or two between blocks, and keep going. Start with warm-up problems in your initial blocks, then keep the focus on problems you can either fire first try or do in a few tries, gradually increasing the difficulty. If a problem is shutting you down, move on to another one or return to that problem later. Your goal here isn't limit power or figuring out BS parkour moves; your goal is movement and a slowly building power/power-endurance burn.
As you reach the final 15 minutes, try a problem or two that are close to your limit—but not at it. Again, problems you can fire in 3–5 tries or nearly fire, getting the benefit of doing most or all of the moves. Do not toast your fingers: Make sure you still have some skin and crimp power left over for hour two.
Bonus: If you're really hardcore, do pushups and core exercises between blocks.
Extra-Super Bonus: If you're feeling super frisky, put in another 45–60 minutes on an LED wall (MoonBoard, Kilter Board, Grasshopper Board, Tension Board), again keeping the difficulty at or below 75 percent of your max.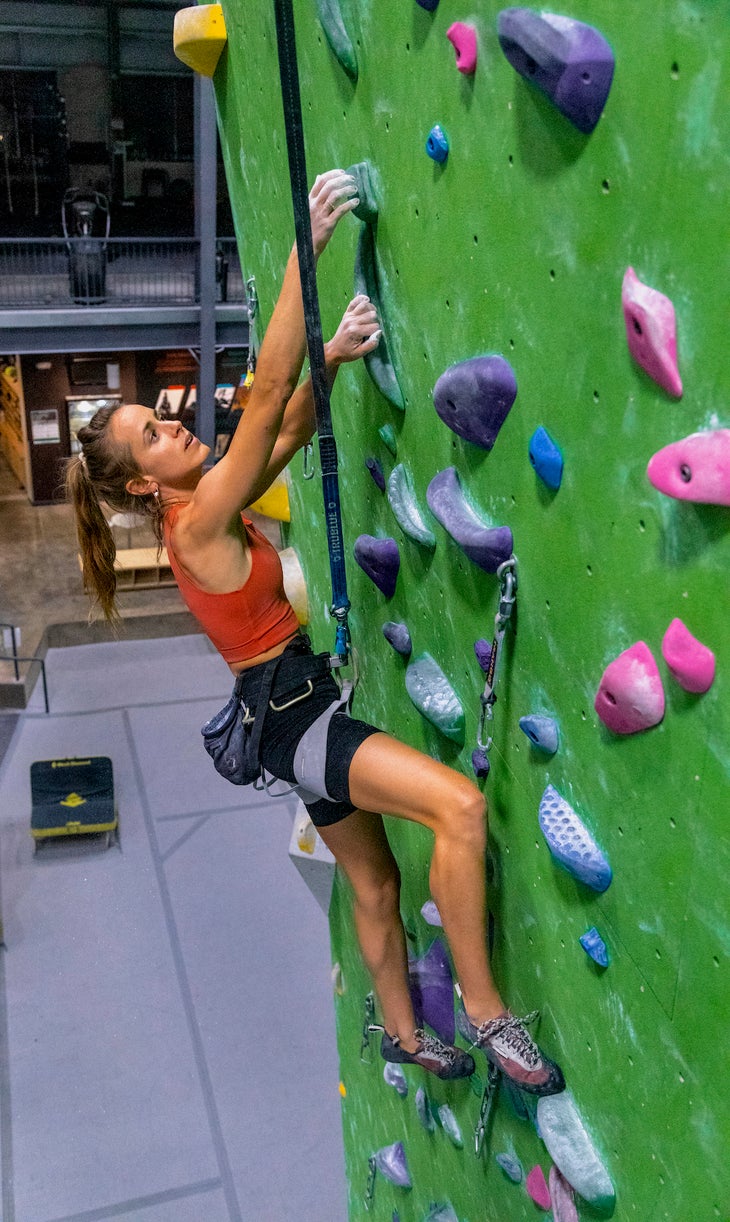 Hour Two: Auto-Belay
This is also pretty damn simple. Now that you're tired, sweaty, and powered down, you're going to get pumped on the auto-belay to round our your workout. An added bonus to auto-belaying when you're already tired is that you're forced to rely more on creative sequencing, footwork, and technique. You can't just power through, which forces you to be a better climber as well simulates how you'll feel on a limit redpoint, like when you're nearly punting on 5.10 jugs going to the chains because you can barely recover from all the hard climbing below.
I tend not to overthink it. At my gym, there are usually three or four routes available under each auto-belay, and the limit is two turns per auto-belay, so I'll do the hardest route I can then immediately follow up with one that's a number grade or two down: So, say, a 5.12, then a 5.11. Then I'll sit down and rest a few minutes before the next set.
The danger with auto-belays is that you can rapid-fire multiple pitches. I used to do this, like stacking up six or eight pitches in a row, but then I realized I was overtaxing (read: straining) the muscles in my forearms, and it sometimes took days to recover. It's rare, even on long pitches, that you're totally on your arms for minutes on end—there's usually a rest or a stance—but gym routes, with their unrelenting resistance style, are different. So I usually do no more than two to four pitches at a time. And, as stated above, I vary the intensity: hard route, easy route, hard route, easy route, etc.
If your gym doesn't have auto-belays, then do long traverses or 4x4s, keeping the intensity in the low to medium range with the latter. You're just trying to get pumped in a gradual, natural way, not totally thrash yourself.
Voila, You're Done!
And that's it: two hours, all of it climbing and movement based. No hangboards, weights, campusing, or the like. Just climbing. Lots and lots and lots of climbing. You should be crushed—now take a rest day. As your body habituates, you can experiment with increasing the intensity of your sessions, resting less between blocks, trying harder climbs, throwing in more calisthenics during your rests, etc. Be sure to hydrate as you go, too, and bring snacks. I usually bonk somewhere around the end of hour one, and have to eat something in order to have mojo for hour two, or I turn into a wet rag.
Matt Samet is a freelance writer and editor. He has been climbing since the 1980s and living in the Boulder, Colorado, area since 1991.
Also read: