No Holiday For Danger: A Potentially Deadly Way To Thread The Rope
Always thread the rope through the anchor, not around it.
Heading out the door? Read this article on the new Outside+ app available now on iOS devices for members! Download the app.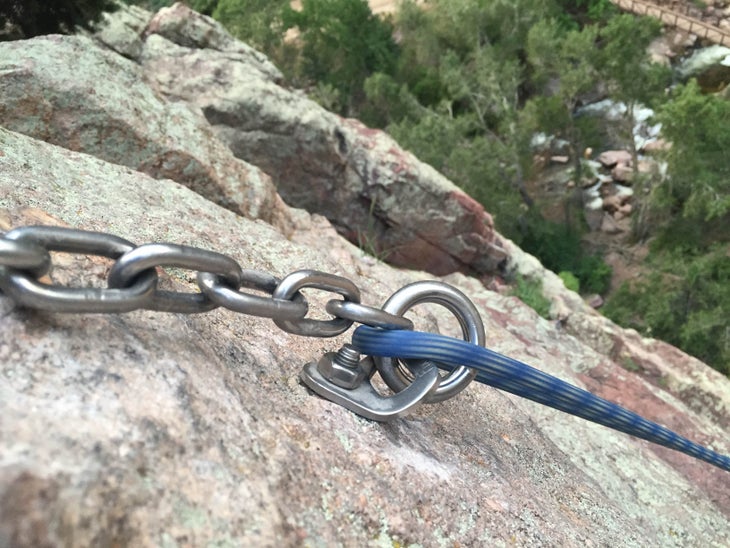 Descending a multipitch route in Eldorado Canyon, my partner and I noticed how the party in front of us rigged their rappel. I wasn't forthcoming enough to say anything, but could you set the record straight on the principle of redundancy?
—Tom, via email
LESSON: Huh. That's a new one. The anchor shown here is a Fixe Traditional Anchor. It consists of a single steel ring equalized between a bolt and a chain connected to a higher bolt. Depending on whether it's plated or stainless steel, the setup is UIAA certified to either 22 or 30kn. The idea with this anchor is that the ring is redundant between the two bolts. If one bolt fails, the other bolt will not be shock loaded. That only works if you run the rope through the ring. In the pictured rappel, if one bolt fails, the rope falls off the anchor. This setup could also add unnecessary wear to the rope by pinching it between anchor points or abrading it across metal edges like the bolt hanger.
The idea that you should run your rope through the ring and not over it seems so obvious that I wonder if the climbers even realize what they did. That's an even bigger issue. Rappelling accidents are serious. There was a triple fatality on El Cap in the 1978 when a team rappelling The Nose threaded the rope over the chain between two bolts, similar to what you encountered. One of the bolt hangers failed and the rope slipped off. Always double check your setup and have your partner do the same. Accidents happen when these things feel routine and we become complacent.
Want more? Check out more installments in our ever-growing hall of dangerous incidents: 
Lucky He Didn't Die. Lowered From a Toy Carabiner
Unfortunate Groundfall, Fortunate Landing
Leader Decks When Experienced Climber Bungles the Belay
Saw Through Someone Else's Rope
Belayed With Hands Only—No Device!
Smoke Brick Weed and Go Climbing
Belay With a Knife In Your Hand
Don't Let a Clueless Dad Take a Kid Climbing