Sponsor Content: When is it OK to Fall on an Ascender While Toprope Soloing?
Ask A Technical Expert
Heading out the door? Read this article on the new Outside+ app available now on iOS devices for members! Download the app.
This story was written by Petzl as advertising material. Climbing Magazine's editors endorse the content, but had no involvement in its creation.
Question:
While climbing with a partner still remains the best solution, using a fixed rope with a self-belay system is an option that many climbers practice when a partner is not available. Often referred to as toprope soloing, the solution for toprope self-belayed climbing is a system that, at a minimum, has the following qualities:
Effective fall-arrest capabilities
Easy sliding of the belay devices along the rope while climbing
Easy to setup and use
Operationally redundant
Although not designed specifically for this use, certain ascenders are acceptable to use in a self-belay system when done by a climber who is experienced and properly trained in the correct techniques.
Many ascenders incorporate teeth that engage the cam on the rope and keep it from sliding downward. Falling onto an ascender, even a short fall, can generate a significant amount of force that may damage the rope and compromise the fall-arrest abilities of the whole system.
For more complete information about self-belayed climbing, visit Petzl.com/US/en/Sport/Rock-climbing
Answer: 
Falling on an ascender is okay when these three principles are followed…
The Ascender is Installed and Used Properly
Reducing the fall distance to a minimum keeps forces low enough that an ascender won't damage the rope. This is achieved by connecting the primary ascender directly to the belay loop with one locking carabiner, reducing the potential fall to the length of the carabiner. Depending on your system, other ascenders may need an extension (quickdraw) or shoulder straps to maintain a good position—more details on Petzl.com. After installation, verify that each ascender slides correctly on the rope in the up direction, and locks immediately in the down direction. Before climbing, verify that all connectors are locked.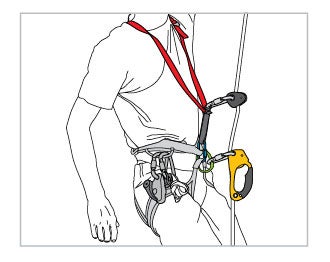 There is No Slack in the System
If the rope is not sufficiently weighted, the ascenders cannot slide fast enough to keep pace with the climber and loops of slack are created between the climber and the anchor, which increases the potential fall distance. It is imperative that the climber constantly monitors the ascenders to ensure they are properly sliding up the rope while climbing. Climbing above the anchors will also create unwanted slack and could potentially be a deadly mistake. Always stay below the anchor point, and make sure the system allows for this while climbing or descending the route.
There is a Redundant Belay System
Using a single ascender for toprope self-belaying is technically feasible, however, accidents have been reported despite user expertise. Petzl strongly recommends using a system with a secondary belay to back up the primary ascender. This is achieved by using one of two setups:
One rope with two rope grabs.
Two ropes with two robe grabs.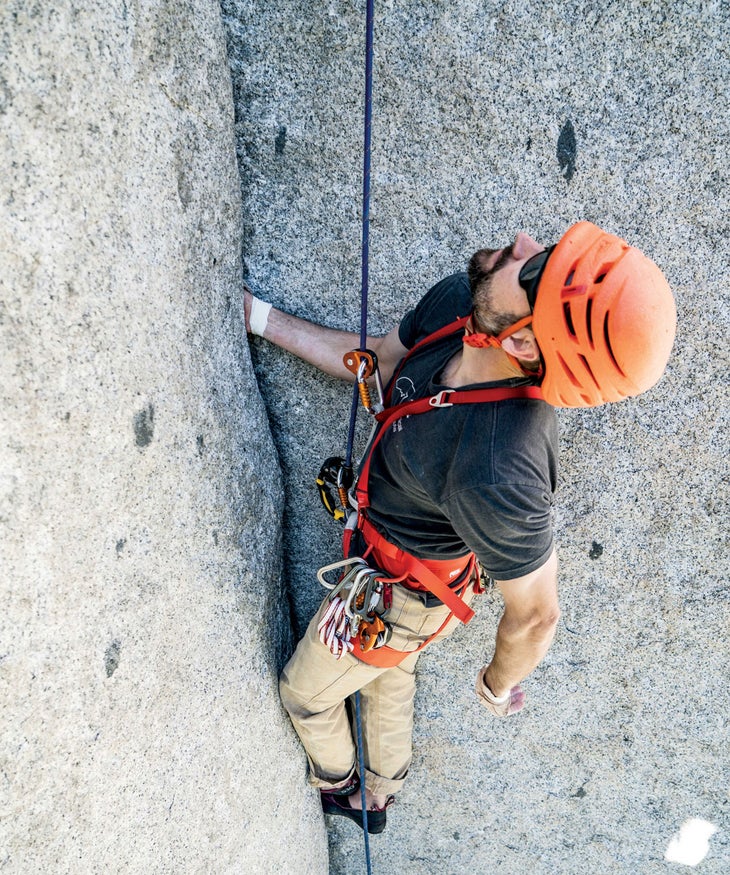 Summary
The use of ascenders for toprope self-belaying is allowed as long as the climber is properly trained and these three principles are followed:
The ascenders are installed and used properly
Slack is not introduced into the system
The ascenders are part of a redundant belay system
For more complete info on this topic, visit PetzlSolutions.com/TechnicalSolutions
Have a question?
Submit your questions for our team of experts at solutions@petzl.com
This information is provided by the Petzl Technical Institute, a center for knowledge, discussion, and the creation of solutions for those who work and pay in the vertical world. PetzlSolutions.com
Technical Notice
All Petzl products include a technical notice with their packaging. These notices are also available on every product page of Petzl.com. It is important to fully understand the information provided in the technical notice for each product before using this complementary information.
This story was written by Petzl as advertising material. Climbing Magazine's editors endorse the content, but had no involvement in its creation.