Heading out the door? Read this article on the new Outside+ app available now on iOS devices for members! Download the app.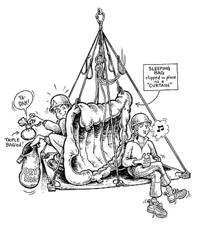 How to build an alternative poop tube
You've decided to do whatever it takes to go light on your next wall. Everything is laid out nice and tidy on the ground. You and your partner scrutinize every item that goes into the haulbag. How many hooks? Which jacket is lighter? But what do you do about that homemade PVC poop-tube?
It weighs over four pounds (empty)! How can you justify dragging that up the wall when "fast and light" is the mantra?
You can't. Instead, go light with a virtually indestructible, lightweight (11 ounce), packable boater's dry bag, and, at under $15, cheap. Make your "deposit" in a brown paper bag, enclose this in three plastic bags, toss this package into the dry bag, and you are golden. For this purpose, a number of dry-bag styles and sizes work. Regardless of the design and capacity, tie on a clip-in loop and be sure to roll down the lid at least three times to guarantee a leak-proof seal.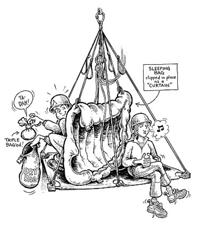 As a companion to the dry bag, you'll also need a few items to make your duty a little more civilized. I have a stuff sack filled with these essentials clipped right to the dry bag, but a zippered, multi-pocketed kit will keep the items better organized. Besides the obvious bags and TP, be sure to toss in wet wipes and a film canister of baking soda, which you sprinkle into the plastic bag to keep the odor down.After you top out, be sure to properly dispose of your dry bag's contents. Simply tossing the contents into a dumpster is illegal for public health reasons. Instead, deposit your waste into an RV dump. Most national park campgrounds have one of these. To keep your dry bag hygenic, hose it out with soap and water.