Tech Tip – Alpine – Four features of mixed mountain routes
Heading out the door? Read this article on the new Outside+ app available now on iOS devices for members! Download the app.
Tap the pick for extra purchase on thin seams.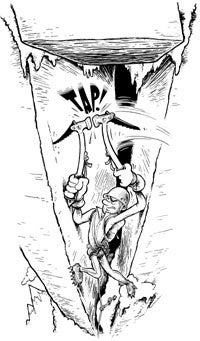 Overhanging dry tooling and free-hanging daggers are now standard fare in the relatively low-risk cragging environment, but moving on to mixed climbing in the alpine arena is a step. Mixed terrain in the mountains tends to be less steep, but often compensates by being more run-out and scrappier. Loose choss and snow-plastered rock can make alpinism feel more like battle than climbing, and even the skilled M-climber faces a learning curve. Prepare for these four terrain features when you take your mixed skills to higher ground.Icy Cracks. Ice-choked cracks can offer secure placements if you tread gently. Use controlled, deft blows when planting your picks in order to preserve the fragile medium. Placing your thumb against the back of the tool's grip can help stabilize and direct your swing. If the ice is super-thin, gently chip a hookable divot instead of planting the pick. In soft or chossy rock, thin or closed cracks devoid of ice can be dry tooled "piton-style," by swinging to get a "stick." Swing hard and on target to sink the pick into the crack. You can even tap the pick in further by hammering it with your other tool. Beware of icy protection cracks, as camming units easily can shear out. Scrape the crack clean with your pick so the cam lobes can gain purchase. Or, use hexes or Tricams, which tend to "bite" better than spring-loaded cams. Snow-Plastered Rock. Finding tool placements on snow-covered rock can be tedious, time-consuming, and frightening. Two basic approaches are possible. In the first, sweep the terrain clear with your gloved hand or ice tool to locate holds and/or ice. Alternatively, troll your pick through the snow until you feel it hook on something beneath the surface. Trusting holds you can't see can feel sketchy, so test each placement by yanking on it (a bit like bounce testing in aid climbing) before committing. If the terrain is less than vertical, as most snowy rock is, you'll be using your tools for balance and stability, with most of the weight on your feet. Forget about mono-points for snowed-up terrain; traditional dual horizontal-point crampons are best since they are less prone to shearing. If the snow is hard and thick enough, kick and pack footholes to stand in. Regardless, try to keep your weight evenly distributed between both feet.Chockstones. Chockstones are common on alpine mixed routes, which often follow gullies or chimneys. These sudden obstructions typically create overhangs, allowing you to capitalize on your sport-mixed experience. When attacking these obstacles, think three-dimensionally. Use chimney techniques to wedge and stem between the walls or between the wall and chockstone itself. The constriction where the stone touches the wall typically forms a useful hold, often a jug. Pulling over the chockstone will usually be the crux, requiring some grunting and ungraceful body English. Liberal use of knee, hip, and even stomach scums is standard. Be sure to place good protection before committing, as topping out over chockstones often leaves you trolling through deep snow for pick placements and gear. Loose Rock. Just as in summer, climbing loose rock on an alpine winter route demands a cool head and refined technique. Avoid getting into a desperate mindset where you're blindly reaching and pulling. Instead, move methodically, and test every placement to make sure it is trustworthy. Luckily, shattered terrain that might be unclimbable in summer can freeze up solid in winter. If the rock is less than vertical and the features large enough, reduce leverage on the holds by using your hands rather than dry tooling. If you do use your tools, avoid matching picks on the same hold. Instead, spread your weight equally between all four appendages, never committing full bodyweight to a single tool or crampon placement. Learn more about mixed climbing in Sean Isaac's forthcoming book How to Climb: Mixed Climbing, by Falcon Publishing.