Tech Tip – Bouldering – Spot On!
Heading out the door? Read this article on the new Outside+ app available now on iOS devices for members! Download the app.
Figure 1. Communication.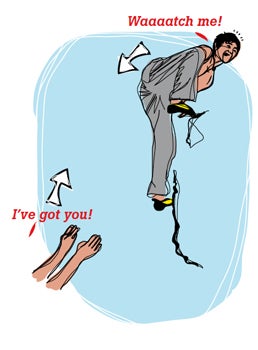 Eight turbo tips from a master spotter
When 6'4" Corey Dwan first plucked me from the sky, I'd just pitched from a Grampians, Australia, highball — he quickly earned a place on my all-time spotting dream team. Dwan's masterful bodycatching technique is even a matter of public record, as seen in the 1998 climbing flick Free Hueco.
Dwan, 38, who works in real estate in Colorado, has refined his spotting technique over the past two decades. Last summer, he taught me the essentials. First and foremost, he stressed, you must take the spotter's role as seriously as belay duty. Conversely, as a climber, you should pick a spotter whom you trust so you don't expend more energy worrying than sending. As Dwan points out, "When you have a good spotter, you can try your hardest."
Still, Dwan, for all his wisdom, knows the safest boulderer is one who takes pains not to fall. "I spotted my friend from England," Dwan recalls, "and I made him do the problem: I burned him on the leg with my cigarette — it gave him that extra oomph." It's a "good" spotting technique Dwan claims he hasn't used since.
Here, six insider tips for Dwan-tough spotting, with two advanced ninja techniques for more technical scenarios:
Figure 2. Pad Arrangement.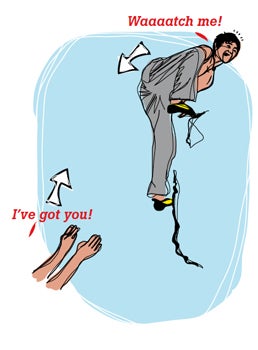 The Basics
1. Communication.
Before anyone leaves the ground, both the climber and spotter need clarity. As a climber, never assume you're spotted — check before you start up. As a spotter, it's critical to talk with your climber about likely falls and even what to do in case of a planned dismount versus an unexpected fall. (Even if the climber says he'll jump, you should be ready to keep him in balance — just beware flying elbows and any rebound action off the pads.)
2. Pad Arrangement.
Boulderers can roll ankles on poorly placed pads, so watch for gaps, tangle-prone straps, sharp objects, and uneven landing zones (LZs). You'll sometimes need to move pads on the fly to match your climber's fall, but plan first, to avoid any disastrous last-minute shuffles.
Figure 3. Spotter's Stance.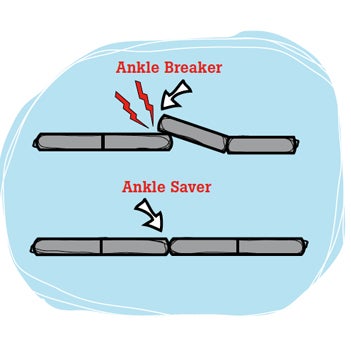 3. Spotter's Stance.
"I've got that person's life in my hands," says Dwan of his spottee. "I'm God." With that mindset, start with the correct stance: stand closely behind your climber with your elbows crooked and hands by his waist. Put your dominant foot forward and slightly bend your knees. Discern where the climber might fall — especially with an uneven LZ — and be ready to move quickly. Also, focus — don't Beta-soak when you should be spotting. (A good rule of thumb is to train your eyes on a point high on the back of your climber's shirt.)
4. Size Doesn't Matter.
Being taller than and/or outweighing your climber, says Dwan, is not mandatory. In most cases, your goal is simply to steer the falling climber onto a pad. Do this, from your active stance (see No. 3), by pushing the climber's center of gravity — hips for gals, waist for boys — pad-ward while also protecting his neck and head.
5. Thumbs In or Out?
Debates rage over whether spotting with your thumbs in (folded palmward) or out is safer. Dwan prefers thumbs out, despite the risk of breakage. "You don't catch someone with a goddamn parade wave," he says.
6. Spotting ≠ Resting.
During the filming of Free Hueco, Dwan spotted 24/7, shock-loading his elbows so often they eventually blew out. "Don't spot on your rest days," says Dwan. "You're doing worse than climbing — you're catching people." Dwan also recommends warming up with a few climbs before spotting.
Figure 1. Pad-Fu.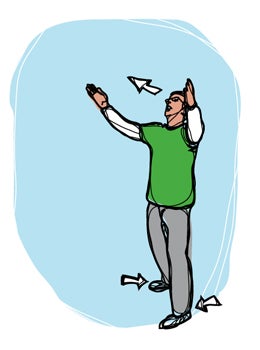 Ninja Spottery
Once you master the basics, try these two tips/tactics for more technical situations:
1. Pad-Fu.
One padding technique for superhighballs involves holding up a second pad, a la an old-time fire crew. First, layer your base pads in the drop zone. Then, alone or with a partner, hold another pad level at waist height. The trick is to release this floating pad just as the climber makes contact, to absorb impact. If the situation calls for deflecting a climber from dangerous objects — e.g., a corridor wall or tree — you can hold the pad like a riot shield and bodycheck your climber into the ground padding.
2. Love Taps.
Not to be confused with the spotter dab, love taps are light brushes that don't take weight — psychological assists that let your climber know you're there. (This technique is best used while a climber works a problem, not during the send.) A well-timed love tap can free your climber from fear of any back-smackers, giving him the confidence to send, so ignore the cries of "chronic 'dab' callers," says Dwan. Of course, if you're spotting a stranger, be forewarned — some view the slightest touch as a dab invalidation.
Contributing Editor Abbey Smith is always in need of a good catch. She credits her greatest sends to spotters like Corey Dwan.