The Warm Up: Why Starting Off Slow Can Help Your Climbing
Heading out the door? Read this article on the new Outside+ app available now on iOS devices for members! Download the app.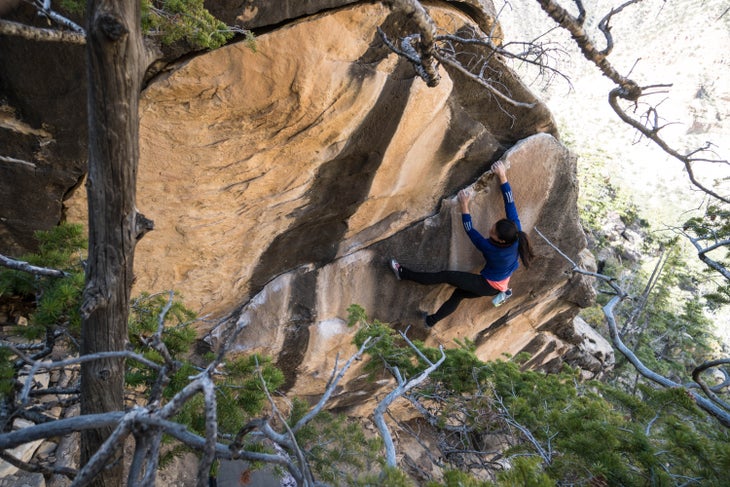 A young climber walks into the gym or up to the boulders, sets down his backpack, grabs his shoes, and immediately hops on the hardest line there. The classic scene of "warming up on the proj" has gained popularity with young climbers. Most people think it saves time, but ultimately it's inefficient for new and veteran climbers alike. Skipping the warm-up robs climbers of valuable energy—not just for the muscles, but for the mind as well. Warming up allows us climbers to reset, get into a climbing mindset, and to prepare our tendons for pulling. It's also an opportunity to practice movement, to become better climbers. Read on for a few tips on how to warm up well.

Switching Gears 
Warming up is a time to reset your mind from other distractions. The mental warm-up begins on the drive to the gym or the hike to the crag. Instead of fixating on who stole your stapler at the office, think about your climbing goals for the day. Ask yourself what you want to accomplish. What types of problems and moves do you want to try? How many of each do you want to accomplish? Set a minimum goal for yourself as well. Pick something you know you can achieve during your session. Sometimes this can be as simple as just getting on the rock, or it can be sending five problems of a certain grade. Make the goal achievable—this way you set yourself up for success every time you climb, no matter how small the accomplishment. When you're ready to start warming up the body, do a final reset of the mind. Mute any external mental chatter and focus on the task at hand. Take a few deep breaths, pull on your shoes, and remember you're here to climb, so be present.
Warm Up
Any light physical movement prior to climbing is a good way to encourage blood flow and raise the body temperature. This can be achieved during the approach, or a brief jog followed by some stretching. Afterward, climbing-specific exercises will best prepare your tendons and encourage coordinated movement. Once you're on the wall, spend at least 20 minutes climbing problems that are well below your ability level. Start at the very easiest level and work your way up, climbing between two to five V0s, 1s, 2s, 3s, etc. until you've hit your try-hard number. As you warm up, choose big pinches, positive crimps, and good slopers in addition to standard jugs. Look for fun, engaging climbs that you otherwise wouldn't try. You'll know you're warmed up when your fingers and muscles feel responsive and you've broken a light sweat. Once you're ready to go, climb one more warm-up for good measure. Making sure your muscles are fully primed for bouldering can't hurt.
Practice moves
Warming up is the best time to improve at climbing. Pick a technique like drop-kneeing, heel-hooking, back-stepping, smearing, or any move that you feel unfamiliar with and repeat that technique on different angles and hold types. Work on technique drills, repetitively practicing common moves that help us move on the wall most efficiently. As these moves become more ingrained, they will be readily available during difficult problems when you're trying hard and need to recruit complicated movement on the fly. 
Ready to step up your bouldering? Nina Williams and Climbing Magazine have developed two must-take courses for casual and serious boulderers alike:
Learn how to boulder with our four-part online Intro to Bouldering class, with tips on key equipment, bouldering and spotting safety, and technique ($45).
Take your bouldering to the next level in our 8-part course Boulder Harder, featuring techniques, training, best practices, and tips to make you a problem-crushing machine ($149).