10 Cliffside-survival Tips for Climbing Families
If you've got young ones, that doesn't mean your climbing days are behind you.
If you're a new (or soon-to-be) parent, it's not unreasonable to fear that kids might crimp your climbing style. Still, it is possible to keep cranking as a mom or pop and even to turn climbing into an engaging family affair. We've learned from experience that bringing kids (from ages 2 on up) climbing can actually up your psyche—they offer fresh perspective, and their enthusiasm is infectious. Heck, you might even inspire your child to become a vertical disciple.
For these tips, we took our inspiration from stories posted at outdoorbaby.net, many shared by climber parents who've devised ways to make family days at the crag a positive experience. We also talked to other parents and added a few tips of our own.
1. Fun It Up
The day is about family, not "sending" goals. Thus, priority No. 1 should be simply having fun taking your kids outside and hanging at the rock, even if everyone just plays in the dirt or scrambles. Having fun also means preparation: pack season-appropriate clothes and bring a cooler of healthy snacks to keep the grumpies at bay, allowing you to stay later and maximize precious climbing time.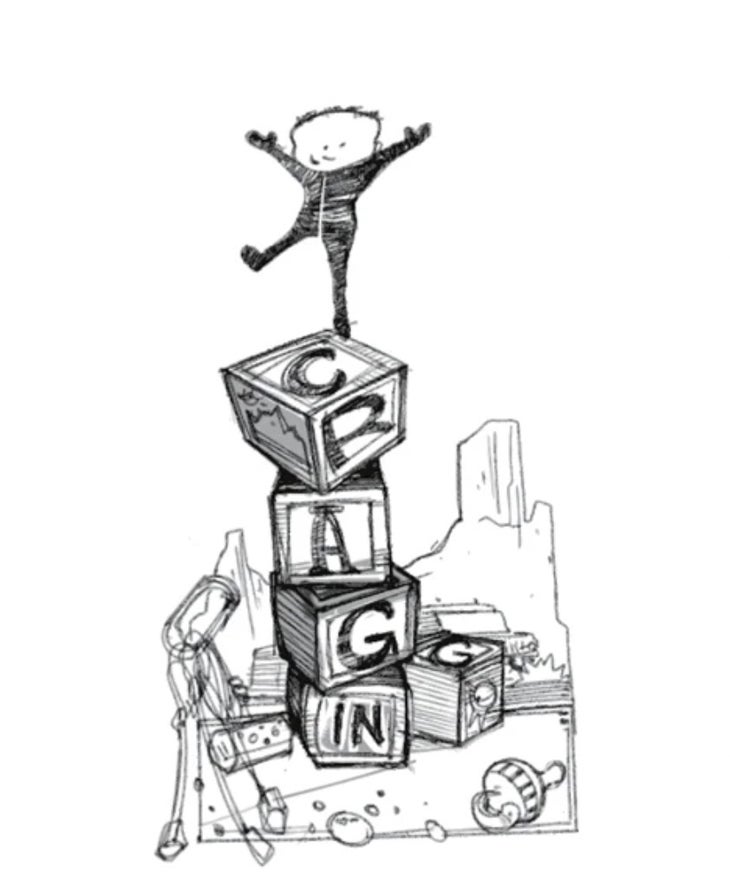 2. Start Small
Kids are natural scramblers, so introduce them to climbing via short, slabby boulder problems or routes with mellow grades, incut jugs and edges, and short reaches. Let junior back off if he wants to, as well. Added bonus: bouldering requires minimal gear, and crashpads can double as primo sleep/play/diaper-changing areas during down time.
3. The Two Hs: Harnesses and Helmets
For small children (ages 3 to 6) eager to try roped climbing, a full-body harness is the only way to go (to prevent upside-down flippage during falls). Also available are smaller sit harnesses for kids 7 or older (though weight and hip development are better indicators than age). Of course, make sure kids wear helmets at all times. As an example, parents should don brain buckets, too.
4. Pick Kid-Friendly Crags
You look for kid-friendly restaurants and cafés; a crag should be no different. A one-mile hike up talus to a narrow belay ledge presents obvious drawbacks for you and your children; likewise with new or chossy areas. Ultimately, if you find it too overwhelming to deal with unpredictable Mother Nature, start in a gym.
5. Travel in Groups
Invite other climber families with similarly aged children to the cliffs positive peer pressure helps kids try new things. Also, when you're on the rock, the kids can entertain each other while one parent keeps watch, with each parent rotating through sitter duty. Another way to pull some moves without leaving junior unattended: invite a babysitter, grandparent, or friend who loves the outdoors (and kids) to join you.
6. En Route Readiness
If you rope up, carry a sling and belay device (or know how to rap using a locker and Münter hitch), so you can go in direct and/or rap quickly in the event your belayer faces some unforeseen kid-caused crisis.
7. Entertain the Kiddos
Bring a few on-the-ground activities board games, books, pens and paper to keep the kids distracted, thereby upping your rock time. One sly mother told me she often packed her son's "big machines" (toy bulldozers, dump trucks, etc.), to keep him content on outings.
8. Respect Other Climbers
For safety's (and courtesy's) sake, don't let your children disrupt other climbers. Dangerous kid behaviors include: screaming (obscures belay commands); throwing things (can injure climbers who thought they were safe back on the ground); crossing under/over in-use ropes (can lead to tangles, dropped climbers, etc.); and running.
9. Cliff Class
Nature is the best school, and climbing an excellent teacher. From Day 1, stress the safety basics: gear care and handling, rope use, and proper belay technique and communication. To make the experience hands-on, carry extra slings, carabiners, and lengths of rope with which your child can practice. Other important topics include: poison ivy, ticks, snakes, mountain lions, when to call 911, staying hydrated, first aid, etc.
10. Prepare to Be Humbled
Don't fret if your child one day morphs into a lanky teen who out-sends you. Just be glad he took a liking to the sport . . . and that you now have a willing and talented ropegun for life.
Heidi Ahrens is the main blogger at outdoorbaby.net. Trina Ortega is a Carbondale, Colorado-based journalist