Rich Media Profile: Chris Sharma
Heading out the door? Read this article on the new Outside+ app available now on iOS devices for members! Download the app.
Behind the scenes with Chris Sharma, Corey Rich, Brett Lowell and Josh Lowell.Photos by CoreyRich.com.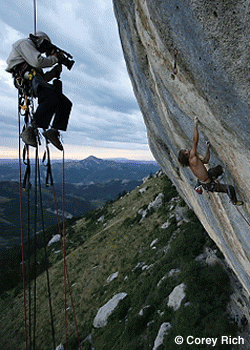 CLICK HERE TO LAUNCH The Rich Media Profile: Chris Sharma.(Once open, please feel free to continue navigating our site)
A look into the life of Chris Sharma, one of the greatest rock climbers in the world today. This rich media project provides a glimpse into Sharma's approach to rock climbing as well as the lifestyle that surrounds his journey by combining video footage from the new Josh Lowell / Peter Mortimer film KING LINES, still photography by Corey Rich / Aurora Photos and captivating audio.
Produced by Corey Rich and Josh Lowell Filmed by Brett Lowell and Josh Lowell Still Photography by Corey Rich Edited by Cooper Roberts and Josh Lowell
KING LINES documents Sharma's groundbreaking ascent of Es Pontas in Mallorca, the most difficult deep water solo in the world. Also included in the film: Bishop highballs, new French 9a+ sport climbs, Zion free climbing, Chris' futuristic Mt. Clark super project and a bouldering adventure in the Venezuelan jungle.
For more information about King Lines and to order your copy visit: kinglinesmovie.com
Chris Sharma, one of the greatest rock climbers in the world today.Photos by CoreyRich.com.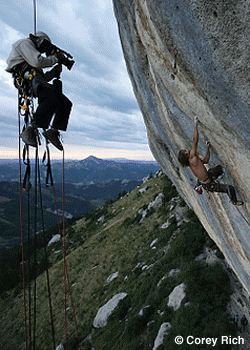 About Chris Sharma
At age 25, this Santa Cruz, California native has already dominated his sport for over a decade. In 2001, Sharma was the first to climb Realization, in France, an accomplishment that broke the elusive 5.15 rating barrier. He then spent several years focused on bouldering, a time in which he discovered and established some of the world's hardest boulder problems. Currently, Sharma is on a renewed quest to find and climb the planet's most difficult, beautiful, and improbable routes. In 2006, he made his most spectacular climb yet: a 60-foot tall rock arch rising from the Mediterranean Sea off the coast of Mallorca, Spain. Climbing without a rope, Sharma took over 100 falls into the water from heights of up to 50 feet before succeeding on Es Pontas. His mind-blowing first ascent of Es Pontas is one of the highlights of the new film, King Lines. In the summers, Sharma runs a series of camps for children, and he started The Sharma Fund to introduce climbing to underprivileged youngsters ages 11 to 18.
Sharma has been featured in Outside Magazine, Rolling Stone, Sports Illustrated, Esquire, Men's Journal, GQ, National Geographic Adventure, ESPN Magazine, Men's Health, The New York Times Magazine, The LA Times Magazine, and many more publications. He has appeared on television in ESPN's X-Games, NBC's Jeep World of Adventure Sports, Europe's Transworld Sports, and on The Outdoor Life Network and Resort Sports Network. His major climbing accomplishments over the years have been documented in a series of climbing films, including Rampage, Pilgrimage, and now King Lines.