10 Things to Watch for at the Olympics
Heading out the door? Read this article on the new Outside+ app available now on iOS devices for members! Download the app.
This article is part of our ongoing coverage of the 2020 Olympic Games. For more news as it happens, and for unlimited online access plus a print subscription to Climbing, join us with an Outside+ membership. 
The Tokyo Olympics have been a long time coming—even longer when factoring in the pandemic postponement. But they're finally here, with the Opening Ceremonies set to kick off later this week. The Olympic climbing roster is set and features four Americans: Brooke Raboutou, Kyra Condie, Colin Duffy, and Nathaniel Coleman. The climbing walls are ready too, and fans around the world are stoked to tune in for the Olympics' funky Combined discipline. If you have no idea what we're talking about, check out our Idiot's Guide to Olympic Climbing for a primer. But if you already know your stuff and want to talk about storylines, here are 10 aspects that will have us glued to our screens as climbing makes its historic Olympic debut.
1. Janja Garnbret's Greatness
If there is an athlete who could steal the show at the Olympics, it's Slovenia's Janja Garnbret. Not only is she widely considered the favorite heading into the Games, but she also possesses the most impressive resume that competition climbing has ever seen. She has gone undefeated in a Bouldering World Cup season; she has won the overall title in World Cup seasons; she has won World Championships in both bouldering and lead climbing; she has won back-to-back World Championships in the aforementioned Combined discipline…you get the idea. She is already a legend, and is frequently labeled the Greatest of All Time, and she is in her prime as she heads into these Olympics. Need we say more?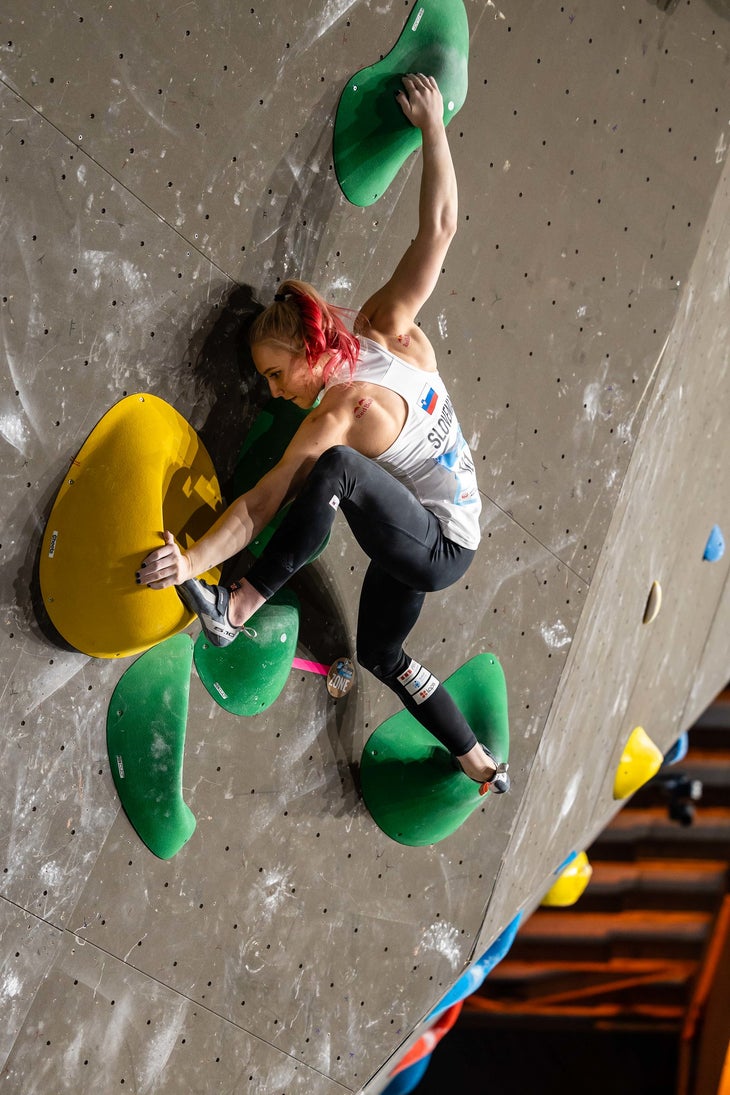 2. Brooke! Brooke! Brooke!
We always knew Team USA's Brooke Raboutou was someone special—after all, she is the offspring of decorated competition climbers Robyn Erbesfield-Raboutou and Didier Raboutou. But this World Cup season, as something of a preparatory precursor to the Olympics, Brooke has had by far her best run ever on the adult circuit. She made the podium at both Salt Lake City World Cups and made the podium again at the Innsbruck World Cup. For lack of a better phrase, it seems like Brooke Raboutou's performance is peaking at just the right time. This puts her in a whole new light as the Olympics kick off…heck, she could steal the show too, and we're loving it. 
3. Speed Battles
There are a number of athletes on the Olympic roster who are thought to be speed climbing specialists: Aleksandra Mirosław, Anouck Jaubert, YiLing Song, and world record-holder Iuliia Kaplina in the women's division; Rishat Khaibullin, Ludovico Fossali, and Bassa Mawem in the men's division. But, speed climbing being contested the way it is—in a knock-out bracket-style format—means that there can be only one winner in the speed climbing portion for each division at the Olympics. Whoever does not win will find himself/herself in an unenviable hole in the scores heading into the other disciplines that are not an area of specialty. As a discipline, speed climbing already offers arguably the most edge-of-your-seat excitement, but this bottleneck of specialists adds another layer of intrigue to the Olympics.
4. Chaehyun Seo's Return
South Korea's Chaehyun Seo burst onto the scene in 2019 as a revelation. She was a rookie who incredibly managed to beat the GOAT—Janja Garnbret—not once in a Lead World Cup, not twice…but four times! Fans expected Seo to continue to do amazing things on the circuit in the coming years, but then the pandemic happened, and then the World Cup circuit got messed up because of the pandemic, and then the Asia Continental Championships got cancelled because of the pandemic. Long story short, we haven't seen Seo in high-level international competition since that breakout 2019 season—but she is going to be at the Olympics. So, questions about her abound. Will she be even better than she was before? Will her speed climbing and bouldering prowess have caught up to her lead climbing mastery? Will she give Garnbret a run for her money again? We just don't know, and this has us captivated.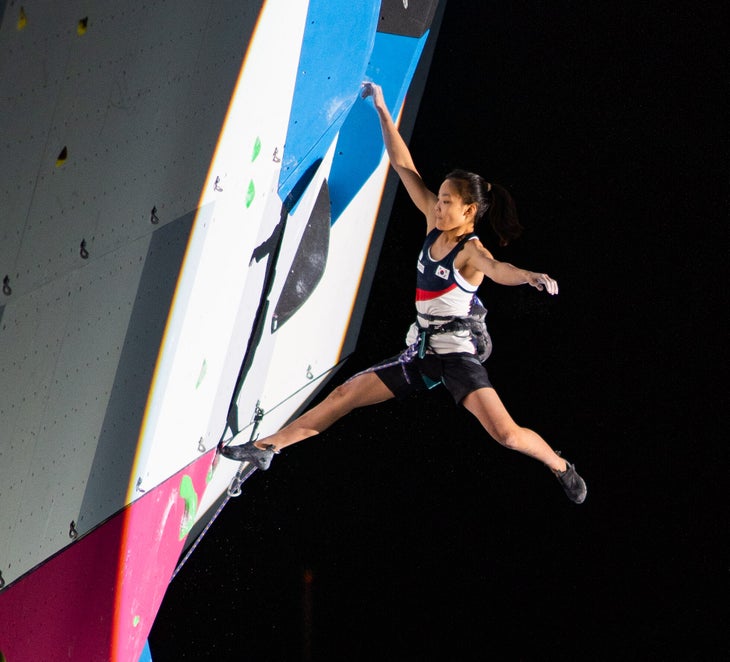 5. Ondra on a Speed Wall
The Czech Republic's Adam Ondra is a megastar, and is one of the most decorated competition climbers in history. He was the Lead World Champion in 2014, 2016, and 2019; he was the Bouldering World Champion in 2014, and he has a long list of World Cup event wins to his name. But speed climbing has always been the discipline in which he has struggled the most. To his credit, when it was first announced that the Olympics would feature a Combined discipline that included speed climbing, he went to work—almost obsessively—to better his speed proficiency. In that sense, the Olympics' postponement "helped" Ondra, in that it gave him an extra year to train speed. And, he did get faster, which means that every speed run from him is likely going to be a dramatic, pivotal moment in Tokyo.  
6. Swan Songs
Japan's Akiyo Noguchi, a legend of the sport, has made it known that she will retire promptly after the Tokyo Olympics. Great Britain's Shauna Coxsey, legendary in her own right, has declared impending retirement as well. But it's interesting looking at Noguchi's results, in particular; she placed second at the very first Olympic qualification event. That means that Noguchi was already a stellar competitor in the novel Combined discipline way back in 2019, and she has only improved her Combined skills since then—even winning the speed climbing division at Japan's recent national Cup. Basically, the forthcoming retirements (for Noguchi, Coxsey, and any other competitor who might be secretly harboring such plans) could beget unparalleled motivation at the Olympics to go out on the highest note…with an Olympic medal.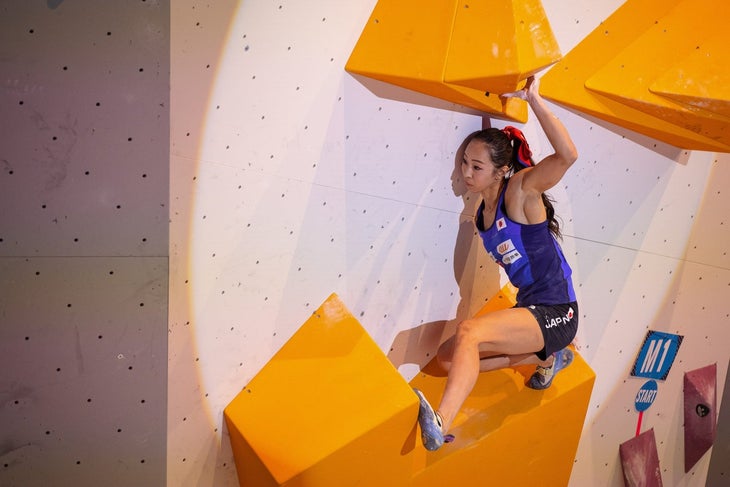 7. Injury Implications
It's an unfortunate reality that a number of the qualified Olympians have been dealing with injuries over the last few weeks and months. The tweaks and twinges range in severity, but here are a few: France's Julia Chanourdie injured her shoulder in May; Adam Ondra also admitted to "hurting his shoulder" back in May, and Austria's Jessica Pilz ruptured her A4 pulley that same month. Japan's Miho Nonaka injured her knee and withdrew from the Innsbruck World Cup last month, and just a week ago Brooke Raboutou posted an Instagram video of herself campusing with a caption revealing she had suffered a "minor ankle sprain." There are probably other slight injuries that are not as well-known. We hope that none of them are factors in any competitor's Olympic performance, but nonetheless, they're subplots to monitor closely. 
8. Humidity Misery
Let's cut to the chase—Japan in the summer can be brutally hot and muggy. A quick Google search on the subject results in descriptor words like "unbearable," "brutal," even "dangerous." On the day of writing this article, the weather in Tokyo hit 90 degrees with 83 percent humidity. Just this week, Sapporo, another city set to host various Olympic events, recorded its highest temperature in more than two decades.  So, yeah, the Olympics have the potential to be a sticky and stifling couple of weeks. Aside from the routesetting, the weather is to be the biggest X-factor for all Olympian climbers. The Olympic climbing venue is outdoors, and even though efforts will surely be made to keep the climbers cool, dealing with the heat, sun, and moisture will be part of the tactical methodology for everyone involved.   
9. Flashy Routesetting
There are two clues that make me think that we're going to see some really dynamic and showy moves on the wall in Tokyo. First, the routesetting this season—even at the Lead World Cups—has featured showstopping moves (think of the top that Janja Garnbret earned at Villars, or the boulder that made Sean Bailey a legend at Salt Lake City,). Secondly, the Olympics is famous for drawing large non-endemic viewing audiences to otherwise specialized sports; in other words, a lot of people watching climbing in the Olympics will be casual fans rather than diehard climbers. What visually translates most easily to those casual fans? Big, flashy moves. Dynos and pogos, 360-campus sections, bag-hangs, run-and-jumps…take your pick, but I'd bet we'll see some of them at the Olympics.   
10. Team USA from the Lab
We mentioned Brooke Raboutou above, but it's worth mentioning her American compatriots by name again too—Kyra Condie, Nathaniel Coleman, and Colin Duffy. They have all been training incredibly hard over the past year, often at USA Climbing's famed Training Center in Salt Lake City, Utah. Not every nation possesses such a facility—a "laboratory" for crafting elite performance. (In fact, prior to 2019, the United States didn't have such a facility either.) And this World Cup season has already proven that the USA Climbing Training Center is doing its job, in the sense that the Americans have collected more medals than ever before. Among the highlights for the qualified Olympians: Nathaniel Coleman made the finals at Meiringen and Innsbruck, Kyra Condie nearly made the finals at one of the Salt Lake City events, and Colin Duffy podiumed at Villars. If those World Cup results are any hint or indication, the American Olympians are likely to put on an unforgettable show in Tokyo.