Janja Garnbret, Brooke Raboutou Advance to Olympic Sport Climbing Finals
Heading out the door? Read this article on the new Outside+ app available now on iOS devices for members! Download the app.
This article is free and is part of our comprehensive Olympic coverage. Sign up with a Climbing membership, now just $2 a month and you get unlimited access to all of our Olympic news, analysis and photo galleries, plus you'll enjoy a print subscription to Climbing and receive our annual coffee-table edition of Ascent. Please join the Climbing team today and don't miss a single move.
By the time the women began the Lead event, it was dark out in Aomi Urban Sports Park, Tokyo. The route, which zigged up a 15 meter (45 foot) wall, consisted of a tenuous crimpy start, followed by a section of pinches, which the commentator accurately referred to as a "trap-door section." Difficulty increased with height.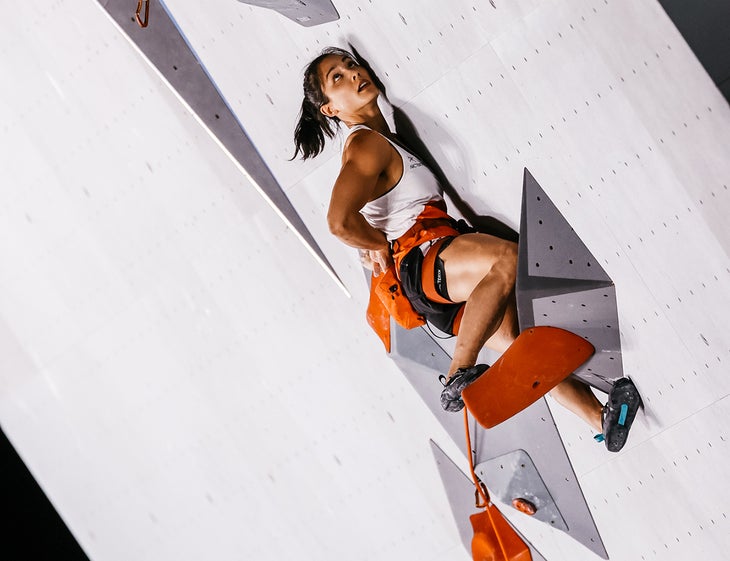 Brooke Raboutou, from the US, looked composed. She briefly closed her eyes before pulling onto the start. She moved with her usual mixture of confidence and grace. Although Raboutou really didn't have to make it far to advance to the final round, she fought hard for every hold. She finished the Lead round in eighth, and with a Combined ranking of fifth. Raboutou will join her teammates Colin Duffy and Nathaniel Coleman in advancing to finals. 
Kyra Condie, also from the US, moved at a fast clip. She put up a solid fight, letting out a few try-hard noises, and ended both the round and the overall event in 11th place.
A couple of early exits by Erin Sterkenburg, from South Africa, and Oceana Mackenzie. Both came off with gas left in the tank after unfortunate slips. 
Viktoria Meshkova, of the Russian Olympic Committee, is worth a mention. She came out early in the running, but held the high point up until Chaehyun Seo, from South Korea, came out and breezed nearly to the top. Meshkova, only 20 years old, was just one spot out of qualifying for the final round, but is someone we'll likely see again in Paris 2024.
As usual, Iuliia Kaplina was a pure joy to watch. A Speed specialist, Kaplina dug deep, bearing half a grimace, half a smile. Kaplina is the current Speed world record holder, although her Speed performance today was not her best. She finished with the Combined score of 17th.
Two other Speed specialists, however, will advance to the finals: Aleksandra Miroslaw and Anouck Jaubert. Jaubert's Lead performance was particularly impressive. The Frenchwoman fought through with elbows up before finally plummeting. 
Janja Garnbret did not perform quite as well as expected. Spectators crossed their fingers for a top, but instead Garnbret fell quite a few holds below the Seo's highpoint. Still, Garnbret maintained a first place Combined ranking. She looked disappointed as she exited the stage, and we can expect her to be ready for a fight in finals.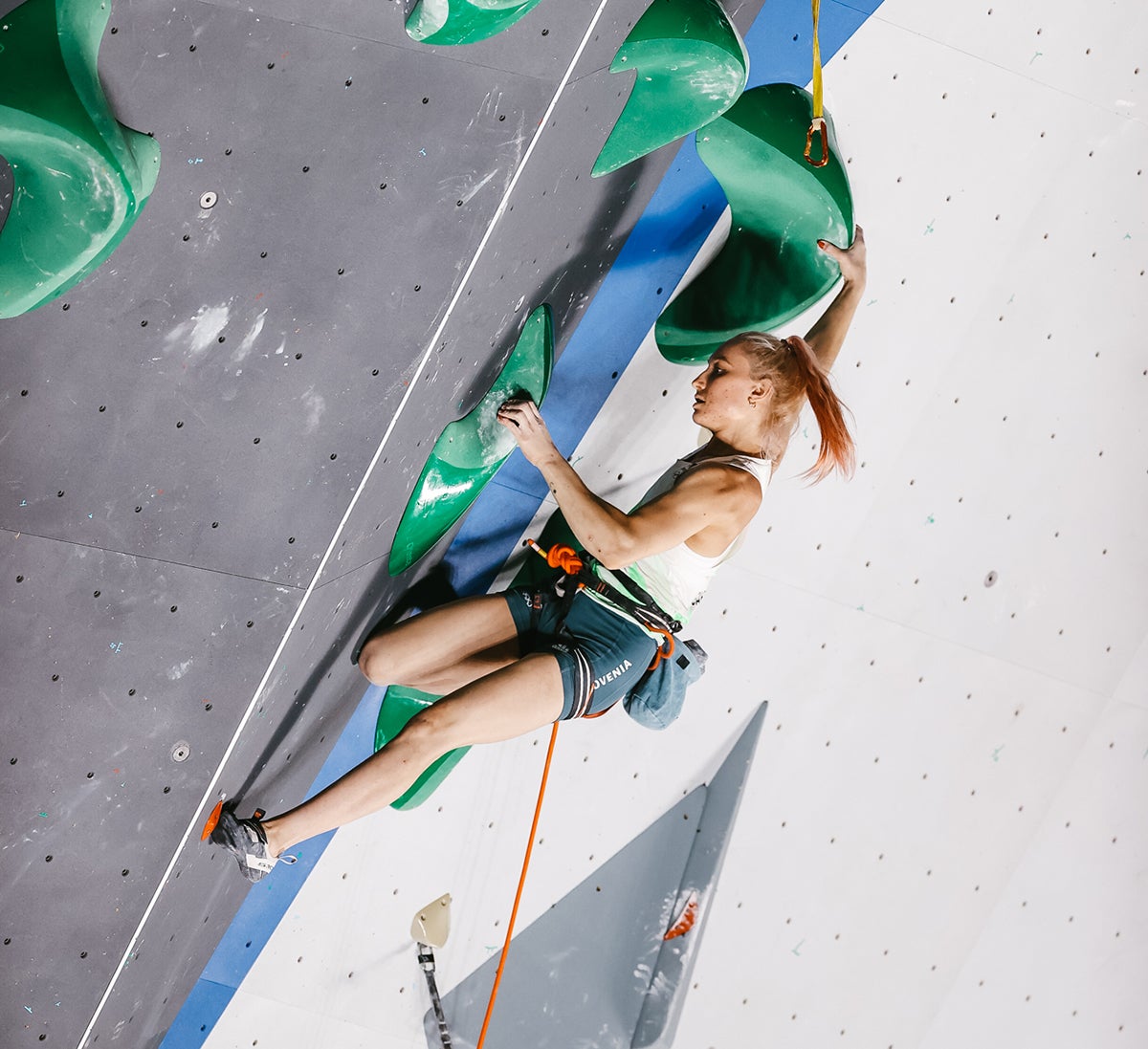 WOMEN'S COMBINED RESULTS  Top Eight Advance to Finals
Janja Garnbret (Slovenia)
Seo Chaehyun (South Korea)
Miho Nonaka (Japan)
Akiyo Noguchi (Japan)
Brooke Raboutou (USA)
Jessica Pilz (Austria)
Aleksandra Miroslaw (Poland)
Anouck Jaubert (France)
Viktoriia Meshkova (Russia)
Shauna Coxsey (Great Britain)
Kyra Condie (USA)
Song Yiling (China)
Julia Chanourdie (France)
Alannah Yip (Canada)
Laura Rogora (Italy)
Petra Klinger
Iuliia Kaplina (Russia)
Mia Krampl (Slovenia)
Oceania Mackenzie (Australia
Erin Strekenburg (Republic of South Africa)
WOMEN'S LEAD RESULTS
Seo Chaehyun (South Korea)
Jessica Pilz (Austria)
Miho Nonaka (Japan)
Janja Garnbret (Slovenia)
Viktoriia Meshkova (Russia)
Akiyo Noguchi (Japan)
Mia Krampl (Slovenia)
Brooke Raboutou (USA)
Julia Chanourdie (France)
Laura Rogora (Italy)
Kyra Condie (USA)
Alannah Yip (Canada)
Shauna Coxsey (Great Britain)
Petra Klinger
Anouck Jaubert (France)
Oceania Mackenzie (Australia
Iuliia Kaplina (Russia)
Aleksandra Miroslaw (Russia)
Song Yiling (China)
Erin Strekenburg (Republic of South Africa)