Who's Who: Meet Olympic Teams South Korea, Australia, South Africa, Poland, and Kazkhstan
Get to know the 20 men and 20 women competing in climbing's inaugural Olympic event
Heading out the door? Read this article on the new Outside+ app available now on iOS devices for members! Download the app.
This article is part of our ongoing coverage of the 2020 Olympic Games. For more news as it happens, and for unlimited online access plus a print subscription to Climbing, join us with an Outside+ membership. 
40 climbers (20 men and 20 women) will compete at the Tokyo Olympics, and each country attending the games has been given a maximum quota of two competitors per gender. The climbers who have already qualified for the Olympics were selected through a series of Olympic qualification events, including the International Federation of Sport Climbing (IFSC) World Championships in Hachioji, Japan, and a combined contest in Toulouse, France.
It will be an eclectic roster. Some of the Olympians (such as the Czech Republic's Adam Ondra) are well known for climbing the world's most difficult rock climbs—on revered cliffs in Yosemite, Norway, Spain, and elsewhere—in addition to participating in high-level competitions. While other Olympian climbers, such as Japan's Miho Nonaka, rarely make publicized outdoor ascents and have carved out careers centered almost exclusively on World Cup competition.
Still, competition climbing requires a very specialized skill set; the challenge is not merely to climb, but to climb while also dealing with nervousness, scores, judges, a cheering crowd, and parkour-style route-setting that is generally not comparable to outdoor-climbing movement. In other words, attempting to compare outdoor climbing to competition climbing is somewhat like comparing a pickup basketball game by NBA players to an actual NBA league game; both scenarios would feature elite-level skills, but the contexts and the extraneous factors would be very different.
Here, meet the climbers from the South Korea, Australia, South Africa, Poland, Kazkhstan, who will compete in the 2020 Tokyo Olympics in August.
Team South Korea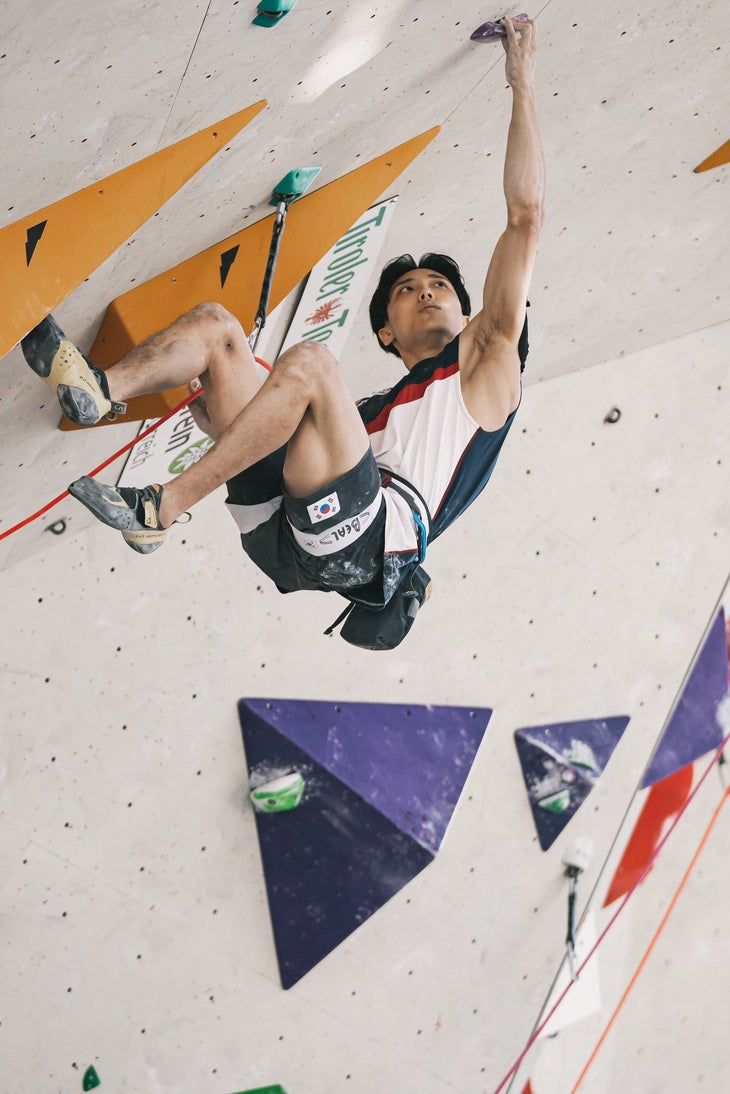 Jongwon Chon (25)
If there were any climbers who had the oddest journeys to their Olympic berths, it was Jongwon Chon (in the men's division) and Chaehyun Seo (in the women's division). In the case of Chon, he missed out on an Olympic spot at the World Championships in Hachioji in 2019 and the Olympic qualifier in Toulouse. As a result, it seemed like his only remaining chance to secure an Olympic invitation was going to be at the Asia Continental Championships. Then the COVID-19 pandemic hit, and with it came a whirlwind of speculation that those Asia Continentals would be postponed or cancelled. This went on for months. Eventually they were cancelled, so Chon was awarded an Olympic spot for the Asian continent based on his result (and country quotas/allocations)  at those Hachioji World Championships from a year earlier. 
The process to get the Olympic berth might have been wild, but Chon is a worthy recipient. Several years ago, he was undoubtedly one of the biggest names on the bouldering World Cup circuit…and he has won World Cup gold in the past. Speed and lead are not typically his strong disciplines, so he'll have to surprise a lot of people if he wants to podium at the Olympics. But he is a fan-favorite, and such stoke and support could go a long way in fueling a fantastic Olympic performance from him.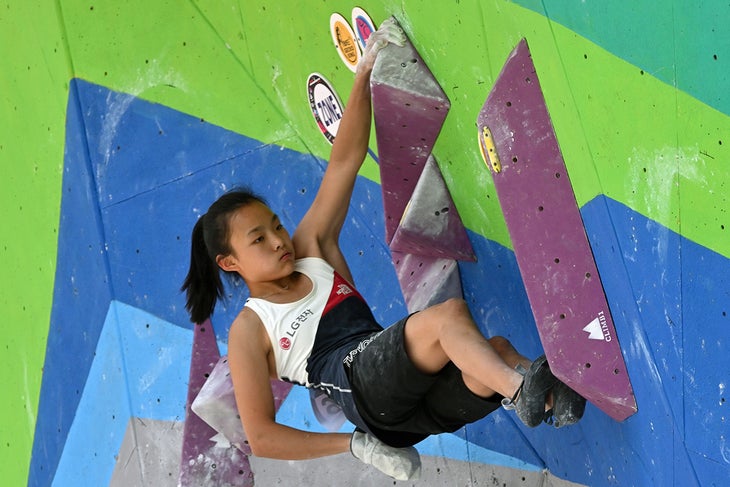 Seo Chae-hyun  (17)
Chaehyun Seo's journey to earning an Olympic berth was similar to Chon's, with an automatic invitation following the cancellation of the Asia Continental Championships. And Seo's berth adds a lot of intrigue to the Olympics. In 2019, she beat Slovenia's Janja Garnbret at four different Lead World Cup events—something that was practically unheard of given the legendary year that Garnbret was having at the time. For that reason, Seo is like a wild card for the lead portion of the Olympics' Combined discipline; she could certainly beat Garnbret on the lead wall, and that would throw a fascinating wrench into the Olympics' overall scores. 
Given Seo's youth, and the fact that she had limited participation in competitions over the year or so due to the pandemic, there are still a lot of unknowns about her skill set. Just how good is she at speed climbing? Can she get her bouldering prowess to match that of her lead climbing? These questions will remain until the Tokyo Olympics kick off, which will make Seo's Olympic participation must-watch television.
Team Australia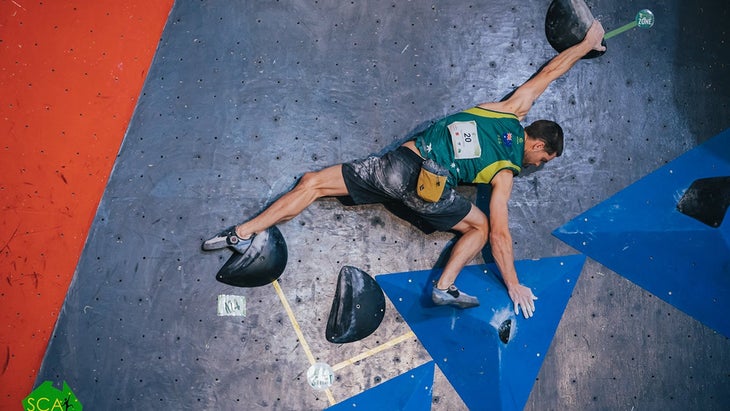 Tom O'Halloran (28)
For O'Halloran, competing in the Olympics is a lifelong dream come true. "I was 8 when the Sydney Olympics were run in 2000," he tells Gym Climber. "We didn't have a TV, so we went to a friend's house to watch the opening ceremony. I didn't know what the Olympics was. I just remember sitting on the floor watching it. There were all these people waving flags, wearing track suits, looking super happy. The moment my dad explained it to me, I was like, 'Whoa. I want to be a part of this.' I didn't know any of the athletes, but just watching how [the Olympics] brought everyone together was incredible."
O'Halloran, who hails from Blackheath, was a relatively strong athlete as a kid, playing a variety of sports including cricket and soccer, and was "good-ish, but never at an Olympic level," he said. When he found climbing in 2004 at the age of 12, however, he realized that he could compete at a national, if not international level. He went on to climb in IFSC Youth Worlds in 2007 and 2008, but shortly after graduating high school, he turned away from competitive climbing. "With it not being an Olympic sport, I was just like, 'Aww, whatever. It is what it is. Maybe it's cool that climbing doesn't have to be a part of that scene.'"
Currently based in the Blue Mountains with his partner of 10 years, Amanda Watts, and their 7-year-old daughter, O'Halloran works as a rope-access technician, performing high-angle assignments on sites such as coal mines, wind farms, and iron-ore processing facilities. He is a strong climber on rock, with sport sends up to 9a (5.14d) and boulders at V13, and for the majority of the last decade he has focused completely on outdoor climbing.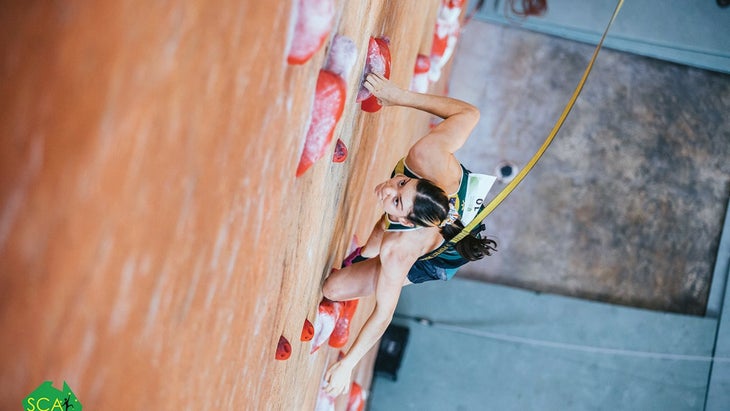 Oceania Mackenzie (18)
The Melbourne native swept the Oceania Championships like Sterkenburg, with no falls. A climber since age 12, Mackenzie attended the Youth World Championships in 2016, and led the Youth B Female bracket at Youth Worlds in 2017, scoring first in Speed, Lead, and Bouldering. In 2018, she made semifinals at her first two Lead World Cups and first Bouldering World Cup.
She competed in a slew of World Cups in 2019, breaking into the international spotlight during the season's first Bouldering World Cup, in Meiringen, with a sixth place.
Though she has been climbing for seven years now, she wasn't sure about her Olympic potential until recently. "People were like, 'Oh you know, keep training and see how we go,' so it was always in the back of my mind, but I wasn't super serious about [the Olympics] up until maybe 2019," she told the Australian newspaper The Age. She also discussed the mental component of the sport for her. "I love the problem solving," she said. "I am a pretty big introvert and competitive, so I love the challenge of figuring it out and then doing the climb."
She tells Gym Climber, "It feels amazing to represent my country and sport in the Olympics. I never could have imagined climbing in the Olympics a few years ago. It's going to be super exciting."
Team Republic of South Africa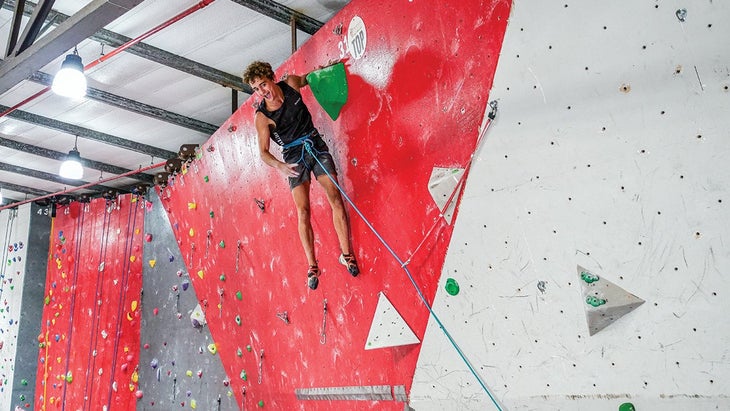 Christopher Cosser (20)
Born in Johannesburg, Cosser has been climbing since 2012 and attended the IFSC Youth World Championships annually after his first time, in 2014. The Youth World Championships is the only international event South Africa has attended as a team in years past.
In 2019, after finishing high school, Cosser traveled on the competition circuit, attending the majority of European World Cups and his last Youth World Cup, in Arco, earning 14th overall in the Youth World Championships in Arco that year. Since then, however, he had not competed until the African qualifying event.
Cosser is also a strong climber outside and has sent boulders up to 8B (V13) and sport routes up to 8b+ (5.14a). On a recent trip to Cape Town, he took down seven boulders of 8A (V11) and above.
"On paper, I'm a stronger boulderer, but I actually prefer sport climbing," he says.
"I'm more psyched on the indoor scene at the moment, but I start burning up and not being that psyched to come to the gym if I don't climb outside as well," he said. "It's a fine balance." Post-Olympics, he hopes to apply to a university in the United States or Europe.
"My goal for the Olympics is growth and development within the African community," he says. "We're still so far behind, that to close the performance gap is unrealistic, but to have development, and to hopefully get sponsorship into the sport in South Africa and Africa as a whole, that would be the perfect outcome."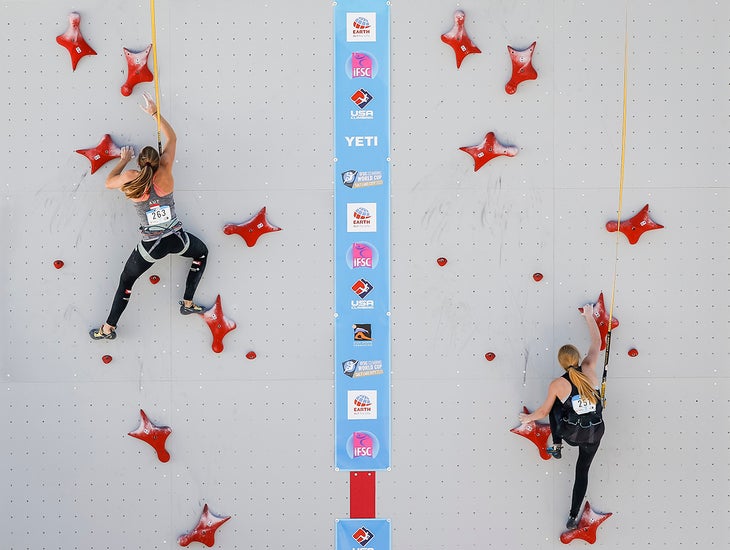 Erin Sterkenburg (18)
Sterkenburg dominated her bracket, winning the trifecta of Bouldering, Speed, and Lead with a perfect score at the IFSC African Championships in Cape Town last December. Now the Durban native will represent her country and the African continent at the Olympic Games, all in the midst of her final year of high school.
She was introduced to climbing only in 2017, after joining her high school's climbing club during freshman year. The African Championships was just her third IFSC event, after Youth Worlds in Moscow and Arco in 2018 and 2019.
"It's still a bit surreal that I'm going to the Olympics," she says. "I'm so excited to compete, and a little nervous, but most of all I'm just so grateful to have the opportunity to go, and come back having learned so much and share that with the country."
Sterkenburg travels to Johannesburg once a month to train Speed, since her gym in Durban has no Speed wall. "I'm most focused on Lead, and Bouldering is a close second. Speed is definitely not what I'm good at," she adds, laughing. "But I'm working on it!" She hopes to study in America after graduating high school at the end of 2021. "I'm thinking about architecture or engineering, but I don't know yet."
Fresh on the scene compared to well-known females like Janja Garnbret and Akiyo Noguchi, Sterkenburg says, "That's what's craziest to me. Those people are my idols, and now I'm competing against them. I've been watching them in comps since I started climbing. I'm so excited to watch them climb in real life, and be able to talk to these climbers, who have achieved such crazy things. I'm also sure it'll make me push myself even harder.
"I don't have any expectations. I just want to climb my best," she says. "On that day, I just want to feel like I climbed the best I could have."
Team Poland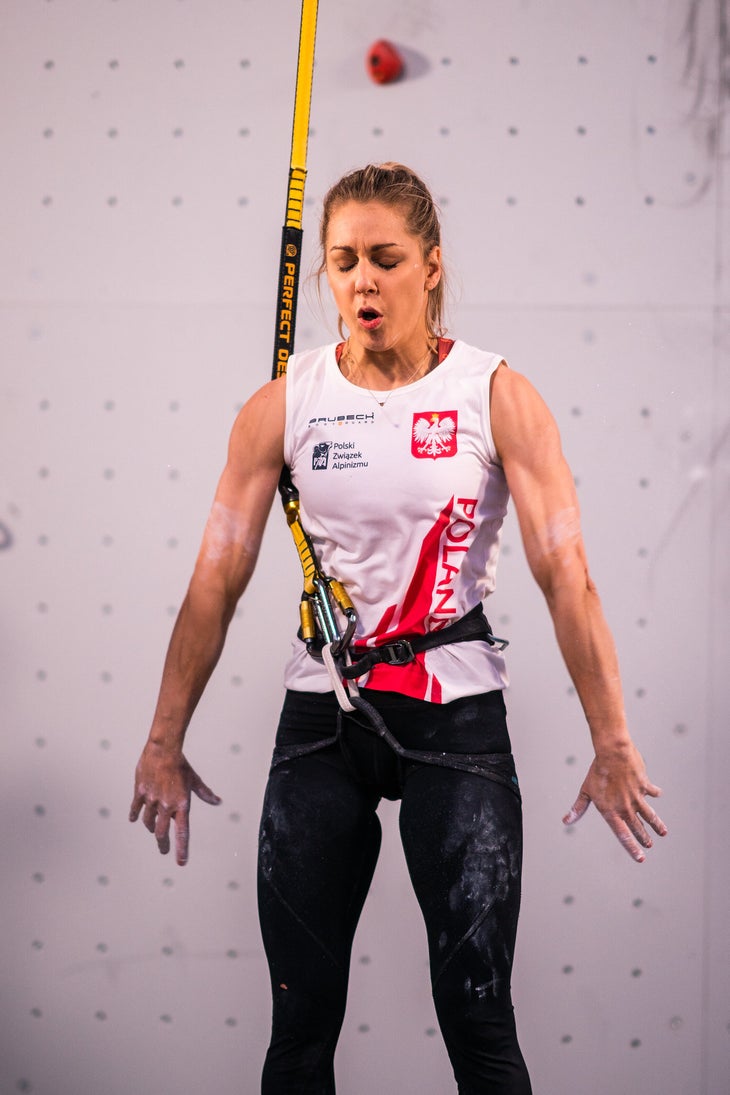 Aleksandra Miroslaw (27)
Miroslaw is the reigning speed-climbing World Champion. She won the speed World Championships in 2018 as well. She won the speed portion of the World Championships (ultimately earning an Olympic berth), but struggled mightily in the other portions—placing 8th in bouldering and 8th in lead climbing.
Miroslaw is the quintessential speed specialist. To have any chance of earning a medal at the Tokyo Olympics, she will likely have to win the speed portion. And even if she does win the speed climbing, she will still likely have to score higher than 8th place in the other events—which would merit a multiplied final score of 64 (see—SCORING)—in order to have any chance at finding a place on the Olympics' podium.
Team Kazkhstan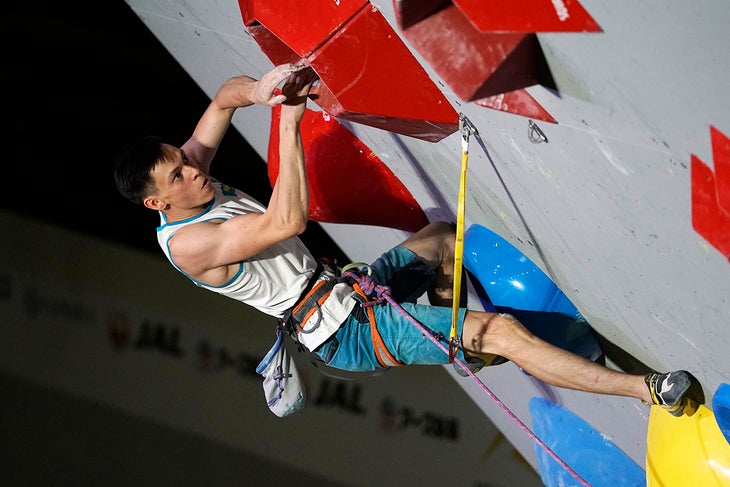 Rishat Khaibullin (25)
Khaibullin is a speed specialist. In fact, competition diehards might be drooling at the possibility of getting an Olympic speed finale that features Fossali going head-to-head against Khaibullin. It has the makings of an epic Olympic showdown. That being said, Khaibullin is also capable of performing well in other disciplines. For example, when he qualified for the Olympics in Toulouse, Khaibullin won the speed portion, but impressively placed 5th in lead (and 8th in bouldering).
Khaibullin is not a household name. However, if he can get a stellar result in his speed runs, and can place strong in lead climbing like he did in Toulouse, he could be one of the surprise breakout stars of the Olympics' climbing portion.
John Burgman is the author of High Drama: The Rise, Fall, and Rebirth of American Competition Climbing, which chronicles the history of American competition climbing.