Mickael Mawem Tops Olympic Combined Qualifier, Duffy and Coleman Advance: Combined, Lead Results
The men's Combined Qualifiers have concluded with two Americans advancing, while Adam Ondra passes through.
Heading out the door? Read this article on the new Outside+ app available now on iOS devices for members! Download the app.
This article is free. Sign up with an Outside+ membership and you get unlimited access to thousands of stories and articles by world-class authors on climbing.com and rockandice.com, plus you'll enjoy a print subscription to Climbing and receive our annual coffee-table edition of Ascent. Please join the Climbing team today.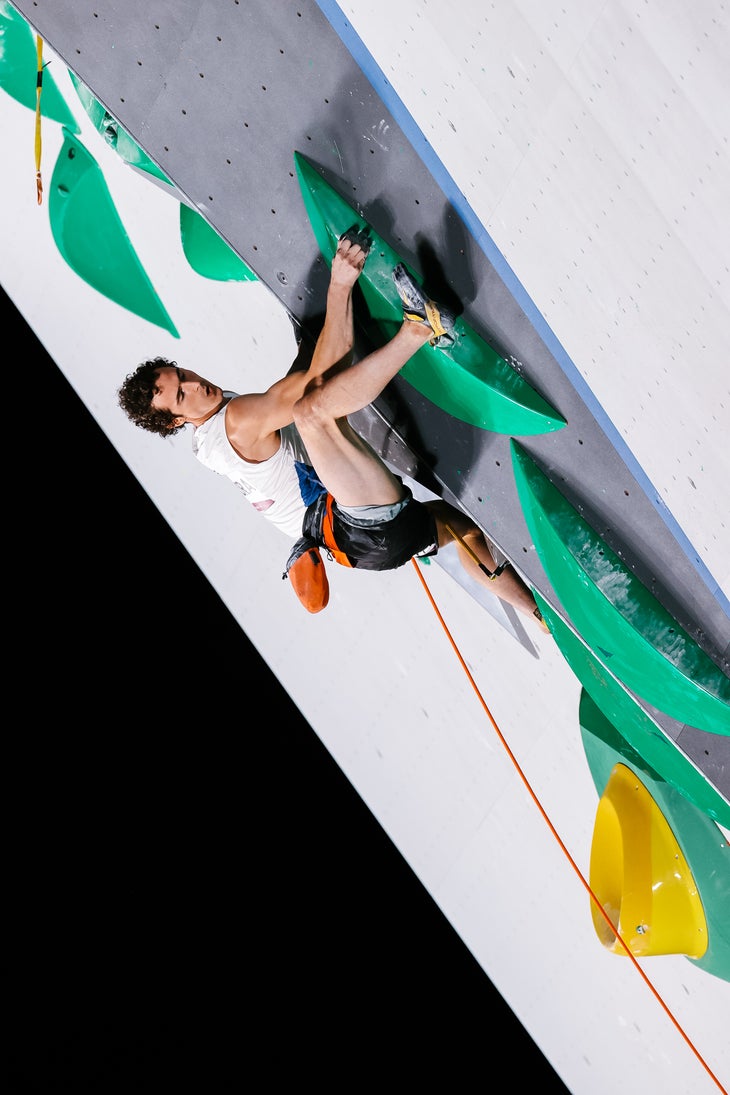 Colin Duffy was calm and composed. He really didn't look that pumped, cruising to just below the top of the lead route, a twister move where he faced outward, reaching blindly to the second to last hold, falling on number 42+. Nathanial Coleman, also USA, climbed with heart and some yelling, pumping out at number 39 for what was at that time second behind Duffy, and his high point was also to hold up well. Duffy, age 17, held the top slot until the end, when Jakob Schubert (GER) came out and, relaxed and almost resting all the way up, nipped past Duffy for the best lead performance, though no one topped the route. Coleman finished fifth in lead, and the big news for fans in this country was that he and Duffy both made finals.
Duffy said after this first Olympics day, according to USA Climbing, "It feels amazing. I'm still in shock." He also said, "I have never tried harder." It was a long day (or night, for viewers here) of climbing.
Lead was the third and final event in the qualifying round for men.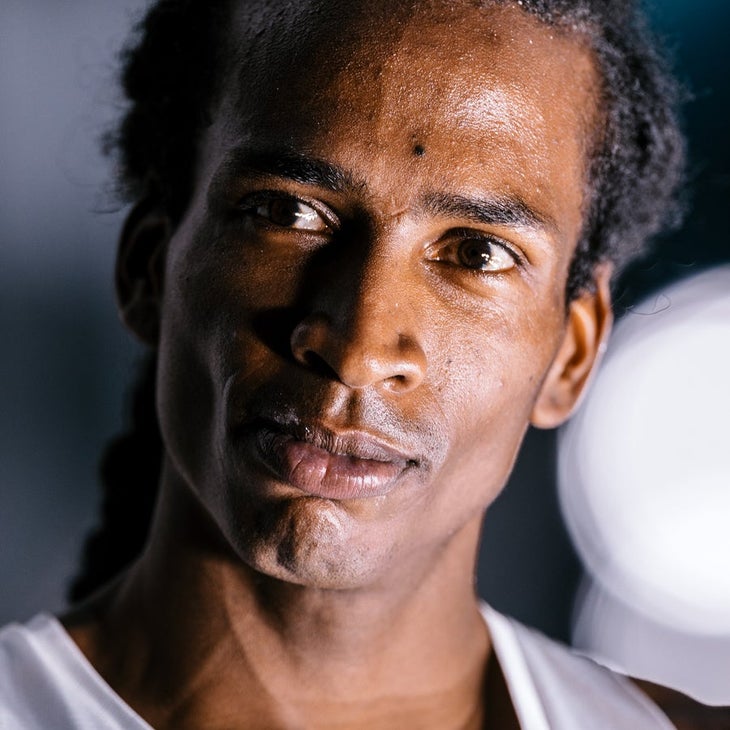 It was a day for youth to shine, with Alberto Ginez Lopez (SPA), 18, also rising high, to hold 41+. This round was also a heartbreaker, when Bassa Mawem (FRA) fell low, hitting his belayer, clutching his bicep with what appeared to be a injury; he made it into finals, but his ability to climb seems in question. Adam Ondra (CZE) worried us a bit as well, looking a little hesitant at first, then better and better as he rose into the meat of the route around holds 25 to 30, then finally seeming pumped. With speed as his acknowledged weakness, though he is brilliant at difficulty, Ondra was in the moment third behind the two youths, and would have to wait to see if he'd be among the eight to make finals (he was). Alex Megos (GER) too found himself on the bubble for finals, achieving hold 36+, ultimately finishing ninth.
Coleman, who made finals in eighth, said, according to USAC, "After bouldering, I had lost all hope of of that dream coming true. But I don't know, that somehow let me just climb freely on the lead route, and it felt great.
"A crazy format leads to crazy scores and I just kept moving up, and I can't believe it really happened."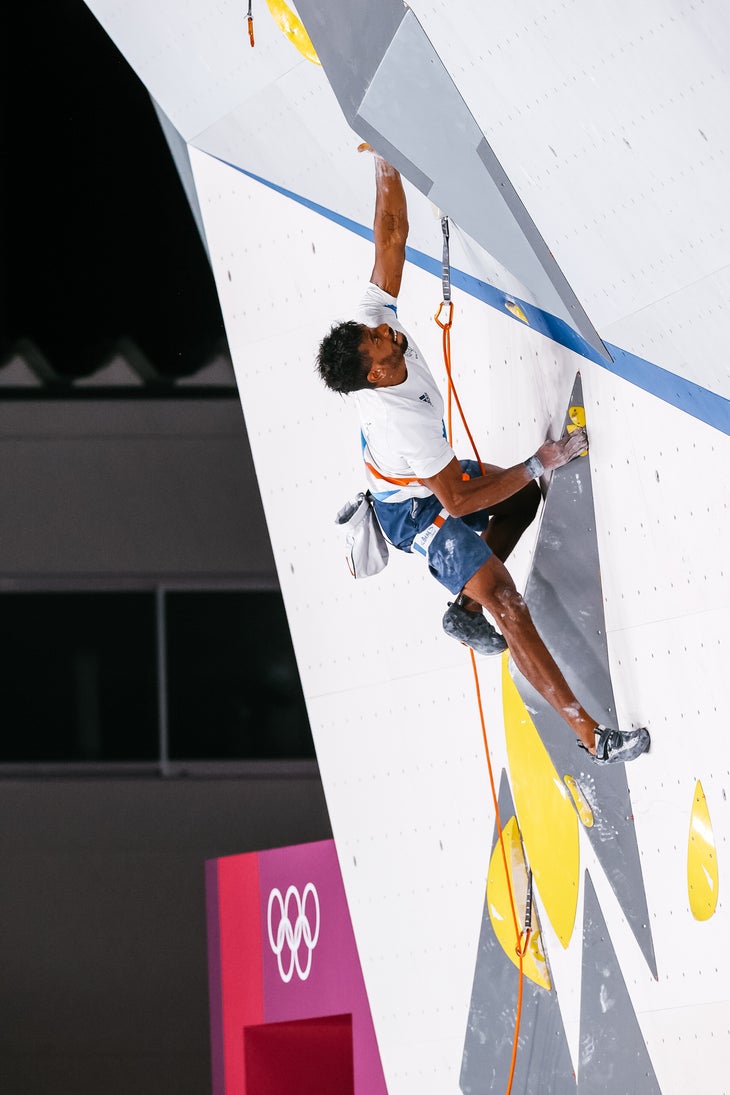 In this first of three days of climbing's debut in the Olympics, the eight were chosen to advance using combined scores from, consecutively, speed, bouldering, and finally lead. Women will be tomorrow, same order of disciplines, with finals—again determined by a combined score—to follow last. There is no middle or semifinal-type round.
In previous rounds, the Mawem brothers of France had been a sensation, with Bassa winning speed and Mickael taking bouldering, plus third in speed; and Tomoa Narasaki of Japan, long a medal favorite, second in both. For Americans, Colin Duffy had been fifth and Nathaniel Coleman 11th in bouldering, and Colin was sixth and Nathanial 10th in speed.
In other North American news, the veteran and all-arounder Sean McColl of Vancouver looked smooth and dynamic, falling at move 35 for eighth in lead.
Events took place in warm temps: 82 degrees F and 80 percent humidity. All results below.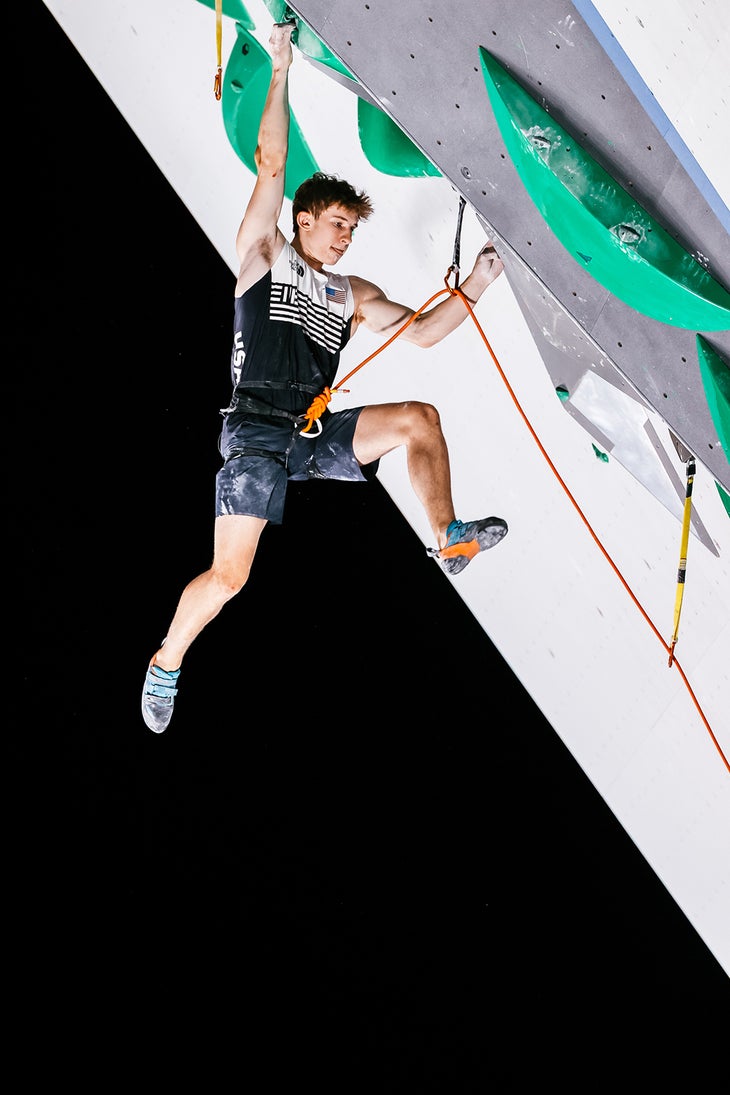 Mickael Mawem (FRA) 33 Qualified
Narasaka Tomoa (JPN) 56 Qualified
Colin Duffy (USA) 60 Qualified
Jakob Schubert (AUS) 84 Qualified
Adam Ondra (CZE) 216 Qualified
Alberto Gines Lopez (SPA) 294 Qualified
Bassa Mawem (FRA) 360 Qualified
Nathaniel Coleman (USA) 550 Qualified
Alex Megos (GER)
Chon Jongwon (S KOR)
Rishat Khaibullin (KAZ)
Jan Hojer (GER)
Aleksey Rubtsov (RUS)
Yufei Pan (CHN)
Michael Piccolruaz (ITA)
Christopher Cosser (SA)
Sean McColl (CAN)
Kai Harada (JPN)
Ludovico Fossali (ITA)
Tom O'Halloran (AUST)

Nathaniel Coleman (USA) finished in the top eight and advances to finals. Photo: Jess Talley, Jon Glassberg/Louder Than 11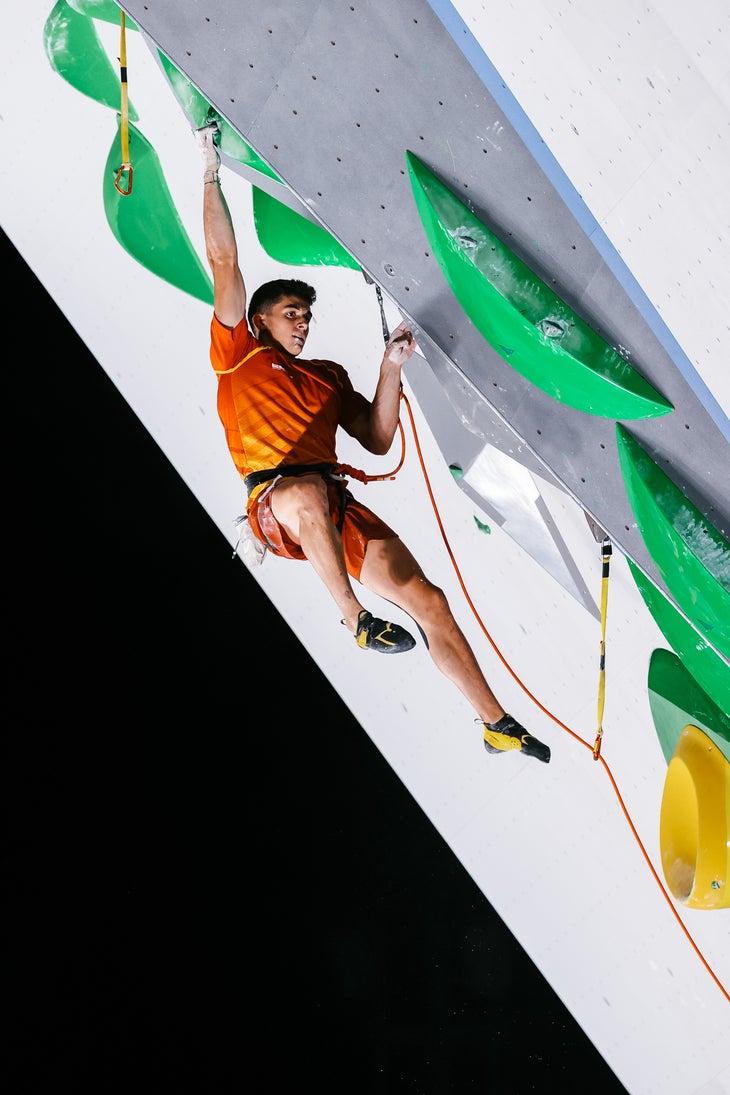 MEN'S LEAD RESULTS:
Jakob Schubert (GER)
Colin Duffy (USA)
Alberto Gines Lopez (SPA)
Adam Ondra (CZE)
Nathaniel Coleman (USA)
Alexander Megos (GER)
Yufei Pan (CHI)
Sean McColl (CAN)
Jan Hojer (GER)
Christopher Cosser (SA)
Mickael Mawem (FRA)
Michael Piccolruaz (ITA)
Rishat Khaibullin (KAZ)
Tomoa Narasaki (JPN)
Alex Rubtsov (RUS)
Jongwom Chon (CHI)
Kai Harada (JPN)
Ludovico Fossali (ITA)
Tom O'Halloran (AUST)
Bassa Mawem (FRA)