Who's Who: Meet Olympic Teams Austria, Great Britain, Germany, France and Canada
Heading out the door? Read this article on the new Outside+ app available now on iOS devices for members! Download the app.
This article is part of our ongoing coverage of the 2020 Olympic Games. For more news as it happens, and for unlimited online access plus a print subscription to Climbing, join us with an Outside+ membership. 
40 climbers (20 men and 20 women) will compete at the Tokyo Olympics, and each country attending the games has been given a maximum quota of two competitors per gender. The climbers who have already qualified for the Olympics were selected through a series of Olympic qualification events, including the International Federation of Sport Climbing (IFSC) World Championships in Hachioji, Japan, and a combined contest in Toulouse, France.
It will be an eclectic roster. Some of the Olympians (such as the Czech Republic's Adam Ondra) are well known for climbing the world's most difficult rock climbs—on revered cliffs in Yosemite, Norway, Spain, and elsewhere—in addition to participating in high-level competitions. While other Olympian climbers, such as Japan's Miho Nonaka, rarely make publicized outdoor ascents and have carved out careers centered almost exclusively on World Cup competition.
Still, competition climbing requires a very specialized skill set; the challenge is not merely to climb, but to climb while also dealing with nervousness, scores, judges, a cheering crowd, and parkour-style route-setting that is generally not comparable to outdoor-climbing movement. In other words, attempting to compare outdoor climbing to competition climbing is somewhat like comparing a pickup basketball game by NBA players to an actual NBA league game; both scenarios would feature elite-level skills, but the contexts and the extraneous factors would be very different.
Here, we introduce the Olympic team members from Austria, Great Britain, Germany, France, and Canada.
Team Austria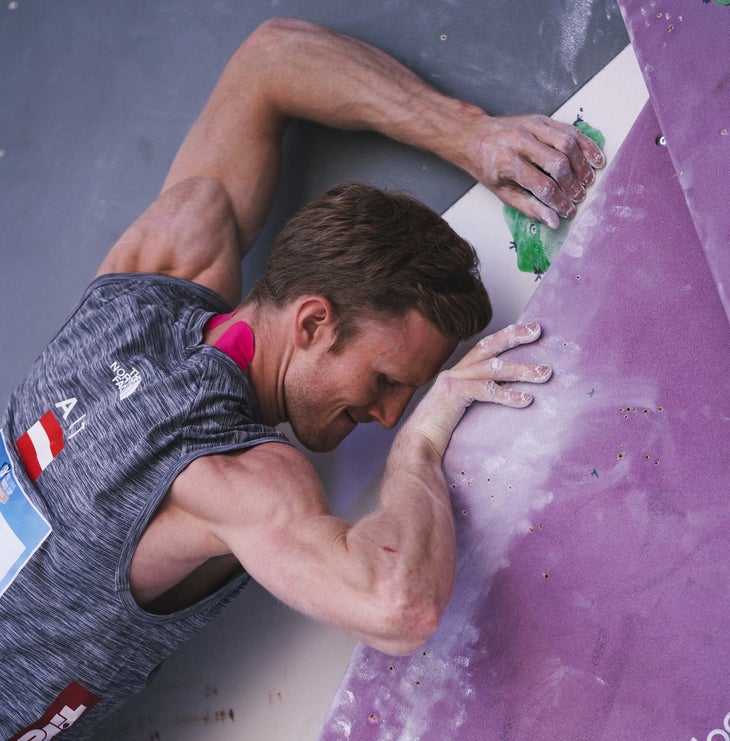 Jakob Schubert (30)
Schubert is one of the most decorated climbers on the Olympic roster. A multi-time gold medalist at the World Championships in the lead discipline, Schubert has also won myriad lead climbing World Cup competitions in a career that has lasted more than a decade. He has earned medals in bouldering World Cup events too.
Schubert dabbles in other sports, including soccer and tennis. This diverse interest in all athletics informs his climbing, as he is thought to be a competitor who can win any given format on any given day. And he has mentioned that he wants to pursue more big-wall climbing as well (routes typically 1,000 feet or taller), which could be an area that he focuses on when his legendary competition career wraps up.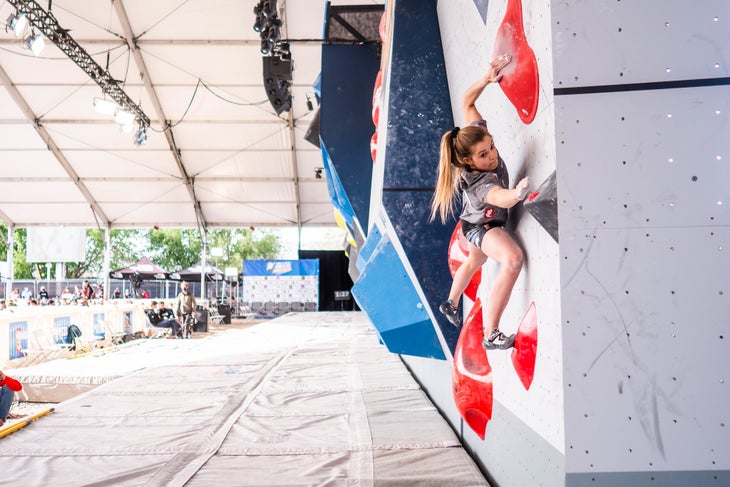 Jessica Pilz (24)
Pilz was long thought of as a lead-climbing specialist based on impressive World Cup results; she even won the lead climbing World Championships in 2018. But at those same World Championships, she also earned a 3 place finish in the combined discipline. Admittedly she was on the cusp with her Olympics qualification at the 2019 World Championships in Hachioji, Japan, but an Olympic berth is an Olympic berth. And Pilz should be considered one of the best lead climbers in the entire women's field.
Pilz has been climbing since she was nine years old. Along with her compatriot Jakob Schubert, she is one of the key climbing ambassadors for Austria, appearing at national galas and frequently taking part in photo shoots for a number of Austrian brands. But like American Brooke Raboutou, Pilz also attends college and "aims to become a role model for the next generation of climbers." In a recent interview, Pilz specifically pointed out that she'd like to coach and route-set when her time of competing at the highest level comes to an end.
Pilz is one of those unfortunate cases of the injury bug striking at the most inopportune time. She fully ruptured her A4 pulley while competing on the World Cup circuit in Salt Lake City—just a couple months before the Olympics are scheduled to kick off. That doesn't leave a whole lot of time for recovery, and certainly complicates her Olympic training. But it also means that Pilz is likely to have the full crowd behind her when she takes to the Olympic walls in Tokyo. 

Team Great Britain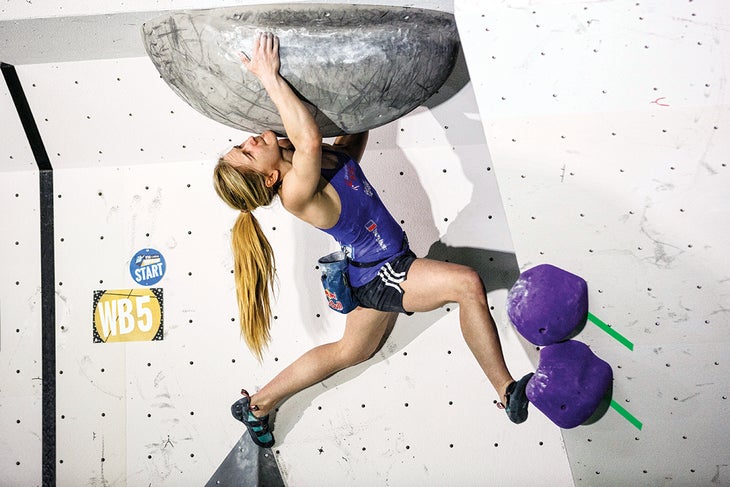 Shauna Coxsey (28)
Coxsey has battled back from a series of injuries in the past few years (damaged cartilage in a knee and a ruptured tendon in a finger), all of which have caused her to miss significant stretches of competition. But that makes her Olympic journey more riveting, with the figurative comeback being a 3rd place finish in the combined discipline at the 2019 World Championships in Hachioji, Japan. She is known for her bouldering, but she is capable of placing high in any of the disciplines within the combined extravaganza. As an example, in the finals of those aforementioned World Championships, she placed 2nd in the speed portion and 3rd in the bouldering portion, and 7th in the lead climbing portion.
Coxsey is also one of the most prominent climbers in British media. The Guardian called her "Britain's No 1 climber," and the Daily Mail called her "the climbing sensation." She has also been written about by the BBC, Sky Sports, and The Telegraph. She has received a personal letter from the Queen. Admittedly, it is difficult for us Americans to fully comprehend the scope of her fame in her home country, but she us obviously a very big deal in the big realm of British sports—and soon she'll have the biggest showcase of all.
Coxsey had a curious start to the 2021 season. She did not participate at Meiringen—the first World Cup of 2021, did not advance out of qualification at the first Salt Lake City Bouldering World Cup, and did not participate in the second Salt Lake City Bouldering World Cup. She has been plagued by a back injury, but Great Britain was also still dealing with COVID travel restrictions at the time— and Coxsey also got married during this period. So, it's difficult to gauge and contextualize all these inconsistencies in her performance. She posted a cryptic message on Instagram while in Salt Lake City: "I knew there were some unknowns but I hadn't realised I wasn't ready. The reality of dealing with my back, learning how to climb around it and being in pain when competing was too much for me today." But that just leads to more questions and curiosities. We certainly hope Coxsey is healthy and pain-free heading into Tokyo; when she is at the top of her game, she's practically unbeatable.

Team Germany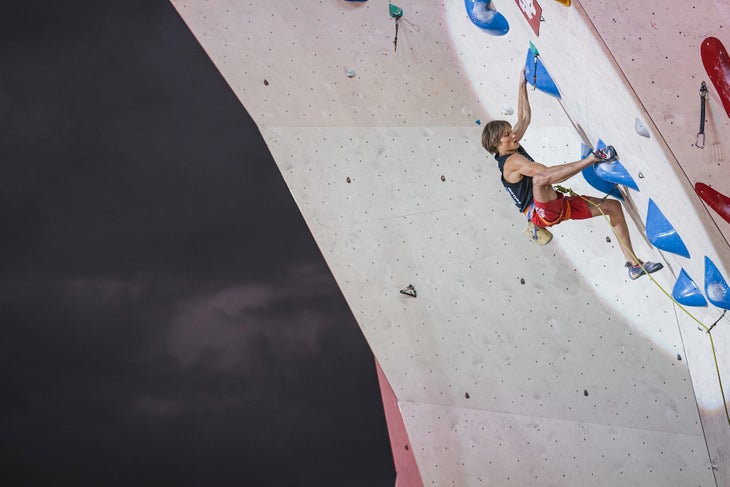 Alex Megos (27)
Megos was not a mainstay on the World Cup circuit until recently; it seems that a chance to participate in the Olympics sparked something in him, and it resulted in a stellar 2019 season: 2nd place at a lead climbing World Cup in Chamonix; 3rd place at a lead climbing World Cup in Villars; 8th place in the combined discipline at the World Championships—which ultimately earned him an Olympic invite. This July, he placed second in Lead at the World Cup in Villars.
Megos is one of the Olympians with the most impressive outdoor pedigrees complementing his competition accomplishments. For example, he has sent Bishop's famed Lucid Dreaming boulder problem (rated V15); he has claimed the first ascent of Fightclub (5.15b) in Canada; and he's sent numerous 5.14+ and 5.15 benchmark rock climbs like Perfecto Mundo, First Round First Minute, La Rambla, Action Directe, Realization, Dreamcatcher, Hubble, etc. For this reason, Megos is a figurative linchpin for the disparate worlds of competitive climbing and outdoor mega-sends. A lot of "casual climbers" will likely tune in to watch the Olympics because they hear that Megos is taking part.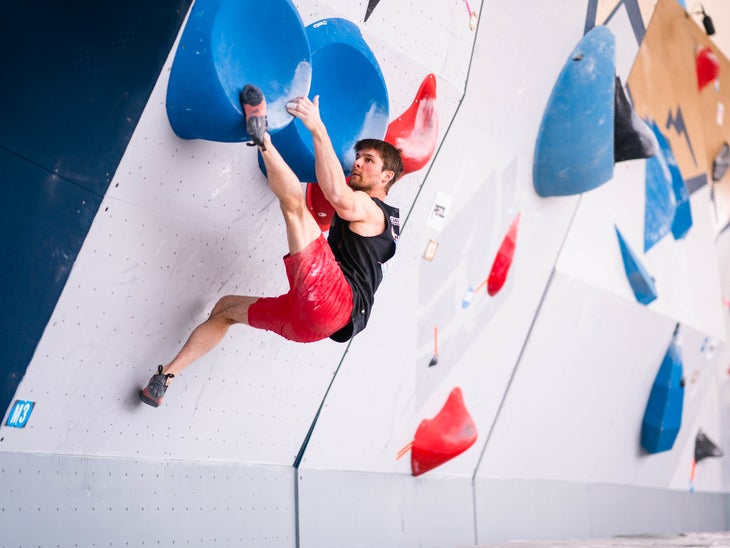 Jan Hojer (29)
Hojer is one of the most veteran competitors in the men's field. His best World Cup seasons to date were 2014 and 2015, when he was primarily a boulderer and won multiple competitions on the circuit. He has been focusing a lot on lead climbing and speed climbing in the lead-up to the Olympics and was cited as an Olympic hopeful for Germany long before he officially qualified.
Hojer is approximately six feet tall, making him one of the tallest competitors in the men's field. He can use his height to reach handholds that would be out of reach for many other competitors. But Hojer is also a very dynamic climber, thanks in part to the fact that the German team was one of the first national squads to embrace parkour exercises and unique cross-training in a comprehensive way years ago.
Team France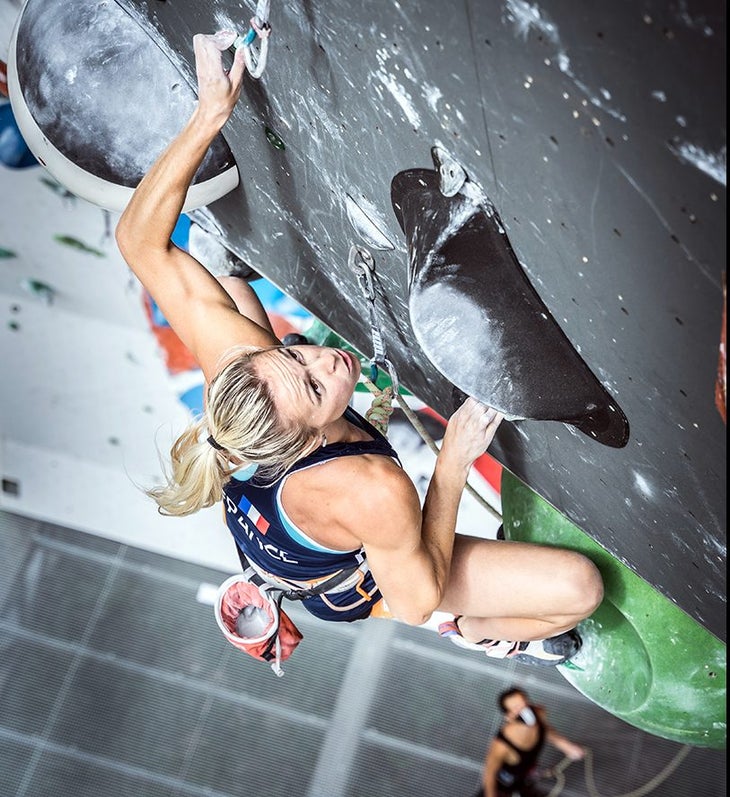 Julia Chanourdie (25)
Chanourdie, like most of the Olympian climbers, parlayed a decorated youth competition career into the adult sphere. She placed fourth at a bouldering World Cup event in Munich, Germany, last year, and 7th at a lead World Cup competition in Villars, Switzerland. As impressive as those World Cup results were, they did not fully prepare us for how well she would do at the Toulouse Olympic qualification event, in which she rocketed to 2nd place as a result of placing 3rd in the speed portion, 5th in the bouldering portion, and 2nd in the lead portion.
In some ways, Chanourdie is a product of climbing's various histories. She was born in the Alps of Southern France, thus tied inexorably to climbing's mountaineering roots. But her parents also owned a climbing gym, making Chanourdie the prototypical "kid-crusher" at the family's facility. A profile of Chanourdie by one of her sponsors, The North Face, notes that she is naturally strong and agile, and "skilled and experienced in both lead and boulder." This makes her an ultra-modern climber who happens to hail from the birthplace of the activity itself.
Chanourdie placed 18th in the first World Cup of the 2021 season (in Meiringen) and was supposed to participate at the Salt Lake World Cups but withdrew at the last minute (during warmups in iso, in fact) citing a shoulder injury. She left Salt Lake City promptly, but the prognosis ended up being good—"nothing serious," according to her Instagram. She resumed training within the week and hopefully will be unfazed by this shoulder injury going forward.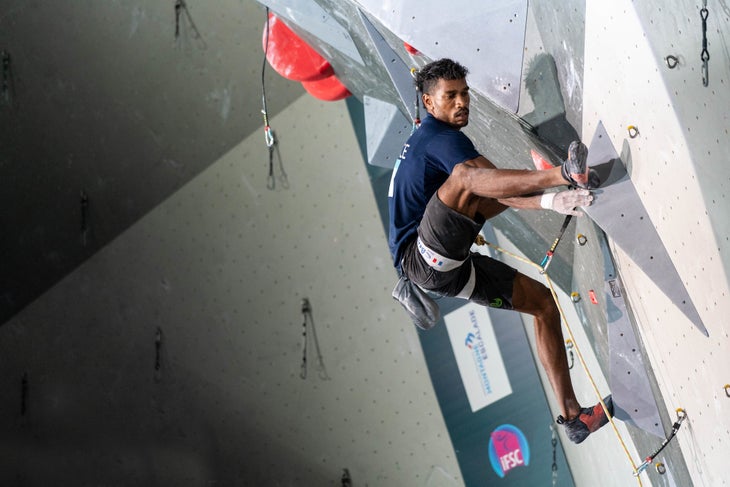 Bassa Mawem (36)
Bassa Mawem is the oldest climber currently on the Olympic roster. He earned a silver medal in the speed discipline at the 2018 World Championships. More recently, he won speed at the World Cup in Moscow, Russia, last April. There he clocked a run time of 5.656 seconds, so it is not beyond the realm of possibility that he could break the world record at some point—possibly in Tokyo.
Bassa Mawem has been competing on the World Cup scene for years, making him somewhat synonymous with global competition climbing of the past decade. However, unlike many other Olympians who learned to climb as toddlers, Mawem was a natural athlete who did not pick up climbing until age 15. But he quickly proved proficient in all disciplines, and even took part in the first French Ninja Warrior broadcast.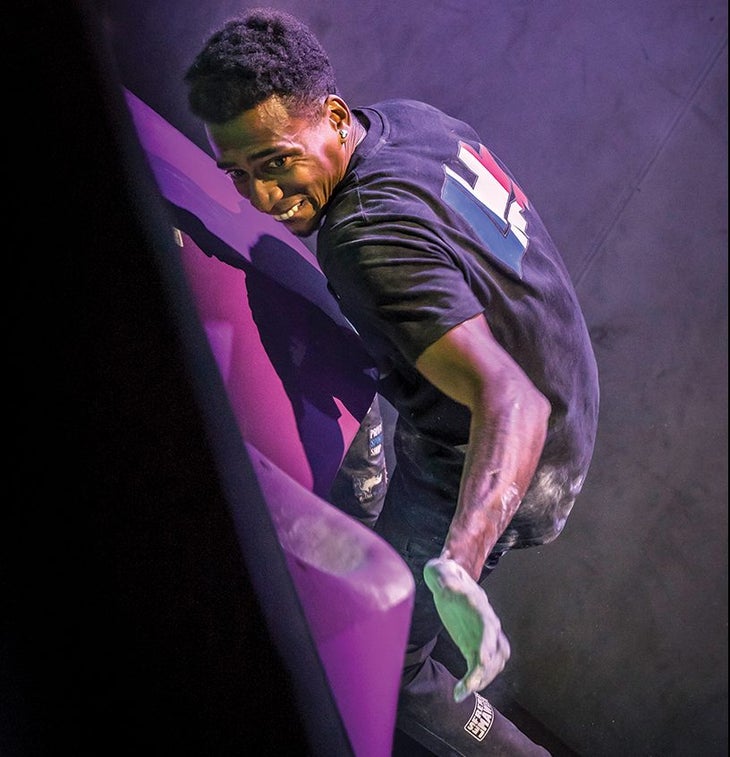 Mickael Mawem (30)
Mickael Mawem is Bassa's younger brother, making the two of them the first (and so far the only) sibling climbers to earn Olympic berths. Mickael is an adept all-arounder, but bouldering comes to the forefront when scanning his career highlights: 9th place at a bouldering World Cup event in Chongqing, China, last year, 1st place in the discipline at the European Championships that same year, and narrowly missing a spot on the bouldering podium at the World Championships in 2016.
Like his brother Bassa, Mickael Mawem has taken part in Ninja Warrior programs and thus branched into pop culture, particularly in Europe, to a degree that few others on the Olympic roster have.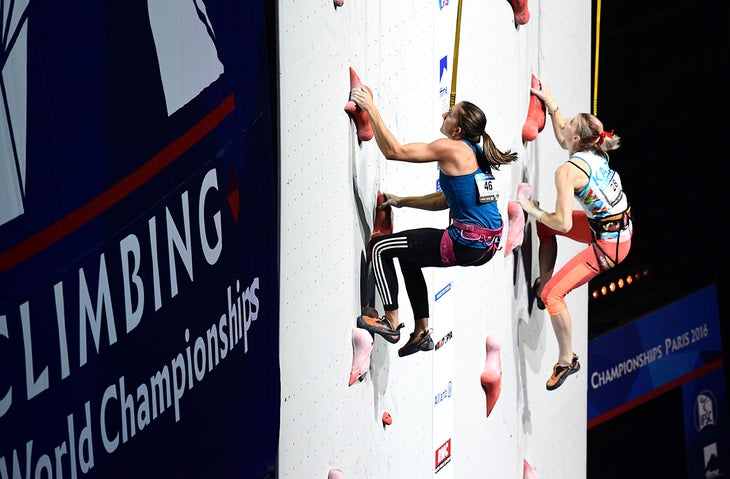 Anouck Jaubert (27)
Jaubert, a speed-climbing specialist, earned a spot on the French team after finishing 11th in the combined event at the 2019 World Championships in Hachioji, China. France, Japan and the United States are the only countries to have four qualified Olympians.
Team Canada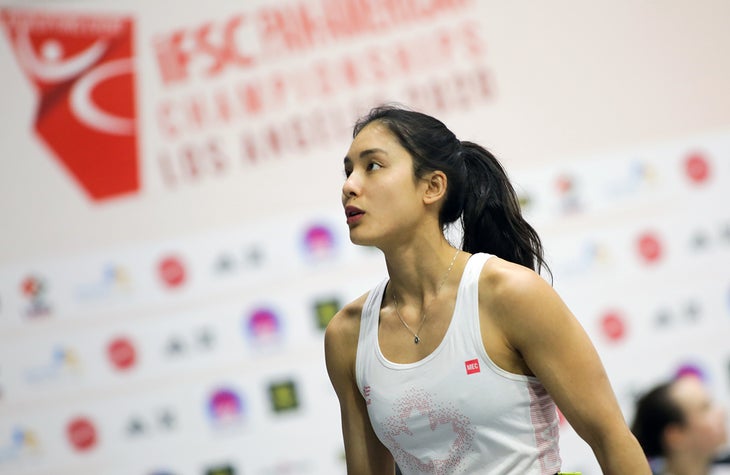 Alannah Yip (27)
One of the feel-good stories of the Olympics lead-up was Yip's qualification, which she finally secured at the Pan-American Championships. Prior to that, she had narrowly missed out on qualifying for the Olympics at the World Championships in Hachioji and the Olympic Qualifier in Toulouse. Her eventual qualification at the Pan-Ams was met with a standing ovation from the fans that were attendance, hugs from the other competitors who were taking part, and tears of joy from Yip herself. It was a heartwarming moment that will likely be played in Olympic-related climbing documentaries down the road—as it should.
But beyond tugging at everyone's emotions, Yip's Olympic qualification was appropriate. She has been a perennial favorite in her home country of Canada for years alongside her compatriot Sean McColl (also an Olympian—see MEN'S). Yip is a bouldering specialist, evidenced by high results at bouldering World Cup events in 2019: fifteenth-place finishes in Meiringen, Switzerland, and Vail, United States, as well as a ninth-place finish in Moscow, Russia. And she can translate those bouldering skills to the lead wall—as proven in her Olympic qualifying performance at the Pan-Ams—and her speed climbing times have been improving too. Few competitors are more capable of putting all separate disciplines together in a robust combined performance; and Yip's best Combined showing to date just might happen in Tokyo this summer.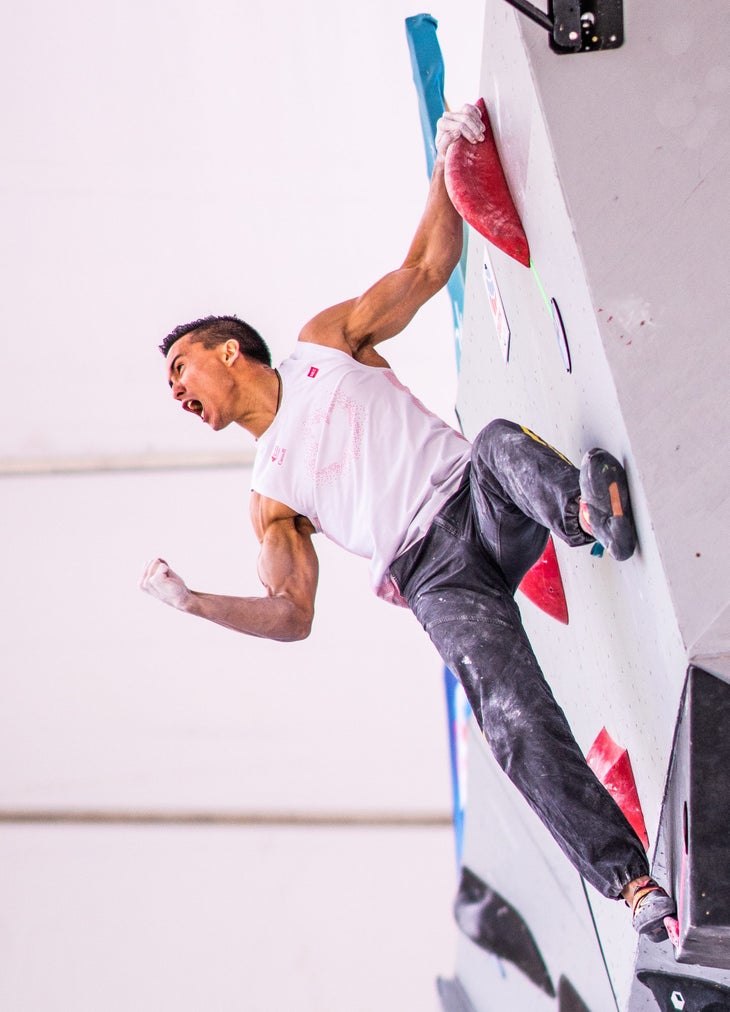 Sean McColl (33)
McColl is a Canadian veteran who is well-known to many American fans, particularly because he took part in some American Bouldering Series Nationals in years past as a foreign national. He has won numerous medals at the World Cup level in both bouldering and lead climbing events. The fact that he has been working to improve his speed run times over the past couple of years makes him the quintessential all-arounder.
McColl is widely recognized as being one of the most engaging competitors to watch; his style typically combines dynamic movement with great grip strength, so it should come as no surprise that he typically posts Instagram videos of himself trying creative muscle-ups and front-levers (or trapeze-style trickery). He has also served as the president of the IFSC's Athletes' Commission for several years, meaning that he's played a hands-on role in getting climbing into the Olympics.