Who's Who: Meet Olympic Teams USA, Japan, Slovenia, Czech Republic
---
Join Climbing
Create a personalized feed and bookmark your favorites.
Join Climbing
Create a personalized feed and bookmark your favorites.
Join for free
Heading out the door? Read this article on the new Outside+ app available now on iOS devices for members! Download the app.
This article is part of our ongoing coverage of the 2020 Olympic Games. For more news as it happens, and for unlimited online access plus a print subscription to Climbing, join us with an Outside+ membership. 
40 climbers (20 men and 20 women) will compete at the Tokyo Olympics, and each country attending the games has been given a maximum quota of two competitors per gender. The climbers who have already qualified for the Olympics were selected through a series of Olympic qualification events, including the International Federation of Sport Climbing (IFSC) World Championships in Hachioji, Japan, and a combined contest in Toulouse, France.
It will be an eclectic roster. Some of the Olympians (such as the Czech Republic's Adam Ondra) are well known for climbing the world's most difficult rock climbs—on revered cliffs in Yosemite, Norway, Spain, and elsewhere—in addition to participating in high-level competitions. While other Olympian climbers, such as Japan's Miho Nonaka, rarely make publicized outdoor ascents and have carved out careers centered almost exclusively on World Cup competition.
Still, competition climbing requires a very specialized skill set; the challenge is not merely to climb, but to climb while also dealing with nervousness, scores, judges, a cheering crowd, and parkour-style route-setting that is generally not comparable to outdoor-climbing movement. In other words, attempting to compare outdoor climbing to competition climbing is somewhat like comparing a pickup basketball game by NBA players to an actual NBA league game; both scenarios would feature elite-level skills, but the contexts and the extraneous factors would be very different.
Here, meet the climbers from the U.S., Japan, Slovenia, and the Czech Republic, who will compete in the 2020 Tokyo Olympics in August.
Team U.S.A.
Brooke Raboutou (20)
Raboutou was the first American climber to qualify for the Olympics—which she did at the World Championships in Hachioji, and she'll go to Tokyo after earning two bronze medals in Salt Lake City, at the World Cups in May. She comes from a famous climbing family, with her mother and father both being decorated competitors and the masterminds behind ABC Kids Climbing, one of the preeminent climbing youth programs in the United States. While most competitors forced themselves to appreciate the combined discipline upon the announcement of climbing's Olympic inclusion, Raboutou has had an affinity for lead climbing, bouldering, and speed climbing since her days on the youth circuit. In her Olympic qualifying performance, Raboutou placed 6th in speed climbing, 10th in bouldering, and 7th in lead climbing, exemplifying her ability for fairly consistent placement across the scoreboard.
If you have read anything about Olympic climbing in the American media over the past year, you've probably read about Raboutou. She has been profiled by Southwest, Popsugar, NBC Sports, The Denver Post, as well as Climbing. There could be a compelling argument that Raboutou is the most popular and well-known American climber right now behind Alex Honnold and Tommy Caldwell, particularly with the teenage demographic.
Raboutou had a stellar start to 2021—placing 9th at the Meiringen Bouldering World Cup, and making the podium (3rd place) at both Salt Lake City World Cups. In terms of placement and consistency, that was the best start ever to a World Cup season for Raboutou. If her performances continue to look that good heading into the Tokyo Olympics, she should be in any conversation about Olympic hardware.  
Nathaniel Coleman (24)
Coleman has long been considered one of the best American boulderers, particularly due to back-to-back-to-back wins at USA Climbing's Bouldering Nationals in 2016, 2017, and 2018. But he surprised pundits by nearly winning the United States' inaugural Combined Invitational in January 2019, placing second behind the winner, Zach Galla. By the time Coleman placed 12th in the combined discipline at that same year's World Championships, there was no denying that he had evolved into an incredibly skilled all-arounder. He punched his Olympic ticket at the qualification event in Toulouse, France, where he placed 6th in the speed climbing finals, 6th in the bouldering finals, and 4th in the lead climbing finals.
Coleman's climbing style often combines sheer strength with incredible flexibility, but his coordination is what gets touted most often. This makes him particularly adaptable to any style of route—indoors or outdoors.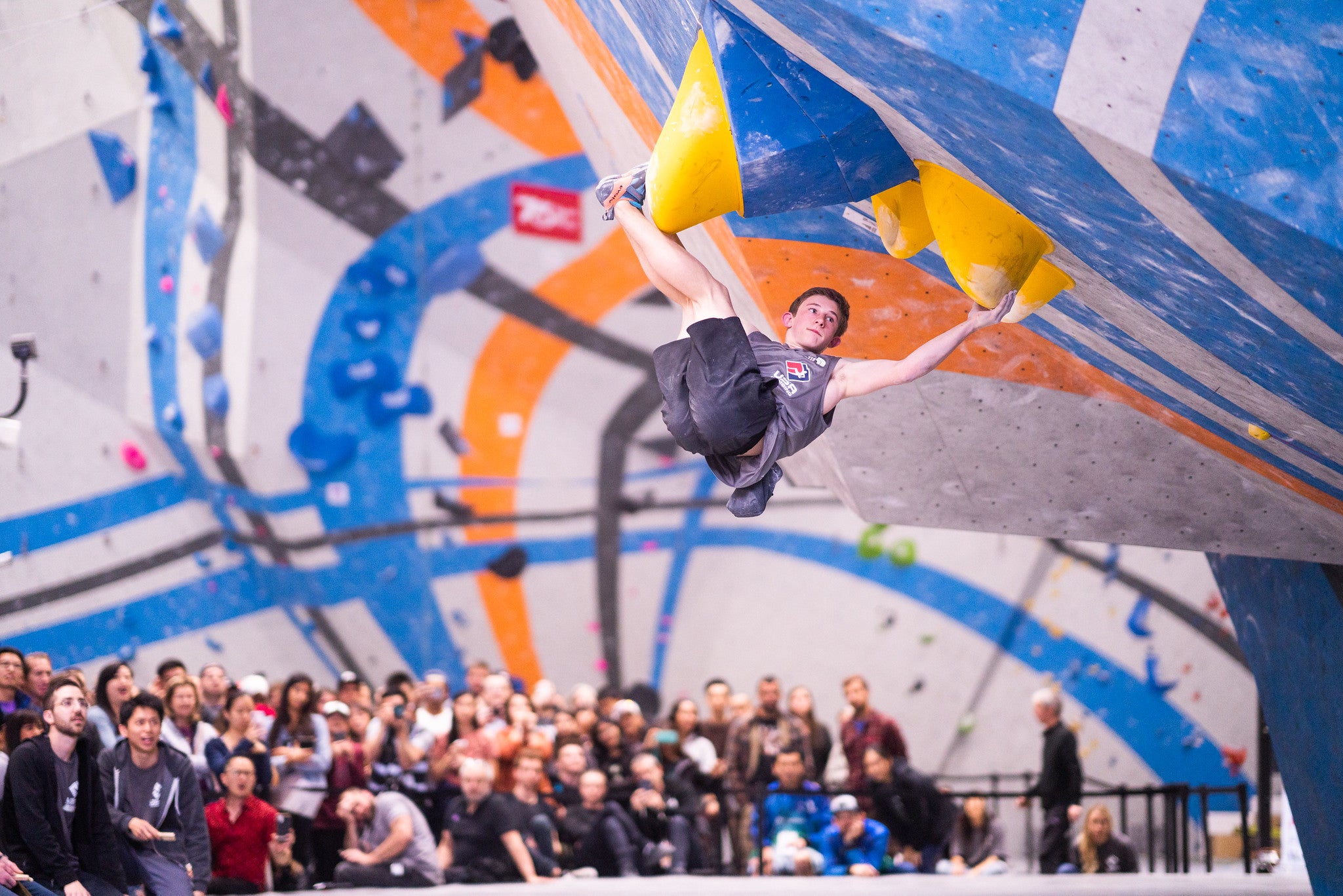 Colin Duffy (17)
As a multi-time Youth World Champion, Duffy was extremely decorated on the youth circuit. But one of the first times he made waves in the adult field was at the American Combined Invitational in 2019. There he placed fourth—narrowly missing out on a podium spot—but he left his mark nonetheless, placing higher than the likes of Drew Ruana, Kai Lightner, and many other mega-names. Duffy followed up that performance with a second place finish at the American Combined Invitational the following year, the same year (2020) that he punched his Olympic ticket by winning the Pan-American Championships in Los Angeles.
Duffy is the youngest of the American Olympians, and he is rightly considered to be a phenom by most pundits. He is also a member of Team ABC, the squad that produced Olympian Brooke Raboutou. Like Raboutou, Duffy excels at all disciplines, evidenced by the fact that he posted a personal best time—twice—in a singular competition in 2020 (the aforementioned Combined Invitational). He is young, but it is hard to look at his progression over the past few years and argue that he does not belong on the American Olympic team. Beyond that, it is hard to argue that he does not have a shot at making the Olympic podium—especially if he continues to improve just as rapidly in the months leading up to the Games. In July he earned a bronze in World Cup Lead in Villars, Switzerland. If he keeps that head of steam he could well in Tokyo.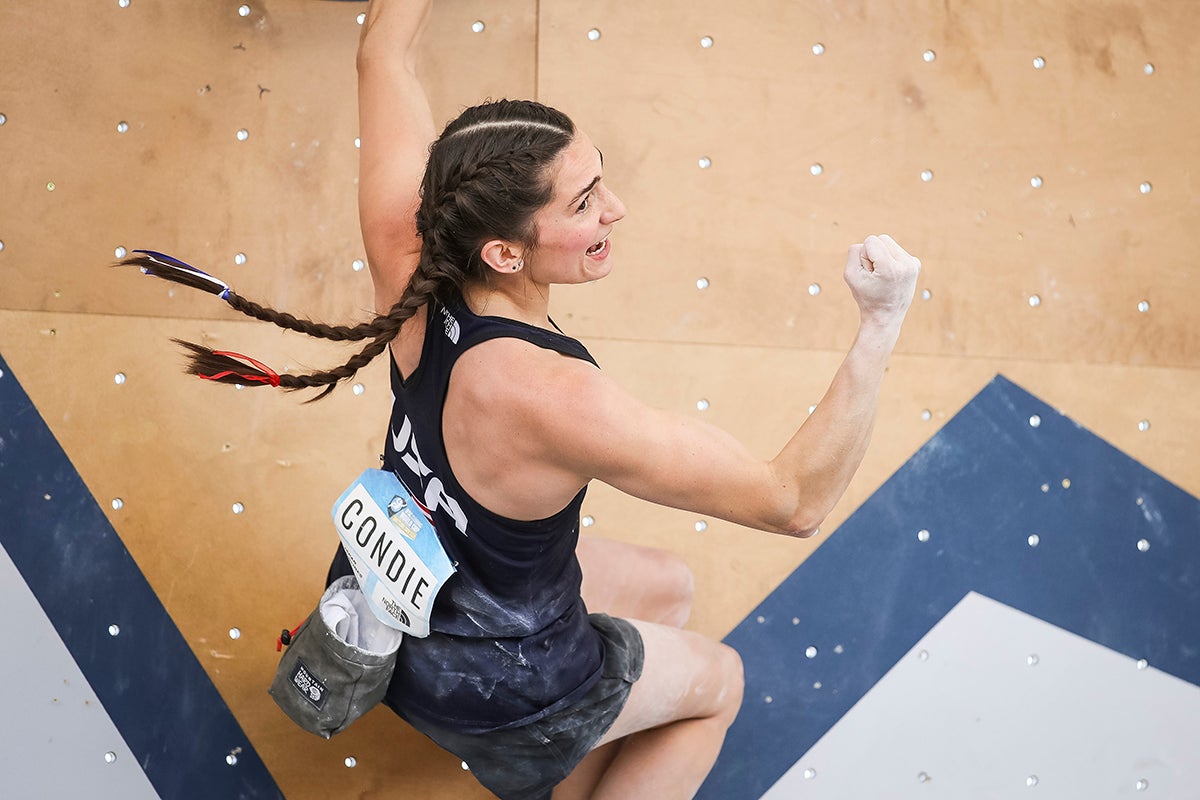 Kyra Condie (25)
Condie is as credentialed as any competitor can be in the combined discipline heading into the Olympics. She won combined discipline at the Pan-American Championship in 2018. The following year she won the inaugural Combined Invitational hosted by USA Climbing. And when she punched her ticket for the Tokyo Olympics, it was a result of placing 7th in the combined discipline at the Toulouse qualification event.
Condie's backstory is even more compelling than her results. She had severe spinal curvature as a child, eventually leading to the surgical fusion of 10 vertebrae. As a result, she has had to be extra cautious—particularly outside—about the impact of falls and the consequent natural compression of her spine. Suffice to say, it all makes her climbing accomplishments and her Olympic qualification achievement even more impressive.
Team Japan
Akiyo Noguchi (32)
Noguchi placed second at last year's World Championships; she missed out on the gold medal by less than ten points. Her strongest discipline is bouldering and her weakest discipline is speed climbing. For example, at those World Championships, she was second-to-last in the finals of the speed portion, but won the bouldering portion. This disparity will make her a particularly fascinating athlete to watch in the Olympics. Like Adam Ondra, Noguchi will likely find herself in somewhat of a hole at the end of the speed portion, but will slowly work her way up the ranks in the ensuing bouldering and lead climbing segments.
Noguchi uses her flexibility arguably better than anyone else competing at the high level. She is not the strongest or the most powerful climber, but if there is a way to contort or stretch in order to make a given climbing sequence work, Noguchi will be the competitor who figures out the physicality puzzle.
Miho Nonaka (24)
Nonaka has been on the adult World Cup circuit for years, but it wasn't until 2018 that she started to be talked about as a potential all-time great—and then she injured her shoulder…and then she injured her other shoulder. The requisite rehabilitation from those injuries kept her out of competition for a long time, but there was no greater way for Nonaka to stamp her return to the competition scene than by qualifying for the Olympics at the 2019 World Championships. She is just as proficient at bouldering and lead climbing as her compatriot Noguchi, and Nonaka is arguably a better speed climber.
This is the age of athletes transcending their respective sports—or at least aiming to—and Nonaka has certainly done that in her native Japan. She has appeared in fashion magazines, and she is sponsored by Tag Heuer and Beats by Dre. The Olympics being in her home country will only increase her profile and fame…especially if she wins a medal.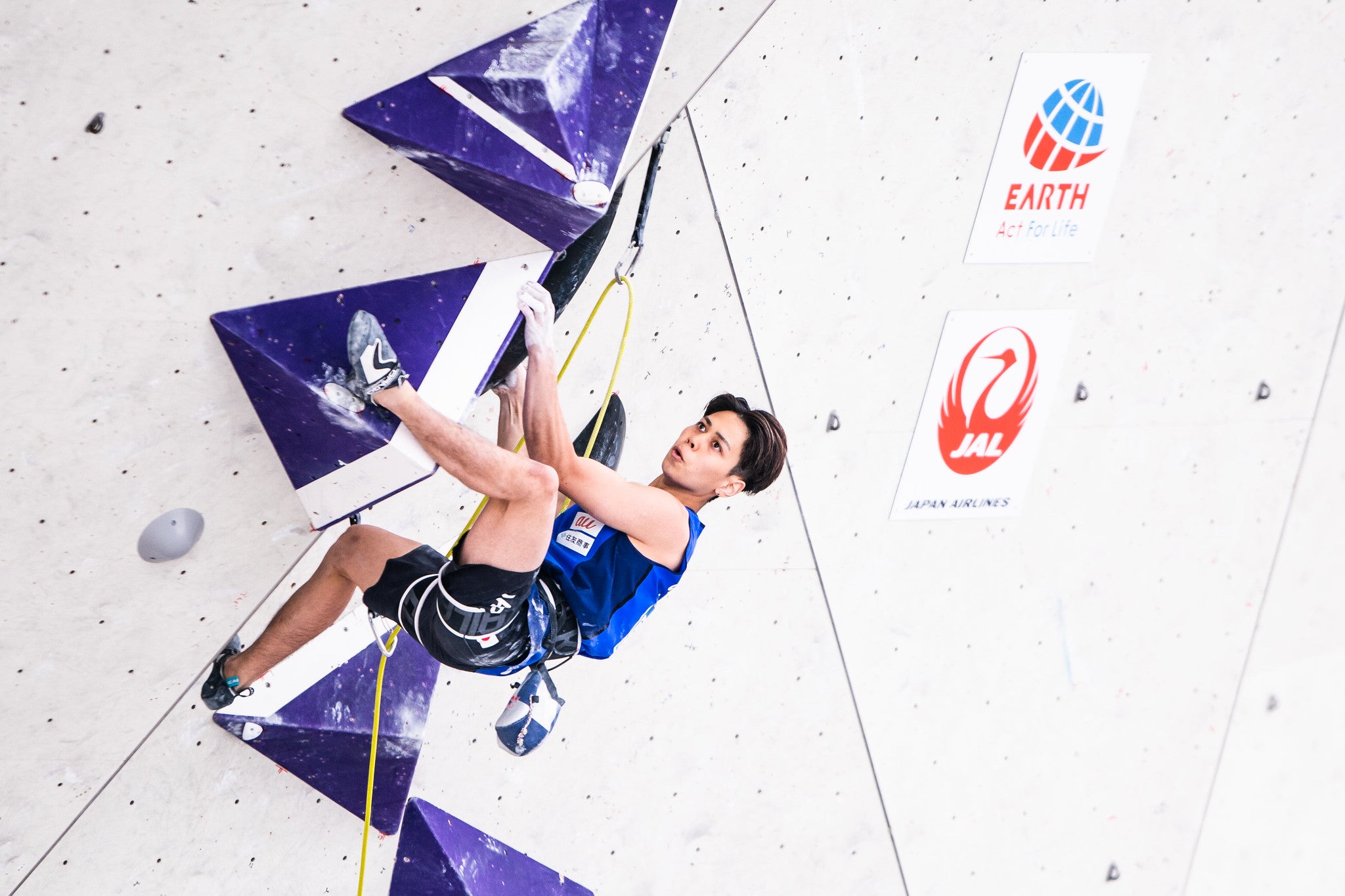 Kai Harada (22)
Harada's accomplishments in the season leading up to Olympic qualification included high placements in bouldering World Cup events (such as a 2nd place finish in Wuijang) and lead climbing World Cup events (such as an 8th place finish in Chamonix). He is perhaps best known in competition circles for having won the bouldering discipline of the 2018 World Championships. His speed results have not been quite as impressive (i.e., 42nd place at that Wuijang World Cup), but he is still considered one of the most well-rounded competitors on a Japanese national team that has arguably more depth than any other country's squad.
One of Harada's sponsors, Friction Labs, has cited his "old school climbing ethic," and particularly his "unreal finger strength." This ties him to a bygone era where finger strength and one's ability to pull hard on crimps was considered a key metric—and perhaps the key metric—for gauging a climber's competition potential. Don't let that old-school nod mislead you though; Harada's World Championship victory two years ago proves that he is perfectly adept on the most contemporary competition routes.
[Related] Climbing in the 2020 and 2024 Olympics: How We Got Here and What the Future Holds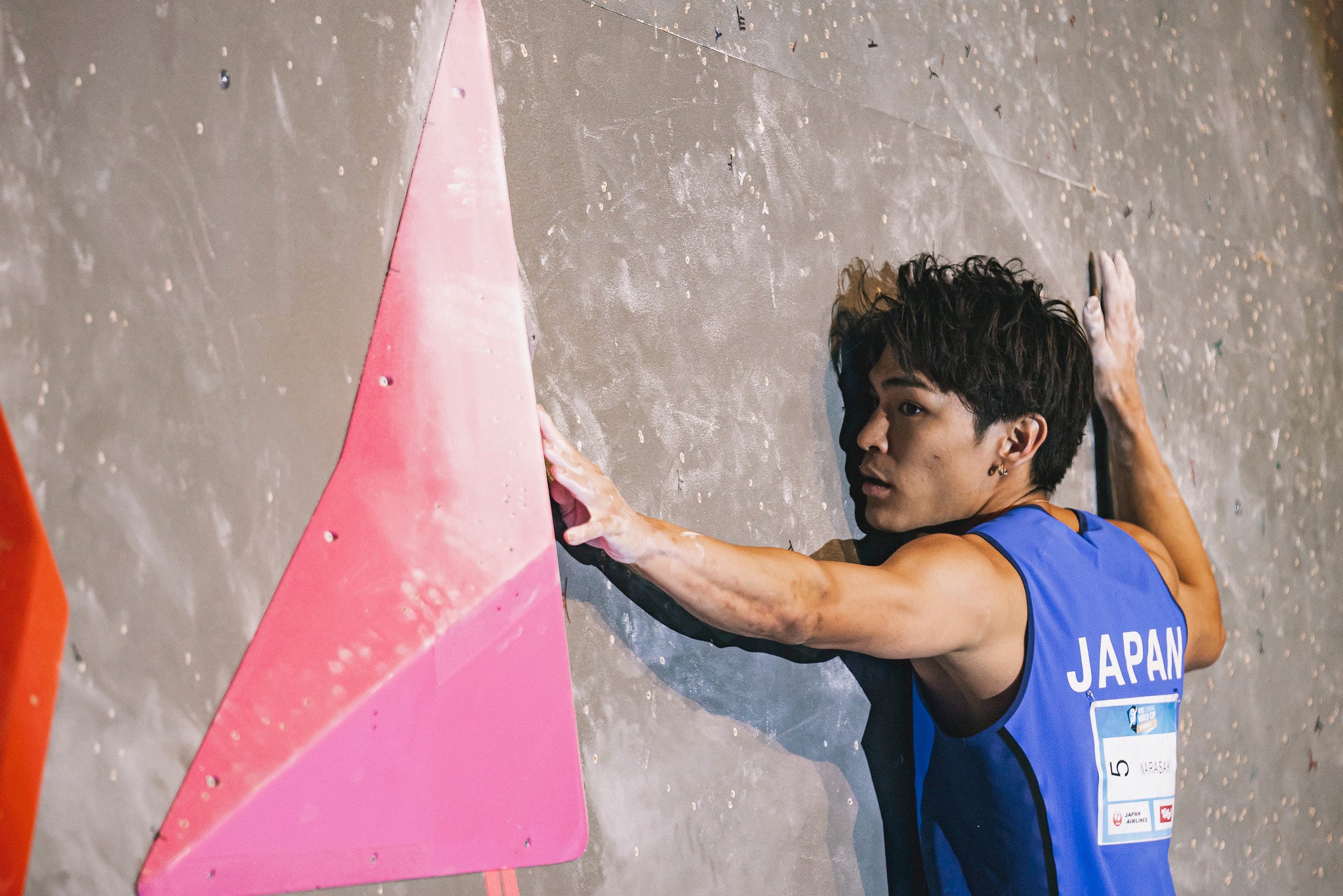 Tomoa Narasaki (25)
Narasaki was the winner of the combined discipline at the World Championships. He also won the separate bouldering discipline at those same championships. He has won bouldering World Cup events, he has placed high in lead climbing World Cup competitions, and he is a stellar speed climber. Based on those past accomplishments, he has to be considered one of the early favorites to earn a medal at the Tokyo Olympics.
Narasaki is one of the most exciting competitors to watch because of his relentless, all-out approach to every move. While not reckless, he climbs with a reckless abandon that makes his style instantly recognizable. Perhaps one YouTube commenter said it best: "Tamoa has such a nice flow to his climbing. Usually when no one does a boulder, I bet on him. He just does things differently."
Team Slovenia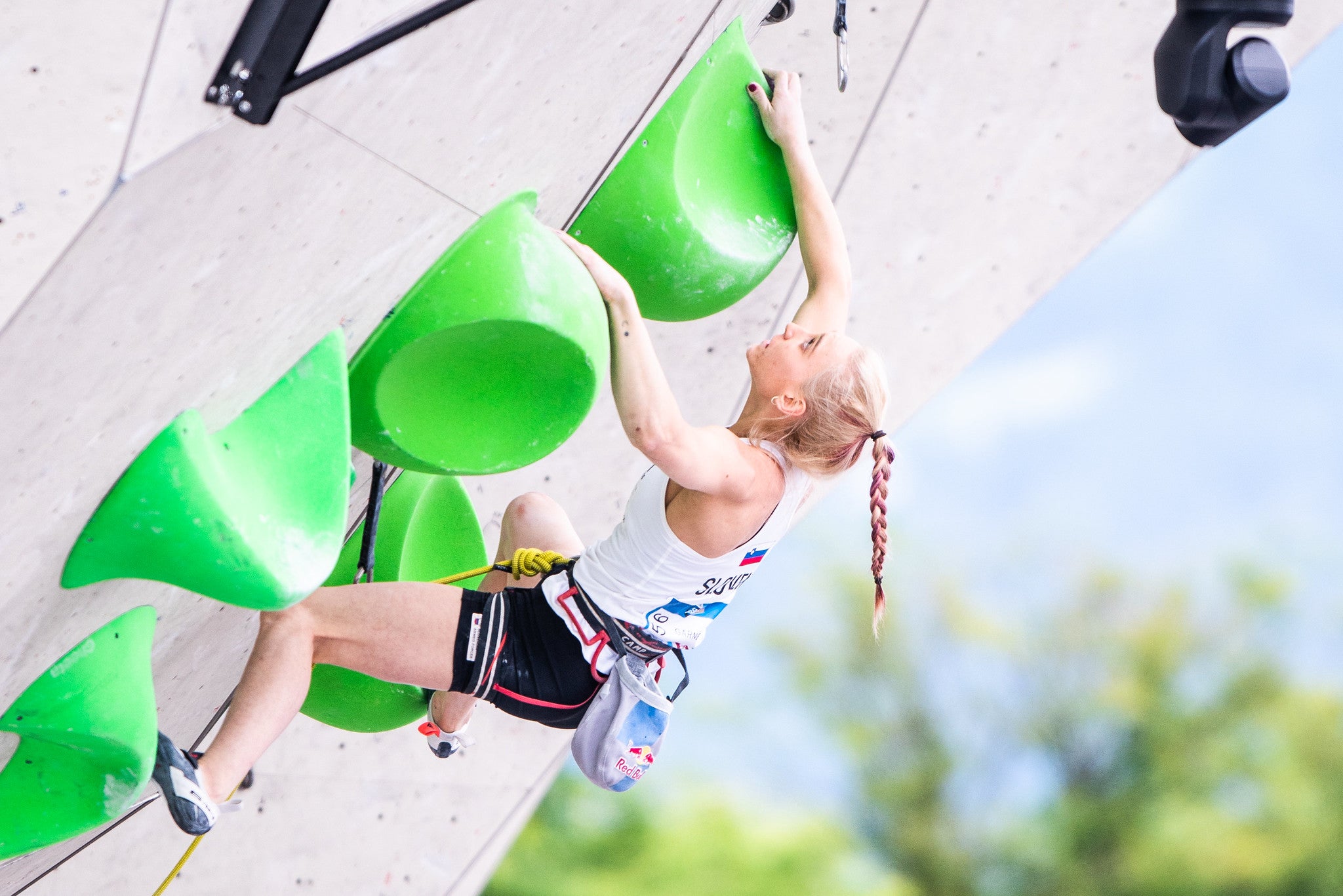 Janja Garnbret (22)
Garnbret is a talent unlike anything we have ever seen in competition climbing. In 2019 alone, she went undefeated in the bouldering World Cup circuit. At the year's World Championships, she won the bouldering discipline, won the lead climbing discipline, and then won the separate combined discipline. For what it's worth, we also deemed her the Competitor of the Year in Climbing's End of the Season Awards last year. We could dig into older results as well, such as a gold medal in bouldering at the 2018 World Championships, or a gold medal in lead climbing at the 2016 World Championships…but after a while, it all just seems superfluous. Put it this way: If there is any competitor who should be considered a favorite for a medal—and very possibly the gold medal—at the Olympics, it is Garnbret.
What's particularly interesting is that there was actually a time years ago when Garnbret was considered stylistically a lead-climbing specialist. Obviously sweeping the bouldering World Cup season in 2019 proved that was no longer the case, and it also proved that Garnbret is continuing to evolve her skills significantly. One of the most engrossing curiosities in light of that progression is not whether or not Garnbret will be great at the Olympics, but just how great she will be, and what new records she might rewrite.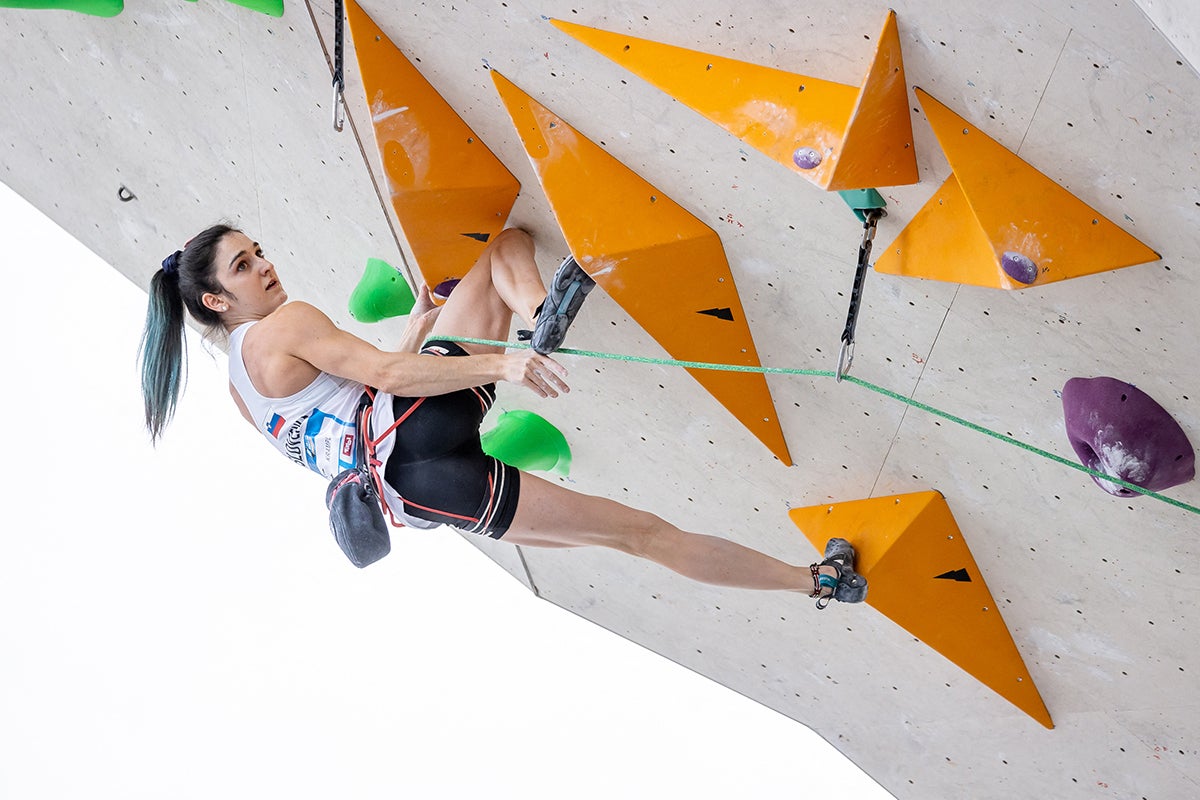 Mia Krampl (20)
Krampl emerged on the adult scene two years ago and immediately looked impressive with high placements in two Chinese lead climbing World Cups. In 2019, she placed 3rd in a bouldering World Cup event in Munich, Germany, and continued to be in the top of the pack at practically every World Cup she entered after that. She earned her Olympic invite in Toulouse by narrowly beating out her compatriot Lucka Rakovec for Slovenia's other quota slot (Janja Garnbret having already claimed the country's first Olympic invite).
Krampl also holds the distinction of having created one of the most thrilling moments of the 2019 World Cup circuit when she climbed despite an injured knee (…not something that Climbing necessarily endorses or supports) and ended up making a podium in Munich, Germany. Climbing designated it the "Inspirational Performance of the Season," and it probably gained Krampl myriad American fans that she otherwise would not have. It was a rousing display of guts and determination that can be rewatched here. It would be a shame if the Olympics does not somehow use that moment and weave it into a recap package, as it embodies why we love sports and the gutsy instances that transcend them.
Team Czech Republic
Adam Ondra (28)
Ondra is one of the most well-known climbers on the planet (thanks in part to his Road to Tokyo vlog series), and many consider him to be the best climber ever. He qualified for the Olympics at the event in Toulouse, during which he struggled in the speed portion but battled back to place 3rd in the bouldering portion and won the lead climbing portion. Although he has been working extensively on improving his speed runs, we should expect a similar game plan in the Olympics: weather the storm of the speed portion, and then post extremely high placements in the bouldering and lead portions.
Like Germany's Jan Hojer, Ondra is a tall climber (6 feet, 1 inch) and extremely flexible for his size. On hard outdoor routes, Ondra is known for being extremely vocal in the crux sections—heck, there are entire "Adam Ondra Screaming" compilations on YouTube. And even though he is not typically as loud while climbing in competitions, there is still a chance that Ondra will offer his unique vocal stylings at the Olympics.
Ondra started 2021 with a bang—winning the year's first Bouldering World Cup in Meiringen, and following that up with a victory at the first Salt Lake City Bouldering World Cup. However, he chose not to participate in the second Salt Lake City Bouldering World Cup (the following weekend), citing a shoulder injury. He posted on Instagram, "Last-minute decision—no 2nd World Cup in Salt Lake City for me. No matter much I was looking forward to competing this weekend, no matter how much hungry I feel for the competitions at the moment, I let my rational mind stop the emotions and decided not to compete." At this point, it doesn't sound like the shoulder injury is too serious, but any injury two months out from the Olympics is not a good sign—and this is definitely a storyline worth paying attention to as the Olympics grow nearer.