Women's Olympic Sport Climbing Speeds Into History—The Battle Begins
Personal bests and slips shake up the leader board as Olympic women race to position going into Boulder.
Photo: Jess Talley, Jon Glassberg/Louder Than 11
Heading out the door? Read this article on the new Outside+ app available now on iOS devices for members! Download the app.
This article is free and is part of our comprehensive Olympic coverage. Sign up with a Climbing brand membership, now just $2 a month and you get unlimited access to all of our Olympic news, analysis and photo galleries, plus you'll enjoy a print subscription to Climbing and receive our annual coffee-table edition of Ascent. Please join the Climbing team today and don't miss a single move.
The Speed portion of the women's combined qualifier is now a wrap. The athletes came out in pairs, racing the clock, not each other. The rumors of it being hot in Tokyo proved not to be rumors. Akiyo Noguchi, of Japan, looked like she had just exited a sauna when she came out for her first run. Her skin glistened under the cameras.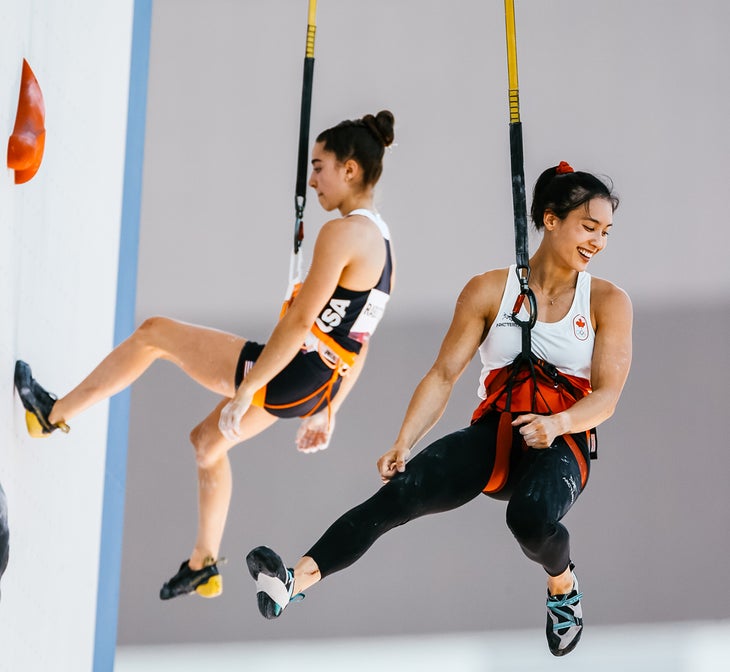 The round began at 5 pm Tokyo time and lasted about 45 minutes in total. Bouldering, which immediately follows Speed, is currently underway. Lead is the final discipline.
Aleksandra Miroslaw, a speed specialist of Poland, finished in the top spot following by Anouck Jaubert, of France, and Yiling Song, of China. All three are speed specialists. The highest ranked non-speed specialist came in fourth, courtesy of Miho Nonaka. 
Brooke Raboutou was the first American to launch off, racing on the right lane against Alannah Yip, of Canada. Yip broke her personal best and Brooke nabbed a 8.81. On Brooke's second burn, she clipped in then closed her eyes and took a breath. She wanted better and she got better. Raboutou got a clean 8.67, though with a small slip. Yip got a 7.99 on her second, breaking the sub-8 barrier. Prior to Tokyo, 9.16 was Yip's best before. So yea, Yip is in her element.
Kyra Condie, of Team USA, did excellent, finishing in 7th. Condie clocked an 8.12 on her first run and then, for her second, an 8.08. 
Janja Garnbret, of Slovenia, slipped on both runs. Garnbret is a top pick for making the podium. She finished 14th overall after Speed, but the many-times-over World Champion Garnbret is just getting warmed up. Bouldering and Lead are her specialty.
Overall, the speed specialists dominated the top of the speed leaderboard, as one might expect, but, as it is with the men, all the years of speed practice has helped level the playing field. It was good to see all the personal bests from the athletes. The Olympic stage clearly has some weight.
Bouldering is next, and Lead after that. Since it's the combined score that matters, a low position coming out of Speed doesn't mean you're out of contention for making finals, it just means you have more work to do.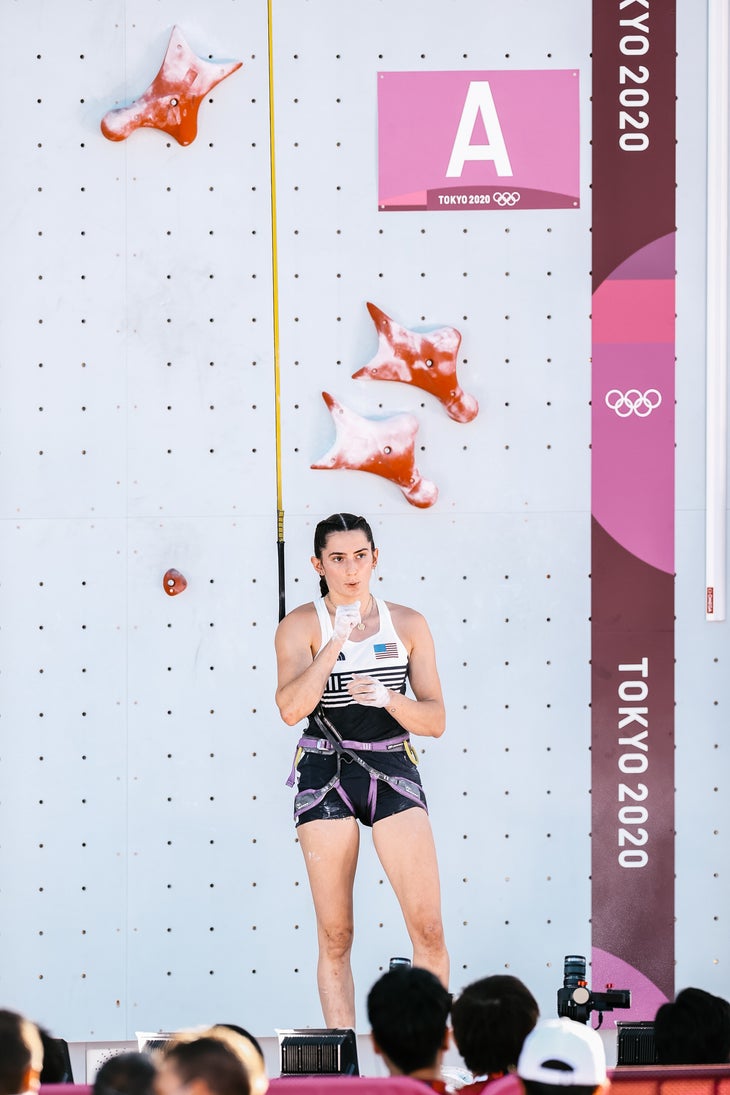 WOMEN'S OLYMPIC SPEED QUALIFIER RESULTS
Aleksandra Miroslaw (Poland) 6.97
Anouck Jaubert (France) 7.12
Song Yiling (China) 7.46
Miho Nonaka(Japan) 7.55
Iuliia Kaplina (Russia) 7.65
Alannah Yip (Canada) 7.99
Kyra Condie (USA) 8.08
Julia Chanourdie (France) 8.17
Akiyo Noguchi (Japan) 8.23
Petra Klinger (Switzerland) 6.42
Jessica Pilz (Austria) 8.51
Brooke Raboutou (USA) 8.67
Oceania Mackenzie (Australia) 8.83
Janja Garnbret (Slovenia) 9.44
Viktoriia Meshkova 9.54
Shauna Coxsey (Great Britain) 9.65
Seo Chaehyun (South Korea) 10.01
Mia Krampl (Slovenia) 10.43
Laura Rogora (Italy) 10.5
Erin Strekenburg (Republic of South Africa) 11.1