Crag rompers reviewed: the La Sportiva TX Guide
Basics
The La Sportiva TX Guide is a hybrid mountain-running/approach shoe built with a running-shoe profile and cushioning paired with an approach-shoe lacing system and sticky sole.
---
Pros
Comfortable for long approaches // Excellent on technical terrain
Cons
Bit bulky for hanging off a harness // Heavier than ideal for running-oriented approaching
---
Our Thoughts
While I don't see the TX Guide as the missing link in mountain running and climbing, like La Sportiva does, I think it's among the best technical approach shoes out there, one that will get you as far as you need to go and handle any terrain you throw at it.
---
Size Reviewed
n/a
Weight
350 g/shoe
Price
$159
Brand
La Sportiva
---
Heading out the door? Read this article on the new Outside+ app available now on iOS devices for members! Download the app.
The La Sportiva TX Guide is among the best rock-climbing approach shoes I've worn, and I don't say that lightly: They are responsive, precise, and comfortable.
I'm recovering from a little accident at the moment—a broken fibula fixed with a baker's dozen of screws and a long metal plate—and it's still uncomfortable to have my right foot in a climbing shoe for more than about two minutes. Still needing my rock fix, though, I've resorted to cycling through different pairs of approach shoes to see what works best, sometimes pairing one approach shoe on my right foot with a climbing shoe on my left. In this latter formation, I've frequently felt just as capable wearing the TX Guide as I would a stiffer trad shoe. But obviously, as an approach shoe, the TX Guide is primarily meant for approaching—and on that front, too, it has excelled: With my wobbly ankle, the support it offers has been reassuring on uneven boulder-strewn trails as I try to up my speed.
I reviewed La Sportiva's TX2s a couple of years ago. I loved that shoe and still do—it's super light, climbs reasonably well, and is super low-profile when dangling on your harness. The TX series of shoes also includes the TX3 and the TX4, both slightly beefier than the TX2, and now the TX Guide. The TX Guide is billed as a "mountain running shoe combined with the lacing and sole of an approach shoe." It weighs 350 grams/shoe—70 grams more per shoe than the TX2s.
While 350 grams is still pretty light, I found the TX Guide a bit too heavy for actually running. Scrambling and jogging here and there, OK, but I wouldn't take these out on a quick-blitz trail run. On the other hand, they are great for loooong hiking approaches. They're quite stiff through the midsole, yet the four-millimeter Ortholite insole and high-cushioned heel are still nice and springy. Hiking to a climb, this combination of stiffness and cushioning means that—whether hopping between rocks or accelerating on the flats—you always feel steady, while the shock absorption coddles your joints. 
As noted, the TX Guide also shines on technical terrain. I've used them on Moab sandstone, Black Canyon granite, and Western Slope franken-choss. Up to about 5.9 for me, they responded just as I wanted, never slipping. I sized them the same as my street shoe. At the 5.10 grade, my skill in approach shoes more or less fades away, so—as with any other approacher—the TX Guide doesn't do me much good from that grade upwards.
The rubber recipe—one part Mega-Grip for the heel, and one part Idrogrip for the rest of the sole—is as sticky as those pesky little burrs that get stuck to your socks and shorts and everywhere else when you tromp through the high grass. The stiffness and stickiness mean you can stand on your toes and even do some edging, while still feeling like you have good support (which is part of why they were so great for my injured foot). They work well for jamming in fist- to hand-sized cracks, too, but anything narrower and you'll want a regular climbing shoe. Another thing going for the TX Guides is their durability. Made of an Ultra-weave Jacquard fabric, the upper is almost rough to the touch. Thus far it has great abrasion resistance, showing only minimal fuzzing and scuffing, even after wedging them in rough cracks.
A couple other features to note: The lacing system goes around the back of the heel, so you can get an extremely snug, performance fit—critical if you plan to use them on fifth-class terrain. The TX Guides have little pull loops on the back that also work decently well enough for hanging them off your harness, though they can be pretty bulky here, so any chimneying with them is perhaps ill-advised! A wishlist feature would be the bungees that the TX2s have, which allow you to sandwich the shoes together before clipping them off.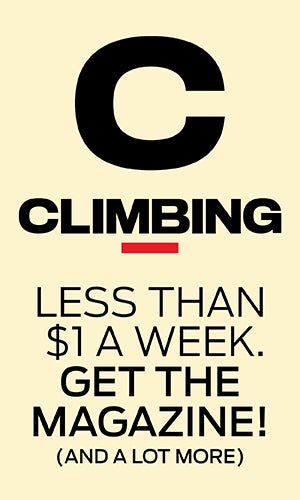 At $159, the TX Guides aren't cheap, but you're going to be seeing them on some badass mountain athletes for a reason. These things are good.