Field Tested: W's R1 Air
The original R1 fleece had a raised grid pattern on the inside, with a smooth exterior. The R1 Air, which came out autumn 2020, is all zig-zag, and comprised of hollow-core yarn.
Basics
The R1 Air, out last fall and unchanged going into the new year, is the latest addition to the long—22 years!—R1 line of technical fleece for hard work in cold conditions. While the grid pattern was originally only on the inside, now the fabric zigzags clear through, to enable venting, and is newly comprised of hollow-core yarn, to trap air for warmth.
---
Pros
Light, soft and warm, yet breathes and vents well // Trim fit keeps the R1 Air lying flat under your harness and makes it a great midlayer under an outer shell.
Cons
The forearms feel narrow // Slim fit means not easy on-off // Slight pilling on forearms first use on rock.
---
Our Thoughts
If you liked the classic R1 line, check out the next generation, built to cover a wider yet range of temps—meaning yours as well as the atmosphere's. This top, with a full zigzag pattern, can stay on through heavy and light duty: approach, climb, belay, climb. It is not for summer, but for the other three seasons, and various mountain sports including hiking and skiing. It's also amazingly soft, while made of recycled bottles.
---
Size Reviewed
W's Medium
Weight
5.7 ounces
Price
$0
Brand
Patagonia, Inc. (patagonia.com)
---
Heading out the door? Read this article on the new Outside+ app available now on iOS devices for members! Download the app.
This article is free. Sign up with an Outside+ membership and you get unlimited access to thousands of stories and articles on climbing.com and rockandice.com, plus you'll enjoy a print subscription to Climbing and receive our annual coffee-table edition of Ascent. Outside+ members also receive a Gaia GPS Premium membership, and more. Please join the Climbing team today.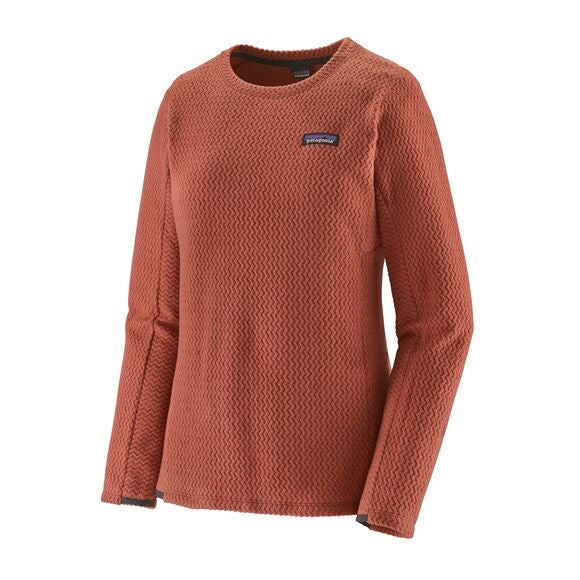 Years ago, I heard someone ask a ski-patrol friend, "So is that what the patrollers are wearing, the R1's?" It was, at least, what that one was wearing, and without realizing it I made a mental note, because I think of patrollers as consummate all-arounders, doing hard physical work in changing conditions.
Also many years ago—no, wait, just my last trade show before the pandemic (early 2020!)—I saw the next gen of this classic from 22 years ago.
The original R1 fleece had a raised grid pattern on the inside, with a smooth exterior. The R1 Air, which came out autumn 2020, is all zig-zag, through and through, and newly comprised of hollow-core yarn. The yarn traps air for insulation, and the corrugated construction creates venting.
The crew neck caught my attention: I am so used to zip collars in everything that the simplicity of the design seemed appealing, and I saw that the crew is less expensive: $99, while the zip neck is $119, and the full-zip hoody $159.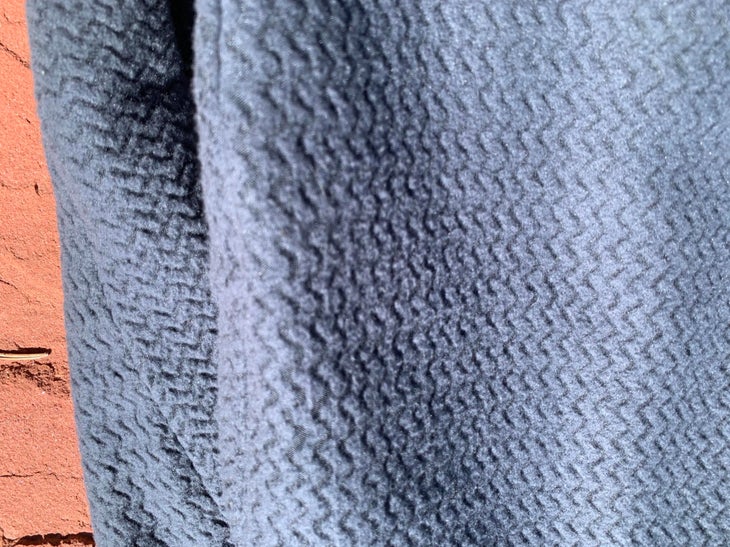 The first thing to know is that this item is quite trim. If you want a loose fit, size up. I do like the slim fit, which suits use as a thermal layer (under a puffy or rain jacket, or I pull a technical hoody over it), but also for climbing, where the top lies flat under a harness and, being long cut, stays put. For me the fit is tight in the forearms, which either means that I have just massive forearms … or it's narrow there. For hiking I can wear a thin long-sleeved shirt underneath, but for climbing I go with a sleeveless or short-sleeved shirt to avoid any sense of restriction. This is OK since the item is soft, while made from 100 percent recycled polyester (from bottles), and comfortable.
It is mobile and light (W's Medium is 5.7 ounces), but the tradeoff for the slim fit plus crew neck means it is not, for me, easy on and off. I shuck it less often than many items, though. The main event is that the item really is both warm and cool. The hollow-core yarn (think of the hollow hairs in the fur of polar bears and reindeer) retains air for insulation, but the item dumps heat. I have worn the R1 Air at the climbing gym, which in my town is often in the lower 60s—fine for a lot of people, but cold to me. Even when I finally warm up and get a little aerobic on steep, juggy routes, I often leave it on, to maintain when stopping to rest or chat. In cool weather with an uphill approach, you can reach a cliff base without stopping to peel it off, and then rope up and climb with no clammy chill. If sweat trickles down your back while you are climbing, it's soon gone. One criticism of the fabric is some pilling on the forearms on the first day at the crag.
I think of the R1 Air as for three-season (not summer) all-around use, especially that transfer across modes. I expect to use it skiing this winter, for terrain where you hike up huffing, and then turn around and ski down.