Review: Adventure Medical Kits Ultralight & Watertight .5
Heading out the door? Read this article on the new Outside+ app available now on iOS devices for members! Download the app.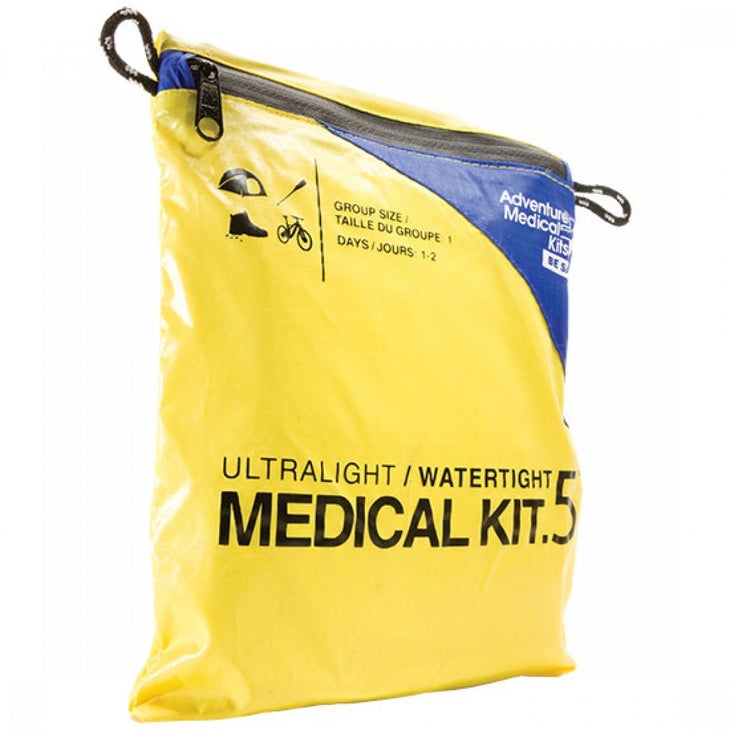 Think of your medical kit as an insurance policy: Buy one and pack it with you diligently each time you head into the hills, and you'll probably never need it. But neglect to buy one and you'll probably rip a finger open in a sharp finger crack and start gushing blood everywhere, trying to staunch the flow with a bit of torn, dirty T-shirt, and desperately wishing you had the bandages and other supplies you'd find in any decent medical kit. The Adventure Medical Kits Ultralight & Watertight .5 comes with everything you'll need in most outdoor-sports emergencies: bandages of many sizes for cuts and scrapes, a blister kit to care for your feet, safety pins and tweezers to remove nasty ticks and persistent splinters, and an assortment of medications and wound-care products. All this comes in a rugged silnylon bag with a DryFlex waterproof liner about the size of a pocketbook, and all told the kit weighs a mere 3.68 oz (about the weight of a hand-sized cam).
On a hot, humid day in June of this year, I decided to forego climbing for some cross-training, namely running the Walker Ranch Loop, a 7.3-mile trail west of Boulder, Colorado. Everything was going smoothly until I caught my right toe on a rock during a fast downhill section. I put my hands out to brace for impact, landing in a section of trail littered with sharp granite rocks. As I got up, I noticed a half dollar of skin missing from my left palm. I quickly took off my shirt and wrapped it around my hand to stop the bleeding. Then I continued to run the remaining mile and a half to the trailhead where the kit was sitting in my climbing pack in my van. (OK, so yeah, if I'd had a small backpack with me and wasn't going so light, I would have had the kit on my person and could have dealt with the wound on the spot. Live and learn….)
The kit had everything I needed to clean and dress the wound, and even included ibuprofen to reduce the pain. The cut was on an awkward spot on my palm, making it difficult to get the bandage to stick. Fortunately, the kit comes with a roll of athletic tape to secure the bandage. Once I was patched up, I drove back to my place in Boulder to have my girlfriend, a nurse practitioner, take a look at it.
She unwrapped my hand, laughed, then said, "This is what you were crying about? With how much you were crying on the phone, I thought you'd need stitches for sure. This will heal up in a week." I felt embarrassed but also relieved that it wasn't as bad as I'd thought. She asked me to get the medical kit from my car so she could clean and dress the wound again. After she attended to my hand, she reminded me to restock the kit—always replace used supplies, because an incomplete first-aid kit is like having a headlamp with no batteries.
As a climbing guide, I always have a first aid kit in the pack, and I've owned several kits by different manufacturers. The Ultralight & Watertight .5 is one of the best I've owned for its weight and size, and a fellow tester who's had one of these in his climbing pack for a bit now—and has used it more than once to help staunch climbing-incurred wounds at the cliff—concurs. It has everything I need for a day at the crags, and I never need to worry about it getting soaked in a rainstorm or a river crossing, since it comes in a waterproof package. Plus, there's plenty of extra room in the bag to store additional medical supplies and important documents that must stay dry (e.g., permits, maps, medical records). Buy the Ultralight & Watertight .5 and, like a good Boy Scout, you'll always be prepared.