Are you a rock-shoe hoarder? Organize the quiver with these 3 simple tips!
Heading out the door? Read this article on the new Outside+ app available now on iOS devices for members! Download the app.
Got a few too many rock shoes? Yeah, me too…
I know myself too well. Even if my job didn't involve testing rock shoes for our print magazine and website, I'd still have a shitload of rock shoes. I'm not a material person and barely spend discretionary income on anything other than the occasional video game and travel for climbing, but for some reason I've always had a thing for rock shoes.
Maybe it's because I'm not strong enough to not care about what's on my feet, and so I nerd out over shoes. Which is going to put me on my big toe the best? Which ones do I need for steeps and heel-hooking? Which ones are good for long, technical pitches? How many pairs of "redpoint-ready" project shoes do I have on hand? How many more resoles will my favorite slippers, now discontinued, stand up to before I have to throw them away, sobbing over the trashcan?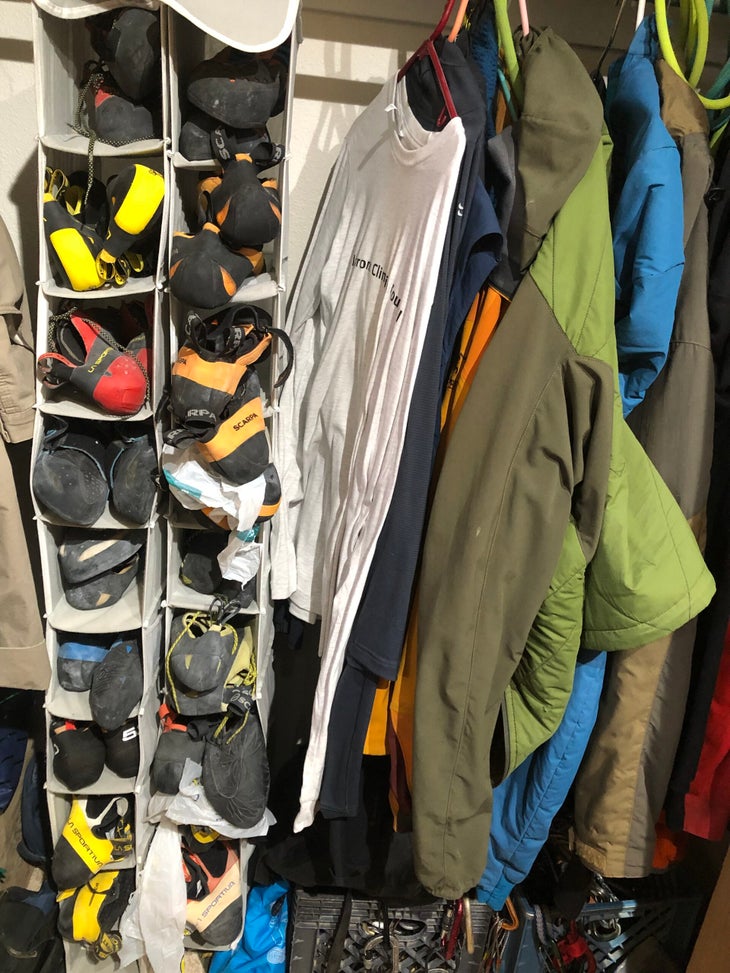 Over the years, I've amassed a quiver of rock shoes, from soft, barely-there slippers for gym bouldering and volume climbing, to semi-stiff all-arounders for long, techy pitches and trad, to well-loved and well-broken in but still precise bouldering shoes, to radically downturned, aggressively sized redpoint shoes I only bust out a few times a year. What's more, I sometimes have multiple sizes of the same shoe—some comfy for warm-up, multi-pitch, or gym-session wear, and some sized down for precision and performance.
What this all equates to is lots of shoes in my gear closet. And while I used to keep them in milk crates or storage bins, I came to realize that this only led to chaos, especially with slippers and Velcro shoes that are hard to keep paired, unlike lace-ups that you can just tie together. So, I got organized. Here are my three simple tips to make your gear closet more presentable, and your precious shoes easier to tell apart and access.
1) Get a Hanging Shoe Rack
By far the most space-efficient way I've found to store my shoes is with a hanging closet shoe rack, which has left plenty of room in my gear closet for outerwear and ropes and rackage, without it all getting jumbled together in bins down on the floor. I bought two of these 10-slot puppies at Amazon for about $13 each, and they've been great. I can fit 20 pairs of shoes in a small space (10″ deep x 1″ wide for two organizers side-by-side x 5″ of height), and the cubbies are big/open enough that I can tell which shoes are which.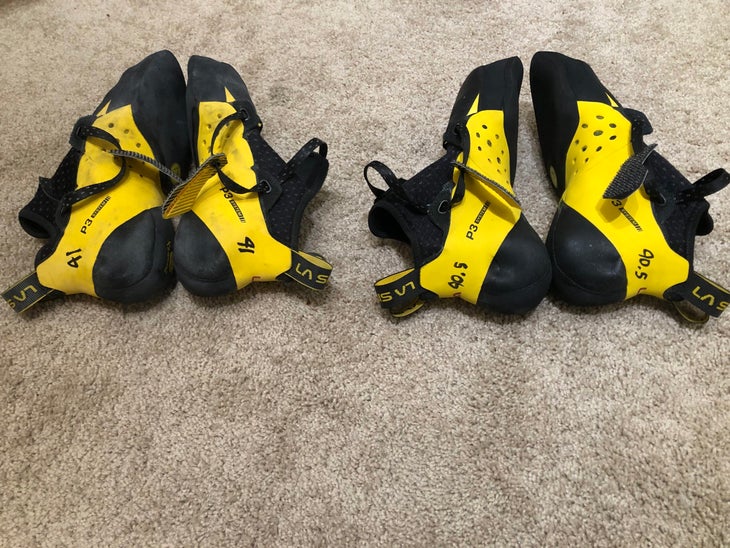 2) Write the Sizes on the Outside of Multiple Pairs of the Same Shoe
Over time, those sizing/hang tags on your shoes can wear out. Either the lettering with the sizing fades due to abrasion and sweat, or the nylon tears out of the upper. My solution, when I own multiple sizes of the same shoe, has been to write the sizing on the shoe's outside (rand or upper, depending on color) when they're still new and I still know the size. You can use a Sharpie or a Magic Marker; for these two pairs of La Sportiva Solution Comps, I used the Black Diamond Rope Marker. Just touch up the marker as needed, since it can fade off your uppers with use and the elements. You might also write your name/initials or make other relevant notes on the shoes: "redpoint pair," warm-up pair," "resoled x 2," etc.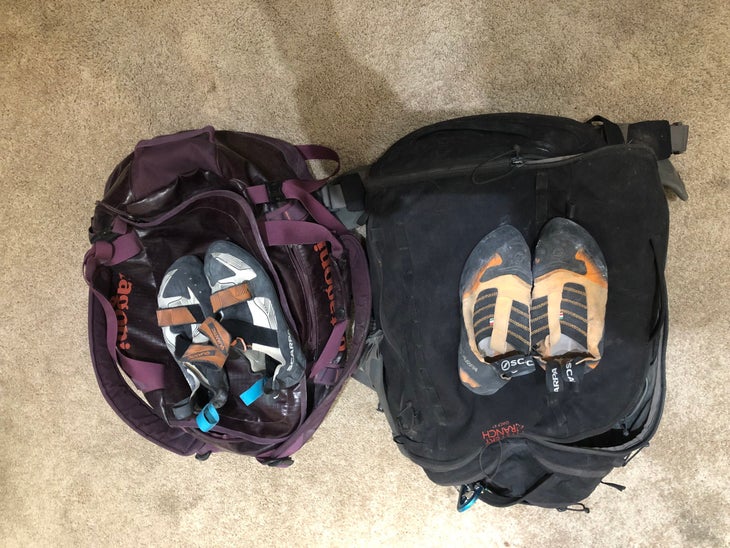 3) Keep Your Go-To Shoes with Your Climbing Pack
This one might seem like a no-brainer, but it can be a huge time-saver. For me, I seem to have one or two pairs of shoes that I default to for most climbing days, whether in the gym or on rock. So instead of "re-racking" those in the shoe cubbies at the end of each  day, I keep them with their respective packs, either inside if they aren't sweaty or on top of the pack to dry out.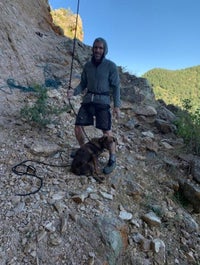 Matt Samet is the editor of Climbing. He has been climbing since the 1980s and living in the Boulder, Colorado, area since 1991. 
This article is free. Sign up with a Climbing membership, now just $2 a month, and you get unlimited access to thousands of stories and articles by world-class authors on climbing.com, plus you'll enjoy a print subscription to Climbing and receive our annual coffee-table edition of Ascent. Please join the Climbing team today.