Recover Faster With This Lightweight Percussion Massager 
Field Tested: Roll Recovery's R1 is cheap, portable, and powerful, an excellent product that has insinuated itself into my daily routine.
Basics
Roll Recovery's R1 is a small, portable percussion massager that swings outside its weight class. The four speed settings range in intensity from 1,800 to 3,200 RPMs, and it comes with four different head attachments: a soft ball head, flat head, spike head, and dual-spike head. The R1 charges from empty to full in a little over 2 hours (it uses a USB-c cable) and lasts for seven or so hours depending on the strength settings you use. Compared to the current percussion massager market, where high-end massagers are in the $300-$600 range, the R1 is very modestly priced at $129.
---
Pros
Affordable // Lightweight // Travel- and crag-friendly // Customizable thanks to four massage speeds and four heads // Self-timed 15-minute shutoff serves as a battery-preserving failsafe // Quiet
Cons
Fewer attachment options than other brands // Smaller handle means less reach when trying to isolate spots on your back // Roll Recovery is a Boulder-based company that does not manufacture the R1 domestically
---
Our Thoughts
Powerful, portable, long-lasting, and affordable—the R1 is an excellent product that has insinuated itself into multiple parts of my daily routine.
---
Size Reviewed
5.6 x 3.6 x 1.85
Weight
1 pound 4 ounces
Price
$129
Brand
Roll Recovery
---
Heading out the door? Read this article on the new Outside+ app available now on iOS devices for members! Download the app.
The first time I encountered a "massage gun," as we called it, was 2010 or 2011, shortly before my father's first knee replacement. On his doctor's recommendation, my father had purchased "the gun" (I have no idea what the brand was) to help make his muscle-tightening, post-surgery bedrest more tolerable. I was still a self-identifying dirtbag back then, and I considered the gun a needless extravagance that I would never purchase for myself. But in classic dirtbag fashion, I was nonetheless more than happy to use the gun when my father wasn't, battering at the tangled iron knots that climbing five days per week (with minimal stretching and zero opposition training) had impressed into my back and arms. The gun was huge, of course, about the size and weight of a framing drill, and had a battery life of approximately 14 seconds, but in the months and years after my father's surgery, I nonetheless found myself increasingly attached to it. So it was with dismay that I arrived at my parents' house for Christmas, in 2019, and learned that the gun had for reasons unknown finally perished.  
The fact is, deep tissue massage therapy—of which percussion therapy is a type—feels good and is very good for you: It stimulates recovery by improving circulation and muscle fiber flexibility and prevents delayed onset muscle soreness, which shows up 24 hours after your workout and lingers for days. 
The problem, though, is that commercial massages are (a) insanely expensive, and (b) rarely specific to your body's problems. My body, for instance, is a hodge-podge of ailments. I've got your classic desk-jockey's hip and back problems, caused by slouching behind a laptop for 50+ hours a week; but I've also got strands of rebar for IT bands (thanks, running) and withered guitar strings for Achilles (running again) plus the problems that you probably have too: heinously tight lats, biceps, scapulas, and forearms. Massage therapists, however, are going to spend just 60 short minutes flitting over the surface of these problems—and ask you to pay for another brief session next week. So unless you're getting a sport-specific massage, and getting one frequently, you're better off working on yourself with a foam roller, a lacrosse ball, and a percussion massager—all of which allow you to work on yourself consistently, day in and day out, which is what your muscles need.
So how does the R1 percussion massager stand up?
It's really great. I've had mine for nearly six weeks and it's insinuated itself into my daily life to a far greater extent than I originally imagined possible.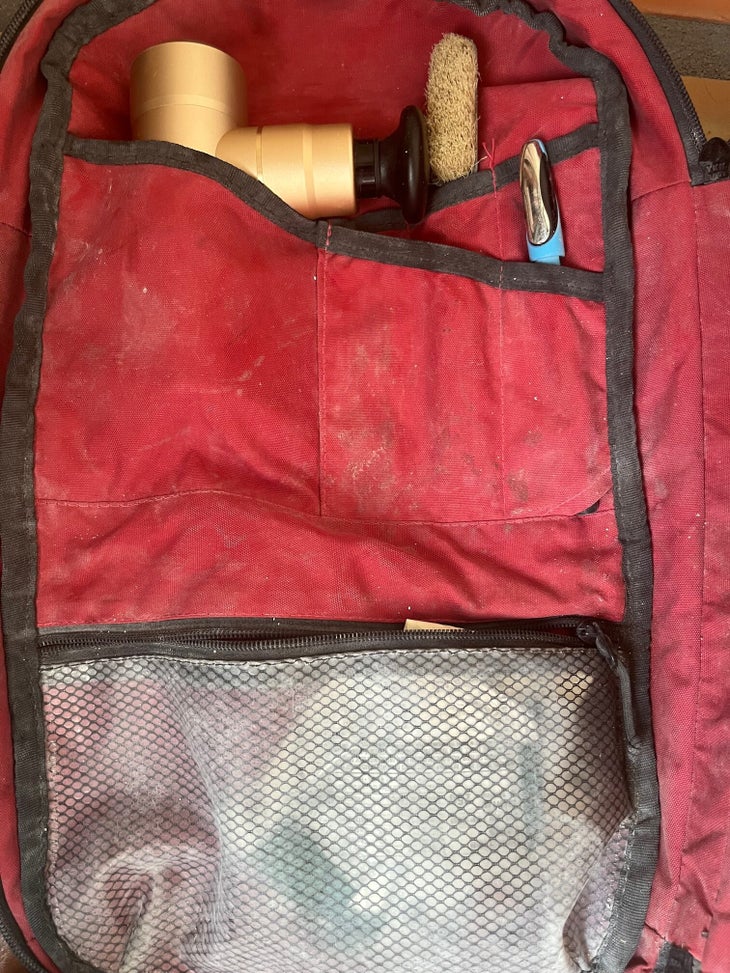 Portability
The R1's biggest asset when compared to its peers is its size. At 1 pound and 4 ounces., and roughly the size of a chalk bag, the R1 is very compact, almost pocket-sized, probably 1/5 the size of the one my father brought home for his surgery. I frequently bring it to the gym to de-pump my forearms between power-endurance circuits on the MoonBoard and have worked it into my post-climb cooldown routine (though I've still yet to make the cooldown routine as routine as the post-climb beer). I've brought it bouldering outside, using it to stimulate blood flow in my forearms after getting a bit flash-pumped on aggressive warmups and to stimulate recovery after the session. After suffering a pretty gnarly ankle sprain this spring, I even brought the R1 on my first "real" hike of the year, an easy jaunt up New Mexico's highest mountain that, since I'd spent most of the previous two months limping on flat ground, didn't feel super easy to me.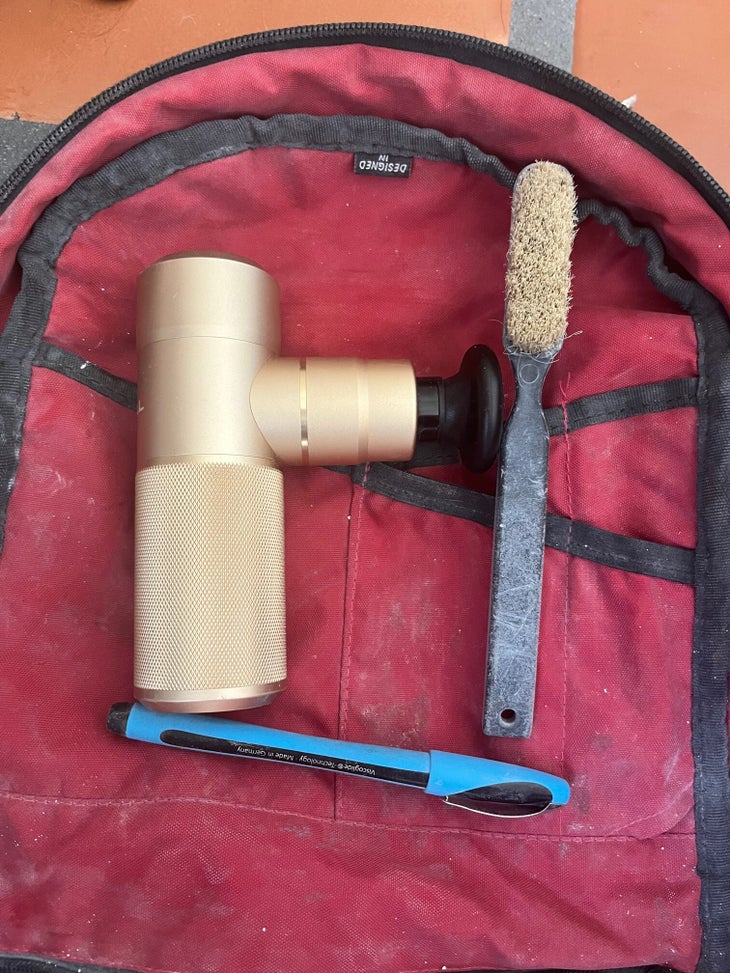 Durability
As implied above, I've introduced my R1 to friends in dank limestone bouldering caves and vistaed mountaintops, and though mine is admittedly sometimes chalk-stained, it has not been dinged or broken by its travels. According to Roll Recovery, the R1 is made of "anodized aircraft-grade aluminum." As a description this tidbit of marketing hocus-pocus is almost offensively vague, since a quick Google search reveals that there are a number of aircraft grade aluminums out in the world, but I can nonetheless testify that this isn't some flimsy plastic object that could have floated across the Pacific under its own buoyancy; it's strong, solid, and cool. 
Attachments
The R1 comes with four attachments, each of which has a slightly different utility. My favorites are the flathead, which I use on my forearms and calves, and the spike head, which I use on my glutes, IT bands, and lats. That said, the soft head is nice for the neck and traps, since it dampens the referral of the percussion to the head, and I often run the dual-spike up and down either side of my Achilles.
Noise
It's relatively quiet! For this reason, I've been able to incorporate it into my evening stretch-and-lacrosse-ball routine, which just so happens to take place in the same bedroom in which my wife generally reads—or watches Star Trek reruns— before bed.
Affordability
Let's get real for a second: life in this country is getting worse on a whole number of levels—and one of these (I'm too depressed to list the 10,000 others) concerns our finances. Thanks to high inflation and minimal wage growth, most of us presently have a good deal less disposable income than we did just a few short years ago. But the good news is that at $126, the R1 is far more affordable than most high-end percussion massagers, which can cost as much as $600—and far cheaper than paying a real human to massage you with any sort of consistency. 
Conclusion
While it has not disintermediated my lacrosse ball—which, when placed on a wall and leaned against, still delivers the best lat, hip, and scapula massage I've ever experienced—the R1 has deeply inserted itself into my daily routine. I hit my calves with it after my short morning runs. I hit my biceps, lats, traps, and forearms after every climbing session. And I hit my glutes and IT bands and calves each night before bed, trying to minimize the restless leg syndrome that is apparently going to be a fixture of my middle age.