Sport Harness Review – No 233 – September 2004
Heading out the door? Read this article on the new Outside+ app available now on iOS devices for members! Download the app.
The ideal sport harness should go unnoticed until just when you need it.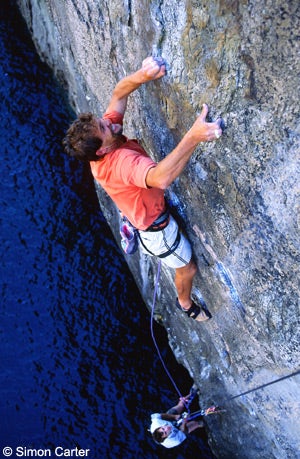 Lightweight Beef: 11 sport climbing harnesses tested
The Test Results
Arc'teryx VaporBlueWater IconC.A.M.P. GekoEdelweiss AlphaMammut ApolloMisty Mountain ArêteOcun MescalPetzl Sama Singing Rock Rhythm Trango Fly Wild Country Helix Ziplock
Let's face it: While sport-climbing isn't exactly gear-dependent, your minimal equipment does affect your performance. Ropes and quickdraws can interfere with gymnastic movement, and your harness, a critical safety point, can also disrupt your ability to climb unencumbered. Strap on an 18- or 20-ounce trad rig and you'll find yourself cursing as it digs in as you scrunch into a knee-bar, or binds as you kick out into a high drop-knee. A slim-and-trim rig is what you need. Several years ago, buying a sport-climbing harness, meant kissing comfort goodbye. That isn't the case today. There's a bevy of lightweight, comfortable harnesses on the market. This past spring we took 11 of them out and put them through their paces, hanging, falling, and occasionally sending. Our terrain ran the gamut from mid-5.11 to hard 5.13, and the testers' physiques included the full range from beefy, stout-legged skiers to rail-thin sportsters. Our primary testing ground was Rifle Mountain Park, our backyard area, which sees as much hang and air time as it does actual sending, but one lucky harness made it as far as France's Ceüse.
Price. The harnesses we've reviewed range from $45 to $100. Surprisingly we found that price didn't directly correlate to quality on either end of the spectrum. Don't assume that a certain price does or doesn't deliver what you need; consider fit and features before you decide how many shekels you're willing to shell out.
Weight. We set the weight limit for sport harnesses at 14 ounces. Yes, that's a bit of an arbitrary mark, but one that separates the pretenders from the truly committed. While it might seem neurotic to niggle over a few ounces, consider this: Shave a few ounces from your harness, a couple from your quickdraws, and several more on your rope, and the next thing you know you're carrying two pounds less up the stone. Keep in mind, however, that the more ounces you shave, the more features you're likely to sacrifice.
Fit and comfort. Priority number one. If you don't fit your harness properly, you'll quickly find yourself back at your local shop spluttering irrationally at the hapless clerk. Save yourself a lot of trouble by keeping an open mind about all options and not marrying yourself to a particular brand name or flashy webbing pattern. Your ideal sport-climbing harness should fit snugly and safely, be reasonably comfortable, and not interfere with the most gymnastic movements you like to throw into your repertoire. Make sure both the waist belt and the leg loops match your proportions. While many rock jocks are graced with lower appendages that more resemble twigs than human limbs, most of us, male or female, aren't so lucky. If you're endowed with larger-circumference thighs, whether from cycling, skiing, or couch surfing, you may have trouble fitting into the leg loops of these high-performance rigs. Fortunately, a few manufacturers offer large/small or adjustable leg loops. When you try on each harness, tighten the swami so that it's snug (but not constricting; room to breath is a good thing), and sits above your hip bones, which are not necessarily located at what you might consider your waist. It's very important from a safety standpoint that the swami ride above your hip bones, so check the fit by tugging downward on the harness; if it slips below your hip bones, it's too big and you could fall out of it if you flip upside down in a fall. Most of the harnesses we reviewed had a standard double-back buckle system, but two rigs sport more modern speed-buckle systems that are already doubled back and don't require threading and un-threading. Another model opts out of the double-back buckle in favor of a single fixed tie-in point and a Velcro strap that is not part of the weight-bearing system. After you've properly fit the swami, make sure you have at least two to three inches of leftover webbing after doubling back. Less than that and the harness is too small. The leg loops should fit snugly on your upper thighs; if you can fit two fingers between the loop and your thigh, that's just about right. Many manufacturers sew elastic into their leg loops to ensure a snug, but not constricting, fit. Finally, adjust the rear riser straps to ensure the backs of the leg loops won't slip down your legs. After you've ballparked the harness size, it's time to hang. Any reputable shop will have a hanging anchor into which you can clip to feel how the harness supports your full body weight. If the shop doesn't have a hang-test apparatus, move on to one that does. Take your time while hanging — at least five or 10 minutes. Remember, you're buying a sport climbing harness, which means you'll be doing a lot of dogging and probably some falling. Pay close attention to where the swami and leg loops actually sit and how your weight is distributed between them. If the waist belt takes too much weight, you risk internal injuries in a lead fall; too much weight on the leg loops can flip you upside down in a fall. Make sure the leg loops' tie-in point doesn't sit higher than the swami's tie-in. Also check for any pressure points or chafing. What might seem like minor irritation in the shop can become a show-stopping problem when you're shirtless and sweltering in the Red River Gorge. After you're done with your hang test, it's time to check mobility. If the shop has a test wall, even a small bouldering setup, run a few laps to ensure that the harness doesn't interfere with your climbing. If there's no wall, find some stairs on which you can simulate basic movements. Remember, you're buying this rig for sport climbing, not big walling — freedom of movement is a necessity. Run through as many types of move as you can: high steps, heel hooks, drop knees, flagging, you name it.
Belay loop and tie-in points. The belay loop on a sport-climbing harness should be a double thickness of webbing with multiple bar tacks, but you don't want it super beefy. The wear-and-tear and potential forces caused by belaying and anchoring in sport climbing are less than in trad or wall climbing, and an over-stiff, protruding loop in the pelvic zone can inhibit movement and clipping. Make sure that the harness's tie-in points are well reinforced. The constant tying in and untying of sport climbing puts more wear and tear on these points of your harness than any other type of climbing. Regardless of the design, you will greatly extend the life of your harness if you thread and unthread the cord with some care, and refrain from whipping it through the tie-ins.
Gear loops. Back in the mid-1990s you'd be lucky if you found a sub-14-ounce harness that had four useful gear loops. These days it's a different story; all but one of the harnesses in our review have at least four, and one rig has five. Gear loops come in three different styles: nylon or plastic tubing slung on webbing or perlon; molded nylon or plastic; and flexible, woven foam-core fabric loops. The plastic tubing loops have been around forever and are adequate, but they're crude and tend to crowd your quickdraws, and are quickly being superseded by the molded and woven foam-core loops, both of which offer easier racking and clipping. A few harnesses in our test used molded loops in the front and woven loops in the rear, taking advantage of the molded loops' clippability and the woven loops' flexibility and low profile. Haul loop. Though hauling isn't generally part of sport climbing, consider the usefulness of a haul loop. A small, dedicated loop in the back is helpful for clipping on a few leaver biners or links, a chalk bag, or a thin rap line for super-long pitches. Unless you're doing multi-pitch sport routes or pitches that require double-rope rappels, you may not have much need for a haul loop, but if you do buy a harness that has one, remember never to use it as a belay or anchor point. A few harnesses in our review do have full-strength haul loops, but most just have a lightweight loop for clipping in your chalkbag or nothing at all.
The Test Results
Arc'teryx VaporBlueWater IconC.A.M.P. GekoEdelweiss AlphaMammut ApolloMisty Mountain ArêteOcun MescalPetzl Sama Singing Rock Rhythm Trango Fly Wild Country Helix Ziplock