Basics
Ocun's Nitro is an aggressive, asymmetrical, single-strap Velcro-closure climbing shoe designed for steep bouldering and gym climbing. It has a 2D Toe Soft midsole and a 4 mm CAT rubber outsole, microfiber uppers, and an unlined canvas footbed.
---
Pros
Super soft and sensitive—yet not without support. // Quite comfortable, even when sized way down // Excels on steep terrain (think the MoonBoard at 40 degrees) // Excellent smearing // Very light.
Cons
Not great for vertical edging, so leave it behind for your next jaunt up the Dawn Wall // It's a very narrow shoe, which will be a pro to some but a con for the wide-footed among us.
---
Our Thoughts
Aggressive, asymmetrical, and soft but not shapeless, the Ocun Nitro excels on MoonBoards/system walls, comp problems, and—if there is such a thing—their outdoor counterparts.
---
Size Reviewed
Euro 40 / US 7.5
Weight
14.8 ounces for a pair of US Size 8
Price
$180
Brand
Ocun
---
Heading out the door? Read this article on the new Outside+ app available now on iOS devices for members! Download the app.
Quick question before you read on: Are you looking for a shoe with which to (a) batter yourself on the MoonBoard or (b) tiptoe up granite batholiths?
If your answer is "(a) batter yourself on a MoonBoard," then the Nitro has the kind of performance qualities you're seeking, but you should read on to see if it'll fit your feet. If your answer is "(b) tiptoe up granite batholiths," stop reading this and go check out Acopa's JB or La Sportiva's TC Pro.
Size and Comfort
The Nitros, like many soft shoes, break in to be incredibly comfortable. I "like" small shoes and tend to cry my way through my first half dozen climbing days in most new pairs, but with the Nitro, I found myself forgetting to take them off by my third session. That said: the Nitro runs very small, at least compared to competitors. I'm a 9–9.5 street shoe. I wear a 38.5 Miura. A 38.5 Testarossa. A 38 Solution. A 38 Futura. And a 38 Instinct Lace. (My all-day multipitch TC Pros are size 40s.) Yet, after being warned by people in the know, I ordered my Nitros in a European 40—US 7.5—which is two full sizes up from my go-to bouldering shoes. And I'm very glad I did. They fit me almost perfectly (see below), and any smaller would have been way too aggressive of a fit.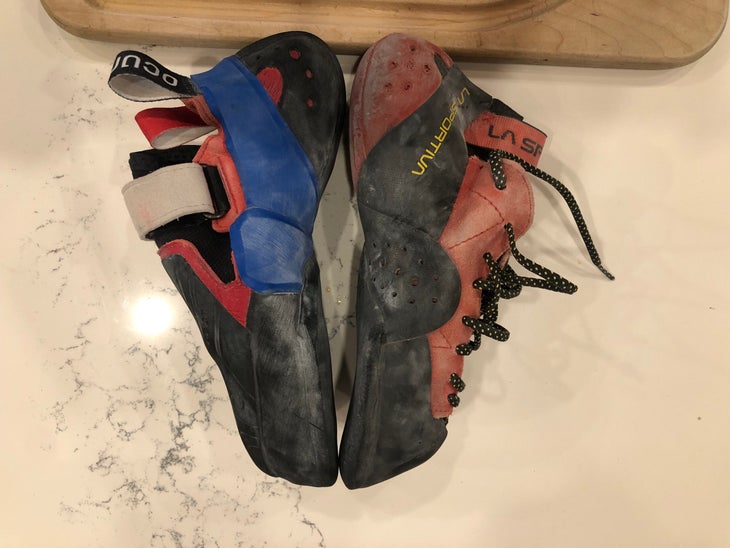 Fit
The Nitro is kind of eel-shaped or tubular, and asymmetrical. I've got what Ocun's website calls an Egyptian-shaped foot (each toe from the pinky to the big toe is a little longer than the last), and the Nitro is designed for that shape. But I also have a pretty wide toebox, so the shoe's narrowness took getting used to. Instead of the pressure being distributed evenly across the tops of all of my bent toes, most of it was focused on the smaller two, on the outside of my foot, though this discomfort decreased as the shoe broke in.
A larger shoe size might have preemptively solved this problem, but my 40s felt good lengthwise, so I'm forced to conclude that it was largely a function of the width of my feet. And while Ocun's Ozone comes in different width-sizes (regular and high volume), the Nitro is one-size-fits-all, so those of you with super-wide toeboxes might consider a different model. That said, if the Nitro fits you well—and once I broke mine in, they did—its narrow forefoot and highly asymmetrical last channel the shoe's power into the big toe and contribute to the shoe's greatest strength: toeing in on steep terrain.
Structure
The Nitro feels very soft. Its sole has a two-part design, meaning that the rubber does not run in one continuous sheet from the front of the shoe to the back. Instead, the rubber from the heel and the rubber from the toe are separated by a flexible blue midsole made of "2D Toe Soft." This soft midsole is mirrored by the shoe's flexible microfiber upper, which makes the middle of the shoe more flexible again. The central fore-sole also has a pair of perforations (in the shape of an exclamation point), which adds even more softness and makes it easier to curl your toes around edges on steep walls.
Yet what's most remarkable about the Nitro is that, given all this softness, it does not feel shapeless or unsupportive. Ocun's "3-Force System"—not dissimilar in effect to La Sportiva's P3 system—effectively wraps rubber around the shoe's entire forefoot. This gives the Nitro enough support to perform passably on vertical terrain, especially in the gym, where you can drop your heel and smedge through most edging-intensive climbs. (The fact that the whole forefoot is bathed in rubber also makes the shoe quite effective for toehooks.) The Nitro also has a small "2D Soft" inner sole in the toebox, which adds stiffness to the very front of the shoe.
The shoe's heel, meanwhile, is relatively low-profile, especially compared, say, to the bulbous heel on the La Sportiva Solution or Otaki, though it is comparable in shape and size to the heel on the Scarpa Instinct Lace. It too is almost wholly wrapped in rubber, which means there are no dead zones. I found it performed well on heel-hook-intensive climbs, though it did best when the hooks were incut and low-volume—the kind you might find on a system wall.
Performance
Quite simply, the Nitro excels at toeing in on steep walls, toeing around laterally distant edges ("dragoning in"), yarding on pockets, and even (though there aren't many of these on the MoonBoard) smearing on big, compy volumes. And it performs these tasks equally well both inside and outside. I tested the Nitros on Little Cottonwood Canyon's granite boulders, where I found them high-performing on steeper and more gymnastic climbs. For instance, they served me well on the classic V8/9 Wrist Rocket, where you're either climbing with your heels or generating dynamic power out of smears. Unsurprisingly, the Nitro also performed marvelously on the basalt boulders near Santa Fe, New Mexico, where the shoe's ability to curl into incuts nicely complemented the climbing style, which is often steep on sharp edges and pockets.
But for vertical outdoor terrain, where precision edgework and ballerina extensions are more common, you're definitely better off with something with a stiffer last—something you can stand on without bending in the midfoot. For example, I swapped out for a stiffer shoe when trying more vertical climbs like Little Cottonwood's crimpy Copperhead (V10)… though, I should add, the new shoes didn't help me send.
What about sport climbs? Well, I didn't try any outside of the gym. But you'll probably fare alright with the Nitro in steep limestone caves; however, if you're planning on putting pressure on your feet for longer than a few seconds at a time—in, say, a kneebar—I'd recommend something with more support.