Americans Make History: Two Gold Medals at European Ice Climbing Cups
Tyler Kempney swept the field with back-to-back wins in this year's UIAA Euro Cup series.
Heading out the door? Read this article on the new Outside+ app available now on iOS devices for members! Download the app.
Before November 27, 2021, no American had ever won a stage of the Ice Climbing European Continental Cup series. Now, Tyler Kempney, age 30, of Louisville, Colorado, has won two.  
The European Continental Cups, better known as "Euro Cups," represent one of ice climbing's biggest international competition stages. Think the legendary Ouray Elite Mixed Climbing Competition, but on steroids. 
Many of the world's best ice climbing competitors treat the Euro Cups as competition training ahead of the UIAA Ice Climbing World Cups, which will occur in a three-part series in early 2022. And many view the results as a portent of the season to come.
Kempney, however, saw the cups as a way to gauge his progress after nearly two years of training. They were also an avenue for seeking redemption after a heartbreaking result at this past season's Ouray Elite Mixed Climbing Competition. (Kempney was the only male to top the route, but suffered a controversial last-minute disqualification for going out of bounds.)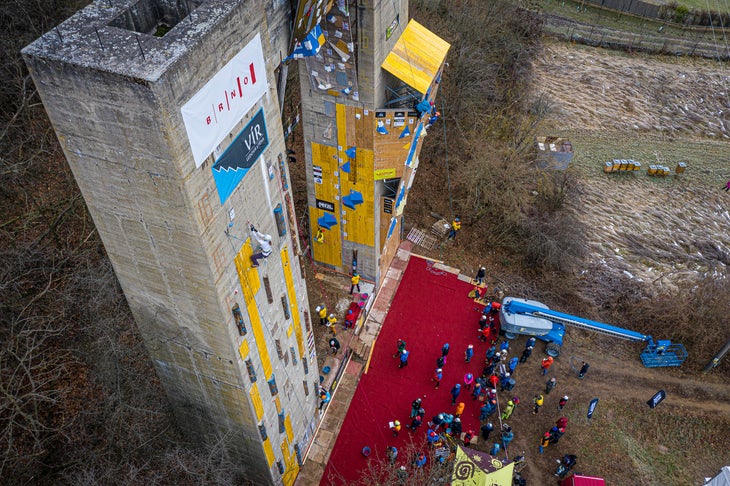 "I've been spending the last year training my mental approach to climbing, and focusing on getting better rather than getting stronger," he says. "That's been a shift for me. Instead of working hard, powerful moves, I've been focused on moving better through easier moves. I've also been doing HIIT-style workouts and more general fitness." That's all amid working as a business owner and coach at The Ice Coop, Colorado's only dedicated ice climbing gym and training facility. 
It all paid off. Going into his first Euro Cup of the season in Zilina, Slovakia, Kempney says he felt zero nerves. 
"I just felt so confident in my training," he said. There were a few competitors on his mind, namely Virgile Devin, a young up-and-comer from France, and Nikolay Primerov of Switzerland. There was also the logistical stress of competing amid a pandemic: Just three days before the Zilina competition, Slovakia went into lockdown. Hotels cancelled all bookings, and the country was put on a hard 8 p.m. curfew. The next day, each athlete received an emailed letter from the UIAA to carry with them in case of run-ins with the Slovakian police. 
"After the competition, I would aim to leave Slovakia as quickly as possible," the email said. 
Several athletes started calling home and checking into flight cancellations, on the edge of pulling out of the competitions altogether. Kempney never did. Throughout the chaos, teammates say, he remained unflappable—something he credits to his mental training. 
"I decided that I wasn't going to worry about [the other competitors], or about the things I couldn't control. I was just going to focus on doing what I could do to climb my best," Kempney says.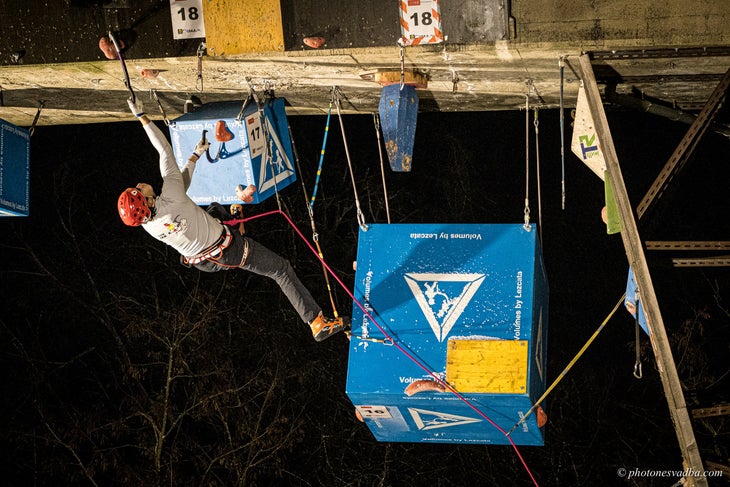 And he did. In both qualifiers and finals in Zilina, Kempney punched in with fast climbing, smooth transitions, and powerful, calculated movement. A week later in Brno, Czech Republic, he was able to combine that skill with flawless execution of figure-four sequences through horizontal roofs and swinging boxes. 
There, the competition was held on an arch from a highway overpass that was built by Hitler during World War II and then abandoned at the turn of the war.
"The highway was going to connect over the valley so they could move troops faster," Kempney says. "And now the Czech climbers have taken that and turned it into something that brings communities together from all across the world." 
That mission was never more palpable than on December 4, when athletes from 12 countries came together to cheer one another on through tricky sequences on the enormous structure. When Kempney took the podium, cheers erupted from athletes of all nationalities, and all eight men's finalists embraced for a photo. 
Focused on the reunions, the travel, and the mental wins of getting into the zone and climbing his best, Kempney said the historical nature of the victories didn't dawn on him until a friend mentioned it a day or so after the competition. "It's exciting," he says. "But I don't see this as a personal win so much as a team win." For Kempney, his victories—as well as second- and fourth-place finishes from teammates Kevin Lindlau and Noah Bergman in Brno—are proof of how far the American team has come over the past few years.
"It was amazing seeing all the training the US competitors have done is really showing on the international stage," Kempney says. "We've jumped levels from what we were able to do before. This has made the American team much more legitimate in the eyes of the world competition scene." As a coach for many members of the US Ice Climbing Team, Kempney says that's especially gratifying. 
"Tyler's two gold medals are a historic event for American climbers—and a notable threat to the Russian giants long dominating the sport," notes Tom Beirne, a longtime US ice climbing competitor, coach, and competition organizer. "But his streak will be tested in the World Cup tour, where no American has reached the podium in the lead category—yet." 
This article is free. Sign up with a Climbing membership, now just $2 a month for a limited time, and you get unlimited access to thousands of stories and articles by world-class authors on climbing.com plus a print subscription to Climbing and our annual coffee-table edition of Ascent. Please join the Climbing team today.