Chantel Astorga Solos Denali's Mighty Cassin Ridge in a Blistering 14 Hours
And not only was her ascent bold and quick, it was also the first female solo of the route
Heading out the door? Read this article on the new Outside+ app available now on iOS devices for members! Download the app.
This article is free. Sign up with an Outside+ membership and you get unlimited access to thousands of stories and articles by world-class authors on climbing.com and rockandice.com, plus you'll enjoy a print subscription to Climbing and receive our annual coffee-table edition of Ascent. Outside+ members also receive other valuable benefits including a Gaia GPS Premium membership. Please join the Climbing team today.
Idaho-based alpinist Chantel Astorga accomplished a longtime dream on June 14th, when she completed a ski of the Seattle Ramp (West Rib) on Denali (6,190 m/20,310 ft), North America's highest peak, and then soloed the ultra-classic Cassin Ridge (AK Grade V, 65°, 5.8 AI 4, 8,000 feet) before descending via the West Buttress. Her ascent marks the first female solo of the legendary Cassin, which Astorga tackled in 14 hours and 39 minutes.
In 2017, Astorga made the first ascent of the southwest face of Mt. Nilkantha (6,596 m/21,640 feet) in the Garwal Himalaya with Anne Gilbert Chase and Jason Thompson, via a route the trio christened Obscured Perception, and also holds a number of big-wall ascents in Yosemite, such as a 24-hour rope solo of the Nose. She's also known for other hard ascents on Denali, such as the Slovak Direct (first all-female and ninth overall ascent) with Anne Gilbert Chase, and the Denali Diamond (first female ascent) with Jewell Lund, but the Cassin represents her first major solo climb on a 6,000-meter peak.
Astorga took an uber-minimalist kit up the wall, with only a 35mm line and two ice screws to be used in case of retreat, climbing in ski boots with her skis on her back.
Astorga acclimatized on the West Buttress at the 14,000-foot base camp. Her original plan was to hike up the West Rib to the cutoff below 16,000 feet, then ski down to the Southwest Basin, after which she would still have to do a fair bit of glacier travel to reach the Cassin. She eventually decided to stop halfway up the West Rib, skiing down via the more treacherous Seattle Ramp. "It's basically an icefall," she said of the Ramp. "There are definitely risks being on the Seattle Ramp alone."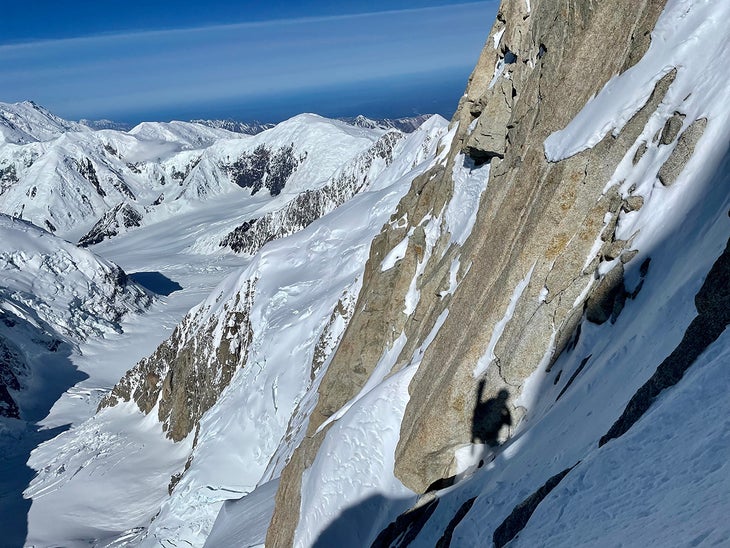 The Cassin is a prominent ridge splitting Denali's south and southwest faces, first climbed in 1961 by an Italian team led by Riccardo Cassin. The base of the route sits at 12,200 feet, stretching up 8,000 feet from the bergschrund to the summit of Denali. The legendary route has attracted top alpinists from around the world for decades, and has been soloed a handful of times in the past (Colin Haley holds the speed record at eight hours and seven minutes), but the Cassin had never been soloed by a woman.
"You're basically climbing pretty technical terrain with breaks in between the various rock bands all the way up to 16,700 feet," Astorga said of the route, "and from there you hike up steep terrain to the summit."
Astorga took an uber-minimalist kit up the wall, with only a 35mm line and two ice screws to be used in case of retreat, climbing in ski boots with her skis on her back. "It's really a perfect route," she said. "It was all well within my ability, I wouldn't have been up there alone otherwise. The first 1,500 feet is all ice climbing up the Japanese Couloir, which is a real trash chute, you want to climb it when it's cold. Above that, it's mixed, primarily rock with some ice. Never long, sustained climbing, but a lot of 30- to 40-foot sections with breaks in between."
"That approach [on the Seattle] was honestly the scariest part for me," she said. "I was concerned about crevasses, so the obvious thing to do was go in on skis."
Two days before Astorga climbed the Cassin, a trio of climbers went up the route with skis as well, and Astorga was able to follow their broken trail, which was a major boon in some sections. "Between 13,500 feet and 14,500 there are these features called the Arete and the Hanging Snowfield," she said. "They're not technical areas unless it's blue ice, but those guys must've been breaking trail belly-deep in that area. That was huge for me, because I was out there alone with no real bivy gear, and would've wasted a lot of energy." The team's tracks had blown in higher up, but the trail-breaking wasn't hard for Astorga after this portion. After summiting, she descended on skis via the West Buttress.
Astorga has spent plenty of long days ski mountaineering in her home range, the Sawtooths, but the Cassin was her first time ski soloing a major route in high-altitude terrain. She first attempted the ski + Cassin linkup in 2016, though foul weather turned her back. "Each consecutive year since I've wanted to do it, but I've just gotten caught up in other things."
This year, everything just felt right, Astorga said. "Fitness base was super high, my mental state was in the right place. It's just a stunning route, all-around. A dream."
Astorga, who works as a highway avalanche specialist for the Idaho Department of Transportation, has climbed a lot with other women in the past, and some of her most famous ascents have been with all-female teams. She said this isn't really a conscious choice, that she's simply been lucky to find stellar female partners like Chase and Lund, as well as Mayan Smith-Gobat, with who she broke the women's speed record on the Nose (7:26) in 2012. The duo went on to link the route with Half Dome in a record-setting 20:09 blitz.