Climber Still Recovering Months After "Anal Impalement" Accident at Rock Gym
Photo: Courtesy Frohbieter Family
Heading out the door? Read this article on the new Outside+ app available now on iOS devices for members! Download the app.

On June 17th, Brandon Frohbieter climbed about 12 feet up an autobelay route when he decided it looked fun and he wanted to try it. He wasn't clipped in yet. He jumped down and was impaled by a pvc pipe. The pvc pipe was there to hold up plastic 'fencing,' since adjacent to the route he was on routesetting was underway.
Brandon explains, "I was at the gym and rocking around on an autobelay route. I went up a little bit off the ground and it was pretty sweet so I was gonna hop down and actually go up the route. I looked down my right shoulder, and I just saw the ground, so I just kind of dropped from the wall. I was probably about 12 feet off the ground and I just landed down straight on that pipe. I started screaming at the top of my lungs. I thought up until the moment it happened I was just expecting to hit the ground…And I had no idea what happened. I just knew that I was in excruciating pain. And something terrible had happened. And I couldn't really feel my bottom half and I knew blood was pooling around."
Frohbieter, of Gig Harbor, Washington, was evacuated to a nearby ER, where imaging revealed that his extensive injuries included a fractured sacrum, coccyx, tibial plateau, and burst T7 vertebrae. Brandon had been climbing for around three years. His primary climbing partner was his wife's brother, Tom.
"I focused mostly on traditional climbing," he said. "I'm a modest climber. I'd probably more be in the trad-dad bucket of climbing."
As per usual, a brouhaha began on Mountain Project after Frohbieter's posted about his accident, with some offering support and well wishes, but many calling the accident a hoax and requesting "proof." Others, meanwhile, took to lambasting both Frohbieter and climbing gym, or both, for the injury. Brandon, however, has only good things to say about the gym and the gym owner. "It's the dark side of the sport," he said, "it's the risk and the consequence."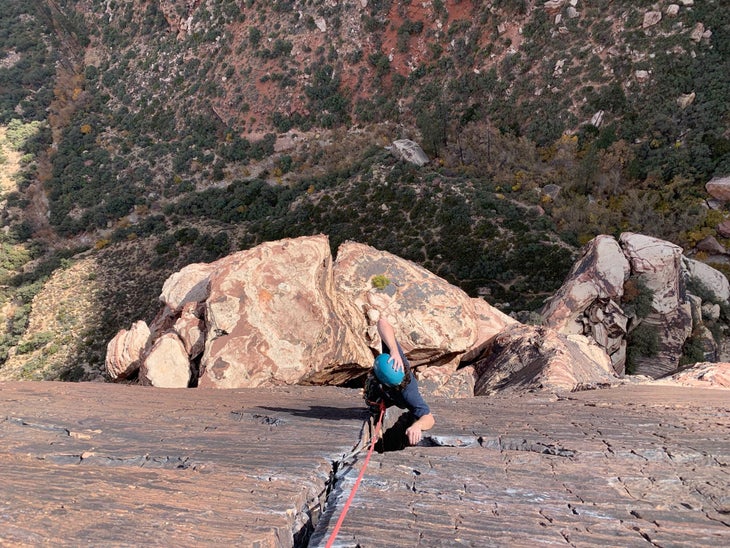 To read the rest of this article, please visit gymclimber.com
---
This article is free. Sign up with a Climbing membership, now just $2 a month for a limited time, and you get unlimited access to thousands of stories and articles by world-class authors on climbing.com plus a print subscription to Climbing and our annual coffee-table edition of Ascent.  Please join the Climbing team today.