Surprise. Surprise. Nathaniel Coleman Didn't Believe He'd Made Olympic Finals, Then He Won Silver.
America's Olympic sport-climbing medalist on the shock of advancing to finals, how he got to the Games, what it means and what's next.
Heading out the door? Read this article on the new Outside+ app available now on iOS devices for members! Download the app.

Nathaniel Coleman, 24, eeked his way into finals at the first-ever Olympic climbing event at the Tokyo 2020 games. With rankings of 10th, 11th, and 5th in speed, bouldering, and lead, his combined score of 550 edged out Alex Megos to secure the eighth, and last, spot on the finals roster. Finals were a different story. Coleman held nothing back. Following an incredible performance that included breaking his speed climbing personal best—twice—and then winning the bouldering round, the Utah-based climber earned a silver medal, finishing behind only Spain's Alberto Gines Lopez. It was the best result of the US climbing team—and a unique achievement. Speed climbing will be separated into its own event at the Paris 2024 Olympics, so Coleman is likely the only man that will ever earn silver in a three-discipline combined climbing event.
I spoke to him about his experience a day after he arrived back in the states.
How did you feel going into the event?
Nathaniel Coleman: I think that I got a pretty good mindset going into qualifiers. I had dealt with most of the nervous thoughts before I went in, and I was able to just focus on trying to climb my best in each discipline.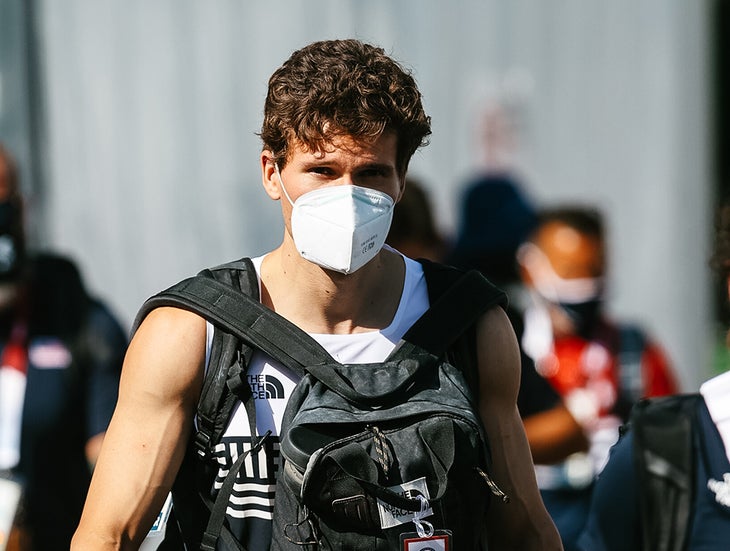 What does that look like, dealing with your nervous thoughts?
Before big comps that I'm really nervous for, or big rounds of competition—for example, a finals round in a bouldering World Cup—I'm always feeling a mix of emotions. I'm feeling like I really want to do well, but I know that want, it can send you into a fear of failing mindset really, really easily if you don't deal with why you're feeling this fear beforehand. It helps me to lay down and meditate on my motivations around the competition, my goals, how I'll feel if I don't achieve those goals, how I'll feel if I do. For the Games, I spent a lot more time in that quote-unquote meditation beforehand, a lot more time than any other comp. Almost every day for the five days leading up to the event, I was trying to deal with why I felt so goddamn nervous.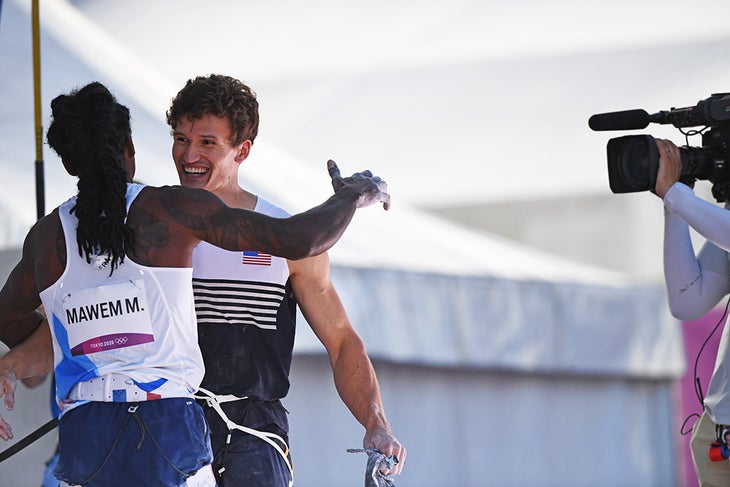 Was it intimidating going up against so many legendary names—climbers like Tomoa Narasaki and Adam Ondra— in finals? Did it add any pressure?
Not really. I knew that it was a strong field, but in this [World Cup] season I knew that I had beat most of the people competing in one round or another. And so in finals I was telling myself, It is possible for you to have a fantastic bouldering round and win this round.
It sounds like visualizing outcomes and working on your mindset is a big part of your process.
Yeah, I would agree.
What was it like competing in all three events in one day?
Doing all three disciplines back to back is certainly a full day, makes you very tired. Me and Kyra [Condie] had been doing the combined format once a week so we were expecting to go into bouldering a little bit powered down. And then we were expecting to go into lead and get pumped a little earlier than we normally do. So I felt like it was a normal combined day, but I do think the format—and the heat and humidity—it really sapped people more than they were expecting.
Were the conditions making the climbing noticeably more difficult?
I thought so. It was super hot and bouldering—we were doing everything we could to keep our body temperatures cold. We were using the Nike ice vests. They had AC blasting, we were using liquid chalk. But nonetheless, we were sweating out every pore in our body by the last boulder.
You won the bouldering round in finals, you had an incredible performance. At that point, are you allowing yourself to think that you might finish on the podium?
After bouldering, things all of a sudden got a lot more serious. I couldn't keep the thought out of my head that I had strong potential to medal, even though I was trying not to let it consume my thoughts. I was focusing on trying to do my best in lead and hopefully have a performance like I did in qualifiers, because that was some of the best lead climbing I've done in a long time.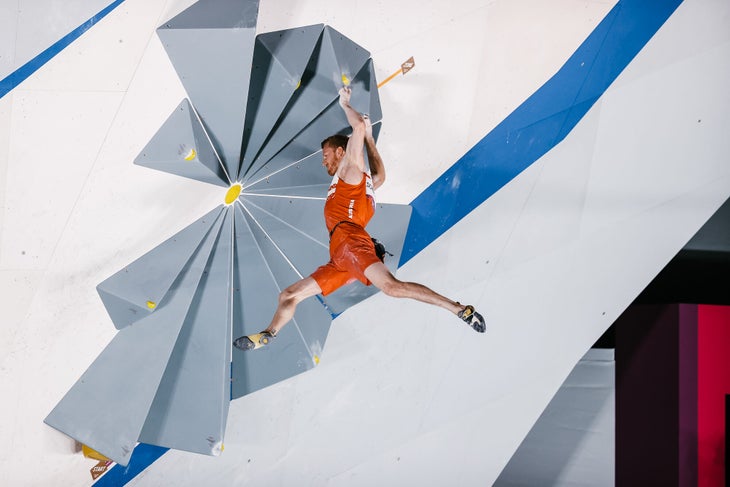 So problem three in bouldering finals, obviously super hard. No one finished it. Is there any part of you that's still thinking about the beta?
Josh [Larsen, USA Climbing head coach] talked to the route setters and found out what the intended beta was, which puts my mind at ease.
[Nathaniel mimes the moves.]
When you were on the pinch right before the zone, then you cross to the zone, everybody's trying to jump up with the left hand and the gaston position was just impossible to hold. The intended beta was to cross to the zone, flip [left hand on the pinch] to an undercling, bump [right hand] to the next one, and then do a leftward jump to that furthest screw on, on the furthest left volume. Apparently that jump out left was the hardest move on the boulder, but [the routesetters] still considered the second boulder the hardest of the round. So I think if somebody would have found that beta, it definitely could have gone. It's such a basic sequence, just flip to an undercling and bump, but we were all in such a rut.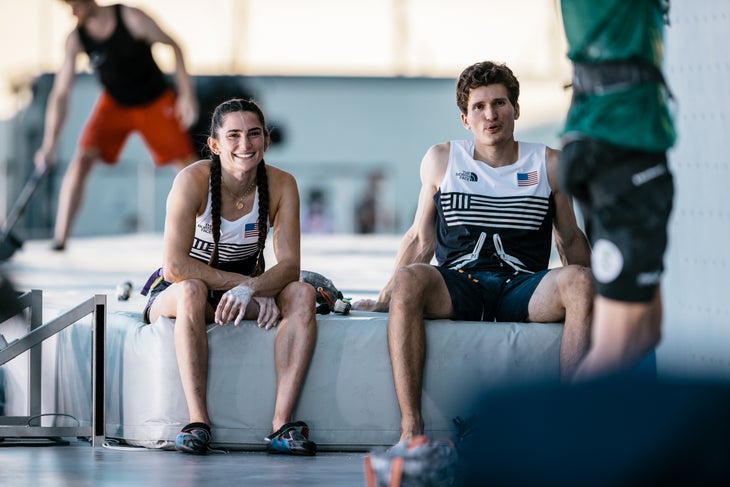 There was a lot of math involved in figuring out who's on top of the leaderboard and how each climber might influence it. Were you doing all the calculations?
Definitely not one for the calculations. Even after I finished lead climbing, I started to try to calculate where I could end up, what I would need for each placement, and I noticed that I was sitting there staring at the screen while my buddies were lead climbing. I was like, What am I doing? I'm in a competition. Me paying attention isn't going to make a difference in how I do. I'm just going to watch these boys lead climb and let the cards fall where they may.
What went through your mind when you learned the final scores?
I was surprised that I moved from third to second. That was a really nice jump. I was also surprised that Adam [Ondra] wasn't on the podium, and I was really surprised that Jacob was able to jump back onto the podium.
There was no incredible moment of, Wow, I'm an Olympic medalist. It takes me a long time to realize the significance of big accomplishments. That whole night I was just kind of riding the wave. Happy to celebrate with my friends, happy to see that they were happy, but it probably took me another 36 hours to really grasp what that accomplishment meant for me.
And how do you feel about it now?
It feels amazing. I do feel lucky to have had that bouldering round, and I feel a lot more confidence in myself. I've always been able to pull it out when it matters, but to do it on the biggest stage, it gives me a lot of faith in myself and I'm really psyched to continue to improve.
What was your favorite moment of the event?
Realizing that I had made finals. After I finished competing in qualies, I really didn't think there was a chance. Then I was talking to my girlfriend and some of my roommates at home. They were watching the scores and they were like, "Oh, you know, you're not too far off in qualifying. Actually the commentators just announced that you qualified." And I was like, "No, it still shows me in ninth. I don't think so." It was a slow and very satisfying turn of events.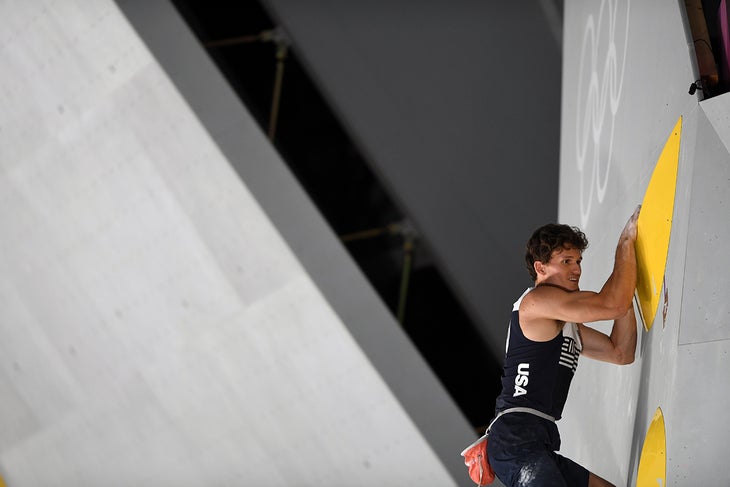 So there was a while where you thought that you hadn't made it?
Oh yeah, a long time. I did multiple interviews saying, "You know, I gave my best, but I'm happy to be done with it."
Back when climbing in the Olympics was first announced, it wasn't common for U.S. athletes to make the podium at World Cup events. Now it seems that the whole team has turned that around this year. What would you attribute that to?
I think having funding, having a team manager, a team coach. It helps us go into World Cups and not have to deal with the stress of traveling and having your own logistics that you have to work through. It saves a lot of mental and physical energy for us. Having the USA Climbing Training Center definitely increased our ability in bouldering on world-cup style boulders.
Was it hard to find access to that style of problem before the Training Center?
It really was. Yeah. If we wanted to do any sort of coordination, dynos, or toe catches at a high level, we usually had to make them up in the commercial gyms.
It seems like a lot of competition climbers put outdoor climbing aside entirely for their training, yet last year you sent V16 with The Grand Illusion and 5.15 with Empath. Do you find that it's difficult to balance the two?
Normally if you're competing in World Cups, there is a difficulty. The outdoor climbing season runs into the competition season. And usually after you finish competing in World Cups, you just want to rest, you don't want to go try your hardest things outside. But I think that if you're motivated to, and if you get enjoyment out of it, mixing outdoor climbing into your training is not only viable, but beneficial. It can be advantageous.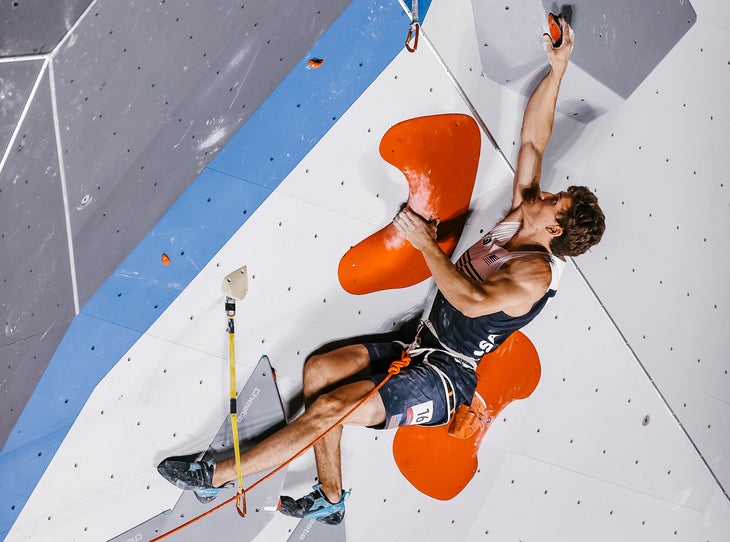 Were those two sends beneficial to your Olympic training?
I don't think they had any influence on my training for competitions, but they were incredible confidence boosters.
Coming out of the Games, do you feel like you're in the best climbing shape of your life right now?
No. I felt insanely strong before Meiringen, and I had a really great first training block. Then my next couple training blocks, for one reason or another, I just didn't feel as psyched, not as motivated. I always kind of short sell myself on how fit I actually am. Going into the competition, I didn't feel like I was my strongest, but it was enough so I'm psyched.
How many hours were you training at the peak?
At the peak of our training, we were doing three, three-hour sessions every two days and then a rest day. I think my highest amount of training was 20 to 24 hours a week.
You previously told Gym Climber you were thinking about taking a break after the Olympics, is that the plan now?
Yeah. A break from climbing still sounds good.
I feel like I was kind of pushing through or ignoring some things that I didn't really like how they felt in my body. My back has just been tightening up consistently in this one spot, so I want to work that out. I think the best way to deal with those little tweaks is to take enough rest that you fully recover and then get back into climbing slowly, and that's something that I really enjoy doing too.
I think I want to focus on sport climbing as I'm getting back into the flow of training.
Outside or indoors?
I think I want to start with outdoor. I don't have any big objectives lined up with that yet, I don't know if any will come up. Then I want to transfer that into the lead World Cup season.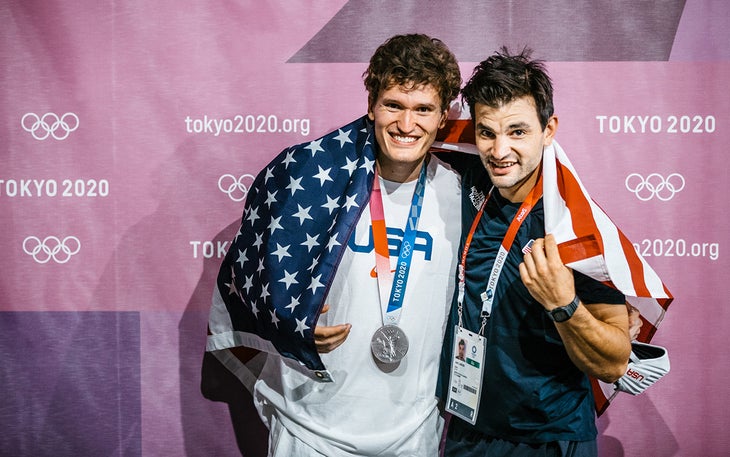 Have you thought about Paris 2024 yet?
I have thought about it. I don't see any reason currently not to do it. [Pause] I'm not committing to it.
Finally, I'm sure there are a lot of young competition climbers looking up to you right now. What would you like to say to them?
I had a hard time believing that it was possible for me to do this well in the Olympics, but it goes to show that more is possible than you can easily believe. And the U.S., we're on the up-and-up. We are proving that we have what it takes to be one of the best countries in the world on the World Cup circuit. And after me and Natalia [Grossman] and Sean [Bailey] and Kyra are done competing, we're going to be looking to you guys to continue that. So if you're interested, I fully believe that you have what it takes to be one of the best in the world.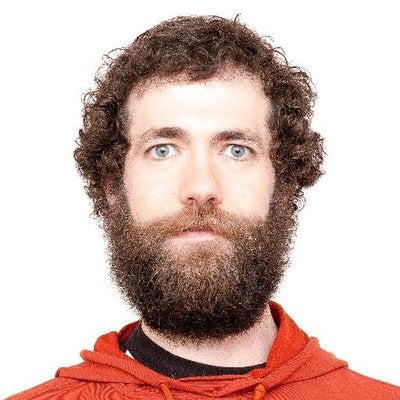 Kevin Corrigan is a writer based in Boulder. Colorado. After full-time jobs writing at Collegehumor.com and then editing at Climbing, he went freelance so he could climb on weekdays when the crags are empty and pretend he works.
This article is free. Sign up with Climbing membership, only $2 a month for a limited time,  and you get unlimited access to more stories and articles by world-class authors on climbing.com and rockandice.com, plus you'll enjoy a print subscription to Climbing and receive our annual coffee-table edition of Ascent. Please join the Climbing team today.