Dani Arnold Completes Speed Solos of all Six Great North Faces of the Alps
The Swiss alpinist finished his 10-year project August 15, soloing the North Face of the Petit Dru in one hour and 43 minutes.
Heading out the door? Read this article on the new Outside+ app available now on iOS devices for members! Download the app.

On August 15, the legendary Swiss alpinist Dani Arnold soloed the 2,950-foot Allain-Leininger on the Petit Dru's North Face, completing a 10-year project to speed solo all of the six great North Faces of the Alps. 
These peaks are the Eiger (13,025 ft), the Matterhorn/Monte Cervino (14,691 ft), Piz Badile (10,853 ft), Grandes Jorasses (13,806 ft), Cima Grande di Lavaredo (9,839 ft), and the Petit Dru (12,247 ft).
The 37-year-old lives in Switzerland, in the tiny village of Bürglen with his wife, Denise, and daughter, Ladina, who is almost a year old. He spoke with Climbing over the phone to share the inside scoop on his decade-long mission.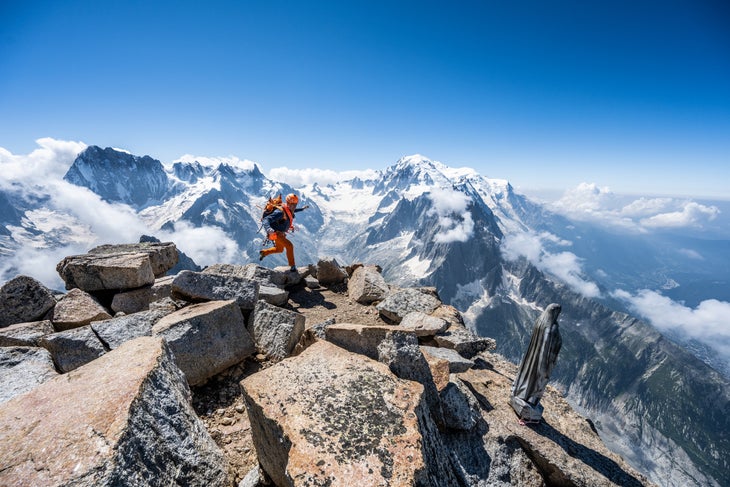 Arnold began the project in 2011, when he soloed the Eiger's Heckmair route in two hours and 28 minutes and set the speed record (though Ueli Steck beat this time by a razor-thin margin in 2015). But there was no definitive "project" in the beginning, according to Arnold. "The Eiger, well, of course, I wanted to climb it fast, but I never saw myself being that fast," he said. "So it was more or less luck. After the Eiger, I realized that I could climb quite fast." The Matterhorn was the next "logical step" he said, and he soloed the iconic peak via the Schmid route in one hour and 46 minutes four years later, in 2015.
The Piz Badile and Cima Grande di Lavaredo, which Arnold tackled via the Cassin and Comici-Dimai routes, respectively, he referred to as "quite easy faces." He then paused, as if second-guessing himself. "Well, they are not easy, of course," he said, chuckling. But with solid rock and straightforward climbing, they are certainly not the most difficult routes around. "It's a pleasure tour. Not so alpine, like the Grandes Jorrasses and Petit Dru," Arnold said.
These two (the Grandes Jorasses and Petit Dru) were the most difficult of the six faces without a doubt, said Arnold. "The Eiger or the Matterhorn, in comparison, especially if the conditions are good on the Matterhorn North Face, for example… Well, it's quite like running, or hiking, for a good climber."
A critical part of the project for Arnold wasn't just to solo all six faces, but to climb them via their classic routes—even if that raised the difficulty. "For example, you could climb the Grandes Jorasses via the Le Linceul or the Colton-Macintyre," he said, "but [the] climbing … would be way, way easier to do it like this. The Via Cassin is serious climbing, and quite steep." 
Arnold climbed the Petit Dru's North Face with partners twice in the last two years. The conditions were "sobering," he admitted. "My first experience I went there with a friend [Michael Kräftner]. We bivouacked below the base, and there were rocks the size of cars coming off the wall constantly." On this occasion, in 2020, he climbed the route with Kräftner in 14 hours. He had taken a rope with him to deposit on the summit in preparation for a coming free solo, but after the climb decided to take that rope straight back down, writing on his blog that he knew, "The project [was] a long way off." He climbed the route a second time with Roger Schäli this past July. "It was very sobering again," he wrote of the climb. "Still a lot of snow and water ice, and above all, we now knew exactly where the route [was] and still it took almost 10 hours.
Finding the right conditions for the Allain-Leininger is a toss-up. Too warm, and the route would rain rockfall. Too cold, and the thin water ice on the wall would make each move a gamble.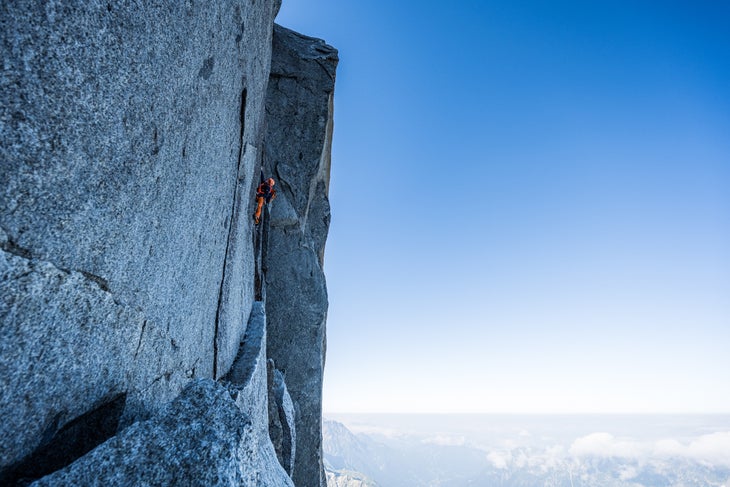 After these two times on the wall, he felt that he could do it, physically, so long as the conditions were near perfect. "But I was quite unsure about water ice," he said. In the middle of the face is a prominent ice field, and water begins to run down the face in the late afternoon as the sunlight warms the ice field. In the morning, the lower portion of the face can be frozen with a layer of water ice. "If you're lucky, the temperature is OK so the water is still water. But a two-degree drop in temperature, and you have ice." 
He returned to the wall with Stefan Brugger on August 14, under the tentative plan to climb together the following day. The duo agreed, however, that if the wall was in good condition, with minimal rockfall and optimal temperatures, and if Arnold felt mentally prepared, he'd go for the solo once and for all.
Arnold classifies his Petit Dru as a solo —as opposed to a free solo—because of his decision to carry a rope and harness up the climb. Regardless of how he felt at the base of the mountain, if he encountered verglass on the route he would have to bail. "It's a difference for my head to have a harness and rope as backup," he said.
Arnold woke up feeling good, and confident about the conditions. He began climbing at 8:46 am, with a helicopter crew flying in to film the upper portion of the route. The lower part of the face was one of the scariest sections of the wall, "because this water ice was just very, very thin," he said. "It's impossible to see. So you think that it's like a dry rock and then nope, it's just… shhhwippp."
During one particularly-heinous chimney squeeze, Arnold was forced to remove his backpack laden with gear, attach it to his harness with a sling, and then climb on, alternating between pushing and pulling the pack up the chimney. "It was no big deal… But if you want to climb fast, this sort of thing makes it hard."
The crux of the route was a pitch directly above the famous Lambert Crack and below the snowfield, which was rife with treacherous water ice. During Arnold's second ascent, with Schäli, he found a variation to this icy pitch via slabs on the left, which, although dry, were extremely exposed. "It wasn't hard, but you couldn't make any mistakes here," he said.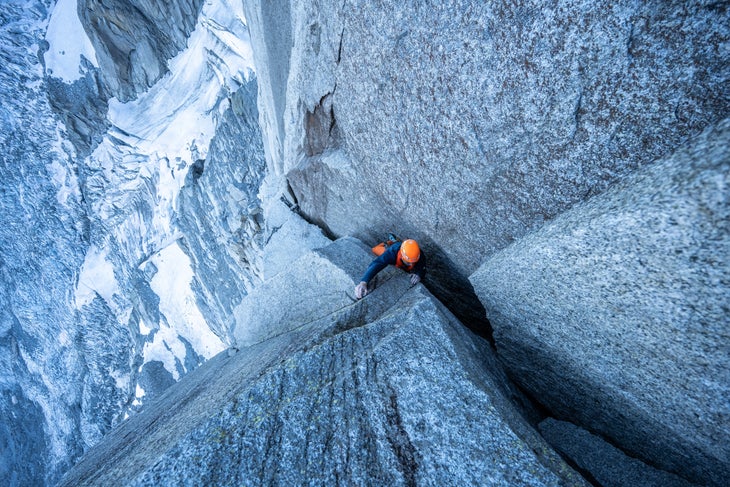 Arnold is proud of his speed soloing successes but doesn't regard them quite as highly as some media outlets do. "I realize that [speed soloing] like this is really good for publicity," he said. "But for me, being a climber or mountaineer means being someone who makes difficult routes, first ascents. I would say, for example, the two routes I did in Scotland, Anubis (XII 12) and The Hurting (XI 11), for me are equally as important. The North Faces… they were first [climbed] in 1930 or 1940 or something. So I mean, they are not that hard."
He admitted that the project wasn't just about landing on an objective that was viable in terms of media publicity, however. It was also about paying homage to the climbing legends of yore and the iconic lines they put up. "I think it's important to keep these pioneers in mind. There are so many young climbers who have no idea who these people are, and that's a shame in my eyes," Arnold said.
Over the last year, Arnold realized that becoming a father has noticeably lowered his risk tolerance in the mountains.In the past, he said, he would go for solos that he doesn't think he would attempt now. There were several times he planned to climb the Petit Dru in the last year but, after watching the face with binoculars and checking the freezing level, he called his climb off.
"It's important that I can still live," he said. "Of course, [what I do] isn't normal living," he added quickly, laughing. "But if you're really prepared for something, I think the risk is not as high as it looks. I'm more afraid of having an accident on these two hundred or more days a year where I'm just outside doing normal things, not thinking, than I am on the days when I do these big solos, where I prepare so much and take everything into account."
The one thing he does wish to show his daughter via his climbing is the freedom one has to control one's own life. "This is one of the beautiful things about the sport of mountaineering. When you are in the mountains you are alone. There is no competing team, there is no referee. It's all up to you, and your partners, if you have them."
Aside from his time on the Eiger, which Steck beat in 2015, Arnold still holds the speed records on the other five North Faces. But these records aren't particularly important to him. He loves being a mountain guide more than he does being a professional alpinist, which naturally entails chasing publicity and records. This is the reason he hasn't returned to the Eiger to reclaim the speed record on all six faces, and he doesn't ever plan to.
"Lots of people tell me I should go back to the Eiger for this last record, and I just say no," he said. "If you start competing, this challenge between alpinists… well, this sport is not a 100-meter sprint. It can be dangerous. If you start this duel, it's where the sport becomes dangerous. There are so many examples [of this happening to] people like me. This is something that is always in my head. It's important to go for what you're motivated by, but you have to know when to stop." 
He paused, then repeated, "You always have to know when to stop."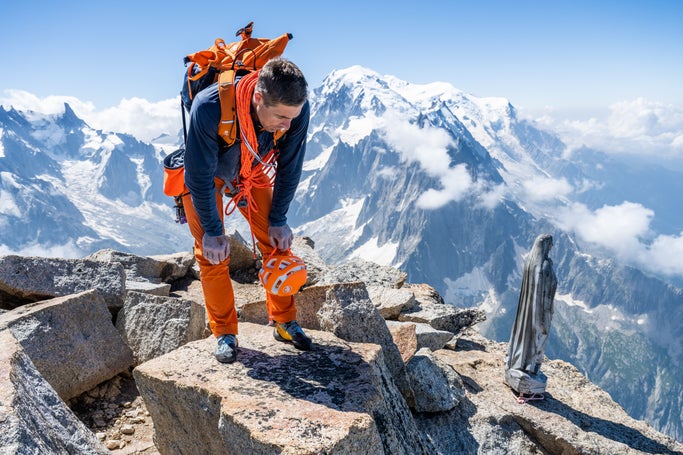 You can read more about Arnold's upcoming projects and his journey to climb the Six North Faces on his website.
This article is free. Sign up with a Climbing membership, now just $2 a month for a limited time, and you get unlimited access to thousands of stories and articles by world-class authors on climbing.com plus a print subscription to Climbing and our annual coffee-table edition of Ascent.  Please join the Climbing team today.
---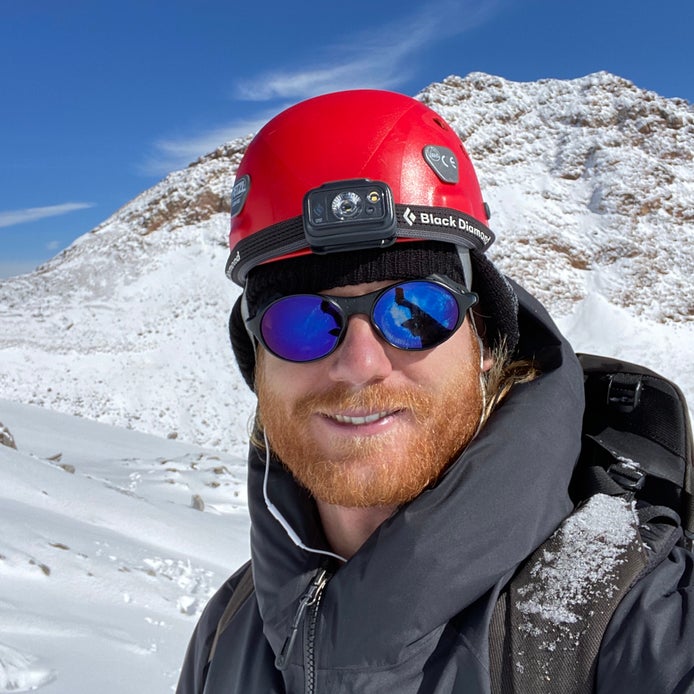 Owen Clarke is a freelance writer living on the road. In addition to spending time in the mountains, he enjoys motorcycles, heavy metal, video games, and key lime pie.