45 Days at Sea, 45 Days on the Rock, and Eight New Routes in Remote Greenland
Nicolas Favresse, Sean Villanueva O'Driscoll, Aleksej Jaruta, and Jean-Louis Wertz explored a series of remote coastal spires, finding new terrain up to 5.13b.
Photo: Courtesy of Jean-Louis Wertz
Heading out the door? Read this article on the new Outside+ app available now on iOS devices for members! Download the app.
Belgians Nicolas Favresse, Sean Villanueva O'Driscoll, and Jean-Louis Wertz, along with Swede Aleksej Jaruta, have put up a slew of new routes on the coast of Greenland, including the probable first ascent of Siren Tower via The Wall of Plank (7b+/5.12c, 2,300 feet), which was climbed in 16 pitches over five days, big wall-style. The route holds an alternative 8a (5.13b) variation, Jaruta, freed by its namesake. 
The team left the northern coast of France in early July, arriving in Greenland after a stormy two-week stint on the 79-foot Kamak. Once their captain could take them no further, they used inflatable kayaks to travel along the coast and into the fjords.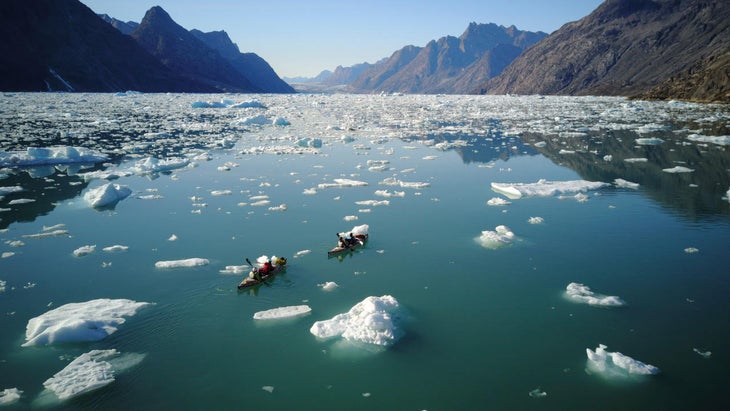 "[The] east coast of Greenland has been attracting me for quite a while, due to the adventure and potential for big walls," Favresse told Climbing by phone. "On top of that, traveling by plane and planning ahead was quite difficult due to COVID, because regulations were changing all the time. It seemed like a nice time to go slow. We just had to put everything in the boat and sail."
The team established their routes in the Kangertitivatsiaq Fjord, 75 miles northeast of Tasiilaq on the southeastern coast. After climbing four routes in the Mythics Cirque, including The Wall of Plank, they used their kayaks to venture deeper into the fjord and established four more routes on unclimbed spires. 
"Each climb was wildly different, the quality of the rock changed," Favresse said. There was one particular climb [Daddy's Sweet Tooth] that was "really on the edge of what you would wish to challenge yourself with," he noted, calling it the scariest experience of the trip. 
"There was a pitch of crazy thin two-meter granite stalactites, you touch them and they feel like they could break anytime. You're climbing on flakes and everything is a bit shattered," he said laughing. "It's terrifying…. The rope is running all around these loose flakes, it just feels like everything can collapse." 
"It's nice when you succeed," he said, "but man, if anything bad had happened then, it would've been really, really bad." The only mishap, fortunately, was non-lethal: Villanueva fell while laybacking a chimney pitch on his final route, The Chastity Belt of Sean, spraining his ankle and tearing three ligaments.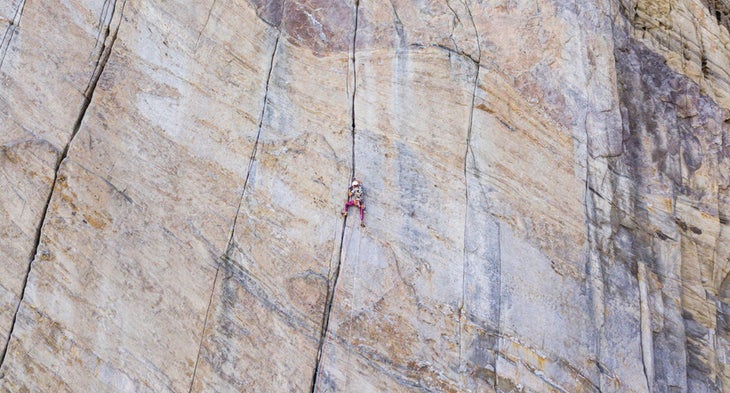 The group climbed every route, save for The Wall of Plank on Siren Tower, in ground-up, continuous pushes. While scoping The Wall of Plank from the ground, the 2,300-foot face appeared improbably steep and scarcely featured. Favresse said it looked hard enough to necessitate a capsule-style approach (sleeping on the wall), in order to redpoint the route, but was surprised to find the climbing mainly in the 5.10 and 5.11 range. "It's granite, but it was almost like sandstone, with the flaring cracks, but you could always get your fingers deep inside, it never bottomed out," he said. "Perfect splitter cracks, perfect hand jams." In hindsight, he admitted that he wished they'd attempted it alpine style, like the other seven routes they put up, regretting that they'd been "fooled by the apparent difficulty." 
The team brought bolts and pitons on The Wall of Plank, though they did not use them, and did not carry any hardware on the other climbs. "We were trying to climb light, and it just didn't seem necessary," he said. "We've been used to climbing this clean way, and it's quite rare that we need to place pitons or bolts."

"Of course, maybe it's because we try things that are too easy!" he added, chuckling.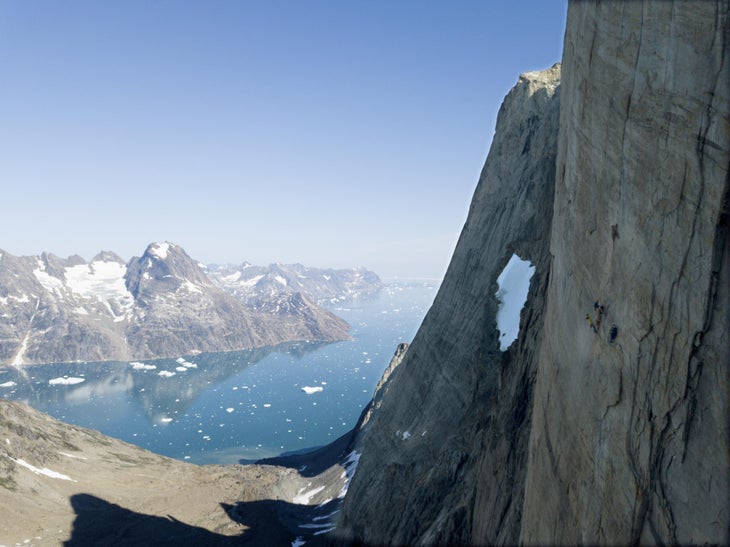 In addition to food, clothing, and climbing gear, the quartet carried a plethora of musical instruments with them, including seven flutes, two guitars, two harmonicas, a bagpipe, and a mandoline. Favresse said music helps him maintain morale on long expeditions like this, especially during the long days spent on the boat (the return trip involved a month of sea travel, between various stops for other passengers and avoiding storms). 
"Music is crucial to keep a good head and positive attitude," he said, "and also to connect with my climbing partners. When we start playing [music] together, we build positive energy. When you have so much time on your hands, you're much more open to explorative music, exploring your art." Some days, of course, he and his partners barely speak. "We just spend time alone. This is the thing I miss the most, after being around others for so long, to be alone. Other days we are always talking."

In his opinion, maintaining positive morale and camaraderie among climbing teams isn't just about being good friends, but being on the same page about your motivations behind the expedition. "Why you are there is most important. You must have the same mindset," he said.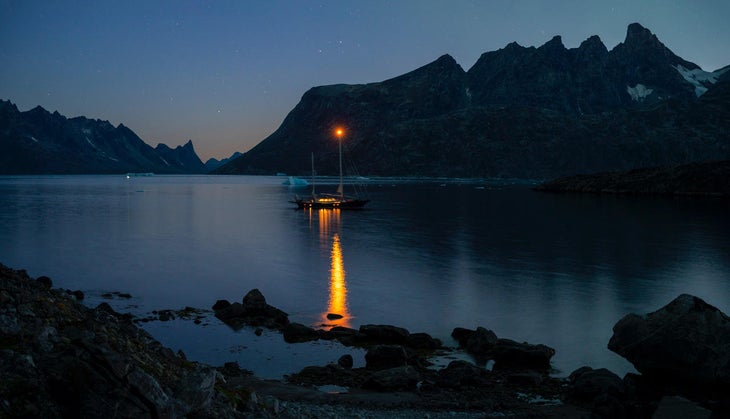 On that note, Favresse said the process of sailing itself contributed to his creative mindset while opening new routes. "When it takes so long to get somewhere, when sailing, you have much more motivation to climb. Your eyes are looking at things with more optimism. You appreciate the view, the location. It's not like you just bought a plane ticket and arrived. You're much more grateful."
Favresse mentioned a previous experience climbing Mount Asgard (6,611 feet) in Baffin Island in 2008, when a snowmobile wasn't able to carry his team's gear to the wall as planned. This forced him and his teammates to carry all their gear by hand, in three trips back and forth to the base of the wall, a trek totaling roughly 375 miles over three weeks. 
"While we were coming down, Leo Houlding and his team just parachuted from a plane right to the base of the wall. Two days before, these guys had been in England," he laughed. "In that situation, you really realize that [a long approach] forms a different mindset. One of [Houlding's] teammates was like, 'Oh, I don't know if I should be here. I like it, but I've done many expeditions, I'm not sure if I want to be here.'
"This type of mindset can't happen when you've walked [375 miles] to get to Asgard as we did then, or when you've crossed the Atlantic on a boat. You aren't debating in your head whether you should be there or not. You're just excited."
In the future, Favresse said that he wants to do fewer expeditions with planes and prioritize slower, immersive approaches like this trip. "I've done big wall expeditions for many years, and what contrasts one expedition to another is not the climbing, it's everything around it. It's much more interesting to find different ways to reach a climb. I want to avoid planes as much as possible. I'd like to find ecologically friendly ways to reach objectives."
"Of course, it takes more time, but if there is one person that has the time to do that, it's me. So why not?"
Trip Report
The Wall of Plank (7b+/5.12c)
16 pitches, 2,300 feet, climbed in five days 

Siren Tower

Nicolas Favresse, Sean Villanueva O'Driscoll, Jean-Louis Wertz, and Aleksej Jaruta
The Olympic Speed Climbing Record (7a+/5.12a)
11 pitches, 1,800 feet, climbed in eight hours

Aurora Peak

Sean Villanueva O'Driscoll and Jean-Louis Wertz
The Russian/Belgian Route (7b/5.12b)
10 pitches, 1,800 feet, climbed in nine hours

Aurora Peak

Aleksej Jaruta and Nicolas Favresse
Daddy's Sweet Tooth (7b/5.12b)
17 pitches, 2,600 feet, finishing on

Built Fjord Tough

(Libecki-Pringle) for the last seven pitches, climbed in 18 hours

Ataatap Tower

Aleksej Jaruta, Sean Villanueva O'Driscoll, and Nicolas Favresse.
The Borsch Soup Route (6b/5.10c)
12 pitches, 1,970 feet, climbed in 12 hours

Proposed Tower Name: The Borsch Soup Tower

Nicolas Favresse, Aleksej Jaruta, and Jean-Louis Wertz. 
The Chastity Belt of Sean (6c/5.11a)
5 pitches, 820 feet, climbed in five hours

Proposed Tower Name: The Chastity Tower

Aleksej Jaruta, Nicolas Favresse, and Sean Villanueva O'Driscoll
Le Sentier Des Myopes (7a+/5.12a)
14 pitches, 2,130 feet, climbed in 13 hours

Proposed Tower Name: The Myope Tower

Nicolas Favresse and Jean-Louis Wertz
The Maculi's Ritual (7b/5.12b)
12 pitches, 1,970 feet, climbed in 11 hours 

Proposed Tower Name: Maculi's Tower

Aleksej Jaruta and Nicolas Favresse
---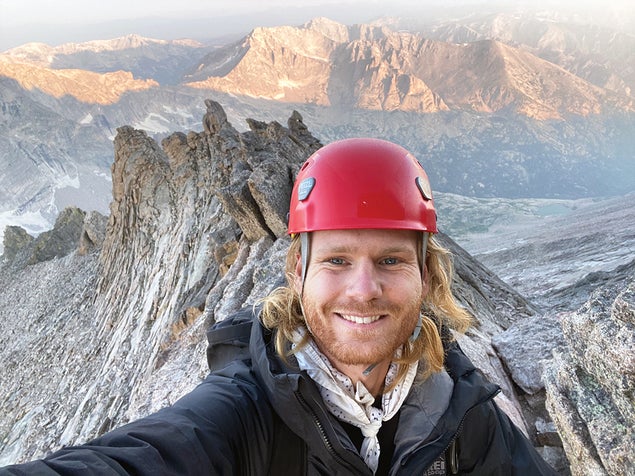 Owen Clarke is a freelance writer living on the road. In addition to spending time in the mountains, he enjoys motorcycles, heavy metal, video games, and key lime pie. 
This article is free. Sign up with a Climbing membership, now just $2 a month for a limited time, and you get unlimited access to thousands of stories and articles by world-class authors on climbing.com plus a print subscription to Climbing and our annual coffee-table edition of Ascent. Please join the Climbing team today.