Over 80,000 Feet of Climbing in California is Enchained for the First Time
Vitaliy Musiyenko connected two Grade VI ridges in the Sierra Nevada to create the 32-mile Goliath.
Heading out the door? Read this article on the new Outside+ app available now on iOS devices for members! Download the app.

From August 2nd to August 9th, dauntless American climber Vitaliy Musiyenko completed a monstrous unsupported alpine traverse, which he believes to be the longest technical ridge traverse in the Western Hemisphere. 
"What I've done is a solo, alpine style (no caches along the way) link-up of a huge section of the Sierra Crest, which includes a first ascent of the Full Monty Palisade traverse (VI 5.9) and the Full Evolution Crest traverse (VI 5.9)," the 34-year-old Musiyenko shared with Climbing via email. "It seemed logical to link up two of the most jagged sub-ranges of the High Sierra because they are connected on the Sierra Crest and are only separated by a pass."
Musiyenko christened the monstrous traverse Goliath. The route entails summits of over 60 peaks between 13,000 to 14,000+ feet in elevation and is 32 miles long. When Climbing later spoke with Musiyenko by phone, he added that he was unsure how much elevation Goliath gains in total, but that he was climbing at least 10,000 feet daily (over 80,000 feet in total).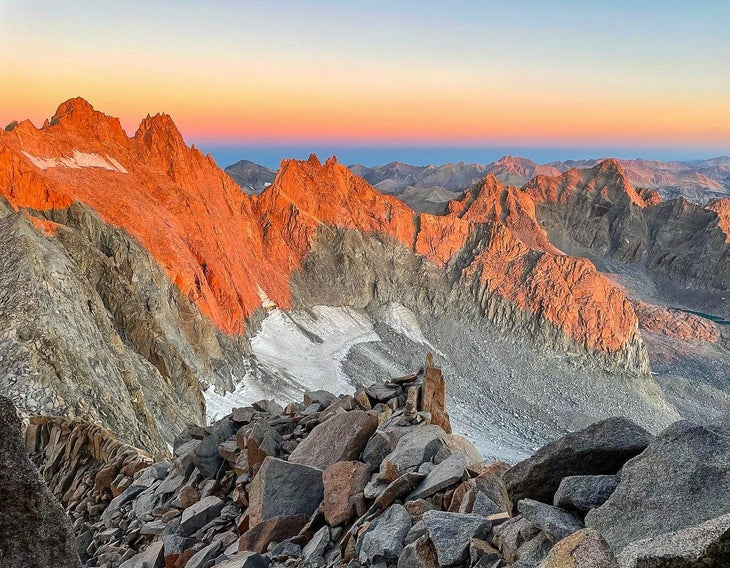 The Full Evolution Crest (one half of Goliath) was formerly the longest traverse in the Sierra Nevada, a stretch from Bishop Pass to Piute Pass completed by Scott McCook and Kyle Sox in 2008, recorded at sixteen miles. The Full Monty, which tracks from Taboose to Bishop, is around the same length and is an extension of the legendary Full Palisade Traverse. 
The Full Evolution Crest itself has been sent under half a dozen times to date. (Note: Evolution Crest does not refer to Peter Croft's 1999 traverse of the peaks around Evolution Basin, which is known as the Evolution Traverse [VI 5.9] but only shares a handful of terrain with the Evo Crest). 
Musiyenko soloed the Full Evolution Crest north to south in 2016, in what he describes as his initial attempt to complete Goliath. "I had a bad feeling or strong sense that if I kept going I would die," Musiyenko said of the 2016 attempt, which he aborted at Bishop Pass, the end of the Evolution Crest. "It wasn't a hallucination, but it was almost like a strong voice in my head," he said.
At the time he was carrying the ashes of a friend, Edward Lau, who had passed away. Upon hiking out, he also found that one of his friends, Julia MacKenzie, had died in an unroped fall on one of the peaks shared by the Evolution Crest and Traverse, only a day prior (MacKenzie was attempting the Evolution Traverse). "Maybe the weight of the whole thing, or being tired, or being a quitter at heart, or good judgment, or a combination of these made me not continue past Bishop Pass," he said.
Many hear "Palisade Traverse" and think merely of the 1-mile segment of peaks ringing Palisade Glacier, stretching between Thunderbolt Peak (14,003 feett) and Mt. Sill (14,153 feet). However, the true Full Palisade Traverse (without the Full Monty extension), is an eight-mile stretch between Southfork Pass and Bishop Pass that summits six fourteeners and numerous thirteeners. According to Musiyenko, even this small segment of Goliath has only been completed a dozen or so times to date. 
The Full Monty adds another eight miles to the Palisade Traverse and entails 16 miles of terrain all on its own. Conrad Anker and Peter Croft attempted the first ascent of the behemoth traverse a decade ago but reportedly did not finish. According to their photographer, who contacted Musiyenko when he heard about his attempt, the duo bailed halfway across, prior to the crux sections. 
As a result, with his grand slam linkup, Musiyenko has also bagged a first ascent of the Full Monty.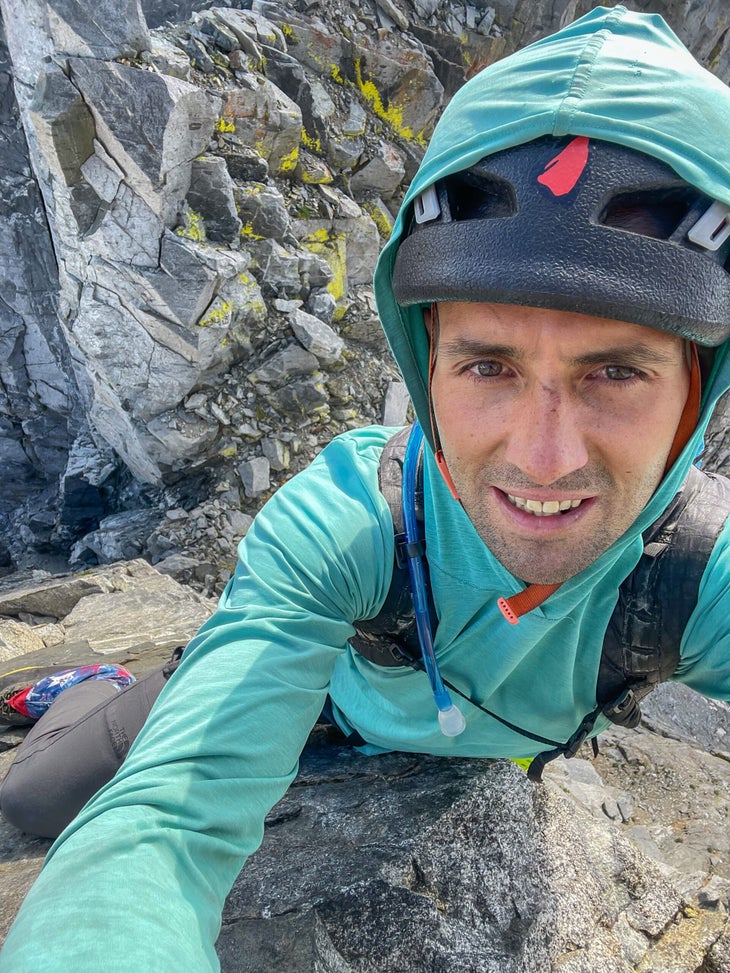 Musiyenko sees Goliath as an entirely different animal in comparison to other long alpine traverses, even taking into account world-renowned Patagonian lines like the Fitz Roy Traverse. "I feel like comparing [Goliath] to the Fitz Traverse or Torre Traverse is like comparing an ultramarathon on 5th class with occasional shit rock [to] a lap up El Cap," he said. "Maybe not the best analogy, but it is apples and oranges. [The] Fitz Traverse is MUCH shorter and much more sustained in technical difficulties and better rock. I haven't done the Fitz Traverse, obviously, but I have summited every peak on it at least once. The weather is the crux, and if not for the fucked up weather, it would be climbed every other year, I believe."
In comparison, "the ridgeline I linked offers different challenges," he said. "It is more of an endurance/mountaineering challenge mixed with technical/ultralight camping kit/logistical challenge [as opposed to] a sick link up with a ton of splitters."  
Musiyenko received a Cutting Edge Grant from the American Alpine Club for a climb on Nuptse (7,861 meters/25,791 feet) in 2020 with Connor Chilcott, but COVID-19 axed his trip. As a result, he spent the year at home in Visalia, working in the emergency room (he is a nurse by day). "Because the BLM movement felt more proactive than before, I didn't want to be all talk no action, so I actually picked up and then renewed a travel assignment in the biggest trauma center in a poor part of Oakland (Highland Hospital). I felt that posting a black square on Instagram wasn't quite the same as getting out of my comfort zone and helping in a place short on staff who want to work there because of all the socio-economic and safety factors."
All told, Musiyenko said he felt his 2020 was a "reality check" of sorts. "[I] lost a few co-workers to COVID and seeing so much death and suffering on TV, combined with "Invincible" by TOOL [this] sent me towards a mini midlife crisis, in which unfortunately I didn't buy a fast car, but realized I [had] all these dream climbs that I haven't put in enough effort to make a reality."
"I received a grant to try a hardcore alpine route, but haven't climbed a world-class alpine route at very high altitude," he continued. "I have a single portaledge, yet I haven't soloed a wall. I'd attempted what I thought would be the longest technical traverse at a fairly high altitude in 2016 [Goliath], yet I didn't try to go back and finish what I started. I started to realize that I hadn't taken myself far out of my comfort zone, so I constructed a plan for 2021."
His ambitions for 2021 went above and beyond, and they were fulfilled tenfold, even sans-Goliath. Musiyenko managed to onsight The Nutcracker (WI5+ M8) in Bozeman's Hyalite Canyon, soloed El Cap's Shortest Straw (VI A4 5.7 1800'), and grabbed the second free ascent of the Denali Diamond (AK Grade VI, 5.9 M7 WI5+, 7,800') in Alaska with Nick Mestre. All of this, Musiyenko said, served as preparation for Goliath.
His training regime for Goliath involved 8.5-mile runs around the hospital where he works, at least two-to-three days per week, in addition to a number of high altitude cardio-intensive scrambles and runs, including the Tuolumne Triple, the Minaret Traverse, and the Saber Ridge Traverse.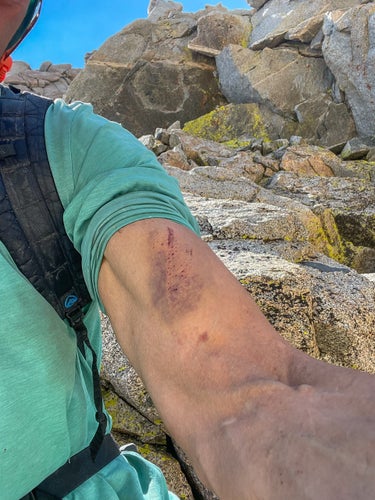 "This ridge was my obsession for [the] last year, as in I couldn't stop thinking about it," he said. "On the climb itself, I sprained my ankle pretty bad, my knee swelled up after overuse, and I fell badly a couple of times going over steep talus when boulders moved, and in one of those I badly bruised/scraped my bicep."


Besides experiencing rough gusts of wind on Day 4, Musiyenko reported no issues with weather, nor did he find any individual portion of the route as significantly more difficult than any other. "Every day was a new challenge," Musiyenko said. Sections he expected to be gnarly, like the segment between Middle Palisade and Norman Clyde, were often slightly easier than anticipated, while other random segments appeared dramatically more difficult. 
"Because I was so anxious before each day, I slept for maybe one hour a night, even though I usually finished every day early enough that I was able to lay down or start resting by 6 to 7 pm. On the last day, after the final technical section, I got to the top of this unnamed peak above Piute Pass and cried for probably more than ten minutes. Because I was happy to be alive, liberated from this obsession, and also happy with not quitting."
"My girlfriend helped me shuttle my car to the [trailhead] before I started," Musiyenko added. "By the time I was halfway through, I think I missed her and our cats more than I've ever had." 
His next stop is Nepal this fall, where he hopes to complete his planned 2020 FAs with Chilcott. He is also currently working on releasing a comprehensive guidebook to the High Sierra, co-authored with Roger Putnam.
"You're not gonna be young your whole life," Musiyenko said at the close of our call, explaining his motivations. "If you're fit and mentally prepared… You've gotta go for it."
Vitaliy Musiyenko's Goliath itinerary is below:
Day 1 (8/2/21)
Start from Taboose Pass Trailhead, hike to Taboose early AM. Climb Cardinal Mountain, Split South, and Split North. Sleep on top of Split Mountain.  
Day 2 (8/3/21)
Climb Prater, Bolton Brown, an unnamed 13er, and Thumb. Sleep at South Fork Pass by an unnamed lake. 
Day 3 (8/4/21)
Climb Balcony, Disappointment, Excitement, Middle Palisade, Dent du Dent, Bivouac, Norman Clyde, and Williams. Bivy between Williams and Palisade Crest.
Day 4 (8/5/21)
12 pinnacles of Palisade Crest, Jepsen. Bivy on top of Mount Sill. 
Day 5 (8/6/21)
Traverse to Polemonium, North Palisade, Starlight, Thunderbolt, an unnamed 13er, another unnamed 13er, Winchell, and Agassiz. Sleep at Bishop Pass. 
Day 6 (8/7/21) (Evolution Crest) 
Climb Goode, Trapezoid, Johnson, Gilbert, Thompson, Point Powell, Point Wesley, Mount Powell, and an unnamed 13er. Camp immediately after the unnamed 13er by a snow patch that had flowing water. 
Day 7 (8/8/21)
Climb Clyde Spire, Crumbly Spire, Wallace, Haekel, an unnamed 13er, and Mount Darwin. Camped on the North Ridge of Mount Darwin by the snow slope on the north face which had water.
Day 8 (8/9/21)
An unnamed 13er, Mount Tom Ross, Lamarck, Lamarck North, Keyhole Plateau, an unnamed 13er, and an unnamed 12er. Hike out to the car by 17:10.
This article is free. Sign up with a Climbing membership, now just $2 a month for a limited time, and you get unlimited access to thousands of stories and articles by world-class authors on climbing.com plus a print subscription to Climbing and our annual coffee-table edition of Ascent.  Please join the Climbing team today.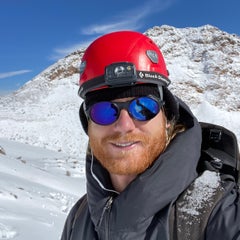 ---
Owen Clarke is a freelance writer living on the road. In addition to spending time in the mountains, he enjoys motorcycles, heavy metal, video games, and key lime pie.