Bigs Sends (and Send Advice) From Jonathan Siegrist
Climbing caught up with Jonathan Siegrist to talk about his sends, his training tips, and the importance of downgrading.
Heading out the door? Read this article on the new Outside+ app available now on iOS devices for members! Download the app.
Jonathan Siegrist is one of America's most prolific sport climbers, having ticked more than 400 routes 5.14 or harder, including 16 5.15a's and three 5.15b's. Last week he had a rare double first ascent day—clipping the anchors on a new 5.15a and 5.14b in Southern Nevada. 
Located in the La Madre Range, near Las Vegas, and bolted in 1990s by parties unknown, Close Encounters (5.15a) is a complex and physical route, Siegrist told Climbing. At sixty feet (10 draws) it's not particularly long, yet it's sustained and requires a lot of creative beta, including a brutal drop knee ("one of those ones where you put your foot above your head and turn your body into it") and several kneebars.
"I'm normally pretty kneebar adverse," Siegrist says, who donned kneepads for the route. "I kind of hate using them. But with this route, there were two kneebars that were just mandatory for me. Like there was no way I could have climbed it without them."
After sending Close Encounters, Siegrist ("feeling oddly fresh") set his sights on another undone project—this one in an entirely different style—and was able to establish another new testpiece, Forbidden Planet, 5.14b. (His partner that day, Dru Mack, got his crimp on and made a prompt second ascent the same day.)
2021 was a good year for Siegrist. He made the second ascent of James Litz's Peruvian Necktie (upgrading the climb to 5.15b), sent two more 5.15a's in the U.S., then flew to Italy, where he made the fourth ascent of Stefano Ghisolfi's Lapsus, which held the historic title as Italy's first 5.15b until Stefano himself downgraded it this year. (Check out the interview below for details). 
Siegrist is a thoughtful, soft-spoken guy. We talked for nearly an hour by phone on Wednesday, and our conversation ranged widely, touching on his new routes, the recent spate of downgrades of Europe's hardest sport climbs, his thoughts on grading more generally, and why his training diary has become one of his mightiest training resources.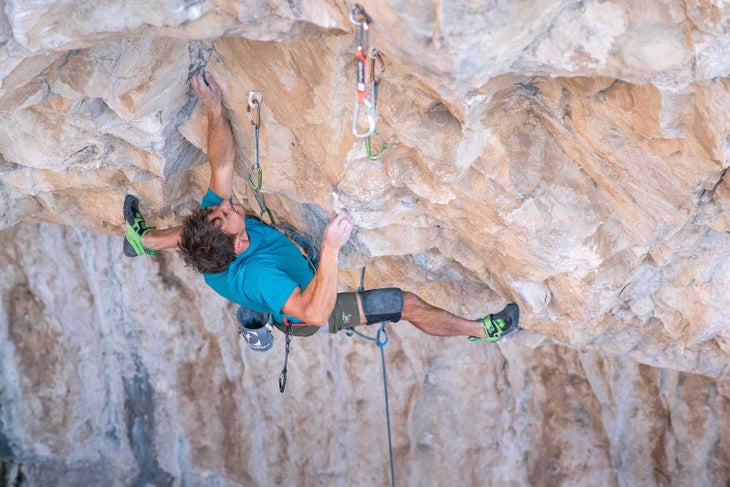 Climbing: Congrats on your double FA day. That's pretty sweet.
Siegrist: Thanks. Yeah, it was special. I wasn't at all expecting to do Close Encounters that day. But the Forbidden Planet I had tried a couple of times, so I was kind of ready. Sometimes, after doing a hard route, you're just totally blown, but sometimes I feel oddly fresh afterwards. I always find that working routes is so much harder than sending them. You spend days beating your head against the wall, trying to get sections dialed, doing sections over and over and over again. But the act of actually having it all go well often requires way less energy.
Climbing: You described the route as like a steep Living in Fear [a classic and hyper-sustained 5.13d in Rifle, Colorado]. What does that look like? Bad holds?
Siegrist: It's like Rifle in that you're often just groping features on the wall. The holds aren't sculpted like they would be on sandstone or featured limestone. You're just like grabbing features. It ends up requiring a lot more body tension than you'd like. There's nothing for you to really like wrap your fingers around so it takes your whole body to stay on the wall. You're climbing with your biceps and hips and back. There's really no spot on—until after the crux—where you feel like you can hang on your arms.
Climbing: What was your process like on the climb?
Siegrist: It's really complicated climbing, so it took me four or five climbing days just to feel like I had the sequence that I wanted. And then it was another six or seven days of going hard and slowly making progress. To be honest, on the day I did it, I wasn't feeling ready to do it. I had had some really good tries, and I had one hung it a handful of times, but the nature of the route is such that a one-hang doesn't necessarily mean all that much. But sometimes you just get lucky. Other times you have to work a little bit harder.
Climbing: And then you went and did the first ascent of Forbidden Planet. What's that one like?
Siegrist: It's rad because it's at the same crag, but it's such a different style. It's similar to Close Encounters in that there are no good rests, but instead of being burly it's crimpy and not terribly overhanging. You climb up this really pleasant 5.11, then basically blast into this kind of traversing crux. It's probably only 40 or 50 feet of like actual hard climbing, but there's nowhere to stop. It's just this crimpy nightmare, which to be honest is way more my style than Close Encounters. I felt more at home.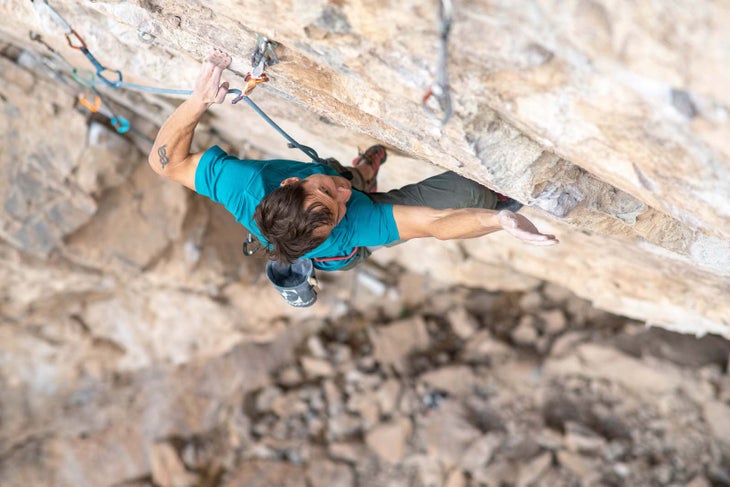 Climbing: Let's talk about your Europe trip last fall—you sent Goldrake (5.14d or 5.15a) and Lapsus (5.15a or 5.15b), both of which have been subject to some grade changes lately.
Siegrist: So Lapsus was the main reason that I went to Italy, aside from my interest in visiting new places. I have probably spent years in Spain and France altogether, but I'd spent almost no time in Italy. So my girlfriend and I went in the beginning of 2020, but we were turned around by COVID. We literally flew there right as Italy was blowing up with COVID, and we had planned to be there for a while, but we ended up coming home in about a week. In that time I was starting to have some good tries on Lapsus, and I was pretty excited about it, so this year we went back in the fall. And it was very fun. I really like Northern Italy in general. The people are super nice. The scene there is just great.
In the year and a half that I was away from the route, an excellent Italian named Marcello Bombardi repeated Lapsus. But he found a knee bar rest just before the crux, which is at the very end of the route, and he thought the route was more suited to 9a+ with the kneebar. But I don't like climbing with pads on my legs, and I also wanted to respect the way that Stefano originally did the route—and respect the effort that I had already put into it—by continuing to try it without pads. So I did the route without kneepads, which I found to be quite hard.
Climbing: You originally took 9b [5.15b] for Lapsus but later agreed with Adam and Stefano and adjusted it to 9a+ [5.15a]—and you originally took 9a+ for Goldrake but adjusted it 9a [5.14d]. Can you talk about that?
Siegrist: I think we've all had the experience being conflicted about grades. Sometimes things feel hard in the moment, and you just go with what previous ascentionists have said about it. I think that there's this idea out there that you should always give your opinion—and sometimes, as a professional climber, I have the energy for that; I feel able to suggest a grade. But to be honest, sometimes I don't have that energy; sometimes I'd rather not potentially upset someone else, and sometimes I quite simply don't know what the grade is. And in those cases, it's easier to accept what others have proposed.
But Stefano and Adam, they retrospectively thought—and I think they were influenced by the new kneebar beta on Lapsus, and by Stefano's downgrade of Bibliographie, and by Jakob Schubert's absolutely mind-blowing trip to Siurana (probably the best climbing trip ever) in which he did and downgraded basically everything in the La Capella sector*—they retrospectively thought that the grade on Lapsus should come down. And I definitely agree. The kneebar changes Lapsus. But without the kneebar, doing it the way that Stefano and Adam originally did it, the way I did it—it's a hard sell for me at 9a+. Though if it's 9b, I do think it's like on the easier side. But I changed the grade I took for that route because I think those guys know a bit more than I do about those grades, and I wanted to honor the suggestions that they made. I really respect them as climbers, and I think a part of me wants them to respect me, so I thought I'd try to support the motivation that they have for correcting grades where they feel they need to be corrected.
*Editor's note: During Jakob Schubert's nine day trip to Siurana he sent King Capella, which he downgraded from 5.15c to 5.15b;  La Capella, which he did fifth try and downgraded from 5.15b to 5.15a; La Furia de Jabali, which he did third try and downgraded from 5.15b to 5.15a; Jungle Speed (5.14c/d), which he flashed; and Last Night (5.14c/d). It was without a doubt one of the most impressive two-week periods of sport climbing ever done.
Climbing: I think it's always interesting and cool to see the conversation happening, especially at the upper level of the sport, because I think it really does trickle down into the kind of grades that I'm climbing. People try to be honest because we see pro climbers being honest.
Siegrist: I think that that's what I respect a lot. Stefano went through his scorecard and downgraded [a number of the hardest] routes in Italy. I think that he basically felt like he should take a critical look at his accomplishments. But he essentially lost in that, you know? He could just as easily have kept the same grades. He did most of these climbs years ago; no one was really going to know the difference. But it's cool to be critical, to have an open conversation with both yourself and others. And there's nothing wrong with disagreeing. At the end of the day, it's perfectly okay for people to have different opinions about the same thing. We're all different climbers. The dialogue is great.
I personally found Lapsus to be quite hard. I did find Goldrake to be quite easy for 9a+, so it was an easier decision for me to lower the grade on that one. But if you go by consensus, Goldrake is the most repeated 9a+ in Italy. And even with my grade coming down to 9a, I still think we're far outnumbered by people who think it's 9a+. So it's hard to know. All this stuff is so plastic. Nothing is set in stone (no pun intended) and things are always moving; people's strengths are always changing. 
Climbing: Also, grades aren't linear, right? If you're right up against your limit, the edge of what's possible for you, tiny changes in difficulty might feel exponentially harder, whereas that exact same change might hardly be noticeable for someone who's not at their limit on that climb?
Siegrist: I definitely agree. I have the most trouble grading my first ascents when they're a few levels below my limit. For instance I've done a number 8c+ and 9a routes in two or three tries, but I've also had 9a's that took me weeks, just because, for whatever reason, the route didn't suit me at that time.
[Grade inflation] can change and almost de-value the work that professional climbers, including myself, do—so it's important to have the conversation. But I also think we should try not to take things too seriously. We're going to do routes that feel incredibly hard for the grade and we're going to do routes that feel incredibly easy, but at the end of the day, if you just want to climb and challenge yourself, it all comes out in the wash. 
Climbing: Let's talk about training. You have a lot of natural talent, but you've also put in the work over the last decade to really take it to a world-class level. What does your training look like?
Siegrist: I'm incredibly grateful for the position that I'm in. When most people start their journey with training, they have very little to go on. At this point I have about eight years of systematic training experience, and I've had awesome people in my corner—trainers like Steve Bechtel and the Anderson brothers, PTs like Jared Vagy, an awesome massage therapist named Pat Teves—and they all critique my strengths, my weaknesses, my imbalances, and show me places where I can improve.
But in the last year or two I've tried to simplify my training. In the past I did a lot more hangboarding and weightlifting. Now I think I do quite a bit more rock climbing as training, which has worked well for me. I think it's easier on my body.
Climbing: What does that simplified training look like?
Siegrist: I have a spray wall, just a little simple board in my garage, and I use that a lot. I love the MoonBoard and the Tension Board, but I like the freedom to move holds and set problems on my own wall. Let's say I plan on trying a pocket project in the future, I might research the type of pocket moves (are they long pulls or shorter moves on bad pockets?) and then try to mimic those types of movement on my own wall. I've been obsessed, honestly, with using my home wall as a resource for training.
Climbing: Do you keep a training diary?
Siegrist: I do, yeah. I take really detailed notes about my training, and this has been a source of a ton of confidence for me. I can look at the preparation I did in 2015, before I did Papichulo and Power Inverter, two 5.15a's in Spain, and I can see what I was doing in terms of hang, weights, and timing that led to success on that trip. This is exactly what I meant when I said I feel so grateful for these eight years of trial and error—I have these resources.
Read this: "Why Climbers Should Journal"
But I can't say enough about that concept of trial and error. I try something out and give it enough time for it to potentially work. If it seems like it worked, then I continue with it. If it doesn't seem to work well for me, I try something else. And after eight years, I've tried a lot of things. I can look at a project in the future and I can try and tune my approach based on my past experiences.
The magic of climbing in my mind is that there are so many different paths to the same result. One climber could never imagine doing a one-arm pull-up, but the other one can do a one-arm on a 10mm edge. One person has incredible flexibility while the other can't touch their toes but has incredible mental fortitude. There are so many components that equate to sending hard. And that makes it pretty fun; you can have deficits in a lot of different areas and still do great things. It's not mandatory that everyone choose the exact same way to get better.
Climbing: That reminds me: I once knew a guy—I actually just wrote an article about him—who could do like 14 one arm pull-ups and dead hang one handed off a 10mm edge, but he bouldered V8. It was because he didn't practice climbing. He just trained.
Siegrist: A catchphrase I've used a lot with my friends over the last couple of years is that there's "too much training and not enough practice." I see it so often. There's an allure to doing all these rad circus tricks; it's cool, and it's fun, and it does make you feel heroic when you can do a one-arm or hang a small edge or do the crazy jump on the MoonBoard. But the reality, at least for me, is that my ultimate goal is not to do those tricks; my goal is to send. Football players don't just push around weights in the weight room; they actually practice like on the field, they run drills and they scrimmage. And I think it should be the same for climbers. I think we've forgotten that in order to be good at climbing, you have to climb.