The Continental Divide Ultimate Linkup (CDUL) Receives Its First Repeat
Heading out the door? Read this article on the new Outside+ app available now on iOS devices for members! Download the app.

Over 58 hours between August 28-30, Ben Wilbur and John Ebers made the first repeat of the monstrous Continental Divide Ultimate Linkup (CDUL) in Rocky Mountain National Park (RMNP), Colorado. The CDUL was Tommy Caldwell's post-lockdown brainchild in 2020, tackling 35 miles and some-20,000 feet of elevation over 17 named peaks. This endurance challenge climbs 11 classic routes, from 5.6 to 5.11, for a total of 65 pitches. 
"The mentality of ultra running is critical. You need to be able to go for a really long time without stopping," Caldwell told Climbing by phone. "But you also need to be climbing decently well. Routes like Birds of Fire… it's not easy. Mid 5.11, runout, a little bit scary. [And] to link all this stuff up you need to be able to simul climb."
When Caldwell and Honnold made the first traverse in July 2020 over 36.5 hours, they climbed each feature in "a pitch or two," said Caldwell, simul climbing the majority of the technical terrain and hiking—never running—the non-technical mountains. He said that endurance athletes are certainly candidates for a repeat, however they would have to jog between features to make up for the comparative slowness of pitched-out climbing.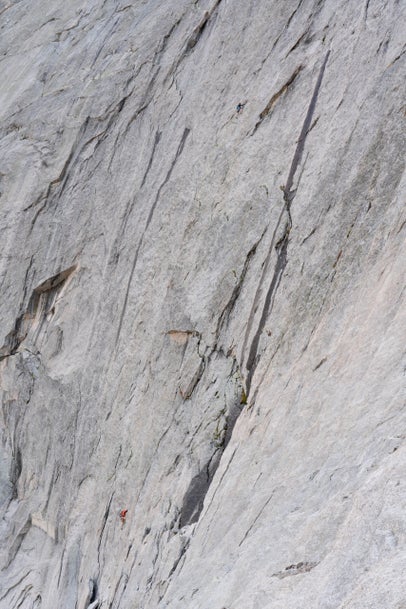 Ebers and Wilbur made their first attempt on the CDUL in late August 2020, but gave up after climbing Birds of Fire (IV 5.11a)—roughly halfway through the traverse—onsight. They borrowed a page from the FA's book and simul climbed on a single 6mm tagline—the Edelrid Rap Line's sheath breaks in the event of a fall, exposing a dynamic core to catch the climber—but were discouraged by lengthy run outs on old, rusted bolts. "We were absolutely gripped trying to simul this thing….18 hours into a big day already….the one rusty bolt between us," Ebers recounted. "We got done with that and just mentally crashed."
[Post publication, Climbing learned of the extensive rebolting effort on Birds of Fire in summer 2021 (prior to Ebers and Wilbur's successful repeat). Future parties can take comfort in knowing of the updated modern hardware. To learn more please visit here. – Ed.]
Ebers and Wilbur would have loved to give more reconnaissance time to the CDUL, but both are full time engineers and were unwilling to give up valuable daylight on their Longs Peak projects. Their commitment was rewarded last summer: Ebers redpointed The Dunn-Westbay Direct (IV 5.14-), the hardest line on the Diamond, and Wilbur sent The Honeymoon is Over (5.13c). They also snagged the speed record of the Naked Edge (5.11b; 460 feet) in Eldorado Canyon. 
Ebers and Wilbur went as light as possible on the CDUL. They brought six cams, five nuts, ten alpine draws, a bit of food and water with a planned restock partway, a light rain shell and insulation, and "ultralight speed thong harnesses," described Wilbur. They bought the 70-meter tagline specifically for this objective, and instantly chopped it to 45 meters, proving their commitment to this project. "We invested in this link up," joked Wilbur. "I bought like $60 worth of granola bars."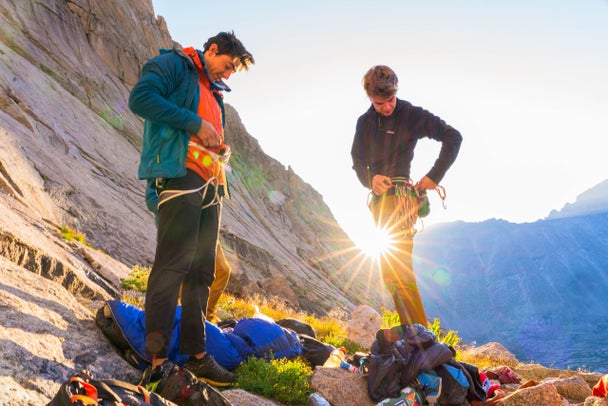 At 3:30 a.m. on August 28, the duo departed from the Longs Peak Ranger Station by headlamp. They made steady progress, climbing seven formations that first day, but by 10 p.m. Wilbur started to feel faint. They scrambled along Stone Man Pass, which, while not technical, has several points of extreme, fall-you-die exposure. "I got this full body rush," he said. "[I thought] 'Oh no, I can't pass out right now. This isn't the time, this isn't the place. Just stay conscious for a few more moves.'" Wilbur held fast and completed the exposed section, but felt the day's output catch up with him. They stopped to rest on Arrowhead (12,645 ft) for a planned resupply. Unfortunately, their one-person support crew hiked food and sleeping bags to the wrong side of the peak, leaving them shivering in near-freezing temperatures for six hours before he found them.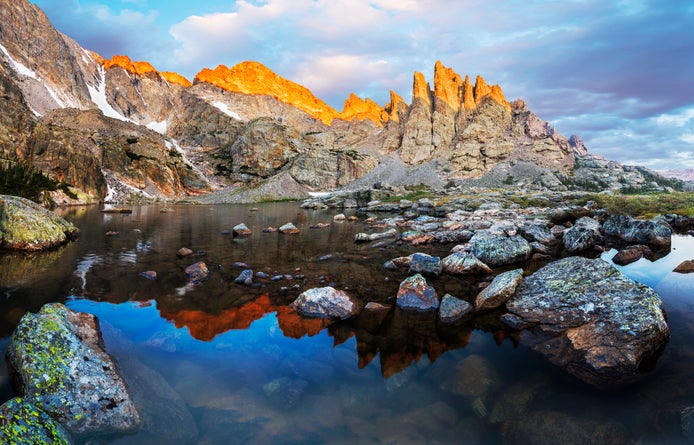 "I think the only reason I can do things [like the CDUL] is [because] I'm the only one stubborn enough to keep up with John," Wilbur said. Ebers, a Nebraskan with a background in cross country running, "has got that all day endurance where he never gets tired." But Wilbur is no slouch himself, and together they climbed several sustained link ups, like 48 pitches of 5.11 routes in Eldorado Canyon, that lasted upwards of 20 hours. The CDUL was much more of a slow burn, however, and turned into quite the mental battle as they entered their second, then third, day. 
"I'm impressed that they stuck with it for so long," Honnold told Climbing in an email. "Tommy and I did something like 36 hours and it felt long and kind of heinous by the end. Going longer must have been tough."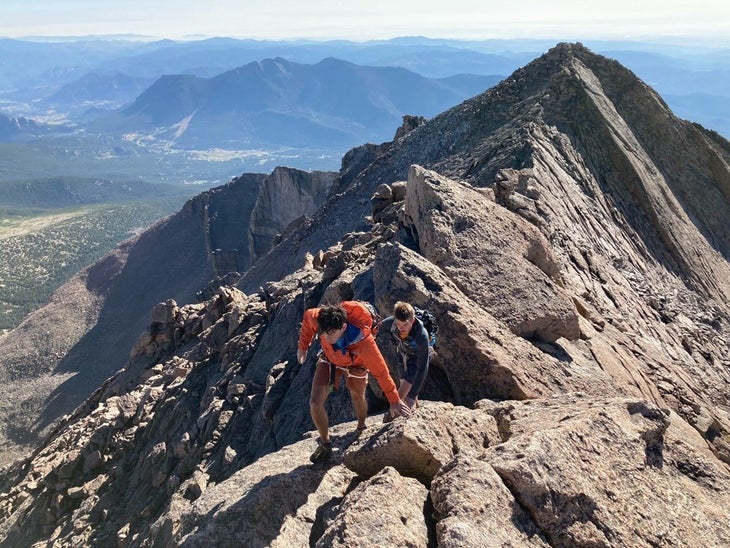 Wilbur felt better after the extended rest, but realized how easily they could call it quits. "You can [basically] bail after every single peak," Ebers said. "And those are so tempting." But the thought of trying the CDUL a third time was sobering, and they decided the only thing worse than bailing would be coming back for another attempt. 
They pushed on, albeit with more resupply luck, and after many more miles of hiking and climbing—and a five-hour nap following the Northeast Ridge (II 5.6) of Sharkstooth (12,630 ft)—they completed the linkup at 1:30 p.m. on August 30. "We both had to work the next day, which was rough," Ebers said.
Upon hearing news of the repeat, Caldwell was excited that the CDUL was not fading into obscurity. "You always wonder with those kinds of objectives if anybody will ever try them again just because they're kind of death marches in a way," he said. "[But] it is an awesome objective. It's all the best climbing in RMNP in a single push. I mean, why wouldn't you want to do that?"
This article is free. Sign up with a Climbing membership, now just $2 a month for a limited time, and you get unlimited access to thousands of stories and articles by world-class authors on climbing.com plus a print subscription to Climbing and our annual coffee-table edition of Ascent.  Please join the Climbing team today.