Latok I Climbed From the North, but North Ridge Remains Incomplete
The north side of Latok I has finally been climbed after some thirty attempts and a fatality last month—but not by the North Ridge as many news reports have claimed.
Heading out the door? Read this article on the new Outside+ app available now on iOS devices for members! Download the app.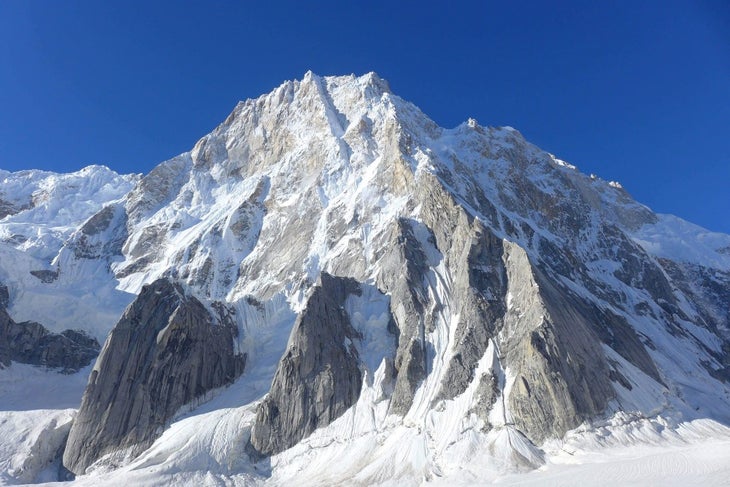 In a sub-range of Pakistan's Karakoram called Panmah Muztagh lies a cluster of mountains: Latok I (7,145m), Latok II (7,108m), Latok III (6,949m), and Latok IV (6,456m). Though Latok I was first climbed in 1979 via the East Ridge by two teams of Japanese climbers, the grand prize on that mountain—the 8,200-foot North Ridge—has rejected some 30 teams who've attempted it (40 in total if you count those that never made it past Basecamp) since 1978. That was until a few days ago when Aleš Česen (SLO), Luka Stražar (SLO), and Tom Livingstone (UK) completed the first ascent of the north side/north ridge of Latok I. Basecamp to Basecamp the trio spent seven days climbing two-thirds of the ridge before cutting right and heading up the north face to reach the summit.
On August 11, soon after Česen, Stražar, and Livingstone returned to basecamp on the edge of the Choktoi Glacier, news of their ascent was spread via a press release by Camp-Cassin coupled with Google Translate:
"For now we have no details: we can only tell you that the I (7,145m, Karakorum, Pakistan), after 40 years of attempts by the strongest mountaineers in the world, has finally come up from North! The company, definitely among the most extraordinary of recent years (and not only…), has succeeded in our Luka Stražar with Aleš Česen and Tom Livingstone to whom we make the greatest congratulations! The boys will be back in Slovenia in a week: stay with us for all updates!"
This translation led some news outlets to report that the full North Ridge had been climbed, but earlier this morning editor Anna Piunova at Mountain.ru told Climbing that she received a message from Česen that read:
"We took the [North Ridge] for 2/3 of the way, then turned right to reach col between Latok I and Latok II, and continued on … For us was logical (safe) line like this. It took us 7 full days round trip."
That would mean the team climbed roughly 5,460 feet of the full 8,200-foot North Ridge, before moving onto a different line. That's also about the height up the North Ridge where Sergey Glazunov died earlier this season due to a rappelling accident during the descent, and where his partner Alexander Gukov was later rescued via a helicopter, after he was trapped alone for close to a week.
Luka Lindič attempted the North Ridge peak in 2015 and posted on Instagram:
https://www.instagram.com/p/BmdZjtRjv1e/
"Big congrats to all of them for this climb and for keeping it together after all the drama this year. The exact line they climbed is not known yet so let's wait for them and let them tell where and how they climbed this amazing mountain."
To put the importance of the North Ridge in perspective, below is the intro for Michael Kennedy's essay "Latok I: A Climb Without A Summit" from Climbing's upcoming book Vantage Point: 50 Years of the Best Climbing Stories Ever Told, which chronicles the most important stories from each decade the magazine has been in publication.
A whisper from the summit. That's how close the dream team of Michael Kennedy, Jim Donini, George Lowe, and Jeff Lowe came to completing the first ascent of the North Ridge of the 7,145-meter (23,440-foot) Latok I in Pakistan's Karakoram Range. For twenty (or maybe twenty-one—Kennedy doesn't recall) days, they worked up the wall. With them they carried 450 pounds of gear, including eight ropes and seventeen days' worth of food. Along the way, they endured three storms, one low on the route, one high on the route, and a bad one during the descent, but "The climbing was magnificent … the finest and most direct line to the summit," Kennedy wrote. The quartet was thwarted a mere 400–500 feet from the summit when Jeff Lowe became terribly sick and the team had to descend. They were back on the ground twenty-six days after starting. In the forty years since at least twenty teams have attempted the line, though none have succeeded. After this historic climb, Kennedy didn't come home and write a long-form essay; instead, he collected his favorite shots from the climb and laid them out in a photo essay accompanied by a mere 339 words and let the images speak for themselves. This for what is regarded as "The Most Remarkable Failure in Climbing History!"
And here is the text from Kennedy's "Latok I: A Climb Without A Summit," which ran in our March–April 1979 issue:
In July 1978, a small American group—Jim Donini, George Lowe, Jeff Lowe, and myself—made an attempt on Latok I (23,440 feet) in the Karakoram Himalaya of Pakistan. The mountain had been attempted three times previously, all from the south, we chose the North Ridge as the finest and most direct line to the summit. It also appeared to be the safest route, perhaps the only one on the peak. After some delays and a long walk to Basecamp, we spent three days reconnoitering the route, packing loads, and resting. We planned to climb alpine-style, with none of the tedious buildup of fixed ropes, camps and supplies common to most Himalayan ventures. Nevertheless, we did stack the odds a little in our favor with 17 days of food, eight ropes (to allow some flexibility in campsite selection), full winter bivouac gear, and a large selection of hardware, 450 pounds in all. We stayed on the climb for a total of 26 days, failing to reach the summit by 400 or 500 feet. Half of this time was spent in storms, one low on the route and the other near the top. The climbing was magnificent, ranging from 5.9 rock with the odd bit of aid to 85-degree ice, never desperate but always sustained. We spent four nights above 21,000 feet on tiny ledges hacked out of the ice, including one in a storm on the descent, the most horrible night I have ever spent in the mountains. Jeff became very ill at our highest camp, a snow cave at 22,800 feet, but managed to get down under his own power. But it wasn't all grim; there were days of pure enjoyment when the sun, rock, ice, and sky all blended into a blissful state of movement and exhilaration. But how does one write about a 26 day climb? To describe each pitch, each day would be tedious, and the experience was so overwhelming and so ultimately disappointing that I'm not sure that I could, even six months later.
The Team
Tom Livingstone (November 8, 1990) from Llanberis, North Wales, works as an outdoor instructor. In 2017 he made the first winter ascent of British Columbia's Slesse Mountain (2,400m) via the Navigator Wall (700m, 6b M7+ R) with the late Marc-Andre Leclerc. In some places they climbed the rock with bare hands and with crampons on their feet. He made the youngest British ascent of the Cassin Ridge (AK5) on Denali. In spring 2017 he attempted the Slovak Direct on the south face of Denali but retreated due to weather.
Aleš Česen (born April 26, 1982), from Kranj, Slovenia is an IFMG Mountain Guide and has a PhD in material science. He started climbed at age 8. He's climbed Broad Peak and Gasherbrum IV to the north summit. In 2017 he, Marko Prezelj and Urban Novak climbed the FA of the West Face of Arjuna (6,250m) via the 1,400-meter All or Nothing (ED+ M7+ WI5+ A0) in India to make the first alpine style (and second overall ascent of the peak). His first high altitude expedition was in 2004 when he, Anze and Tine Marenc, and Darko Podgornik climbed the south face (1,700m, V-VI, 5, 90°/50-65°) of Peak Gorky (6,050m) in Tien Shan, Kyrgyzstan, which they climbed mostly at night for safety. Česen won the Piolet d'Or in 2015 for the first ascent of the north face (ED, 70°-90°) of Hagshu (6,657 meters) in India, which he climbed with Luka Lindič and Marko Prezelj.
Luka Stražar (born in 1988) from Ljubljana, Slovenia began climbing in high school and became a climbing instructor in 2010. He works as a mountain guide and is an aspirant IFMGA guide. He's received many awards for his climbing. He took his first trip to the Himalaya in 2011. He and fellow Slovenian climber Nejc Marcic authored Golden Caves (1,600m, VI/5 M5 A2) on K7 West (6,615m) in Pakistan. Their ascent earned them the Piolet d'Or in 2012. In 2012 he and Nejc Marcic climbed the second ascent of Janak (7,040m) in Nepal via their new route Blue Racer (1,400m, 80 degrees, M4), and in 2015 Stražar and Matej Mucic climbed a new route the west face (800-900 meter WI5) of Chugimago (6259m) in Nepal.