Looking Back on the Life of Ueli Steck
"He had a certain earned wisdom that is rare in this world" —Steve House
Heading out the door? Read this article on the new Outside+ app available now on iOS devices for members! Download the app.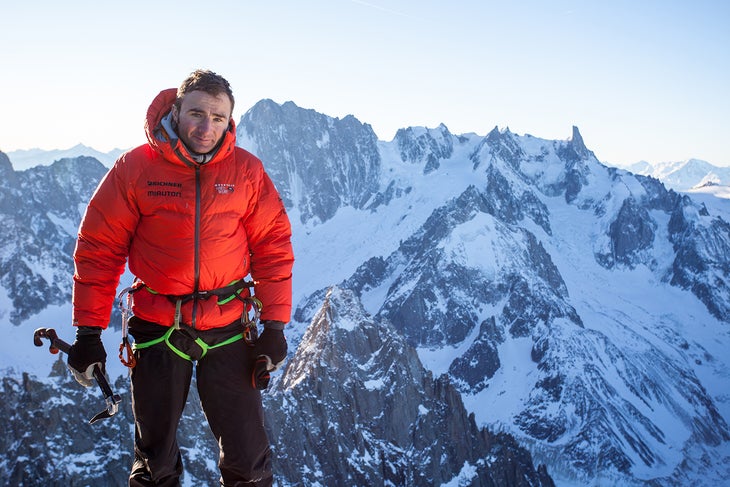 Last week, on May 4, world-renowned alpinist and speed climber Ueli Steck was cremated surrounded by monks in the Buddhist village of Tengboche, in the Khumbu region of Nepal. In attendance was Steck's expedition partner Tenji Sherpa, Steck's widow Nicole Steck, parents and friends.
For three hours prayers were chanted and a sermon was delivered in the Tengboche Monastery (also called Dawa Choling Gompa; the largest monastery in the area), at nearly 4,000 meters and in the shadow of Everest.
His ashes will be flown to his home country of Switzerland where there will be a funeral for "acquaintances and professional colleagues of Steck as well as for the general public," a statement from the family read.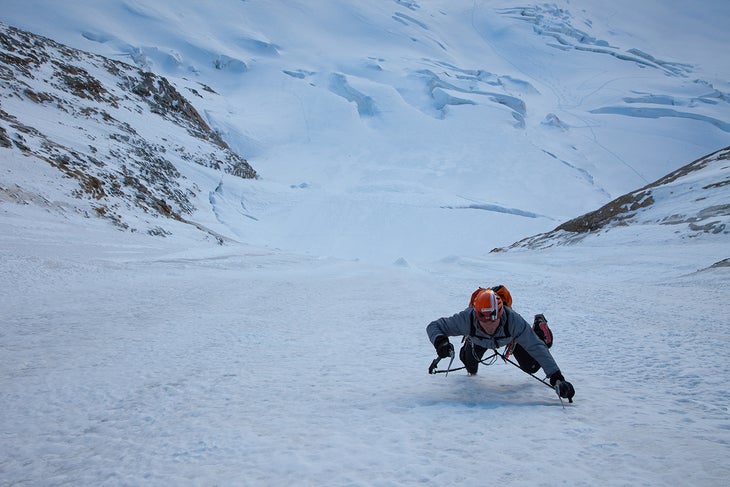 Steck died on April 30 when he fell 1,000 meters down Nuptse (7,849m), located two kilometers west south-west of Everest (8,848m), during a solo acclimatization outing in preparation for the Everest-Lhotse Traverse Project.
He successfully climbed Everest without the use of supplemental oxygen with partner Tenji Sherpa in 2012.
"Ueli wrote a great and profound story with his life and his climbs; he had become a person who knew something about his humanity, his humility, his pride and his ego; he had a certain earned wisdom that is rare in this world," alpinist Steve House wrote. "Achieving an Ueli-Steck-level of mastery in climbing is a long-term commitment that requires a consistency that very few people are capable of. What made him that way is, in itself, worth studying, learning from."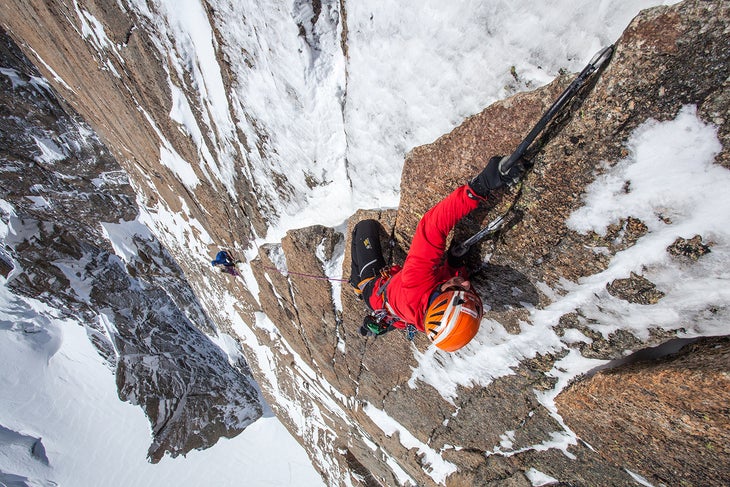 Steck was twice the recipient of alpine climbing's most prestigious award, the Piolet d'Or (Golden Ice Axe), first in 2009 for he and Simon Anthamatten's 2,000-meter route Checkmate on the north face of Tengkampoche (also called Teng Kang Poche; 6,500m) in Nepal, and in 2014 for his 28-hour roundtrip solo ascent of the 3,000-meter south face of Annapurna I (8,091m), also in Nepal. His climb of Annapurna completed a route first attempted in 1992 by the late Jean-Christophe Lafaille and the late Pierre Beghin (Beghin died on the climb).
During Steck's first attempt to solo Annapurna, in 2007, he was hit on the helmet by rockfall and fell 300 meters but was able to descend the mountain with only minor injuries and did not require a rescue. He succeeded on the mountain on his third attempt (without using supplemental oxygen) in an ascent Outside Magazine called "one of the boldest Himalayan climbs in history."
Steck's climbing career wasn't without controversy. Regarding his solo ascent of Annapurna I in October 2013, Kelly McMillan reported for the New York Times that, "Steck didn't have a photo of the summit; his altimeter had broken during his ascent; and he hadn't used a G.P.S. tracker, all of which are accepted means of documenting such a climb."
Earlier that same year on Everest, while Steck and his team passed Sherpas fixing lines between Camp 2 and Camp 3, falling ice struck a member of the lower team. Soon a violent confrontation erupted over the ice fall, respect and mountain etiquette. The story—"Brawl on Everest"—made headlines all over the world.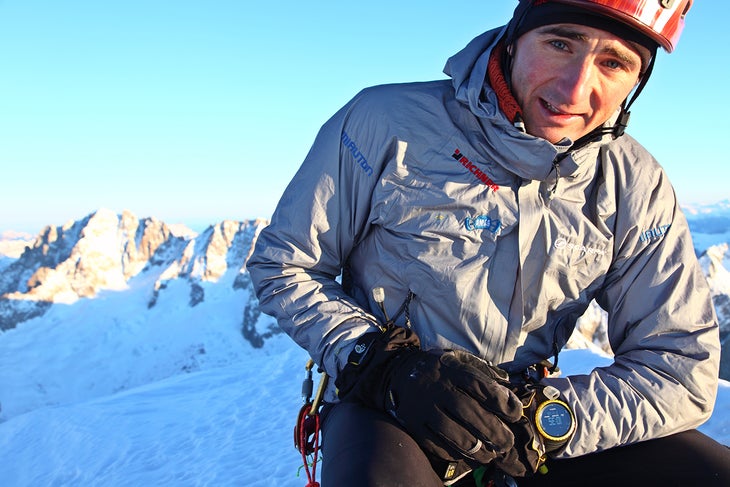 A resident of Ringgenberg, Bern, Switzerland, Steck was a professional climber, trained carpenter, and author of three books: Solo: The Maverick Ueli Steck (2008, written with Gabriella Baumann-von Arx), Speed: The Three Great North Faces of the Alps in Record Time (2012) and The Next Step: After Each Mountain I Am a Different One (2016). He was also a paraglider pilot and competed in marathons.
He was nicknamed the "Swiss Machine" for his nationality, precision and speed.
Steck's significant ascents span more than 20 years; at 17 he climbed his first alpine testpiece: the East Pillar of the Scheideggwetterhorn, and at 18 he climbed the Eiger Nordwand for his first time, a mountain that he would go on to climb obsessively, establish new routes on and speed climb. In 2001, he and longtime partner Stephen Siegrist authored the "extreme" route Young Spiders (5.11d, A2, WI6, M7), which Steck soloed in 2006 for the route's second ascent over five days in alpine style.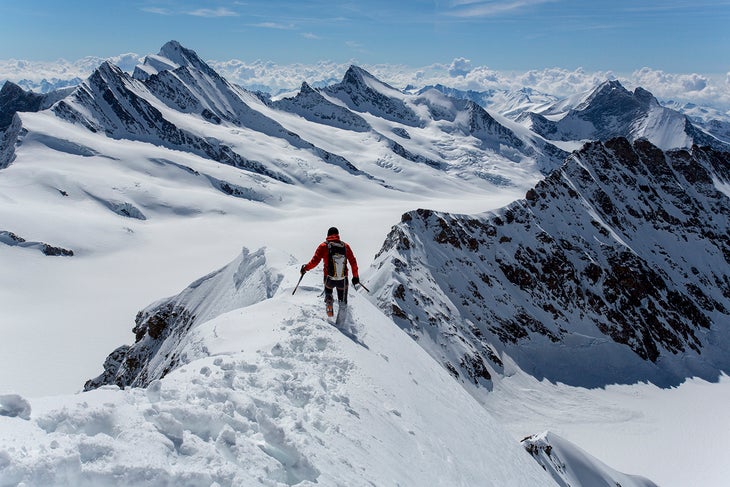 In 2008, he and Siegrist established (with the use of the bolts) the most difficult route on the Eiger, the 23 pitch 5.13b Paciencia. On November 16, 2015, Steck set the record for the fastest ascent of the Eiger via 2 hours, 22 minutes up the Eiger's Heckmair Route.
In a video from April 11, 2017, Steck said one of the things that intrigued him with the Lhotse-Everest Traverse Project—a first ascent—was that he didn't know if it was even possible. "We don't know," he said with a childlike smile. "That's exactly the challenge…the interesting thing."
Affirming his dedication to seeking out the greatest challenges in the mountains, Steck wrote in his blog in 2013: "To walk through life in a comfortable way is still not my goal… I would like to implement my dreams and visions into reality."