Oliana Fire Destroys Bucket-List Climbs
On June 19, a wildfire ravaged the historic cliffside near Oliana, Spain, destroying world-class routes.
Heading out the door? Read this article on the new Outside+ app available now on iOS devices for members! Download the app.
Beginning on June 19, around 2:30 p.m., a wildfire broke out between Peramola and Oliana, Spain. Firefighters—55 ground crews and nine air crews—worked to contain the fire, but it raged on until the next  morning. Oliana, in Catalonia, is a famous crag that holds some of the world's hardest and best-known routes, such as La Dura Dura (5.15c) and Papichulo (5.15a). According to locals, most of the wall was impacted by the fire.  
"Climbing-wise, it's hard to analyze the damages," wrote Svana Bjarnason, a climber based in Oliana, told Climbing. "To sum up: the left part of the wall has been severely altered (from the route Michi), pre-placed quickdraws burned and many holds are now lying on the ground. The first layer of rock is destroyed, it's breaking off just by touching it. It would need massive cleaning and rebolting. But the routes will never be the same again."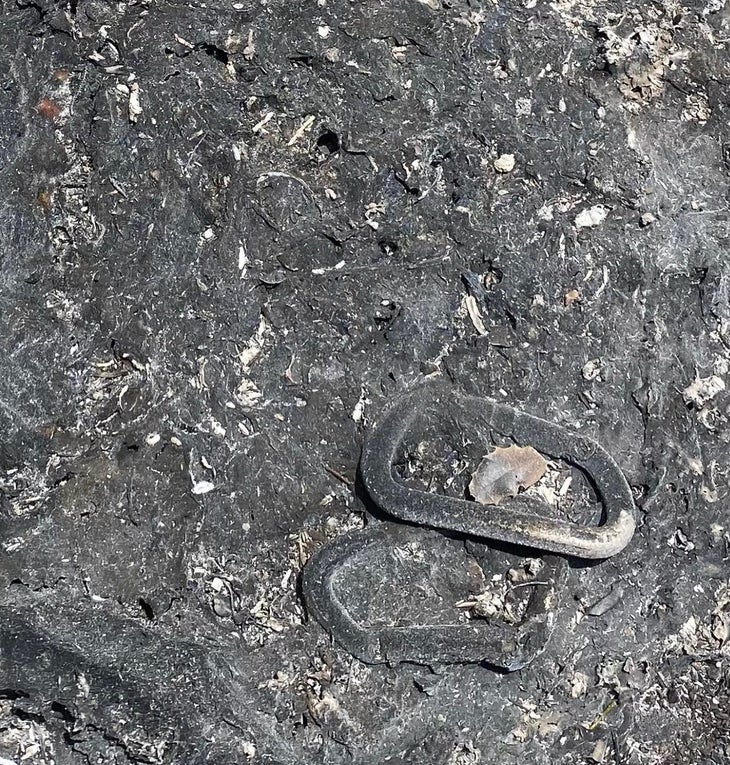 According to Bjarnason, the rock to the right of Michi, which includes the most classic routes, looks to be in better shape, although it will be impossible to assess the extent of the damage until climbers go up for closer inspection. Rockfall has at least occurred on Pachamama, a 5.15a first ascended by Patxi Usobiaga. Bjarnason continued:
"The main and right wall look O.K., but some holds broke off and are on the ground as well, sometimes huge chunks. … There might be micro cracks, what hasn't broken off today but might later—it's impossible to know what is now solid or not. … Plus many experts told us that even if the quickdraws and bolts look ok, there's a big chance their resistance has been altered."
Pictures from Bjarnason and other local climbers, including Usobiaga, show massive smoke plumes and a once-verdant crag turned ashen. Gear is melted or fried to a crisp, and videos of climbers touching rock show it breaking off into kitty litter.
View this post on Instagram
The Cause
The fire began after a harvesting machine in the nearby grain field broke down. Winds carried it quickly across the surrounding fields and forestland. It ultimately burned more than 300 acres, although luckily the nearby town was untouched and no one was hurt. 
In Otero de Bodas, in northwestern Spain, a fire burned 74,000 acres over the weekend. Smaller fires raged in eastern Spain as well. Catalan interior minister Joan Ignasi Elena said in an interview with RAC1 that an average of 60 fires per day had broken out between Wednesday, June 15 and Monday, June 20. That's about 300 fires total in less than a week. The aftermath: Hundreds of residents were forced to evacuate. 
According to the state meteorological agency AEMET, the country experienced its worst mid-June heatwave in over 40 years, with temperatures breaking 105 degrees Fahrenheit. Last Thursday, Catalonia experienced one of its hottest days on record, reaching 109 degrees. Spain is not alone—record high temperatures are being recorded across Western Europe.
Climate change is undoubtedly a factor. Across social media, professional climbers are posting about the wildfire events and rising global temperatures. On Instagram, Frenchwoman Nolwen Berthier wrote: "We—as climbers—are facing damages of climate change and IPCC reports are clear. Those events will happen more and more often in the coming years: We need to change." On her own account, Bjarnason wrote: "…What happened in Oliana comes from a much bigger issue than having our playground ruined. Global warming is destroying our planet and, if our governments don't act, we can."
Cleaning Efforts
Climbing in Oliana is closed until further notice. Cleaning efforts will begin in September, once the heat waves and heavy rains pass. Locals are rallying to secure donations and brand support for new hardware. Access to the road and trails will be addressed first. Locals also plan to address the deforestation in some capacity. 
Cleaning and rebolting will take a massive amount of work and resources. Donate here.