Paige Claassen and Michaela Kiersch Send the Iconic Dreamcatcher 5.14d in Squamish
Kiersch described the route as "one of the most beautiful, historical, and challenging routes in North America."
Heading out the door? Read this article on the new Outside+ app available now on iOS devices for members! Download the app.

In the lush rainforests of Squamish, British Columbia, lurks a house-sized chunk of granite that was, eons ago, firmly stuck to the face of Stawamus Chief. For years, the Cacodemon Boulder was a place for aid climbers to practice their nailing skills during monsoons—free climbing was hardly discussed.
Years later, in 2005, Sonnie Trotter met up with a visiting Chris Sharma and shared each other's vision of free climbing on the imposingly steep and scarcely featured underbelly of the Cacodemon. With 10 bolts and a hammer drill, the duo prepared what became one of the world's most famous sport routes: Dreamcatcher (5.14d).
Sharma and Trotter quickly solved the first crux—a delicate slab to a lunge, followed by a sloping traverse—before Sharma inched ahead, rapidly solving the second and third boulder problems. Sharma's trip ended before long, and he returned a month later for Dreamcatcher's first free ascent.
Sixteen years later and it has seen fewer than 10 ascents. On September 2, Paige Claassen became the first woman to send the iconic pitch, followed closely by Michaela Kiersch four days later.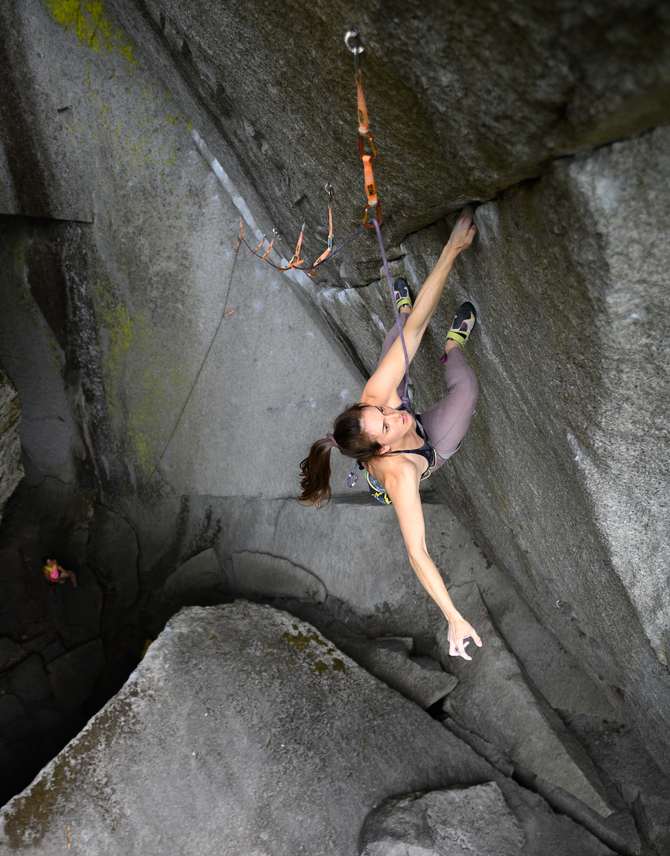 Claassen wrote to Climbing in an email that she first tried  Dreamcatcher seven years ago. "I probably spent about 10 days on the route, and by the end of the trip, I could do all the moves individually but couldn't link more than two or three moves at a time," she wrote. 
Claassen labelled Dreamcatcher as a "life list route" in her mental Rolodex and set the dream, temporarily, aside. Over the next years she sent Odin's Eye (5.14c) in Flatanger, Norway; Necessary Evil (5.14c) in Arizona's Virgin River Gorge (coincidentally less than 24 hours after Michaela Kiersch's ascent); and most recently Kryptonite (5.14d) at Western Colorado's Fortress of Solitude, to name but a few. "Flash forward seven years [and] I'm a much different climber than I was last time I tried," Claassen said. "When the Canadian border opened"—after pandemic closures—"I felt like I was in good shape to try again and see what I could do."
Kiersch, too, has a history with Dreamcatcher. She first tried the route three years ago and could do each move in isolation, but was unable to link sequences together. Despite the less-than-encouraging sessions, she thought her "powerful and springy" climbing style—which she attributes to being a shorter climber at 5'1" and forces her to jump between holds—suited the route well and vowed to return. "Dreamcatcher is one of the most beautiful, historical, and challenging routes in North America. It was an easy choice!" she wrote. After Kiersch sent Super Tweak (5.14b), last month—paired with a training regime of finger strength, endurance, and sideways campusing—she felt ready for a rematch under the Cacodemon.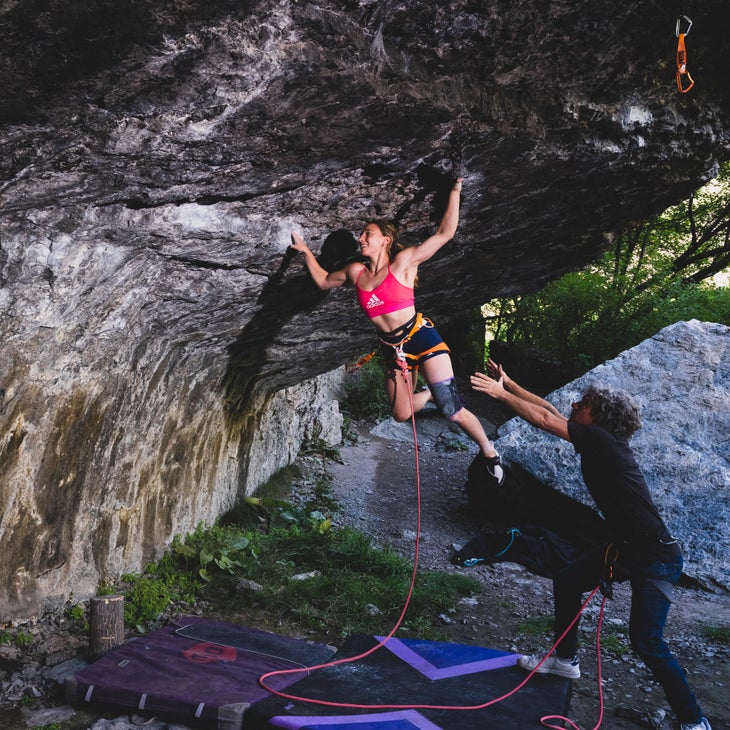 Dreamcatcher builds in difficulty like a breaking wave. A V8 slab leads to a burly campus rail before the final boulder problem—"technical, powerful, and difficult to execute while pumped," as Kiersch wrote—guards the chains. Claassen decided that working each section in reverse would be the most efficient path; she would build confidence on the crux while saving precious skin for the slab and shoulder strength for the campusing. Each day, Claassen started a few moves lower on the route, slowly establishing her base for a redpoint attempt. 
She also called upon her mental fortitude. "I focus on a big-picture mindset, telling myself that I know I'm capable of a particular route, but sending it isn't going to change my life," she said. This outlook allows Claassen to try her best without creating a debilitating fear of failure—and improves the entire projecting experience. "Knowing that life is so much more than climbing helps me to stay psyched and maintain perspective," she explains. "I let myself have off days and don't beat myself up if I don't make progress…. I also don't deprive myself of things I love. Food treats aren't just for sending, they're part of what makes me happy in life."
Following Claassen and Kiersch's successes, the "first female ascent" question arose, and the two have different takes on the importance of the distinction. "I think that it's important to recognize and appreciate our achievements," Kiersch said. "It was special to me that we added two female ascents to this route."
Claassen, on the other hand, said, "I'm not a fan of the title First Female Ascent…. [Kiersch's] ascent was no less impressive because I'd already sent, just as my ascent of Necessary Evil in 2017 was no less meaningful to me because she had sent it the day before. Ascents of burly, powerful lines by women aren't rare. Women are very capable of climbing this style, and they regularly do. I'm proud of my ascent not because it's an impressive ascent for a woman, but because it's a special line that I worked hard for."
History of Known Ascents
Chris Sharma (2005)

Sean McColl (2009)

Ben Harnden (2012)

Alexander Megos (2016)

Mike Foley (2017)

Jimmy Webb (2018)

Nicholas Milburn (2019)

Paige Claassen

(2021)

Michaela Kiersch

(2021)
To read more about Paige Claassen, pick up the fall issue of Climbing No. 379, which features "The Mentalist" by Corey Buhay: an in-depth profile on Claassen's entry to climbing, her battles with perfectionism and weight loss, the value of faith, and much more.
---
This article is free. Sign up with a Climbing membership, now just $2 a month for a limited time, and you get unlimited access to thousands of stories and articles by world-class authors on climbing.com plus a print subscription to Climbing and our annual coffee-table edition of Ascent.  Please join the Climbing team today.