Rick Allen, 67, Pushed On and On—Until Taken on K2
He will always be known for the Mazeno Ridge on Nanga Parbat—an 18-day ordeal—yet also as kind and gentle.
Heading out the door? Read this article on the new Outside+ app available now on iOS devices for members! Download the app.
This article is free. Sign up with an Outside+ membership and you get unlimited access to thousands of stories and articles by world-class authors on climbing.com and rockandice.com, plus you'll enjoy a print subscription to Climbing and receive our annual coffee-table edition of Ascent. Outside+ members also receive other valuable benefits including a Gaia GPS Premium membership. Please join the Climbing team today. 
Eighteen days is a long time in the high peaks—especially when you only brought eight to 10 days' worth of food, and the lighter won't spark for melting snow. The protracted first complete ascent of the eight-summit Mazeno Ridge to the top of Nanga Parbat (8126 meters) in 2012 was Rick Allen's masterwork with his climbing partner Sandy Allan. From an original group of six, only Allen and Allan, nails-tough Scottish mountaineers then aged 59 and 57, summited, three days after their exhausted companions descended from the final col.
The two Scottish climbers were "running on empty," as Allan later wrote in the American Alpine Journal of their summit day, a struggle in poor visibility. "I was all but ready to give up, but our years of trust and loyalty to each other provided the spark for Rick to push on in front, one more time, to a high point"—the summit. The Mazeno Ridge earned Allen and Allan a Piolet d'Or, alpinism's highest honor.
Rick Allen, 67, from Aberdeen, died in an avalanche on K2 on July 25. (See news.)
He and Allan, who began climbing together on Everest in 1985, formed one of the great partnerships. Allan called his friend an "ace companion":
"We were the best of pals. Like all climbers we had debates and heated moments [but] above 8000 meters we were a truly united team with similar ambitions. Thinking and analyzing the terrain, the snowpack, monitoring our emotions and our bodily feelings, doing this automatically for both of us, staying safe —ready to turn back if we thought we were in too deep! Often we were pushing and pushing for the summit, with Rick (scarily for me) believing he'd be fine, as God was looking after him.

"We trusted each other to do the right thing even when communication was nigh-on impossible in violent freezing winds or intense snow. We are both quiet people … Rick would never use five words if one would do, but he was a great companion in bivouacs, where we would often be immersed in interesting banter and conversation. Rick was respectful and humble, supportive and kind. We honed our skills and gained much of our experience together. I'll miss him forever."
Jerry Gore (UK), Allen's expedition partner on K2, tells us: "He has always been the kindest, gentlest of men. Rick was a typical eccentric youthful Scottish gentleman. … He was quiet and studious yet always up for a climb or an adventure. He was deeply religious but could easily handle jokes about himself or his faith.
"For me Rick was not about his amazing climbs but his passion and commitment to climbing that continued so strongly well into his sixties."
Lindsay Griffin (UK) in the American Alpine Journal has called Allen's signature climb, the Mazeno, "arguably the longest ridge on any of the 8,000m peaks, variously quoted as 10 to 13km." All of the ridge summits are over 6800 meters.
An integral part of the success were Cathy O'Dowd (South Africa), Lhakpa Rangdu Sherpa, Lhakpa Zarok Sherpa, and Lhakpa Nuru Sherpa (all of Nepal), who traversed all eight summits to the final gap, which had been similarly attained by the Americans Doug Chabot and Steve Swenson in 2004 in one of that storied pair's greatest adventures and escapes. The 2012 group bivied at 7,200 at the Mazeno Gap and attempted the final unclimbed stretch, after which the four made a dangerous descent on the Schell Route.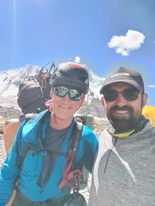 Allen and Allan summited July 15, returning in darkness and drifting snow to a bivy cave, where their only lighter failed, so they could no longer melt snow—a yet more dire problem than the lack of food. In survival mode, the two descended the north face and reached basecamp three days later.
Among nine previous attempts on the ridge, the great alpinist Doug Scott had tried in 1992, 1993 and 1995. Voytek Kurtyka and Erhard Loretan had also tried; as had Allan and Allen with Scott in '92 and '95. Allen and Allan attained the summit of Nanga Parbat together in 2009, on the Diamir Face.
Planetmountain called Allen "a legend in his homeland" for his mixed climbs even before the Mazeno Ridge. One was the first winter ascent of Raven's Edge (VII, 7), five pitches, on Buchaille Etive Mor, Glencoe, in 1984. Others were a new route on the south face of Ganesh II and a direct line on the north face of Dhaulagiri in 1993. He and Allan climbed a new route on Pumori in 1986. Allen climbed Everest in the year 2000 after two previous attempts. (See this summary on scottishwinter.com.)
Allen was once, on Broad Peak, believed dead after falling during a solo effort. A cook, however, spotted his backpack on a slope, and Allen was located by a drone that was part of an Andrzej Bargiel film project. Allen was avalanched on Makalu in 1988 with Alan Hinkes (UK) and also in the Alps, skiing the Haute Route in 2004, injured both times.
Allen was trying to establish a new route on K2 when he, Jordi Tosas (SPA) and Stephan Keck (AUS) were taken in an avalanche. The other two survived and were evacuated.
Mirza Ali of Pakistan, Allen's friend and expedition organizer, posted these words on Facebook (quoted by permission): "You have been an honest and dedicated mountaineer, a true legend … a wise, kind person! You wanted to support me in building the skills of locals to work better in the mountains … The tragedy of losing you is beyond words."
Gore and Allen were fundraising for diabetes via the K2 Insulin Challenge and Action4Diabetes.org (Gore, 60, a lifelong alpinist who climbed Mont Blanc at 17, continued climbing after his T1 diabetes diagnosis in 2001). Allen was also a board member and with Partners for Relief & Development UK,  to help children in regions of conflict, for which he was also fundraising.
Gore described Allen as considerate and unselfish. Emailing from K2 basecamp before starting the return trek, Gore wrote: "Expedition climbers and a lot of alpinists in general are extreme in their passion and so tend not to be very socially adapted. … Rick was different. He was as happy in a business environment as he was when he stayed with my family as he was climbing alongside climbing legends such as Jordi Tosas or Doug Scott."
Allen was exceedingly durable, as Gore noted, able to carry a heavy pack above 7000m for days. "Even on this trip he was often faster ascending fixed lines above 6000m than our local Pakistani guides, who were in their twenties."
The board of Partners Relief & Development UK posted this statement: "Rick died doing what he loved the most and lived his life with the courage of his convictions. Rick was committed to serving the world's poorest and most vulnerable communities … campaigning for free, full lives for children affected by conflict and oppression."
Allen studied chemical engineering at the University of Birmingham. According to an obituary in the Telegraph of London, it was in university that he developed his lifelong interests in both climbing and the church, where he was a loyal Christian and involved community member. He worked as an engineer and then a safety and risk specialist in the oil rigs of the North Sea and Perth, Australia. Also according to the Telegraph, he was married to Alison Grigor in 1988, who died in 1989; he remarried to Zukhra Zuptarova, was subsequently divorced, and is survived by a stepdaughter and stepson.
The Telegraph quoted Alan Hinkes, British alpinist, about the long night after the avalanche on Makalu: "I thought he was going to die, his head had burst open. I remember at one point he woke up and through a blood-encrusted mouth said, 'I'm not dead yet.' He was a tough cookie."
See Allan's account of the great Mazeno Ridge climb, excerpted from his memoir, here.