Rock Exotica Silent Partner Sells for $1,400 on eBay (Updated)
Heading out the door? Read this article on the new Outside+ app available now on iOS devices for members! Download the app.
This story has been updated with a statement from Rock Exotica founder Rock Thompson.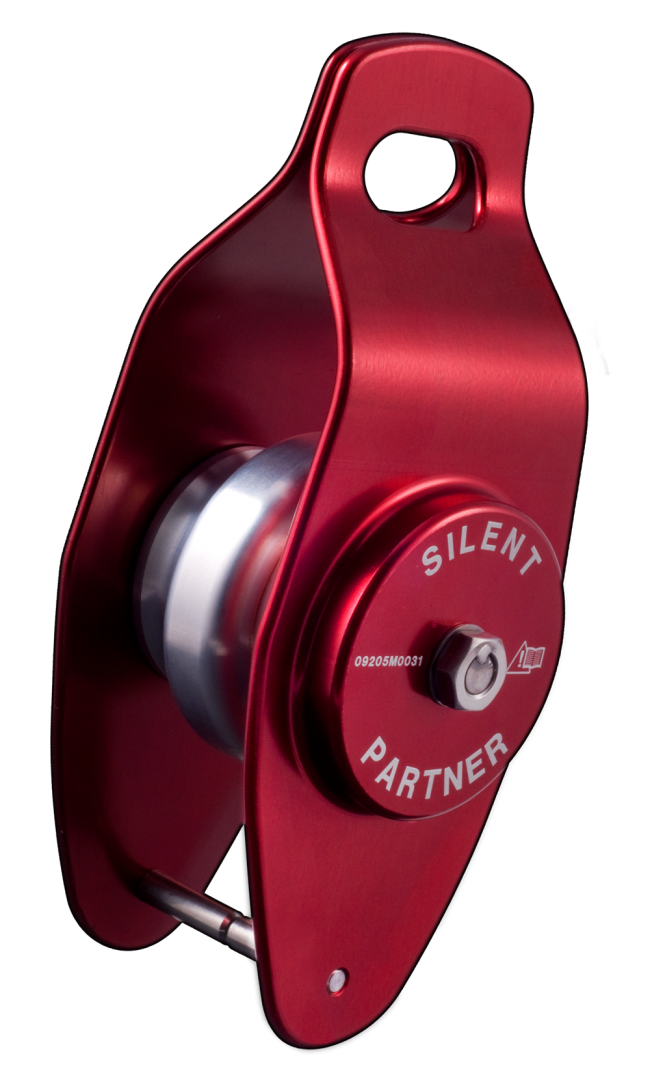 Tom Botts got hooked on rock climbing when he took some classes at Enchanted Rock, Texas, while living in Houston, some hours away. Eventually he wanted more, and travelled to Big Bear Lake, California, for further instruction at the sport and trad area. On his way back to the Reno Airport, he stopped in a gear shop in Tahoe and spent "a lot of dollars." That's when he ended up with a Silent Partner self-belay device. Fast-forward some 20 years later: Botts has only climbed a couple times since, and so decided it was "time to let someone else make use of the gear."
When Botts listed his Silent Partner on eBay, he thought it might sell for $150. When the auction ended, it had instead gone for $1,400—after receiving 100 bids.
"I knew that I had something valuable when I was immediately offered $300 to end the auction," he says. "But luckily I did not check my email for a couple of days or I might have jumped at the offer."
The Silent Partner has been around for quite some time. The device was created by Mark Blanchard (who also builds guitars), and the patent was granted in 1989. Rock Exotica handled the manufacturing until Wren Industries took over production in the late '90s. Around 2008, Wren Industries was sold and the new owners were not interested in producing self-belay devices. At that time, Rock Exotica took over production of the Silent Partner once again.
As a self-belay device—a device purpose-designed for rope-solo climbing on lead—the Silent Partner uses a centrifugal clutch to stop a fall. The rope is tied around a drum via a clove hitch. The drum spins freely in either direction, feeding rope as the knot slips, until a certain speed is reached, which locks the device. The recently released Wild Country Revo uses similar technology, though Wild Country did not design it for nor do they recommend using it for self-belays.
Pete Whittaker rope-soloed El Capitan in a day in 2016, free-climbing the 2,800-foot Free Rider (VI 5.13a) using a Silent Partner. He explained the advantages of the device to Climbing:
"I think they are so useful due to the fact that they are self-feeding and feed rope smoothly, so they are much easier to use whilst free climbing," says Whittaker. "You don't have to modify them (unlike some devices). They have a double attachment point to the harness, so they feel safe and catch a fall whether you fall right-ways up, sideways, or upside down. Essentially, they are made for the job you will be doing, and they do that job well and make you feel safe. That's why they are popular."
While the device is big among rope soloists, the practice is niche and Rock Exotica has halted production of the device, leading to a surge in demand. While in production, the Silent Partner retailed for $275. eBay listings since June have sold for between $350 and $650, with the price creeping higher over time. Botts's sale was an anomaly, going for more than double any previous auction. For comparison, Colorado's minimum wage is $10.20 an hour. At that rate, you could pay someone to belay you for about 137 hours for the price of one Silent Partner.
Update: Rock Exotica founder Rock Thompson provided his thoughts in an email to Climbing, which are published in full below.
Yes, the Silent Partner situation is pretty interesting. I wish I had squirreled away a couple dozen of them… But no, I just have one.
In the earlier days of Rock Exotica I worked on products that were interesting to me without much regard to the financial side of things. Rent was cheap, employee bonuses might be a six-pack, there was always time for climbing and life was simple. Those were very fun times and the Silent Partner was a great product.
The company grew and that growth is a two-sided coin. It's gratifying, but there are also hefty machine payments, expensive rent, employee health care and other benefits, etc. Many of our other products expanded beyond climbing and technical rescue into all kinds of other markets, such as arborism, rope access, stage rigging, linemen work, and more. We make big quantities of those products and they are what pay the bills, whereas the Silent Partner sales were down to around 100 a year. Although we realized we were not making any money with it, we kept it in production for some years anyway just because we liked it and we liked the climbers who used it. But in the end it was a necessary financial decision to discontinue it.
I'm sure there are people and small companies seeing the continuing demand for the Silent Partner who are wondering if they could make something like it. Who knows? Maybe this could happen. As for us, we've toyed with the idea of making a special, one-time batch. But although a few people want it very much and there's no real substitute for it, the "few" is probably not enough to justify it.
And then there's what I'd really like to do. For a long time I've had in my SolidWorks files a design for a new solo device. I'd really like to make it. It would take a lot of time and the only way to justify it would be to find some other uses for the underlying mechanism. So far, I haven't quite been able to. But, you never know…
—Rock Thompson