Rockfall Strikes El Cap Climber at Bivy, Causing Serious Injuries and Rescue
Against the odds, Mash Alexander, who was hit in the face and head as he slept, is recovering.
Heading out the door? Read this article on the new Outside+ app available now on iOS devices for members! Download the app.
This article is free. Sign up with an Outside+ membership, and get unlimited access to thousands of stories, videos and articles on climbing.com and rockandice.com, plus a print subscription to Climbing and our annual coffee-table edition of Ascent. Other valuable benefits include a Gaia GPS Premium membership. Join here.
High on El Cap, something woke Sean McGinness. A disturbance, he called it.
"It was the sound of a rock hitting Mash's head," McGinness says, "and another one going through my hammock."
In the early morning hours on June 16, the longtime Yosemite local Matthew "Mash" Alexander and his visiting friend Sean McGinness were struck by rockfall while bivying midway up El Cap, near the Nose route. A fist-sized chunk of granite hit Alexander, age 50, directly in the right orbital lobe, ruptured his eye, and exposed his brain.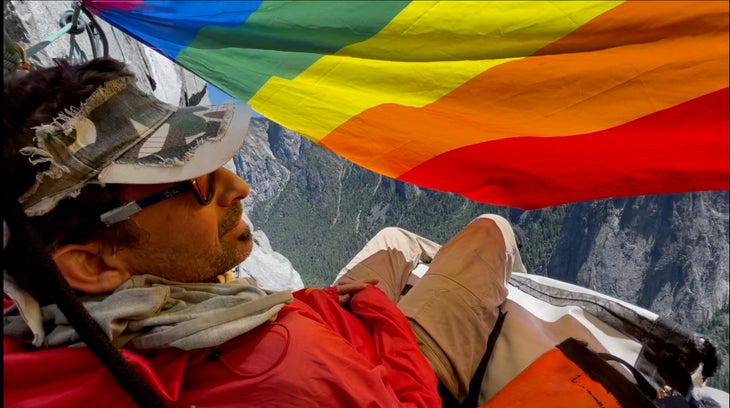 McGinness, 48, who was uninjured, initiated the rescue, and YOSAR responded with a helicopter extraction that whisked Alexander to UC Davis Medical Center in Sacramento for an 8-hour surgery. Surgeons said if the rock had landed 2mm to either side, he likely would not have survived. Today, with two surgeries behind him to rebuild his skull and a third on the way to receive a prosthetic eye, Alexander is recovering well in Woodland, California. He agreed to several interviews during which he reconstructed the scene and detailed his prognoses.
"Sean was professional, peaceful and calm," Alexander said of the moments after he was hit in the face. "He said, 'Keep your eyes open, keep it together, we're going to get out of here.'
"I remember feeling liquid coming down my ears and neck, so I applied direct pressure to my forehead with my chalk bag. The next thing I knew, I heard the chopper coming."
The night before, their seventh on the wall, the two had gotten off route while rappelling from the upper third of the Triple Direct (5.9 C2), which joins the Nose (5.8, C2) to reach the summit. They had turned around to avoid jamming up against the handful of teams ahead of them; after a week on the wall, they were ready to come down. Had they continued up, the climb would have marked Alexander's 16th ascent of the Triple Direct (and 44th ascent of El Cap) and McGinness's first Yosemite first big wall.
Shortly after starting down, they mistakenly went west instead of east, finding themselves on the obscure aid route Grape Race (5.9 A3). At that point they either had to climb back up or continue and try to return to the Nose. Instead of committing down the wall in the waning daylight, they strung one hammock over the other at a belay, bunk-bed style, with Alexander taking the top.
"I had a night of tossing and turning," says Alexander. "I also had the feeling we were in the flight pattern of stuff that could get dropped from above."
Upon hearing the rock hit his partner, McGinness shifted his weight in his hammock, which was damaged from rockfall. It failed, and he fell more than a body length down the wall before his backup clip-in point arrested him. He bat-manned up the rope, clipped in short, and looked over to see his friend holding a bloodied rock over his chest that moments earlier had been on his face. While sleeping, McGinness was wearing a helmet, but Alexander was not (he says he wishes he had been, and that for another time sleeping he would wear one).
McGinness called 9-11 asking for an immediate rescue. In about three hours YOSAR was on the scene, with the team arriving via helicopter and rappel. Rescuers transferred Alexander into a hammock-style carrier, clipped him onto a line hanging out of the helicopter, and flew him out.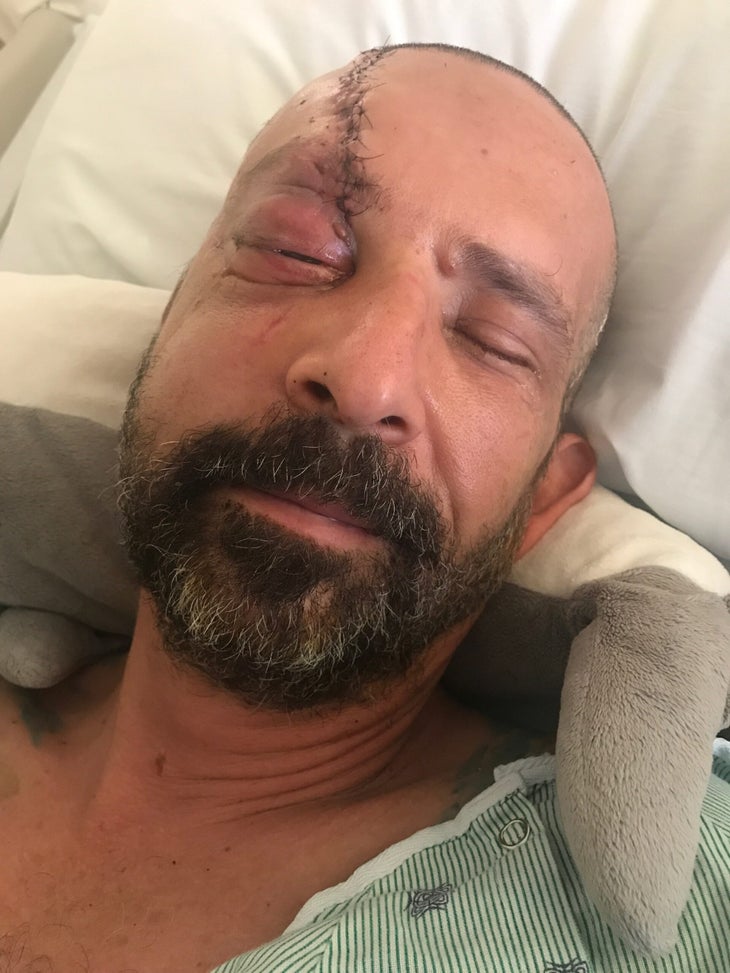 Ten minutes later YOSAR returned via helicopter from El Cap meadow and pulled McGinness and the team's equipment off the wall.
"I'm never going to forget that image of flying from the wall," McGinness says, "from seeing El Cap 10 feet from the wall and suddenly it goes wide-angle."
Today Alexander is uncertain whether another team from above accidentally dislodged the rocks or the fall was a random act of nature, and he says it doesn't matter. "To me, getting hit, it was just something that happened."
Alexander first visited Yosemite in 1993 and has returned to the park every year since. Climbing consumed him so much that he jettisoned plans to apply for med school and instead pursued a life as an educator and artist. His artwork appears in the guidebook Yosemite BigWalls and on shirts and stickers made for the Yosemite Climbing Stewards. He's a former Yosemite Climbing Steward, and an art teacher with the Yosemite Conservancy. For 15 years he worked seasonally with the Student Conservation Association as a trail crew leader and wilderness interpreter in national parks including Grand Teton, Glacier, Rocky Mountain, Great Basin, and Dinosaur. He has counseled combat veterans with PTSD/TBI (Traumatic Brain Injury) for 20 years and for the past four summers has worked as a Via Ferrata climbing guide at the Jackson Hole Mountain Resort. He is also the founder of the Costa Rican wellness center The Peaceful Mountain.
Triple Direct was meant as a vacation between his gigs.
Even after the accident, he wants to return to the Captain.
"Right after I recovered from my first surgery, I wanted to go back up," he says. "The perspective of being up there and looking down and at your life, why we're here, and how we can help each other. That's why I go up there."
---
To learn about accidents by the numbers on El Cap, check out Danger Zones: The Nose.
See Climbing, the summer issue, now in stores and on newstands, for Chris Van Leuven's personal experience and accounts of others from major rockfall on El Cap.