All-Indian Team Makes the Second Ascent of Remote 5.12a A2 Wall in Indian Himalaya 
The team of five repeated the 2,400-foot route over 11 days.
Heading out the door? Read this article on the new Outside+ app available now on iOS devices for members! Download the app.
On September 27, the five Indian climbers Yogesh Umbre, Rohit Vartak, Bhupesh Patil, Sameer Joshi, and Onkar Padval repeated Trishul Direct (7a+/5.12a A2), a 2,400-foot line up the rocky peak Shoshala (4,700 meters) in the Baspa Valley of the Himachal Pradesh. Their climb marked only the second ascent of the route, though Trishul Direct does not top out on the true summit of Shoshala, which would require a complex, lengthy ridge traverse that neither the first ascensionists nor this team completed. The peak's actual summit remains untouched.

Swiss alpinists Elie Chevieux and Giovanni Quirici, along with Frenchman Yannick Boissenot, put up Trishul Direct in 2011. They filmed their ascent and created a 30-minute film, Shoshala, which readers can watch on YouTube for free. Shoshala was dedicated to the 33-year-old Quirici, who died in a fall on the North Face of the Eiger (13,015 feet) on August 12, only a few months after he returned from India.
Vartak met Chevieux the following year at a climbing competition in Mumbai, where his stories of soaring, splitter granite inspired the former to repeat Trishul Direct one day. 
In 2015, Whitney Clark, Crystal Davis-Robbins, and Quinn Brett attempted Trishul Direct but failed after Davis-Robbins was injured by rockfall and they were hit by a snowstorm. Their second effort, to put up a virgin line on the mountain, was also stymied by a combination of poor weather and low food supplies after half a dozen pitches. The line has remained untouched until now.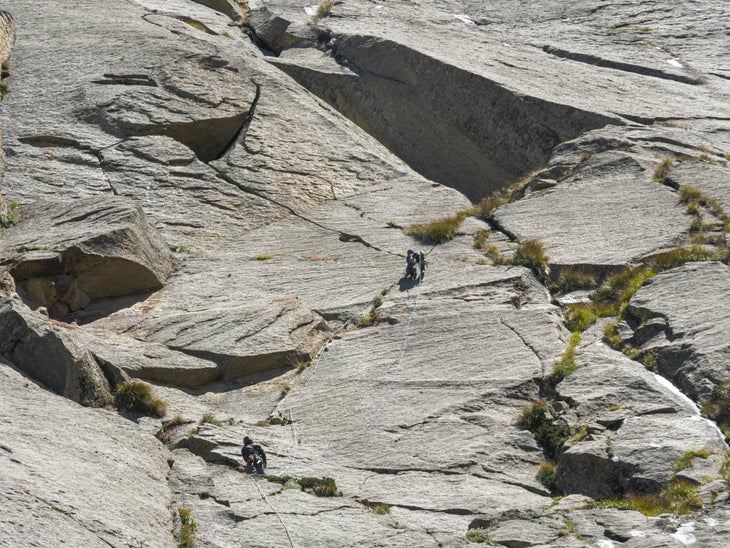 The all-Indian quintet had worked together previously for the second ascent of the big wall face Kokankada in a new route they christened K2 of the Sahyadri (7b+/ 5.12b/c 2,600 feet), which Vartak sent with Samiran Kolhe in 2017, with Patil, Umbre, and others in support. After that, they said, they knew a high-elevation big wall like Shoshala was achievable. 
Known as "Team Shivdurga," the climbers are all part of an eponymous NGO based in Lonavala, which conducts regular alpine rescue operations and body recoveries in the region, in addition to sponsoring a small climbing wall. "We conduct rescues almost every weekend," Vartak said when the group gathered for a video call with Climbing. "It's great big wall practice for us. Lots of rope management."
It was the five climbers' first time on a high altitude peak, and their first time climbing in the Himalaya. "Big walls have been done by the team before," said Patil. "But something in the Himalaya, it was new for all of us. Where we come from, the temperature, the weather is so different. It's hot, there is no such thing as less oxygen, stuff like that."
The team was filmed by Shivam Aher and accompanied by veteran Indian climber Sachin Gaikwad, who has established new routes throughout the country since the late 80s, though Gaikwad did not climb as he developed blood pressure issues while acclimatizing.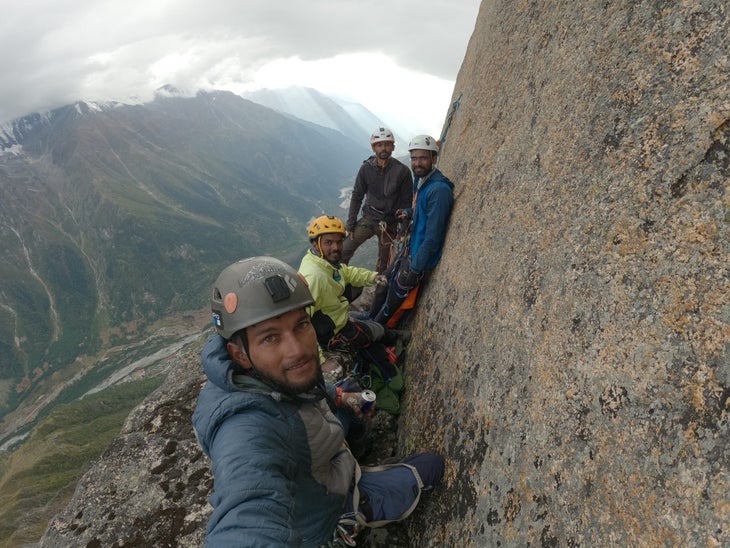 Gaikwad was the only member of the team with any experience in the Himalaya and his loss was something of a blow, but the group all said that his presence was still felt from afar. "Though [Gaikwad] had to leave and was the most experienced member of the team, and we were all new to the Himalayan terrain, he didn't make us feel the lack of him," said cameraman Aher. "He stayed in touch with us the entire time through phone and video calls and made sure that we were making the right decisions about weather, coming down at the right times, and everything." 
The team was struck with brutal weather for most of the expedition. They reported temperatures only a few degrees above freezing on the wall most days, with regular wind and rain, and often found their rope and gear encrusted with ice when jumaring back up each morning. Out of 23 days camped below Shoshala, the team only got in 11 days of climbing. "I can't even say these days were good climbing days," admitted Patil, "because at times on those days we'd jumar up several hundred meters for a few hours, clean one pitch, and then it'd start raining and we'd go back down." 
Patil, Vartak, and Umbre led all 21 pitches (the original route consisted of 19, but on a few longer traverses they split pitches, using intermediate bolts as belay stations), while Padval and Joshi handled fixing the ropes and other wall logistics. The most difficult pitch, the ninth, was Vartak's lead and consisted of a left-leaning 7a+ (5.12a) dihedral, with several bolts left by Chevieux's team. "The climbing is pretty sustained overall," said Patil. "Out of the 19 pitches, there are at least four or five 7a (5.11d) pitches. I expected, being a big wall, that we'd get some easy pitches, but it wasn't like that. It was pretty quality climbing overall." 
He added that perhaps the biggest difficulty was cleaning the route, not the climbing itself. "The cracks are filled with lots of moss, grass, soil. While climbing, we had to clean constantly. At times we had to pull the soil out of the crack just to place the gear. That really added to the challenge."
Like the first ascensionists, they did three pitches of aid, but Patil noted that it would definitely be possible to free Trishul Direct. Even the pitches they did aid, he said, were only aided in brief sections. "The problem is you'd have to clean the whole wall. It's so dirty, filled with soil and grass. It was also raining, most of the cracks were wet, so [on] several pitches that could've been free climbed, we had to rely on aid." The difficulty wouldn't increase much, said Patil. He believes it would go all free at around 7b (5.12b).
As for the true summit of Shoshala, to date, no team has reached it. "No team has attempted the traverse as the ridge is very undulating and long," Patil said. "I think personally if one has to go to the true summit they will have to open an entirely new line to reach it." He added that water troubles have plagued all three teams who have attempted the line, and that the cumbersome traverse would exacerbate these to much greater proportions.
Five people is a rather large team for a big wall rock route, but the tight-knit group reported that they experienced no conflict, and possessed a strong sense of camaraderie. Aher noted that after Trishul Direct the group went to a bouldering area, and many of the Indian climbers they met were inspired by their climb. "So many Indians aspire to do [big walls] but aren't able to [because] one of the most challenging things about a big wall is having a team," he said. "It's rare in India that a big team of climbers can come together so well, cooperate together. Ours is a unique combination of people that have managed to stay together without egos or any other conflict."
"As a filmmaker, I was hoping for a little conflict maybe," he added, laughing, "but these guys all go way back. They are like family." 
His film about Trishul Direct will be released December 11, International Mountain Day, free to watch on YouTube.
"Right now we are just happy," Patil said. "But the minute all of us came down in the village and were having a good time [after the climb] everyone started talking about what will come next. I think we'll have a new project soon…" He trailed off. "We're searching for a big wall, and want to highline on the top!" interjected Vartak. 
The climbers hope ascents like theirs, Indian teams summiting mountains in their home country, will help pave the way for the Indian climbing community to grow. However, their real goal is not to repeat lines, but to put up their own. 
"We're hoping to train for another project that will be a first ascent," said Gaikwad. "Our [goal] is to climb the first time." 
Patil added, "Personally, what I felt after climbing [Trishul Direct] is what vision those first climbers had to put up a route in a place like that. It took a lot of exploration. For us, it was easy. There was a film out there, we could just take in all the clues [they left], but that whole process of opening up a new route on a new peak would be a challenge, and I think all of us want to pursue it next time."
---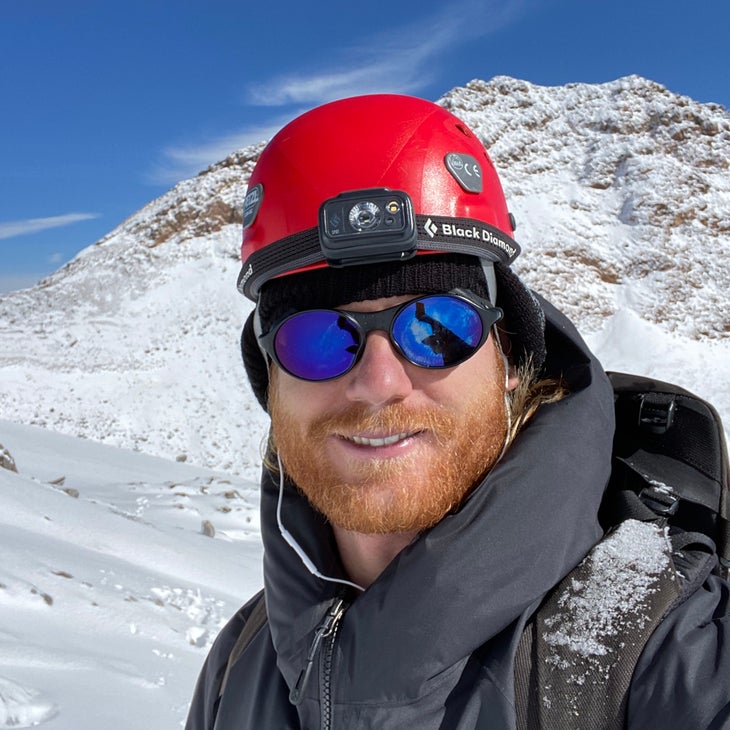 Owen Clarke is a freelance writer living on the road. In addition to spending time in the mountains, he enjoys motorcycles, heavy metal, video games, and key lime pie. 
This article is free. Sign up with a Climbing membership, now just $2 a month for a limited time, and you get unlimited access to thousands of stories and articles by world-class authors on climbing.com plus a print subscription to Climbing and our annual coffee-table edition of Ascent. Please join the Climbing team today.