Jim Reynolds: The Dark Horse
Meet the YOSAR beast and onetime Nose speed record holder
Heading out the door? Read this article on the new Outside+ app available now on iOS devices for members! Download the app.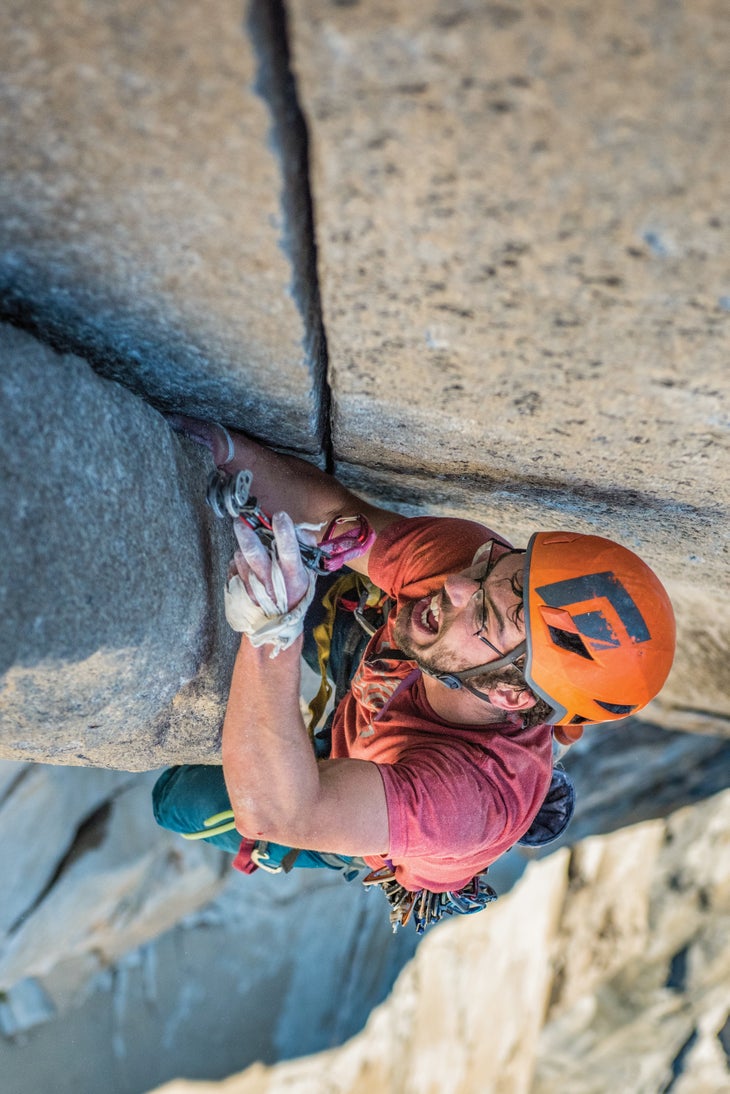 Follow the sound of Slayer as played on a mandolin to the Yosemite Search and Rescue (YOSAR) site in Camp 4. Here you'll find Jim Reynolds, 25, in tent No. 7, practicing. With Brad Gobright, Reynolds set the Nose speed record of 2:19:44 last October; it held until May 30 when Alex Honnold and Tommy Caldwell fired the route in 2:10:15. (On June 4, Honnold and Caldwell set a new record of 2:01:50, then on June 6 clocked 1:58:07.) With free solos up to 5.11 and an 11-day roped solo of Cosmos (VI 5.7 A4), this dark horse has quietly built a lengthy Yosemite résumé. Entering his third season on YOSAR, with over 70 rescues, Reynolds has searched for survivors in the wake of the September 2017 rockfall on El Cap that killed two, pulled hikers off cliffs, rescued tourists from the Merced, and assisted in El Cap rescues, including Hans Florine's recent accident on the Nose. Reynolds grew up in Weaverville at the edge of the Trinity Alps Wilderness in Northern California, with his IT manager father, George; schoolteacher mother, Mary; and siblings, Carissa and Ryan. While his sister focused on exploring the local plants and animals, and his brother was into four-wheeling, Reynolds went on solitary adventures in the woods. "It was a more hidden Sierra Nevada," Reynolds says of the Trinity Alps. "It was lush and green, a place you could disappear into." In 2005, at age 12, Reynolds traveled to Yosemite with his aunt Alex, who enrolled him in a class with the Yosemite Mountaineering School. There he got his first taste of rock, quickly branding himself a climber. However, after moving to San Luis Obispo (SLO) at age 15, Reynolds struggled to connect with rock. At 17, after completing high school early, he discovered the bouldering at Bishop Peak outside SLO. "I finally said, 'All right, I got to do it!'" says Reynolds. "You can't just say that you're going to be a rock climber and not ever do anything about it."
After graduating SLO's Cuesta College with a degree in small-business management in 2011, Reynolds returned to Yosemite. He would spend spring and fall there, summers in Squamish, and winters working at the Gear Exchange and Sears in Bishop. By 2014, he had risen through the grades to tick Astroman (IV 5.11c), and in 2015, landed a job with Yosemite Mountaineering School as a hiking guide. He lived in the YOSAR camp with his then-girlfriend, and the following year earned a position on YOSAR for his climbing skills and intimate knowledge of the park.
In Yosemite, Reynolds became known for his eclectic hobbies and interests. "If there was one thing to describe Jim, it's his ability to have so many interests and be talented in all of them," says Gobright. "His tent is the first place you go (in YOSAR) to see what he's building or learning." There, Reynolds can often be found reading Musashi, Eiji Yoshikawa's epic tale of Japanese swordsmen, jamming on his mandolin, or practicing with his katana. "I would wake up disciplined in my body and spirit, similar to how a samurai goes into battle," says Reynolds. Case in point: In 2015, he made a one-day free-solo link-up of Galactic Hitchhiker (V 5.11b), Steck-Salathé (V 5.10b), and the East Buttress of Middle Cathedral (IV 5.10c), covering 6,600 vertical feet, then later that year went ropeless on Cathedral Spire's South by Southwest (III 5.11). In Squamish in 2013, he met Gobright, another climber with a penchant for soloing—and speed.
"The fastest I'd ever climbed the Nose was, like, 10 hours, and then Brad and I went out there in spring 2016 and did it in six and a half," says Reynolds. "It was just a jaw drop." The two rehearsed the route together 10 times in fall 2017, diligently trimming away mistakes. On October 21, 2017, Reynolds and Gobright beat Honnold and Hans Florine's 2012 record by nearly four minutes. Recalls Reynolds, "I was going into battle, and the samurai side of me was saying, 'I don't intend to die today, but I'm willing to face death for this thing that I believe in.'" 
Q + A
What draws you to free soloing?
Jim Reynolds: It's a soulful and personal thing. I was drawn to climbing because of the movement through the mountains and wild spaces. So it's the feeling of being unencumbered—it's just you and the movement over terrain. Also I'm not repulsed by the [potential] consequences. It's both a blessing and a curse. I'm blessed because I'm good at it, but it's a curse because you know it could hurt the people you love.
What has being on YOSAR taught you?
Early on in Yosemite, I was less real about the consequences of what we do. It's been impactful learning what happens if you fall in a no-fall zone. It's tough to be psyched to climb after you pick someone up who just got severely injured or died climbing. It takes something away.
How does speed climbing mesh with your rescue work?
They are almost opposites. There's this joke that if there's a Nose rescue, they're going to send us up as fast as we can climb—but there's no merit to it. In rescue, we aren't going to do anything that puts any rescuer's life in jeopardy. But when we speed climb, we are forgoing standard protection; we go light and fast and get it done. 
Jim Reynolds's YOSAR Pro Tips
The best way to get out of danger is to avoid it in the first place. Reynolds offers three tips for avoiding misadventure:
Avoid belay-chain errors. These are the cause of most Yosemite accidents, and include things like misthreading a rappel device, rapping off the rope ends, dropping your partner while belaying, etc. So be real, and pay attention.
Carry a self-rescue kit. I carry a Micro Traxion, two prusiks on a carabiner, and a Tibloc for situations where I need to ascend ropes. This kit weighs next to nothing, and you'll feel like a boss when you pull it out at the moment of need.
Learn to downclimb. Being able to put it in reverse will help you in dangerous situations, like if you're on a runout lead and don't want to continue. It also helps when you're onsighting and need to reverse a crux. To practice, downclimb your warm-ups instead of just lowering off.